28 December 2018
HOW TO SHOOT REAL ESTATE (ITEM REMOVAL EDITION)
Introduction
In this article, Brad Filliponi will be sharing 12 tips on how to shoot real estate. He'll also be showing how an Item Removal edit can be applied to photos to remove festive decorations from a shot (in case the property ends up on the market longer then expected).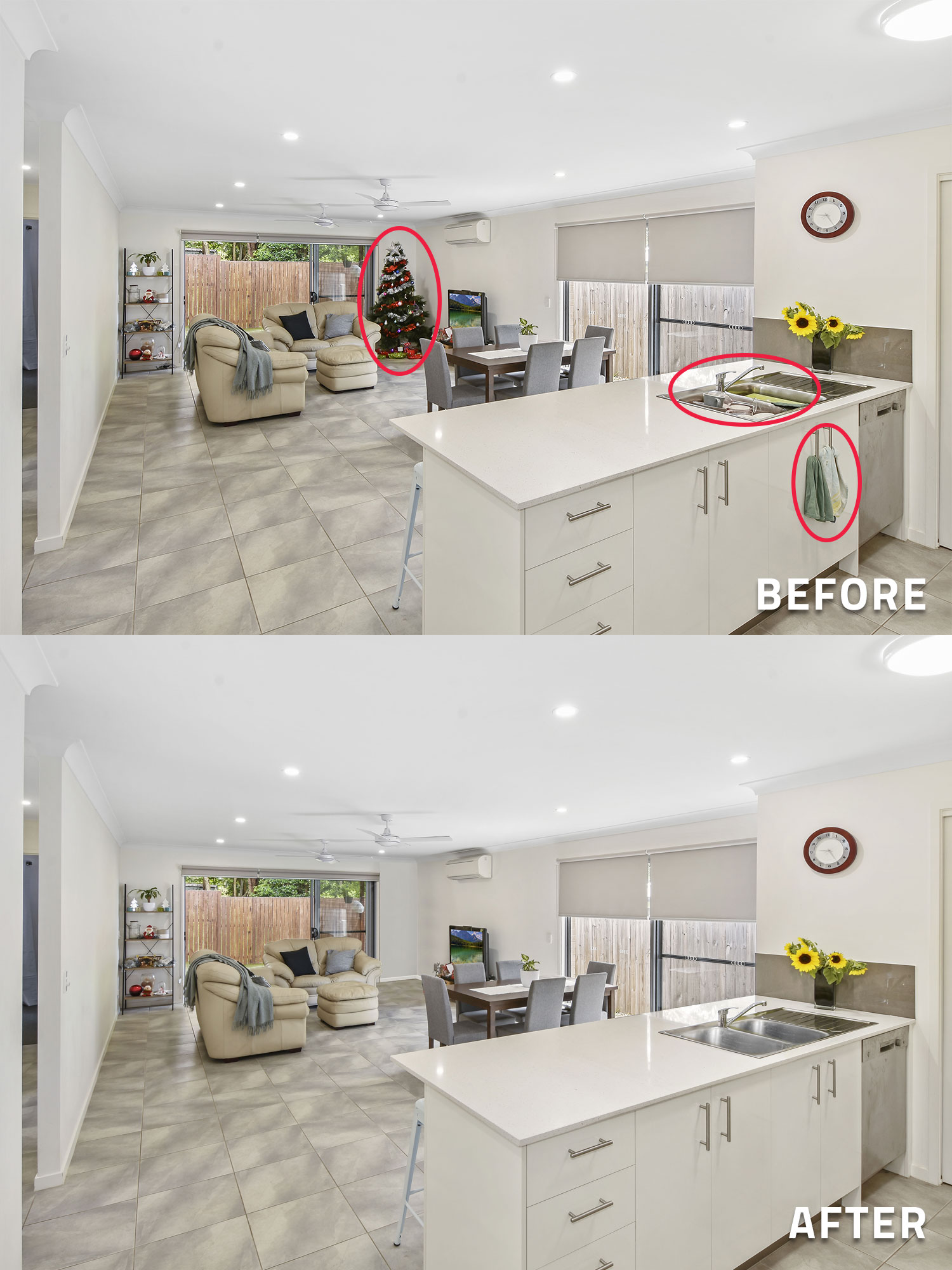 01 - Turn Fans Off
You don't want moving objects in your still photos, especially when blending photos together using HDR photography. Always ensure fans are turned off.
02 - Straighten Furniture
Symmetry is key in real estate photography. Ensure items including chairs, pillows, appliances and couches are always straightened.
03 – Remove Small Unnecessary Items
If there are small items (like tissue boxes, remote controls or Christmas ornaments) that can be easily removed, then take them out from shot. Less is more in real estate photography and removing unnecessary items can really help bring a shot to life.
04 – The Blind Trick
Always be mindful of what's outside the window view when shooting. Is there a beautiful view outside or can you see your neighbor's roof? If it's the latter, you want to be covering that up. Close the door/window then lower the blind down slightly to hide the neighbor's roof.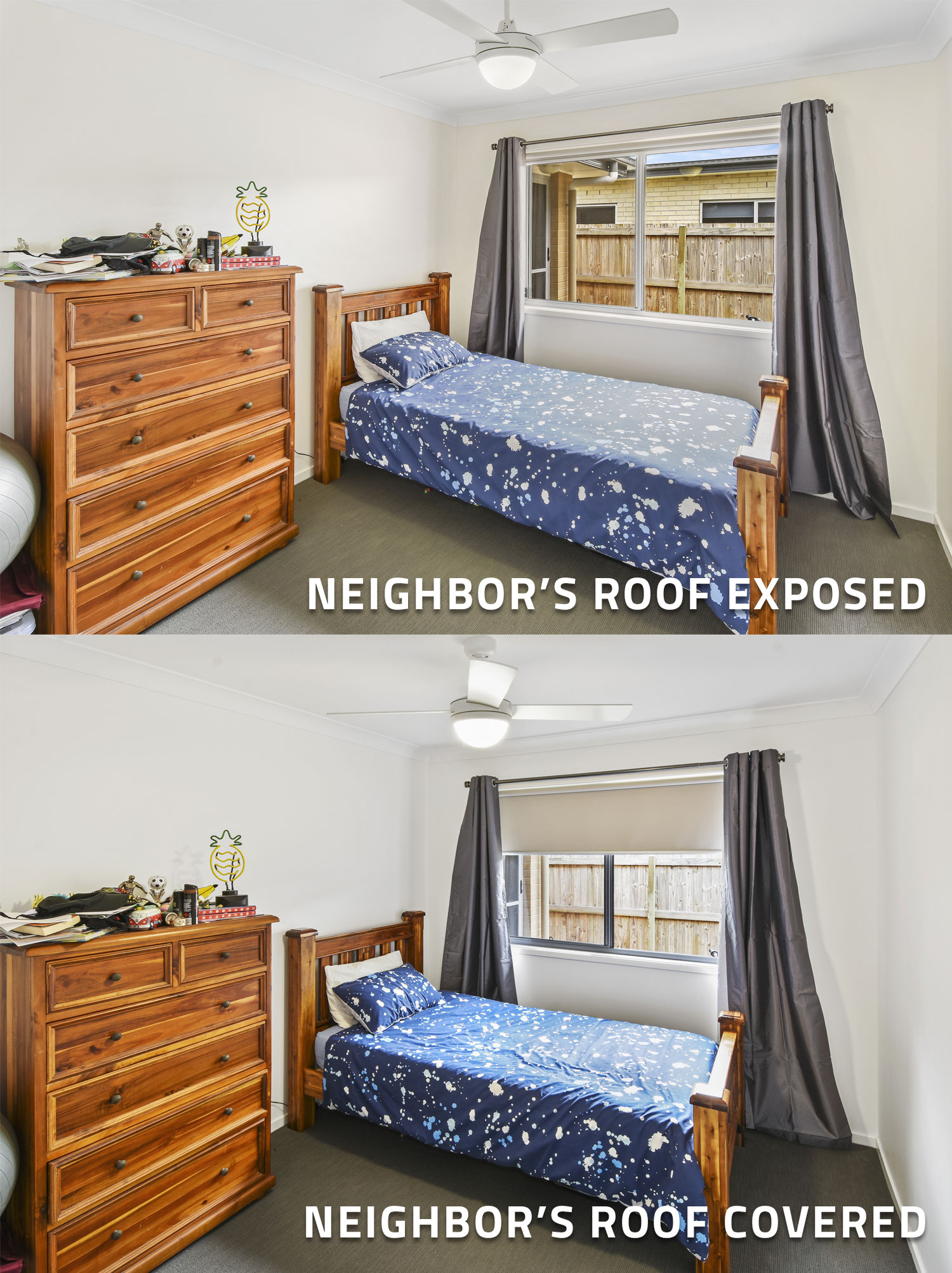 05 – Opening Doors To Create Space
Opening doors to outside spaces (like a pool area or an outside patio) creates space in a shot which is far more inviting to the eye. If shooting a room where the entrance door is visible, try opening it up to create space.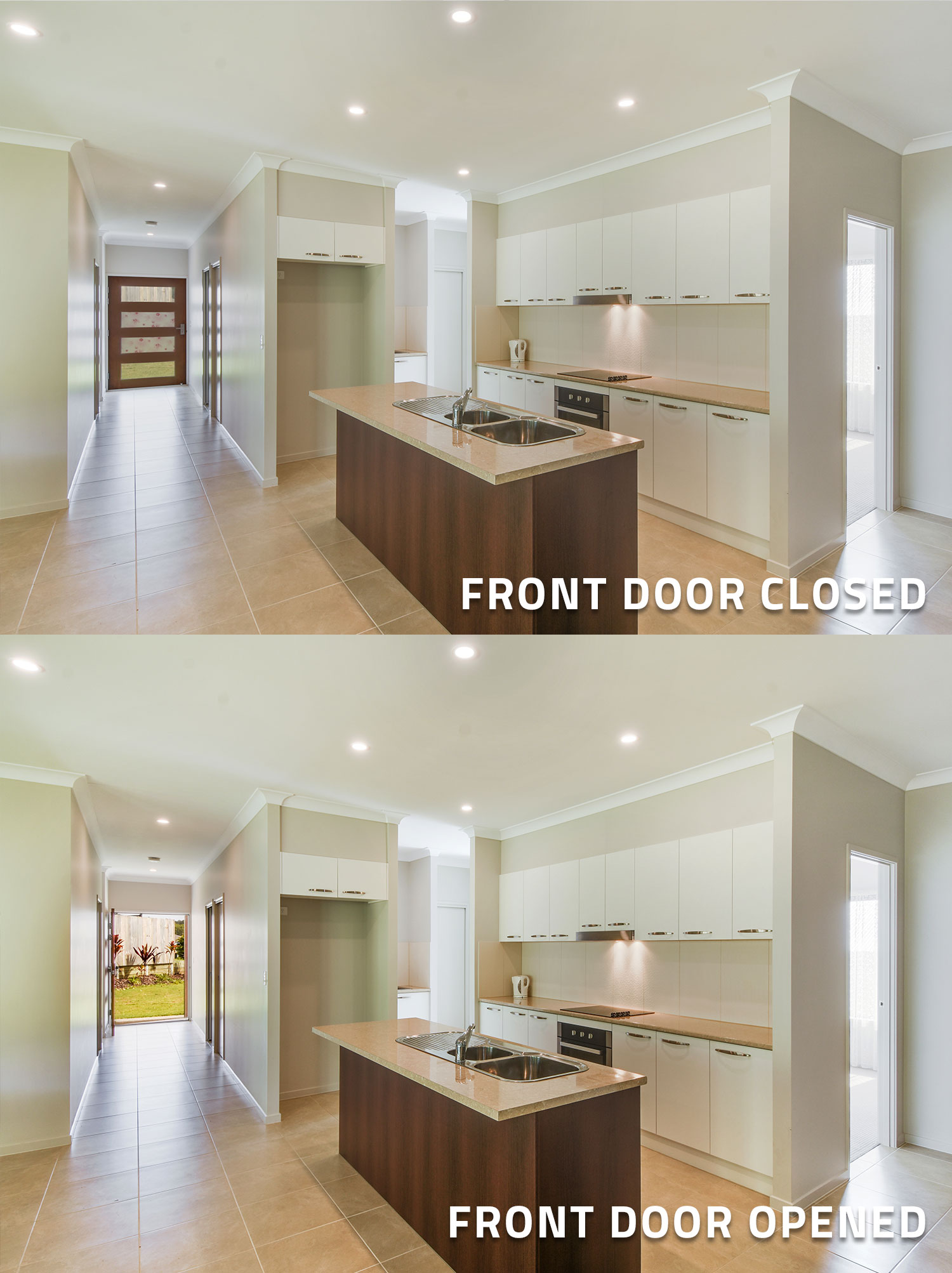 06 – Turn On The Lights
Make sure to turn on your lights in every room! It makes a big difference to your shots and only takes a second to do. If shooting a kitchen, make sure to turn on the range hood light if the house has one. If shooting the exterior, make sure to turn on exterior lights.
07 – Straighten Bed Spreads
If shooting a bedroom, make sure to straighten the bed spreads. This may seem pedantic but it's all the little one percenters that add up to make a shot look professional.
08 – Use An Umbrella If Shooting In The Rain
If shooting a property in the rain, make sure to bring along an umbrella to protect the camera (and lens in particular) from rain particles. An overcast day can simply be edited in post to become a beautiful sunny day using our image enhancement service.
09 – Carry A Lens Cloth
If you do get water on the lens, then it is essential to use a lens cloth to wipe it down. No need to use chemical cleaners, water works just fine. Wipe in a circular motion and ensure the lens is streak free. Double check your images after cleaning to ensure no marks are present on the images.
10 – Using Item Removal For Interiors
When shooting a property, sometimes there are items which can't be practically removed from the shot. Even items like Christmas decorations which may look pleasant in the festive season can actually do your listing a disservice if the property is on the market longer then expected. Use our item removal edit to take out unnecessary items from the shot.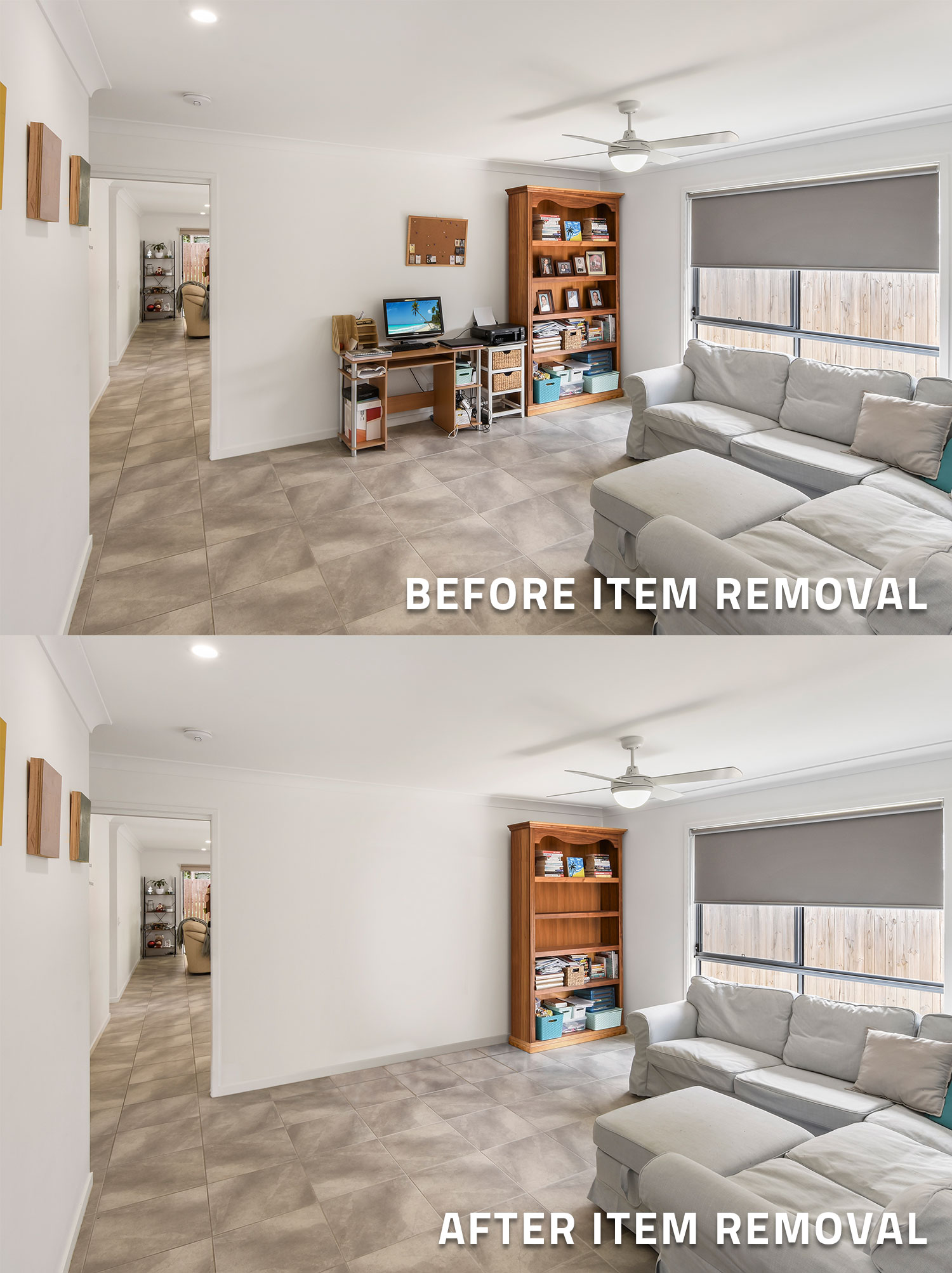 11 – Using Item Removal For Exteriors
Once again, less is more. Easily remove items like "For Sale" signs from a shot using our item removal edit.
12 – The Umbrella Trick
If shooting in the rain, ensure that you only use the umbrella to cover the sky so the umbrella can easily be edited out of the shot. If the umbrella is covering tree foliage or the roof of the property, it will be extremely difficult to restore what is behind the umbrella in post.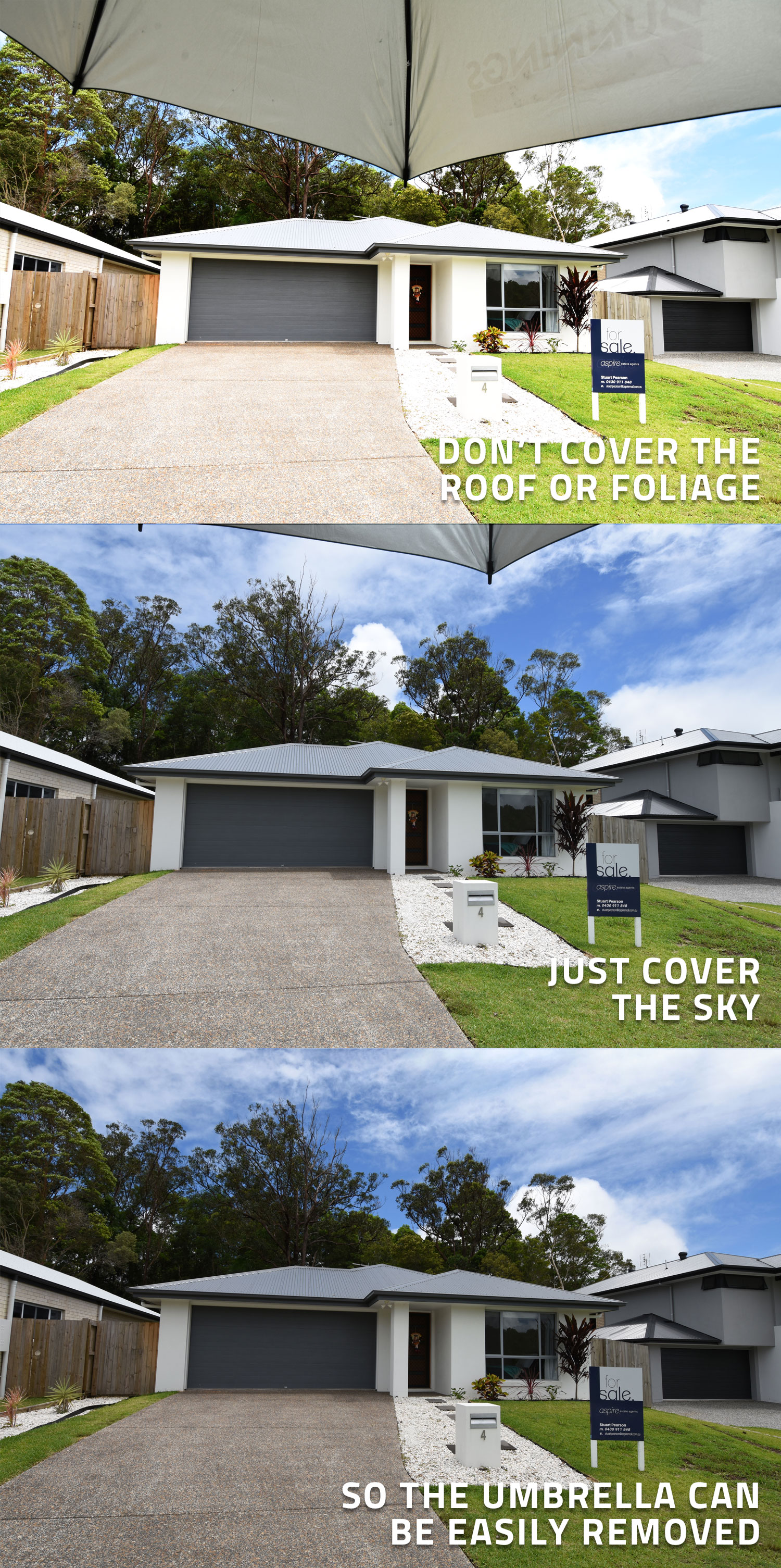 So there you have it! 12 real estate photography tips for 12 months of the year. We hope these tips help you take better shots and ultimately help with your real estate marketing. Last but not least, we wish you all a Merry Christmas and a Happy New Year!