20 May 2021
HOW TO 360 VIRTUALLY STAGE A COMMERCIAL SPACE
Introduction:
While Virtual Staging continues to grow in popularity for residential listings, the impact can be just as impressive when adapted for commercial properties.
Whether you're looking to create an engaging Virtual Tour for your latest listing, showcase how a space could be used by potential buyers or simply achieve the highest price possible for your property, Virtual Staging is a game-changer for commercial agents and landlords. In this blog, we will walk you through the process of shooting a property for Virtual Staging and prove just how quick, easy and effective this edit can be for your commercial listings.
Before we move on, if you'd like to check out Virtual Staging in action with an example Virtual Tour, simply click here and walk through a commercial office space our team has virtually staged. To make this even more exciting, we have just dropped the price on our Virtual Staging for the commercial sector, meaning this revolutionary edit is now more affordable than ever.
Preparing The Property For Shooting:
Do yourself a favor and prepare the property for shooting before you get started. This will make the entire process much more seamless and will mean you can focus solely on capturing the perfect shots rather than tidying up as you go.
If you click here, you can access our Pre-Photography Checklist with some of our top tips for preparing the property. While this is primarily for residential listings, many of the same principles apply and can be adapted to your commercial property.
As a general rule, be sure to turn on all the lights, remove any clutter, open the doors and window shades and tidy up the space to allow you to highlight the most important features of the room.
Shooting The Space:
Choosing the right angle and aspect to shoot from is incredibly important. Remember, we will be virtually staging this image so it's a good idea to capture the important fixtures and fittings that will give the room context in the finished product. For example, when capturing the reception area of an office, be sure to include the front door and any desk space that can later be used in the staging process.
Once you have set up your shoot, do a quick scout around the room using your smartphone, remove yourself from the frame and hit the shutter button - it's as easy as that.
Below is an example of the reception room of an office prior to staging and once Virtual Staging has been completed. The difference is incredible and injects so much personality into the space.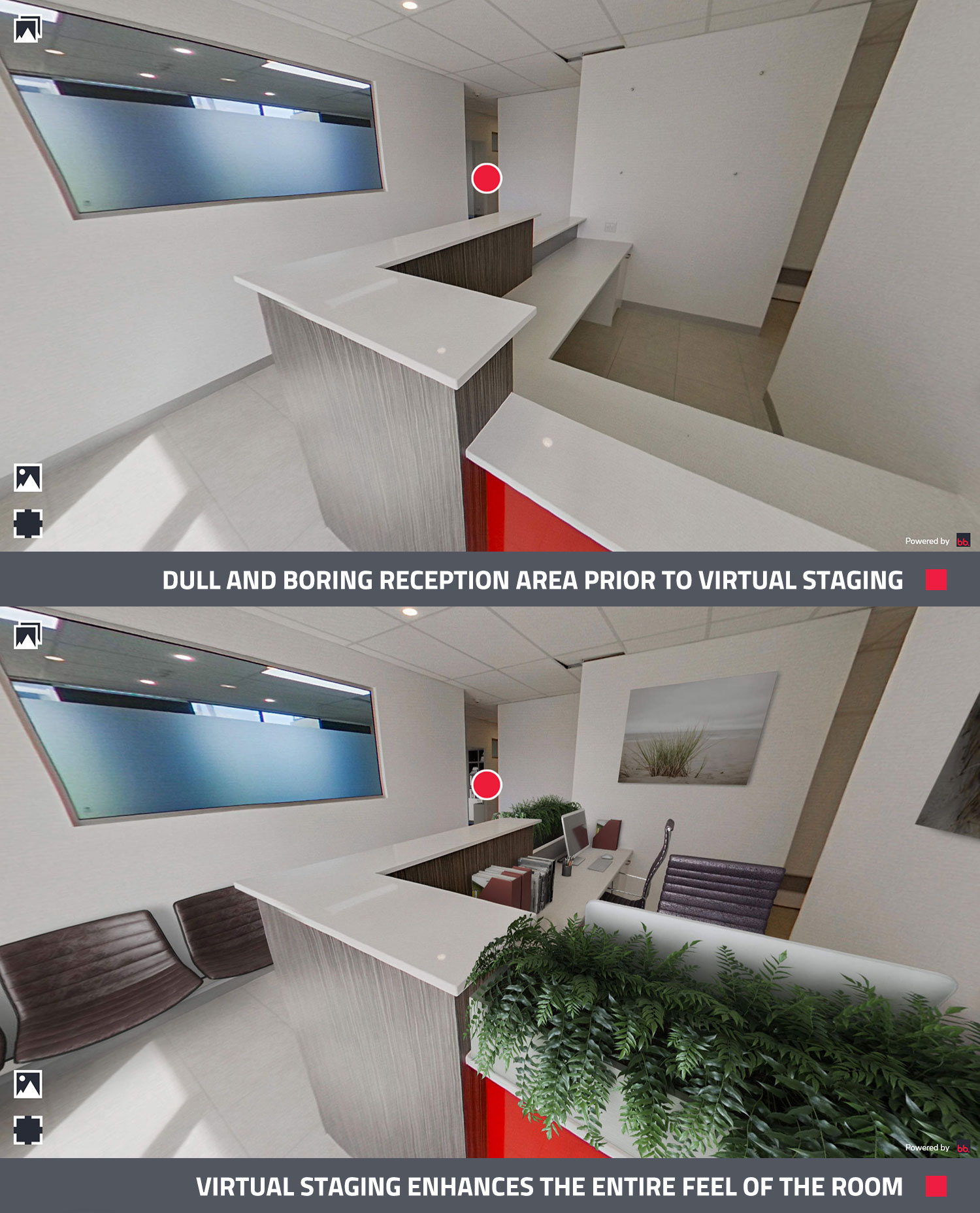 Our team of expert editors can superimpose anything you can imagine into the room meaning the sky really is the limit when it comes to Virtual Staging. Whether you're creating the vision for an executive office, a trendy restaurant, a cool cafe or even a state-of-the-art gym, we really can do it all.
The following examples highlight different sections of a commercial listing and showcase just how effective Virtual Staging can be.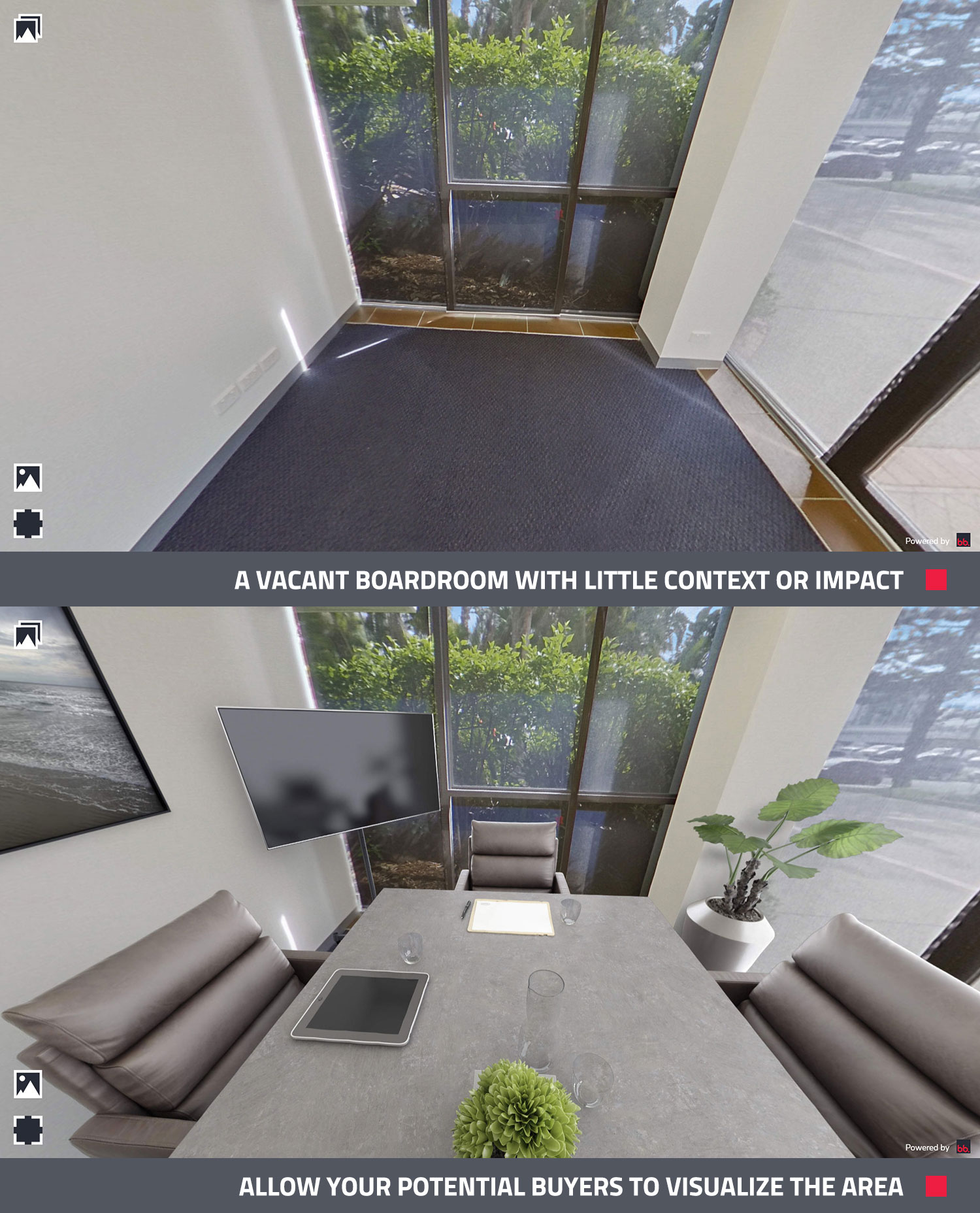 Capturing the hallway in your Virtual Tour is a critical step as it allows viewers to feel as though they are walking through the property from the comfort of their own home. Many of our clients may be experiencing difficulties with holding inspections at the moment and Virtual Staging and Virtual Tours are a fantastic way to navigate this unique period.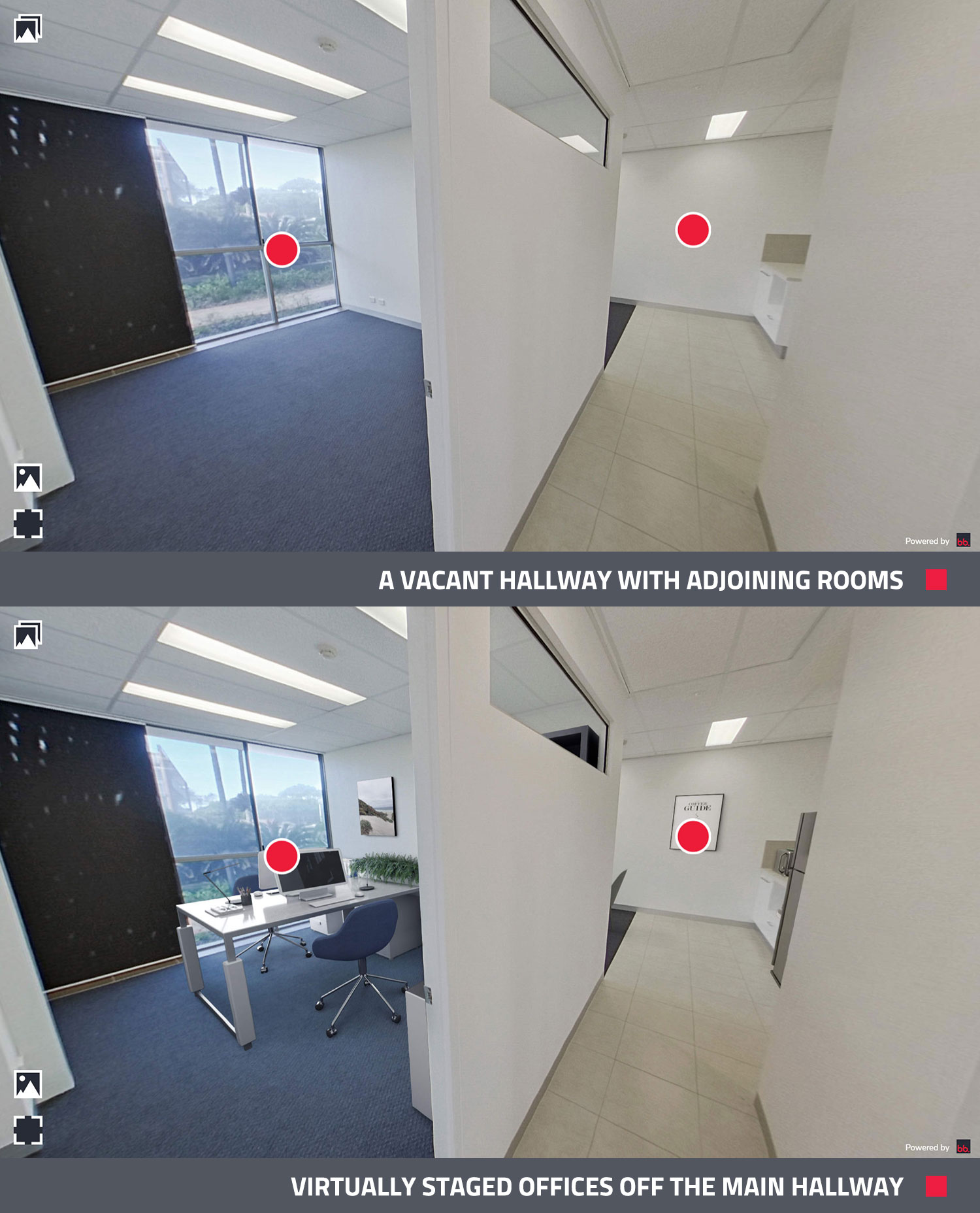 Our Top Tip: If you have a particular furniture style you like and want to include in your Virtual Staging, jump on Google, find an example and submit a reference photo to our team. This helps us understand exactly what you're after and bring your vision for the property to life.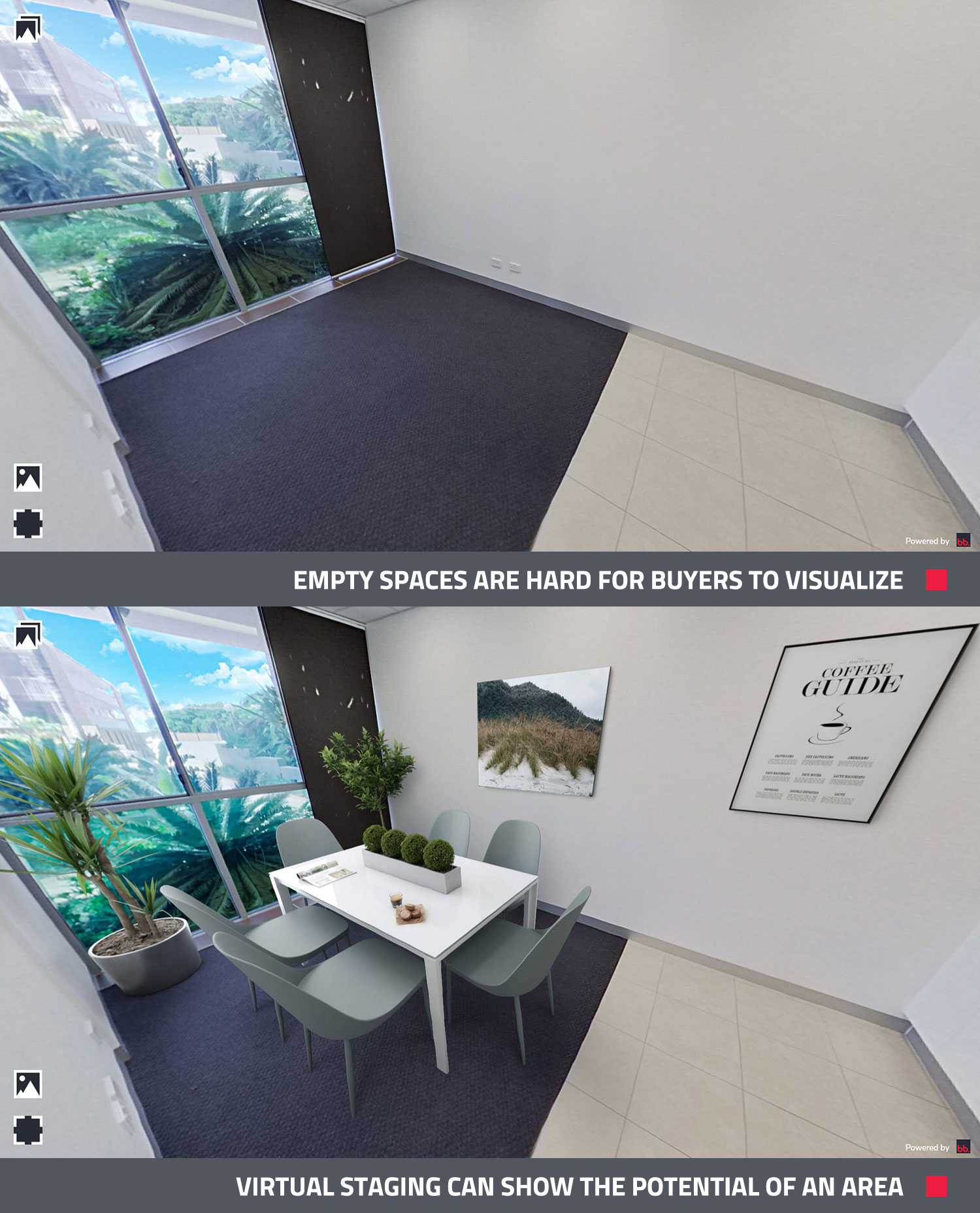 Conclusion:
As we have shown in this simple example, Virtual Staging can make all the difference when highlighting the potential of your commercial listing. It's important to remember that future buyers and tenants may not be as familiar with property as you are and by having your tour virtually staged, you can walk them through each room and show what the space could become.
If you've been thinking about giving Virtual Staging a try, now is the time to get started with our huge discounts for the commercial sector just being released. Still have questions? Don't hesitate to get in touch via hello@boxbrownie.com and our friendly team will be more than happy to answer any of your queries.