22 November 2017
THE BEST COMPACT CAMERA FOR REAL ESTATE PHOTOGRAPHY
As a real estate photographer for over 15 years, BoxBrownie.com Director Brad Filliponi knows a few things about cameras. He has been asked by numerous people over the years what the best compact camera is for agents and property managers who want to take their own photos.
Before we get into the camera side of things, we asked Brad what we need to get the best real estate photos.
The Real Estate Photography Process
Over the years photographing real estate, Brad noticed that the photography process is broken into three different aspects:
Preparing the property for the photo-shoot: This is key to great images and is often overlooked. To do this properly, we recommend homeowners follow the BoxBrownie.com 'Pre-Photography checklist' This will prepare the home, not only for photo shoots but also for sales inspections making everyone's life easier!
Having the correct digital camera equipment: Having proper equipment and knowing how to use it will ensure you get the best photos the first time… We cover more of this later.
Professional editing: The photos need to be professionally enhanced or photoshopped. All the best images are, if you aren't editing your then you are falling behind the competition.

Pre-Photography Checklist…What's that?
Brad provides all his agents with the BoxBrownie.com Pre-Photography Checklist, as an inclusion in any real estate New Listing Kit. Give it to the homeowner and make them aware of how important it is for preparing the property for sale. It is also a great tool that property managers can provide to rental tenants at the end of their lease in preparation for inspections.
Follow this checklist in full and the property will look its finest. Remember you only get one chance at a first impression online.
Read more about using the checklist here.
So…Which is The Best Compact Camera to Buy?
[UPDATE] The Canon M5 EOS has superseded the M3.
After years in the real estate photography industry, Brad has found the best 'point and shoot' compact camera to use is the Canon M3 EOS, with the 15-45mm lens. There are a few models available to suit various budgets, but this model is a terrific starting point for property photography.
It is the most cost-effective option to purchase the camera as a bundle together with the 15-45mm wide-angle lens. You can expect to pay between AUD$470 online to AUD$650 from a shop.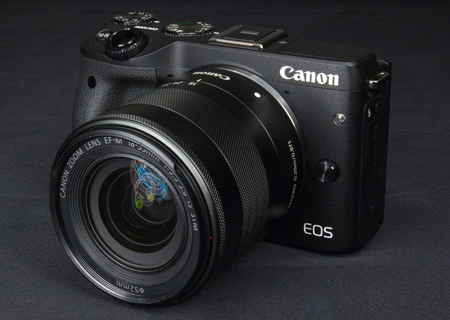 If it is your first time purchasing a camera, we recommend buying in-store. This is just because of the security of having a warranty, should you need to claim, and they can also help you set up the camera.
What Else Is Needed with The Camera?
If you are going to take your own real estate shots, you need to do it right. Therefore, we recommend setting up your compact camera properly and purchasing the following extra's:
External Flash - The best flash to start with is the Godox TT520 II Camera Flash, which retails at around AUD$100. Canon models are also great but are generally more expensive.
AA Rechargeable Batteries and Quick Charger - You will need four AA batteries for the flash unit. Rechargeable Panasonic Eneloop batteries are the best, they also offer a 1.5-hour quick charger combo model which is great value.
Sturdy Tripod - Ensure you buy a good quality tripod, not a cheap one! We recommend a Manfrotto, they are more expensive, but they are excellent quality. The tripod needs to be around eye height in size when fully extended.
Camera Bag - Lowepro is a great quality camera bag and easy to purchase.
Memory Card - The best brands for memory cards we have found are, Sandisk or Lexar. Anything with more than 8GB is plenty of space for still photos.
Lens Cloth - These will generally come with the camera, but it is also a good idea to stock up on them.
UV Filter - UV filters protect your lens from getting scratched and can be purchased from a camera shop.
Now that you have the gear it is the perfect time to start testing your camera. Keep a lookout for our next blog "Getting Started: Setting Up Your Camera Correctly".