THE SECRET TO SELLING A HOUSE (EVEN IF IT NEEDS REPAIRS)

Introduction:
More people than ever before are going to be in the market for a fixer-upper this year. In fact, Newsweek says that 52% of homes purchased in the United States will be in need of major renovation.
If you're a real estate agent, now is a great time to start thinking about ways to present these sorts of properties to the public. There are certainly many ways that a strong virtual property marketing platform can help out here.
If you are planning to sell a domicile in need of DIY, a your ideal marketing package would include the following:
When you are selling a home in need of renovation, it is best to be up front about the improvements that will need to be made.
The copy describing your listing should reveal the work that will likely need to be done, but it should also go into detail about the property's potential.
If the roof leaks, disclose this. But also point out the value of the property after the repairs are made as well as the positive features that have nothing to do with the condition of the property.
Perhaps it's the worst house on the best street; perhaps there's a great beach around the corner; perhaps it's close to public transit routes. Take some time to consider the benefits of the location, and be sure to spell them out in your listing's copy.
Sell The Location With Aerial Drop Pins



Aerial drip pins are a great way to highlight the benefits of a property's location. Sometimes, when selling a house that needs renovations, the location is the most attractive detail of the property.
A great way to illustrate the benefits of a location is to include drone photography with drop pins or other graphics displaying the best things about the surrounding neighborhood.
This is especially effective when marketing properties that are going to need a little TLC.
No matter how much work needs to be done on the property you are trying to sell, it's always a smart marketing move to include aerial photography showing neighborhood features like shops, schools, parks, beaches or fitness centers.
Pointing out the strong points of the neighborhood, shows the buyer why the property is worth renovating.
When prospective buyers are able to envision the appealing aspects of life at a particular address, they can feel less uneasy about all the work that will lie ahead for them if they decide to make the purchase.
Floor Plans Are Valuable Assets For Renovators
Never underestimate the power of the Floor Plan in real estate marketing. Floor Plans are especially useful when selling homes in need of renovation, as they give buyers that birds-eye view of the bones of a property.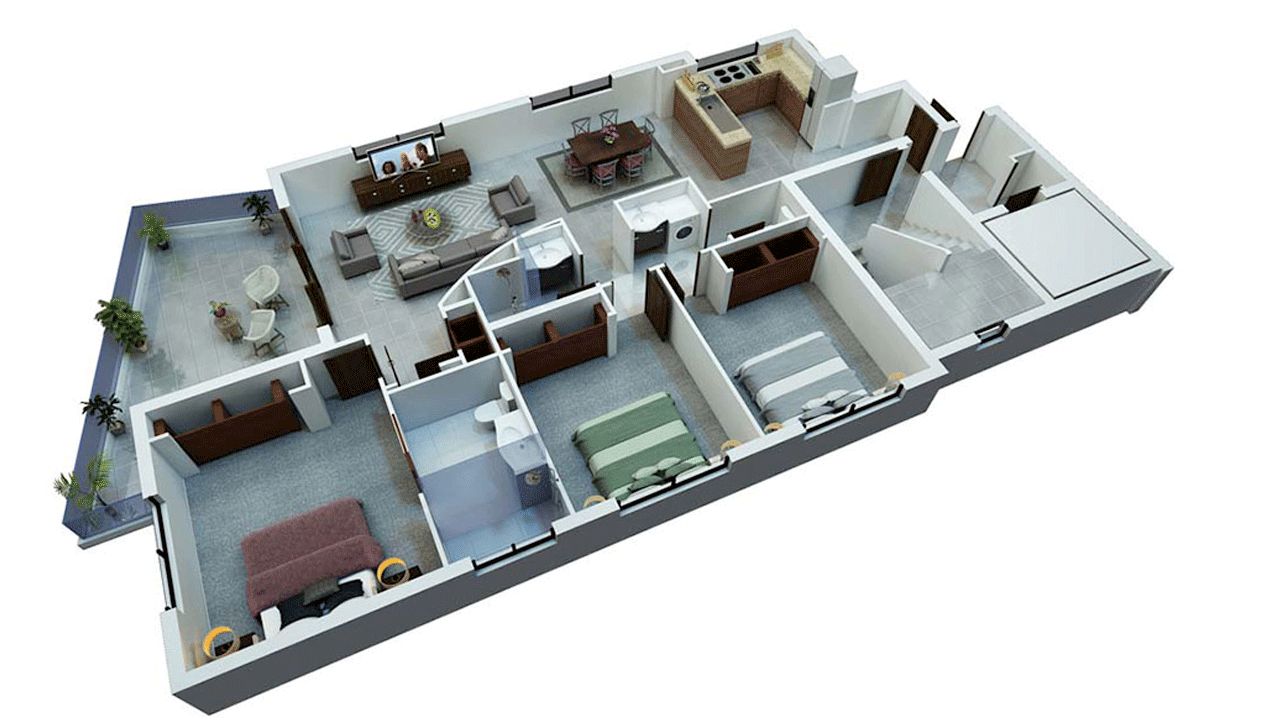 Floor Plans are especially valuable to renovators. They are an instant visual reference for the layout of a property and are invaluable to anyone who needs a bird's-eye understanding of the structure of a building.
These effective visual aids are also exceptionally easy to put together from scratch.
Our Brad Filliponi has a popular video tutorial in which he shows how anyone can put together a to-scale floor plan, using only a sheet of graph paper and a pen.
Take a photo of the sketch, send it to us and we can turn it into a beautiful Full Color 3D Floor Plan in less than 48 hours.
360° Virtual Tours
Virtual Tours might have the reputation as being flashy modes of presentation that are best-suited for stunning homes, but they can also be effective for properties that are far from perfect.
One of the main benefits to using a 360° Virtual Tour to present an 'as-is" property in need of upgrades is that it allows potential buyers to familiarize themselves with the property - warts and all.
In 2021 Virtual Tours became the preferred way to 'visit' a house prior to an actual physical inspection. Their self-guided, interactive nature allows property shoppers to tour the house as many times as they desire from many different directions.
Yes, the Virtual Tour is a great way to present a stunning and immaculate home. But their advantage in the realm of fixer-uppers is that they cut down on wasted time.
Agents love them, because Virtual Tours (especially for properties in need of repairs) tend to weed out individuals who would be scared away after a physical walkthrough.
Buyers love them for the same reason. A Virtual Tour that captures some of the defects of a property gives buyers the information they need to decide if they want to take the next step and tour the house in person.
Virtual Renovation Shows Potential Buyers Specific Aspects Of Their Dream

Our Virtual Renovation edits can specifically capture a prospective buyer's vision for a place. When the buyer is serious but still not 100% sure, the Virtual Renovation tool can be a great way to capture their imagination.
People who are buying a house to renovate tend to have a few more details to consider than those buying places that are not in need of significant improvements.
As a real estate agent, it is worth your while to find out specifically which major renovations a prospective buyer is contemplating.
Clients who are seriously considering a purchase can benefit from our Virtual Renovation service, which can depict how the property in question might look after renovations are complete.
Whether it's a pool in the backyard or the complete overhaul of any interior room, Virtual Renovation allows prospective buyers to see what their improvements would look like.
For buyers on the fence, the Virtual Renovation edits can provide that final touch of inspiration that seals the deal.
360° CGI Render Tours
Once the sale is made, if you really want to walk the new homeowner through the renovation process, alert them to our 360° CGI Render Tour.
These fully immersive simulated walkthroughs of what a house will look like after repairs are made are not just mind boggling for their use of metaverse technology. They can also have a practical value as they can reveal errors or oversights in architectural drawings.
This is exactly what happened with Daniel Chapman of Stroud Homes.
In the Clay Draft of a CGI Render Tour that we produced for his team, builders were able to spot a design error before it happened, a revelation that ended up saving Stroud Homes close to $10 000.
As Chapman explains: "We had a stunning sliding internal barn door planned at the front part of the home, but it had the potential to impede on the stairwell. On the architect's plan, we thought we could get away with it and we knew it was going to be pretty close, but we wanted to be sure.
"The main challenge was that we wanted to be certain before we started building.
"We reached out to BoxBrownie.com and they produced a 3D virtual tour which made it very clear that the internal barn door would be in the way of the stairwell.
"This revelation proved to be a catalyst in Stroud Homes redesigning the whole area, removing walls and making the space more of an open plan design. The result was spectacular, and the owners were thrilled."
Take the final version of the Stroud Homes CGI Render Tour HERE and experience the magic of metaverse technology.
---