3D RENDERS VS THE REAL ESTATE INVENTORY SHORTAGE
Introduction:
It's no secret that there is a huge shortage of real estate inventory in the housing market these days. The demand for homes, high prices, and low mortgage rates do have their upside. However, if the shortage in housing supply continues, many of the less established agents will be left out of the game.
Home sales worldwide are in a classic supply/demand scenario. Low housing inventory is causing increased demand and higher home prices. Among agents, this means that the competition to acquire listings and sell homes continues to grow.
One clever response to this increased competition is the 360° render. Now is a great time to reexamine the uses of the 3D render, because it is a more versatile marketing tool than many people think.
Naturally, when it comes to off-the-plan sales, nothing ignites the imagination more than the mighty 3D render. Renders are sensational selling aides that flesh out the future in 3D, and unlock the dreams of potential buyers.
But the real estate industry faces a shifting landscape brought about by the coronavirus pandemic. Renders are proving useful in at least two other ways. If you are in the business of selling property, it is worthwhile considering these uses of the render to obtain more inventory.
3D renders can work magic in two often overlooked aspects of selling real estate:
Obtaining Council Approval
Repurposing Vacant Commercial Property
HELP COUNCIL FALL IN LOVE WITH YOUR PROPOSAL
Renders can be as effective in selling development proposals to council as they can be selling townhouse units to first time homebuyers. The difference here is that selling your project to council is worth much more than any sale to an individual buyer.
When dealing with real estate proposals, councillors are inundated with complex architectural drawings and sleep-inducing documents. These are more likely to inspire a headache than a rosy vision of a future development.
In the small time allotted for your proposal you will have to convince council members that your project is beneficial to the community, aesthetically pleasing, meets zoning requirements, and is worthy of approval.
Rather than relying on each councillor's imaginative capability, why not use a 360 render to get your project over the line?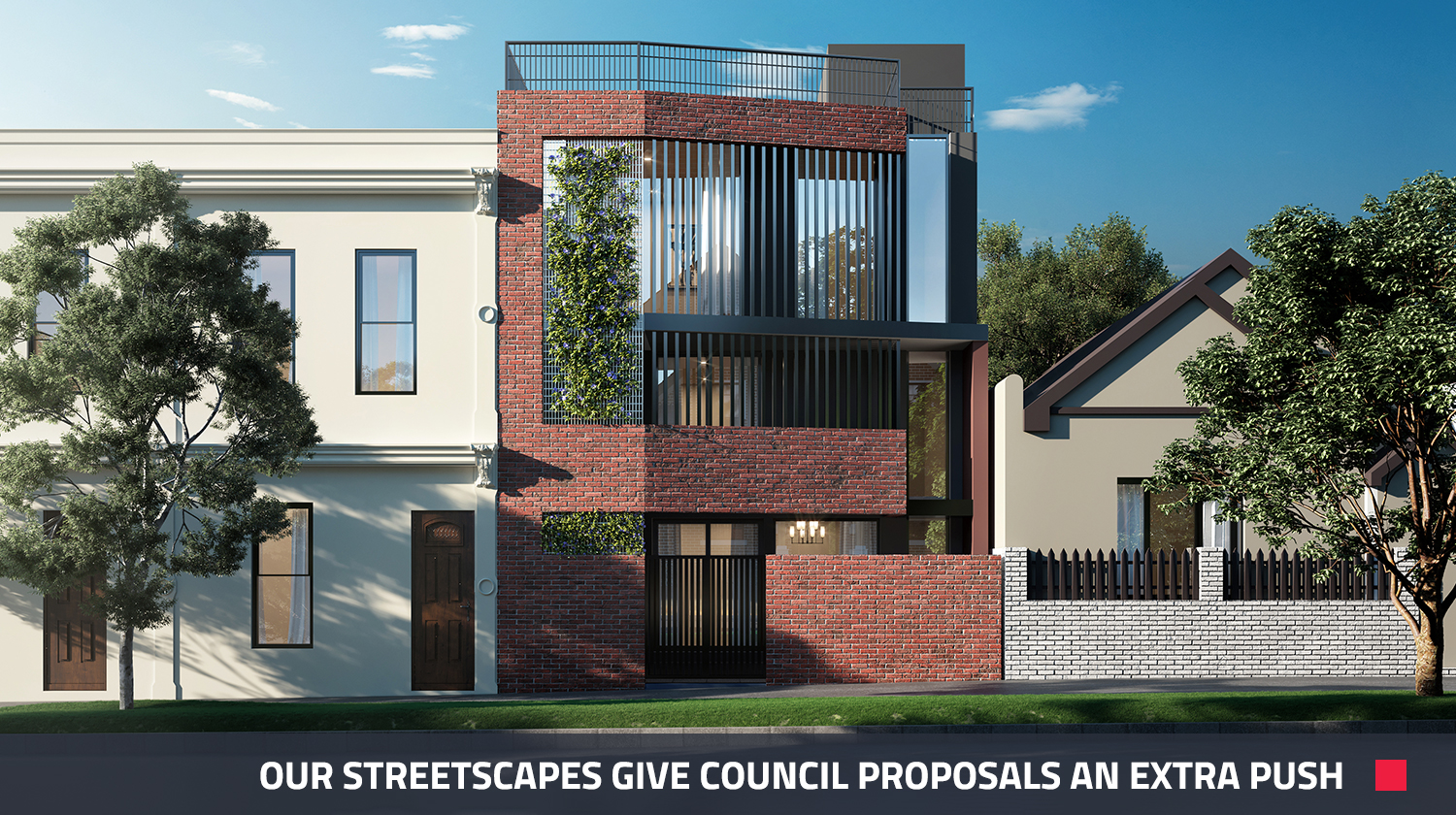 The same principles that govern marketing property to people buying a home apply to your council submission. Always strive to stand out from the crowd via stunning presentation.
Architectural plans and artist sketches simply cannot compete with the effect of a 3D render or a 360 render tour. And a render that helps win the approval of council has essentially served to increase your inventory.
Community impact is always a major issue in the decision to approve a project. Our 360 streetscapes are a perfect way to show how your project will benefit the surrounding neighbourhood.
COMMERCIAL REPURPOSINGS IN POST-PANDEMIC TIMES
It seems inevitable that a widespread repurposing of commercial real estate is in the cards for life after Covid-19. With a dwindling number of homes on the market and a record high level of vacant commercial property, the repurposing trend has already begun.
If you're a proactive real estate agent, your eye will no doubt already be on the empty commercial spaces in your farm area, and your wheels will be turning. Commercial landlords are known to be implacable, but this is beginning to change.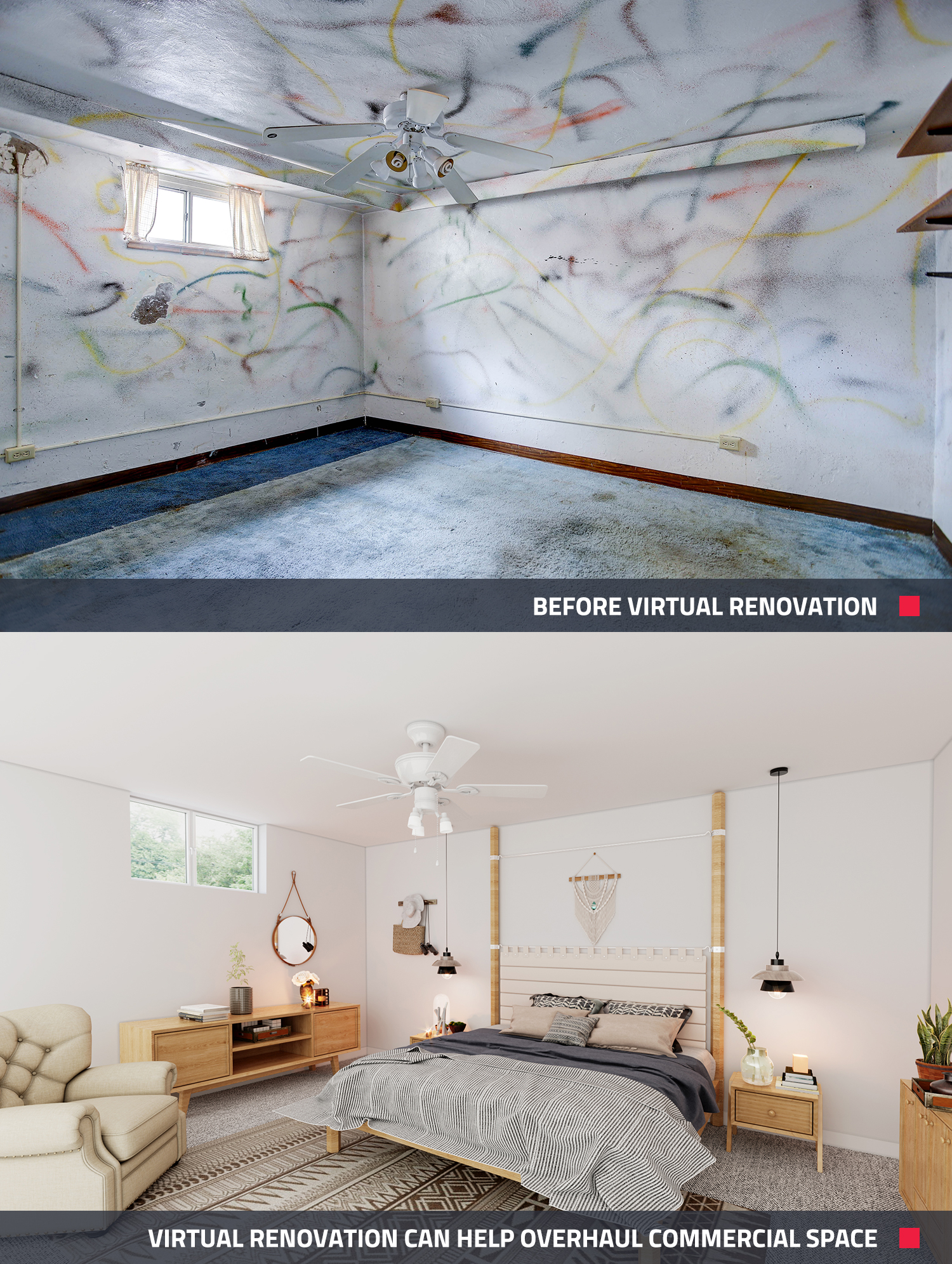 Some regions are responding to the "retail apocalypse" with tax incentives for repurposed commercial spaces. Other beleaguered landlords are finding that it makes economic sense to convert their buildings whether they receive tax incentives or not.
There is no better way to explore this transition than by using our 360 renders or virtual renovation services.
The price for our commercial render is exactly the same as that for residential properties. In fact, the line between the two is becoming increasingly blurred. Many commercial properties may be destined to become residential as businesses flee office spaces and retail moves into the Amazon jungle.
The 3D render represents a great starting point for partnership among agents, builders and developers. Residential rents are soaring in cities. Often these properties sit next to empty JC Pennys, Chapters, and Pier I Imports outlets, among others.
There is also increased demand for warehouse space, and medical facilities. To the creative thinker, there is huge potential for fresh inventory here.
You can become a driving force behind such a shift. Explore the possibilities with a render. Present it to a landlord, and you might just be rewarded with a fresh batch of listings!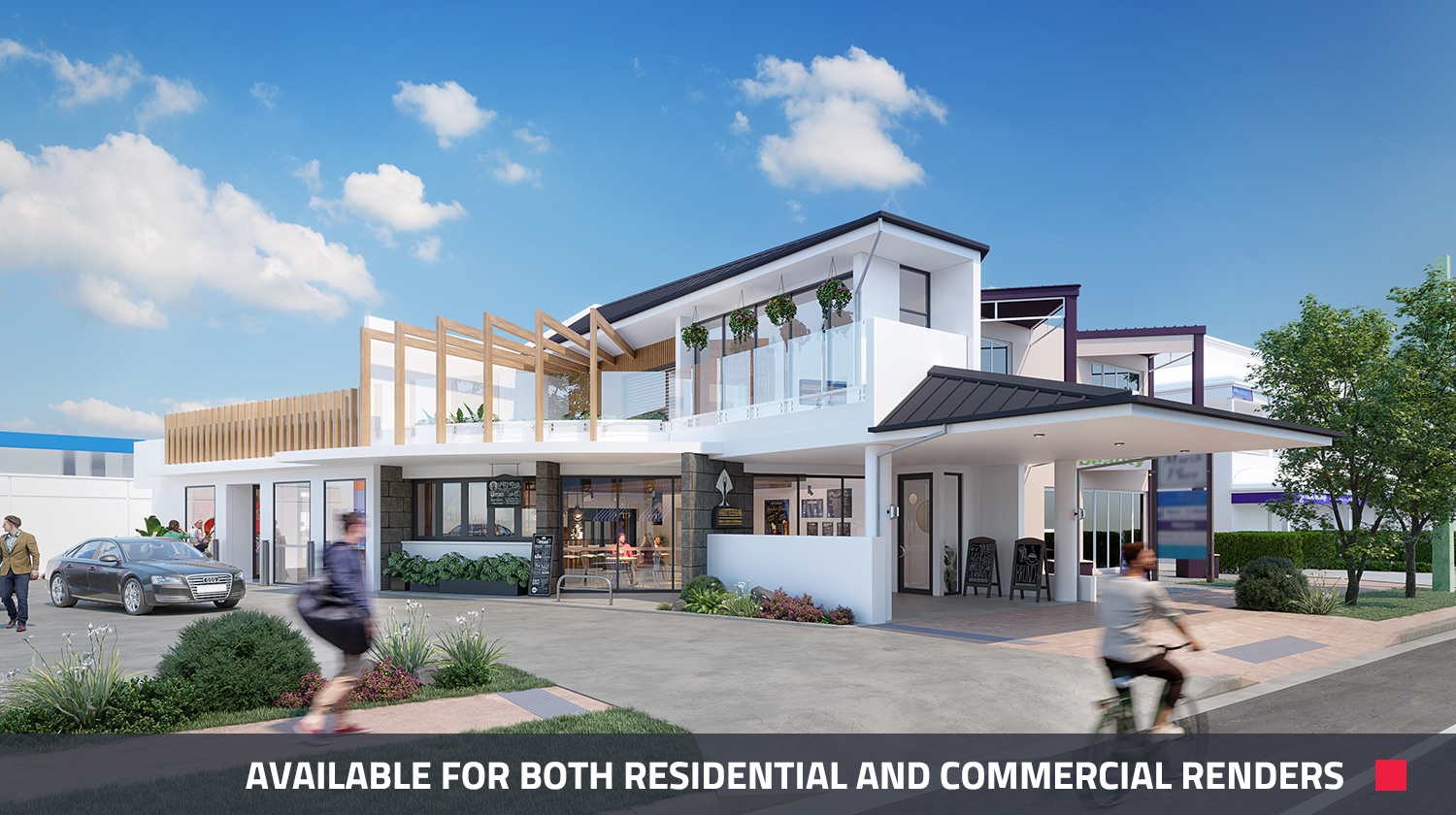 ---