7 SAVVY WAYS TO USE YOUR EMAIL SIGNATURE TO GENERATE LEADS

Introduction:
"The spider is the perfect creature of existence - it spins its web and waits for the universe to provide." This piece of ancient Chinese wisdom is a great way to view your email signature. Not to say that your future clients are like insects waiting to fly into a trap you have set for them, but, like the spiderweb, a well-constructed email signature can bring in a lot while you do very little.
In this post, we share seven ways to create an email signature that goes to work for you - prospecting, generating, and attracting new leads with every email you send.
1) Make Your Email Signature Mobile Responsive And Easy To Load
Before worrying about what to include and what not to include in your email signature, it's essential that you select a mobile-responsive template.
It's estimated that almost 70% of emails are first opened on a smartphone, so if your email signature uses a template that is not mobile-friendly, you are missing out on a huge chunk of opportunity.
Remember, your email signature should make you look good - not bad! We've all seen how bad it looks when a non-mobile-responsive page is opened on a smartphone. These pages are difficult to read, let alone navigate.
If you hope to use your email signature to generate leads, be sure it's delivered in a format that these potential leads can read, interact with and respond to.
The need for user-frendliness is also the reason why it is not a good idea to use high-resolution images or embedded video in your email signature. The end of an email is not the place to expect someone to wait for a video to load or an image to materialize.
With these two points of technical housekeeping as your starting point, you'll be in a position to construct a striking email signature that captures clicks on computers and taps on smartphone screens.
2) Include A Photo Of Yourself
It's no secret that when marketing real estate, images are your most powerful weapon. The same holds true when you're marketing yourself.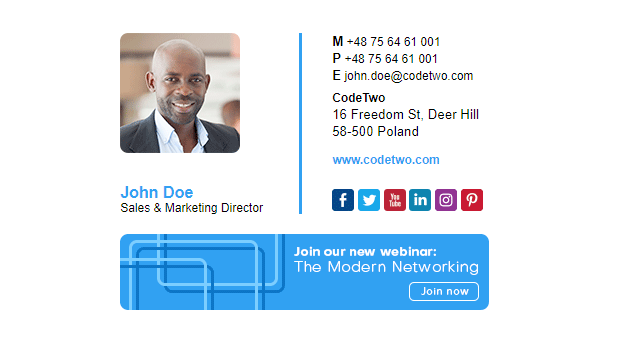 A headshot, as seen in this sample email signature template, provides a personal touch and some visual relief in a text-heavy and impersonal medium. Also, note how the use of social media icons (rather than URLs) keeps the layout clean and uncluttered.
By their nature emails are faceless, text-heavy documents that are not naturally suited for delivering the human touch or forging personal connections. Yet in a business like real estate where the trust factor is paramount and where most of your emails will be read by those who haven't met you in person, your headshot is your way to communicate something about yourself that might be difficult to work into the content of your email message.
Because of this, your image must be of the highest quality. If your headshot is dark, or full of distracting background clutter it won't inspire much confidence in your ability to showcase property.
We can help you showcase yourself, just as we can help you showcase your listings. Our Portrait Retouching service can do for your look exactly what our Image Enhancement edits do for your listings.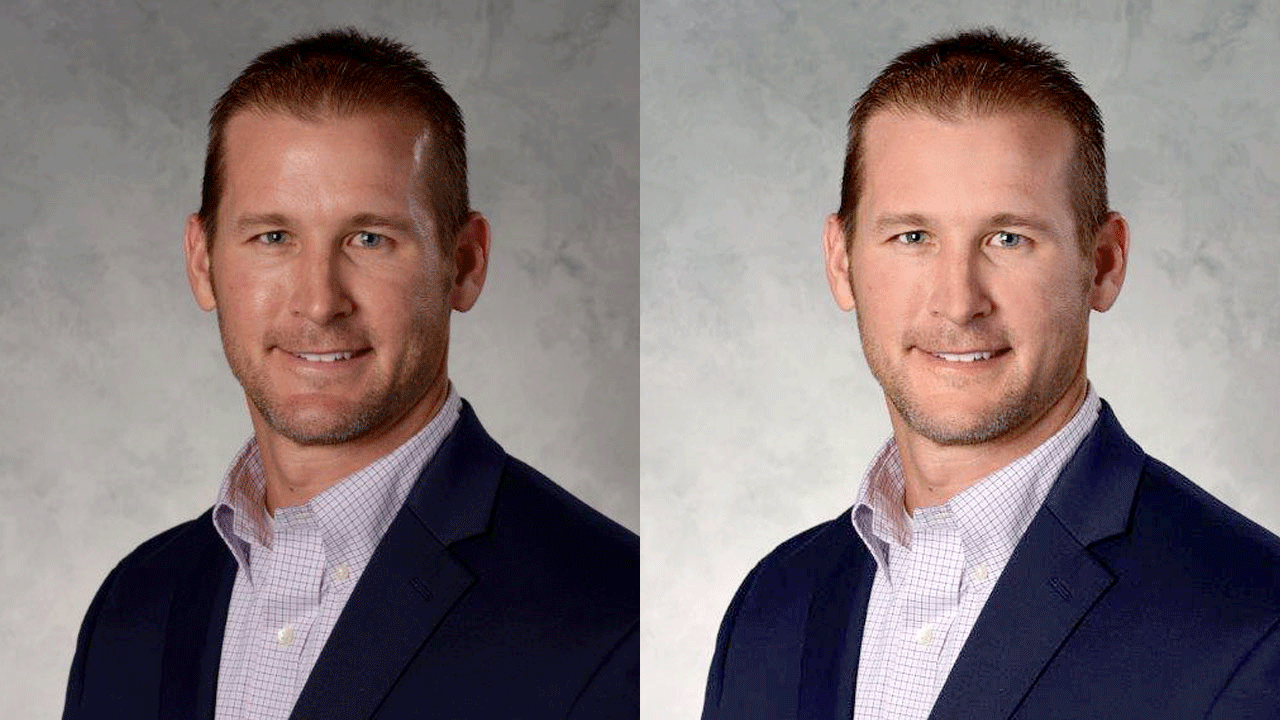 A headshot is a necessary feature of every effective email signature as it provides a personal touch in an impersonal medium. Our Portrait Retouching service can provide the tweaks necessary to get your image looking its professional best.
3) Use Icons For Social Media, Not Text Links
If presentation is the key to selling property, clutter might be the cardinal sin of real estate presentation. Our Item Removal service exists solely because nothing is as off-putting or unsightly as a cluttered room in a real estate photograph. The same holds true for your email signature - keep it as free of clutter as you can manage.
An email signature full of long URLs or long passages of text (like inspirational quotes or client testimonials) is the definition of clutter. The hyphens, colons, dashes, backslashes, and dots that make up every URL might take you to the same webpage as a social media icon but they are no fun to read. Don't make people work harder than they have to become your clients!
Social media icons are far more appealing than lengthy URLs that clutter up your message. They are colorful, instantly recognizable, and just like your picture they provide a bit of visual appeal/relief in a medium that is exclusively black-and-white, text-heavy, and possibly just a little bit boring!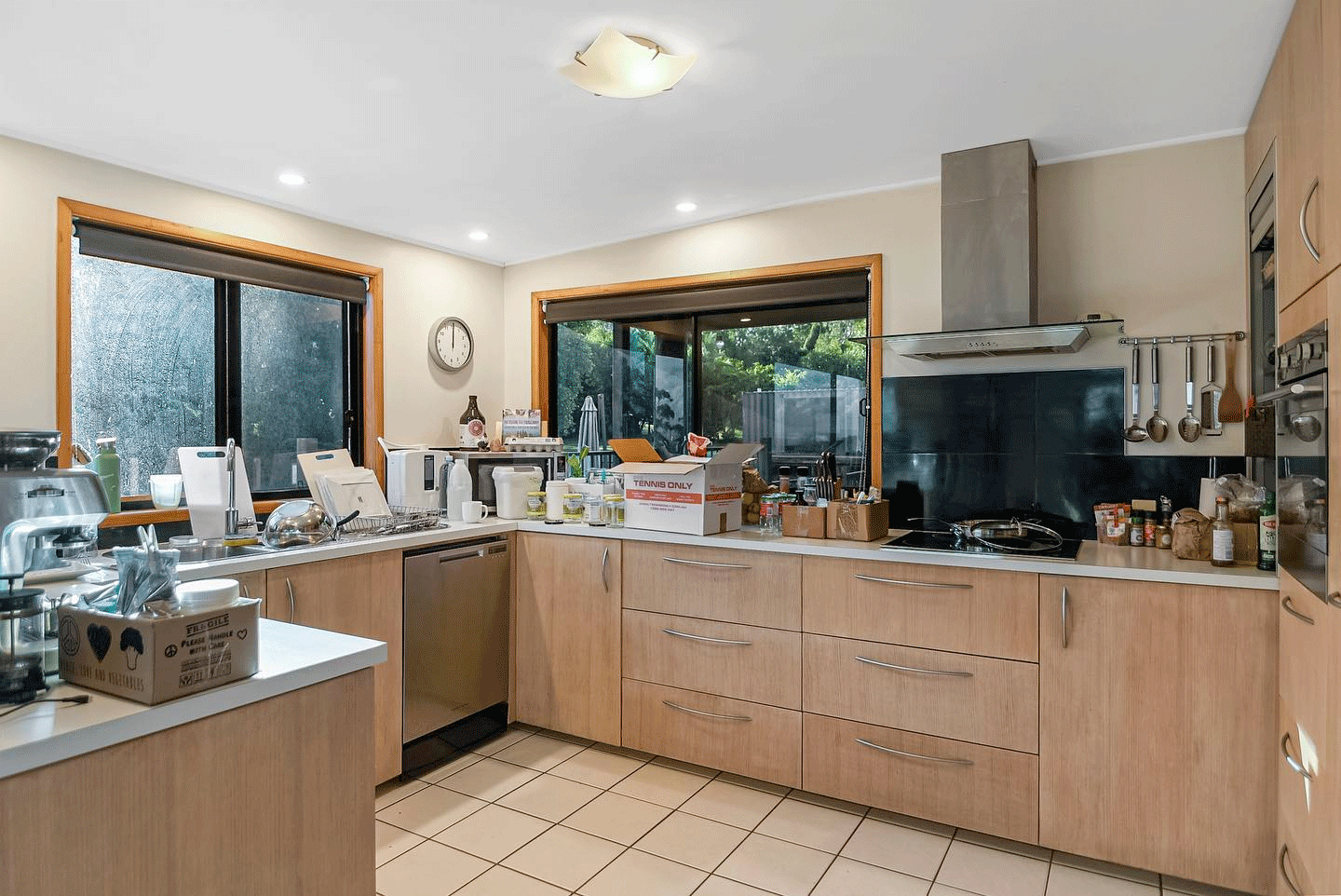 Clutter is an absolute 'no-no' in real estate photography. Your email signature should also avoid the off-putting effect of clutter by using icons instead of URLs and keeping the remainder of its text brief and to the point.
4) Be Strategic With Your Social Icons
Now that we've stressed the importance of using social media icons, it's important to point out that you should choose your icons wisely - and include as few (not as many) as possible.
In many ways your email signature should be crafted like a Facebook Ad - relatively brief in textual content, appealing to the eye, and with a specific landing page in mind. The icons you include in your signature should take the recipient of the email to that landing page.
In the 'John Doe' template (above) there are six social media icons linking the email recipient to the agent's social media pages. This is probably too many. Be careful what you link to!
Rather than including a social media icon for every single platform you are active upon in social media, craft a specific social media "landing page" exclusive to your email signature.
This will allow you to monitor and tweak your email signature to ensure it is getting the greatest clickthrough possible. It will also enable you to construct a social media landing page that is specifically geared toward attracting new clients.
If your main social page is a lead-generating machine, then of course your icon should link to that. But, an email signature can also work in perfect tandem with a Facebook business page that advertises, exhibits, and exudes everything you can do for a client.
Have you just shot a spectacular 360° Virtual Tour for a client? Put that up there. Your email signature will be most effective in generating leads if it takes people to a place that shows them "Here's how I can showcase your home!"
What your social icons link to should naturally depend on the sorts of leads you are hoping to generate.
Perhaps you want to prospect for listings. Perhaps you want to market them. Perhaps you want to share what you know and convey your expertise to future clients. Perhaps you've just followed the steps in our latest blog post How to shoot for Virtual Staging with an iPhone13 Pro Max, and want to display to the world your newly acquired skill.
Whatever it is that you think will endear yourself most to the sort of leads you are seeking is what your social icons should link to.
It can be counterproductive to include icons that take people to your social media pages that feature you getting blitzed on New Year's Eve or wrestling with your dog on your front lawn. Not to say that such non-professional content should be shielded from the public, but if you are hoping to generate fresh leads, your signature should have more singleness of purpose.
Linking people to one social media platform that (like the spiderweb) is constructed with a specific goal in mind, is probably a better way to funnel and focus your message than splattering your email signature with seven social media icons that dilute your message and disorient the recipient of your email. In this case, less can certainly be more.
5) Be Comprehensive With Your Points of Contact
If 'less is more' with your social icons, then 'more is more' when it comes to including ways for people to get in touch with you.
The metaverse might be trying to obsolesce the physical address, but something is reassuring about an email signature that provides such information as your geographic location in the real world. There is so much deception and trickery in the realm of email marketing that a physical location is a great way to anchor and convey your legitimacy.
And speaking of things becoming archaic, don't be too high-tech that you neglect to include a fax number. The demographic that owns the most property in the USA (Baby Boomers/senior citizens) have grown up accustomed to conducting their real estate business via fax. Your email signature should not be so far ahead of its time that it makes prospective clients feel they can't keep up with you.
To keep textual clutter to a minimum, however, you should probably leave your email address out of your email signature. If someone's reading your email signature, it means they are reading your email - which means they have your email address!
6) Hyperlink to Client Reviews
We asked one of our great and inspirational clients, Amy Bennett, for her thoughts on a quality email signature and she pointed out the importance of linking to client reviews. This is something that even our samples of attractive email signatures have overlooked.
Amy makes a good point. From choosing a restaurant to a hotel room or a real estate agent, customer reviews are having more and more influence on consumer choices.
Giving a potential lead instant access to testimonials about the way you do business is a smart way to move things along as you sign off your email communications.
Again, to avoid information overload (aka clutter), it's probably best not to include the actual reviews in your email signature. Amy's email signature includes a clean and simple hyperlink to 'Client Testimonials', which takes the potential future client to a page featuring six glowing reviews (from both buyers and sellers) of Amy's caring professional conduct.
Credible, competent, and trustworthy - when you've earned these vital stripes with previous clients, your email signature should let your future clients know!

7) End With A Call To Action
Your email signature should be structured in much the same way as a Google or a Facebook ad. And in reality, an email signature for a real estate agent is exactly this - an ad. What does every effective advertisement feature? A call to action.
If your signature does not give people a chance to take a further step towards knowing more about you, then it will be useless as a lead generator.
We've already talked about how the social media icons in your email signature should link to specific landing pages. In this sense, each social media icon you include is a subtle call to action. But, as in the example below, your email signature should also include one major call to action that speaks directly to the sort of lead you are seeking most.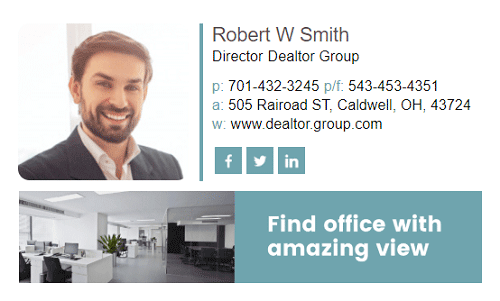 "Find office with amazing view" is the clear call to action at the bottom of this email signature. This real estate agent is clearly in the business of leasing commercial property and his call to action is crafted to appeal to the precise sort of lead he is seeking.
A banner at the bottom of your email signature can be your last hurrah, your final chance to swing for the fence! If a social media icon is a subtle call for action, there should be nothing subtle about your banner.
Be direct and be specific about what you are inviting your reader to do. And tailor your message to the precise sort of lead that fits your career. "List your home with me" "Find out how much your home is worth" "Check out my latest listings" - brief, pointed invitations such as these are the sort of phrases that will lead you to leads.
---