NEVER BEEN EASIER: HOW TO SHOOT REAL ESTATE WITH THE iPHONE 14
Introduction:
Anyone who knows our co-founder Brad Filliponi will not be surprised to learn that the first thing Brad did when he got his hands on the brand-new iPhone 14 Pro was take it to a Brisbane apartment to see how it performed on a real estate shoot.
There are plenty of bells and whistles on this new iPhone 14 Pro: an updated 12-megapixel wide camera, a larger sensor, an ƒ/1.5 aperture, and larger (1.9 microns) pixels to capture way more light. But for his first video tutorial with this snazzy new gadget, Brad was not interested in any of these.
His trip to the Brisbane apartment involved a much simpler purpose.
Rather than explore the complex photography capabilities of this latest iPhone, Brad set out to prove that you don't have to know anything about these fancy features to shoot great real estate photos with the device.
For this first experiment, he put himself in the shoes of someone with little or no photography experience. The images you will see in this post are all shot using the phone's standard camera settings, meaning that no advanced knowledge of the iPhone 14 Pro is required to produce the sort of images that we came up with on this test run.
Thanks to our Image Enhancement service, it is now beginner-level easy for real estate agents to shoot their own listings on their smartphones. This might be the most obvious takeaway from Brad's first field test of the Apple iPhone 14 Pro.
The Experiment: Can The iPhone 14 Pro's Most Basic Settings Net Brilliant Results?
Often, when one tests a product, the goal is to get peak performance using the product's most elaborate features. For this experiment, our co-founder Brad Filliponi tried something different: He tried to get peak performance out of the iPhone 14 using only the camera's most basic features.
His secret weapon: our Image Enhancement editing package, designed to bring the most out of every image that comes its way.
By arranging the test along these lines, Brad makes at least one thing clear: agents who are on the fence about shooting their own real estate photography have absolutely nothing to fear.
"In my hand is the brand new iPhone 14 Pro," a clearly eager Brad announces at the commencement of the video. "We're going to be testing it out by shooting an apartment.
"To keep things simple I'll be taking single shots using the standard camera app that comes with the phone.
"It's quite a dark space which is kinda perfect for our experiment, as you'll really get to see the difference our Image Enhancement service will bring to any real estate photograph."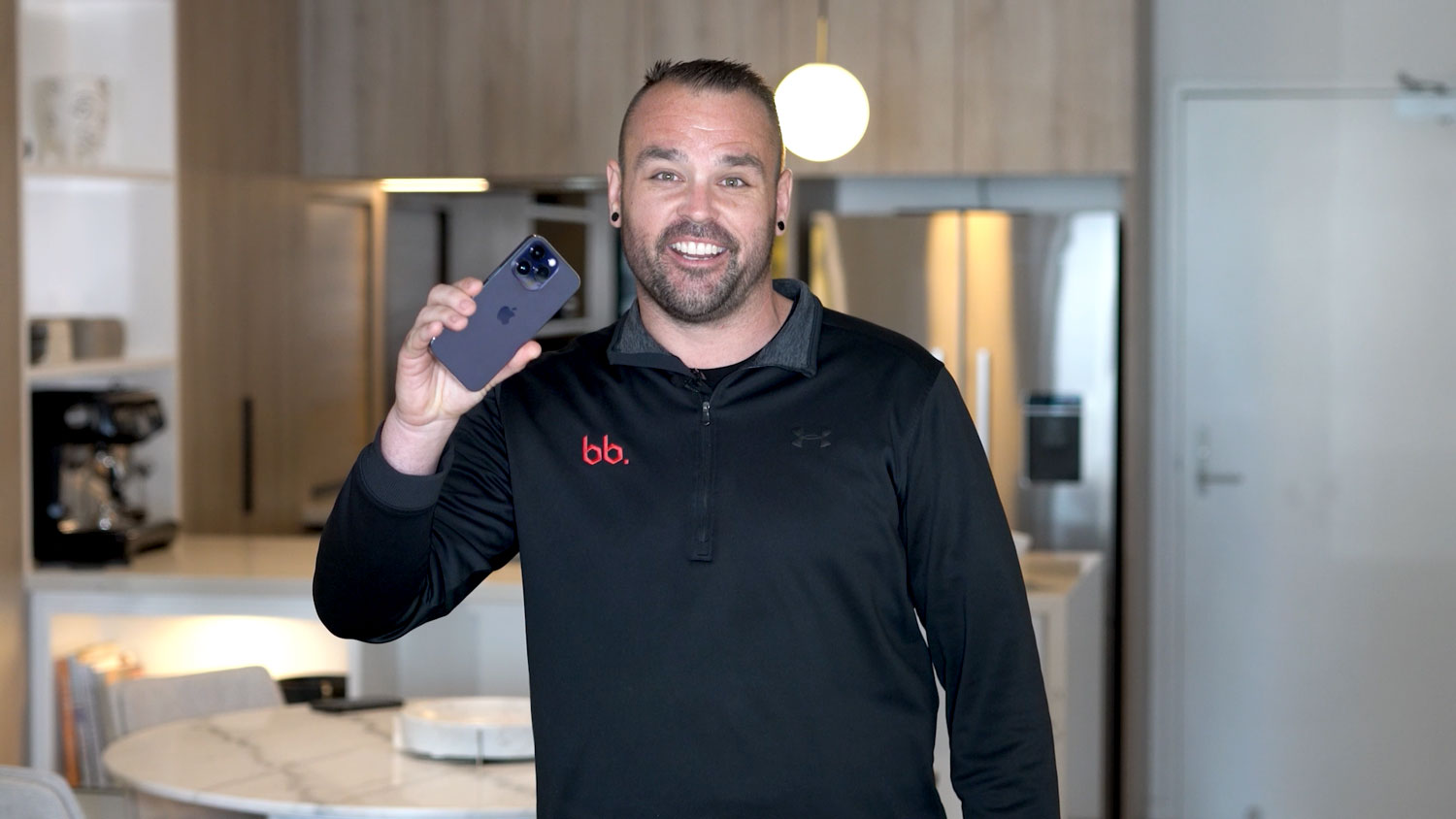 Delighted to get his hands on the brand-new iPhone 14 Pro, our co-founder Brad Filliponi headed out to a Brisbane apartment building to demonstrate just how easy real estate photography has become. This device, combined with our Image Enhancement service allows even amateur photographers to shoot real estate like the pros.
The apartment selected for this test is a long, narrow open-plan design with only one window at the far end of the living space.
The two main challenges involved in photographing this shape of room are:
The area is limited in natural light;
The iPhone 14 Pro's wide-angle lens tends to distort the shape of the walls. This second issue is a natural effect that often occurs when a wide-angle lens meets a narrow room.
"You're going to see that the walls are really sort of not straight," Brad says, displaying the original image for the viewer to see. "That is because of the beautiful wide-angle lens that these new iPhones have. That is fine. It all gets straightened up in the editing service straight afterward."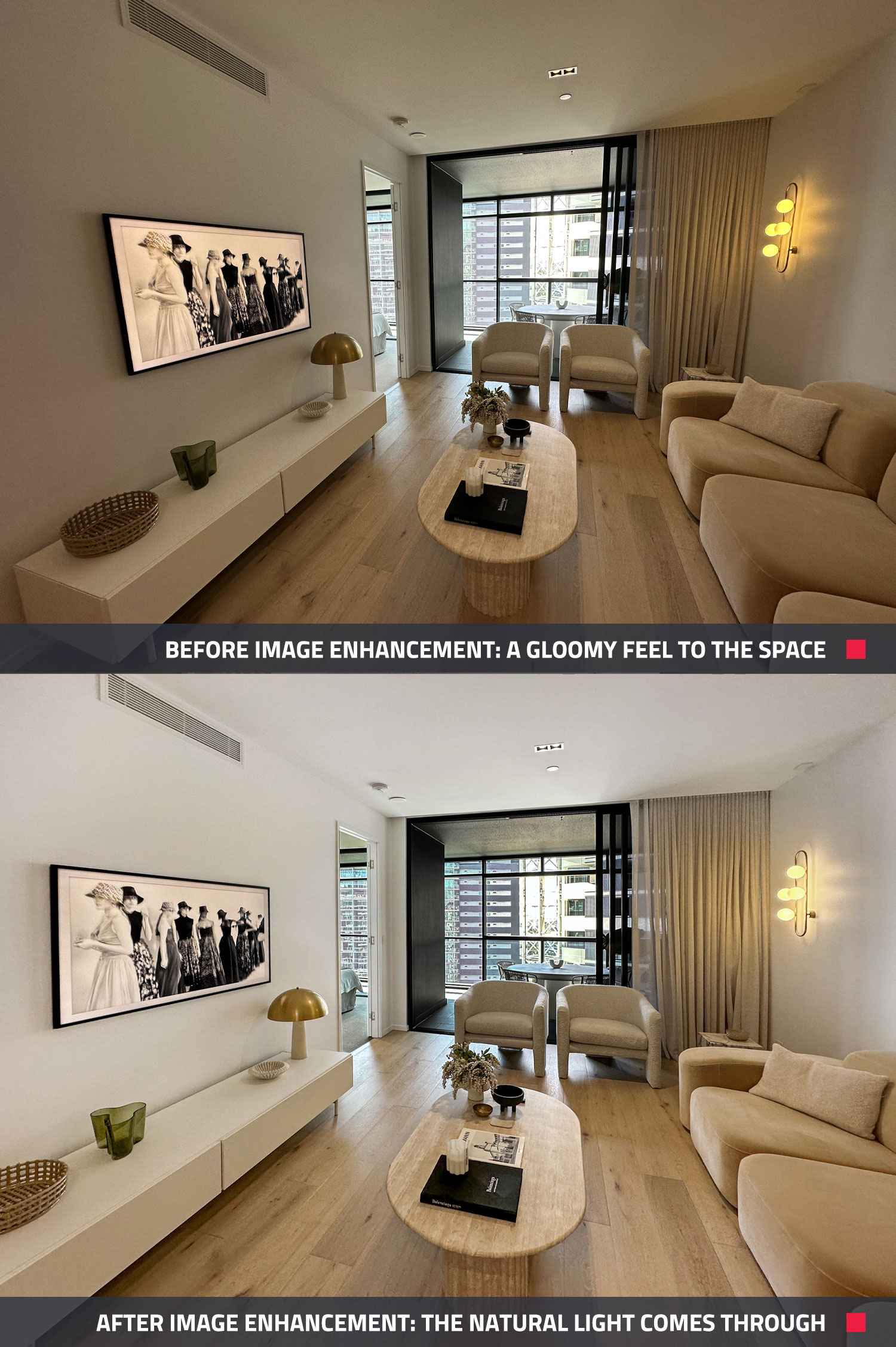 This before-and-after series is taken using only the camera's standard settings. The two issues evident in the original version (a lack of natural light, and a slight curvature in the walls) completely disappear after our Image Enhancement edits are applied.
"As you can see from the 'before and after,' Brad says, "it makes a difference. Editing always does."
It's fair to say that in most real estate photography, editing now plays an even greater role than the abilities of the photographer.
The Case Of The Disappearing Tripod
Notice that Brad is using a tripod in the video. Even tripods are no longer absolutely necessary, but they will save you a great deal of time and cut down on the many forms of human error than can prolong a shoot and perturb a shooter.
If you had not yet noticed the tripod, check out this next 'before-and-after' series shot in the bathroom.
It's a small bathroom, and in such spaces, tripods and mirrors can get in each other's way and make shooting difficult.
This is yet another brilliant convenience included in the cost of our Image Enhancement edit, which can eliminate the reflection of you and your equipment.
No longer do you have to spend those annoying moments trying to find just the right angle to shoot a small bathroom so that you don't end up in the mirror, ultimately photobombing your own shoot!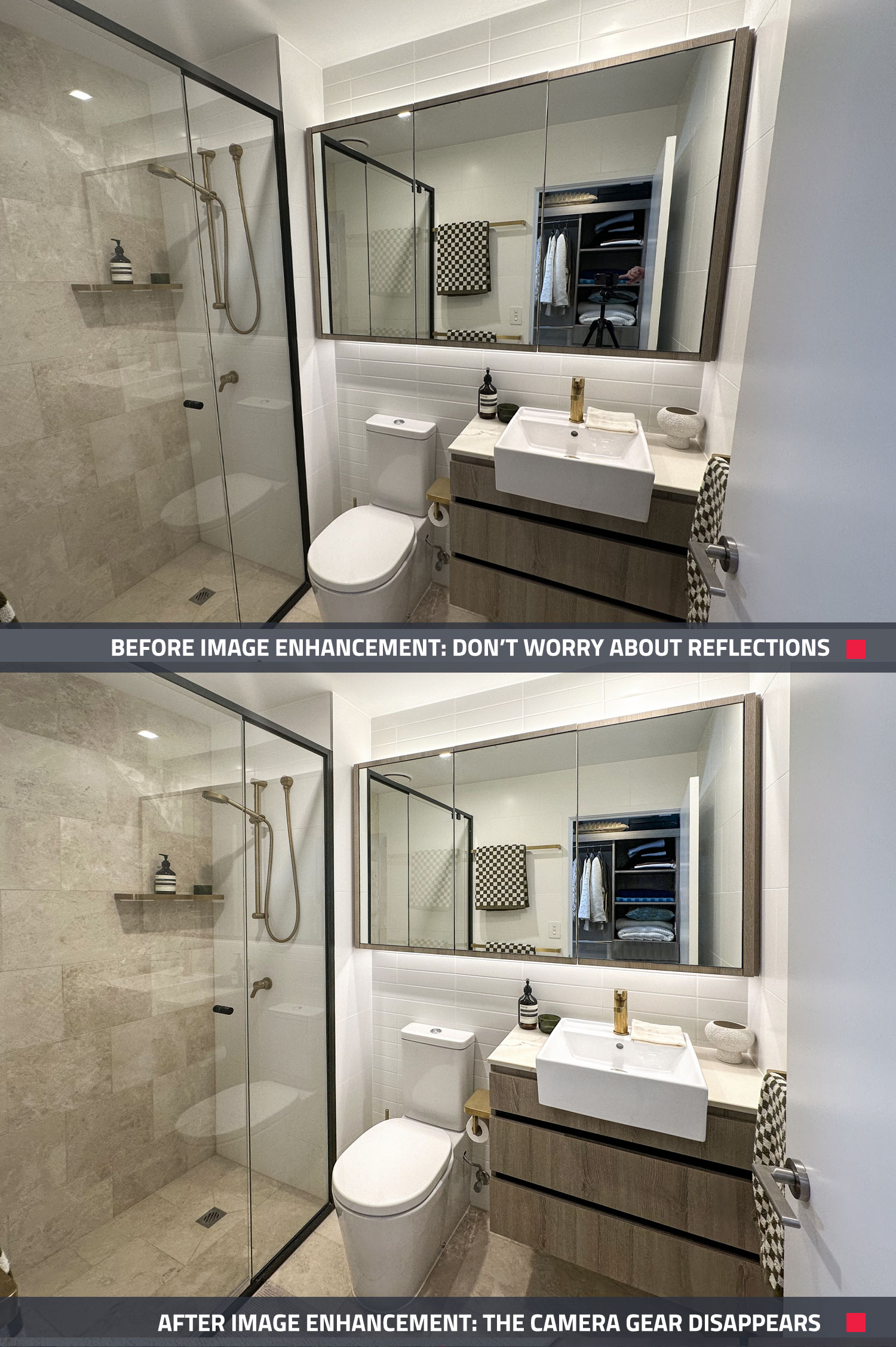 Now you see it, now you don't. Tripods (and the errant fingers that operate them!) can be distracting when they show up in mirrors. Professional real estate photos don't contain them. Our Image Enhancement service is like the Harry Potter spell that can make them disappear.
The Art Lies In The Editing
"Every photographer edits their image," Brad points out, "so you shouldn't be any different than they are."
Our Image Enhancement editing service performs over 17 Photoshop tasks designed to make the room appear with the same clarity as it appears in real life.
The tendency of the wide-angle lens to distort the shape of walls is one area where the Image Enhancement edit can play an important role.
If the walls aren't bent in real life, they shouldn't look that way in their images. Unfortunately, most wide-angle lenses bring this effect to narrow spaces.
This is just one of the subtle and not-so-subtle improvements that our edits bring to any real estate photograph. Often it's a combination of factors: light, angle, shadow, flash bounce, or other forms of glare that can prevent a property from looking its best in an image.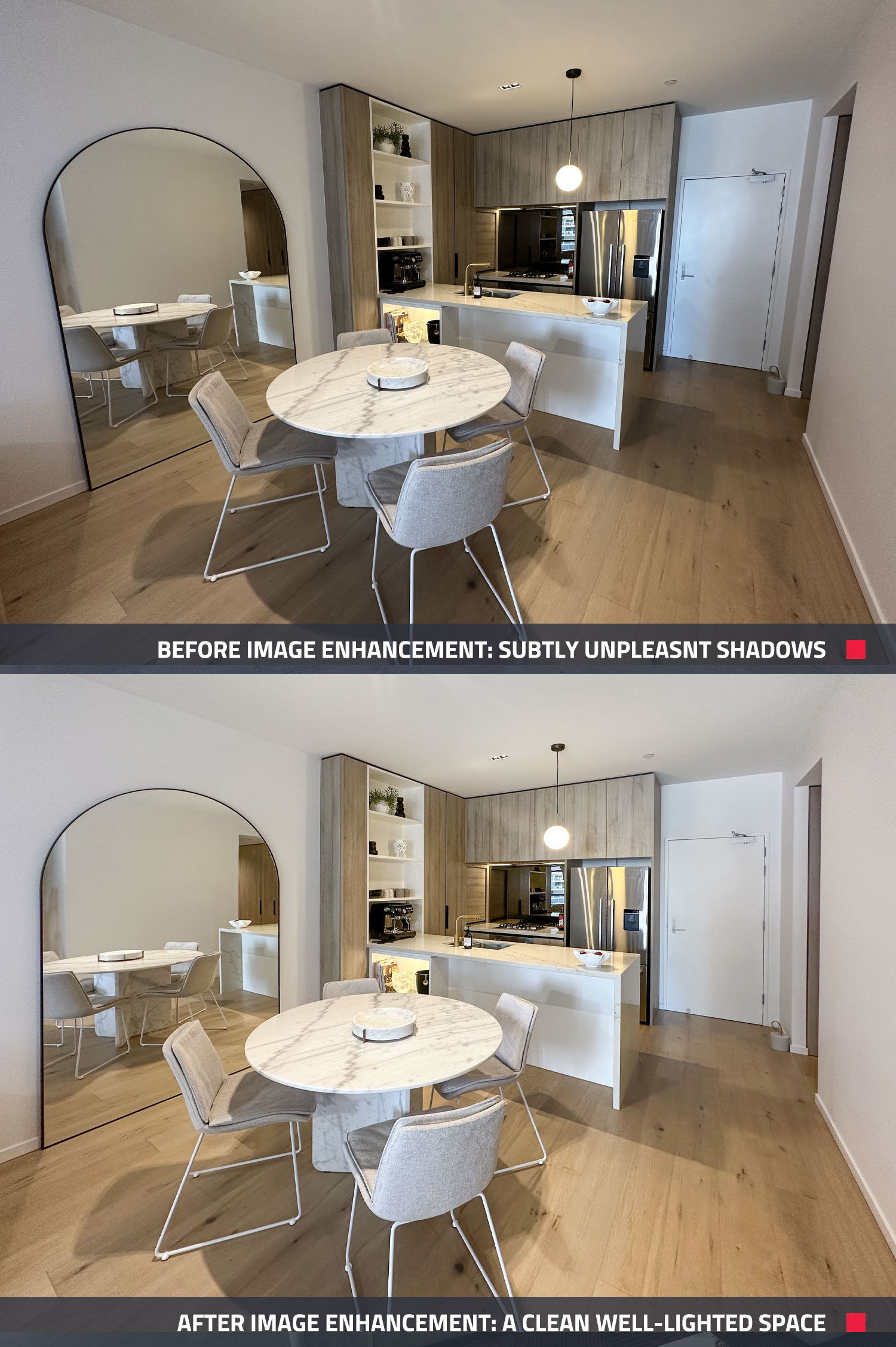 A wide-angle lens tends to splay the shape of walls in narrow spaces. Our Image Enhancement has corrected this in the image above. It has also restored the levels of natural light in the room so that the room in the image appears as it does in real life.
Conclusion:
If you're looking to improve your photography, you have a better chance of doing so by using our Image Enhancement service than by mastering the complex functions of your latest model iPhone.

As Brad demonstrates in this video, it truly is possible to produce great real estate photos with only a bare minimum of technological knowledge or photographic expertise.
There are certainly some great real estate photographers out there, and no level of technology will likely ever be able to replace the artist's eye. However, as our recent foray into the field with an iPhone 14 Pro has revealed, it's definitely not the end of the world if you can't line up a pro to shoot your listing. Nor do you need to head to YouTube to try to figure out the more intricate workings of your phone's camera settings.
As we've seen here, even on your phone's most basic settings you can use our Image Enhancement service to achieve a professional-quality result that costs less money and takes less time than dealing with the pros. It's definitely a nice little ace up your sleeve.
Check out the video above to see how easy real estate photography can be. If you're moved to take things a little further, SIGN UP for free with BoxBrownie.com and we'll throw in three free Image Enhancements that you can use after your next photo shoot.
Stay tuned for further videos involving the iPhone 14 Pro. As Brad says at the end of the video:
"I'm super pumped to really test the capabilities of this smartphone camera. We're going to do plenty of these iPhone 14 Pro videos!"
---