HOW TO SHOOT A 360 VIRTUAL TOUR ON A BUDGET
Introduction:
Remember the days when Virtual Tours were an elite (and expensive) form of property marketing, reserved for only the most prestigious properties? Well, those days are gone.
In this post, we'll introduce you to the Trisio Lite 2 VR, which retails for around $400USD and can produce 360° Virtual Tours that are as spectacular as those of any camera on the market today.
When our co-founder Brad Filliponi caught wind of the fact that the budget-level Trisio Lite had hit the market, he got his hands on one immediately and headed out into the field. He had just finished testing the Ricoh Theta X and Theta Z1 cameras and was eager to see how the Trisio Lite stacked up against these more expensive models.
Part of his mission was to demonstrate that it doesn't matter how much you pay for a 360° camera. Whatever the quality of the image, our Virtual Tour editing services will make the result look great.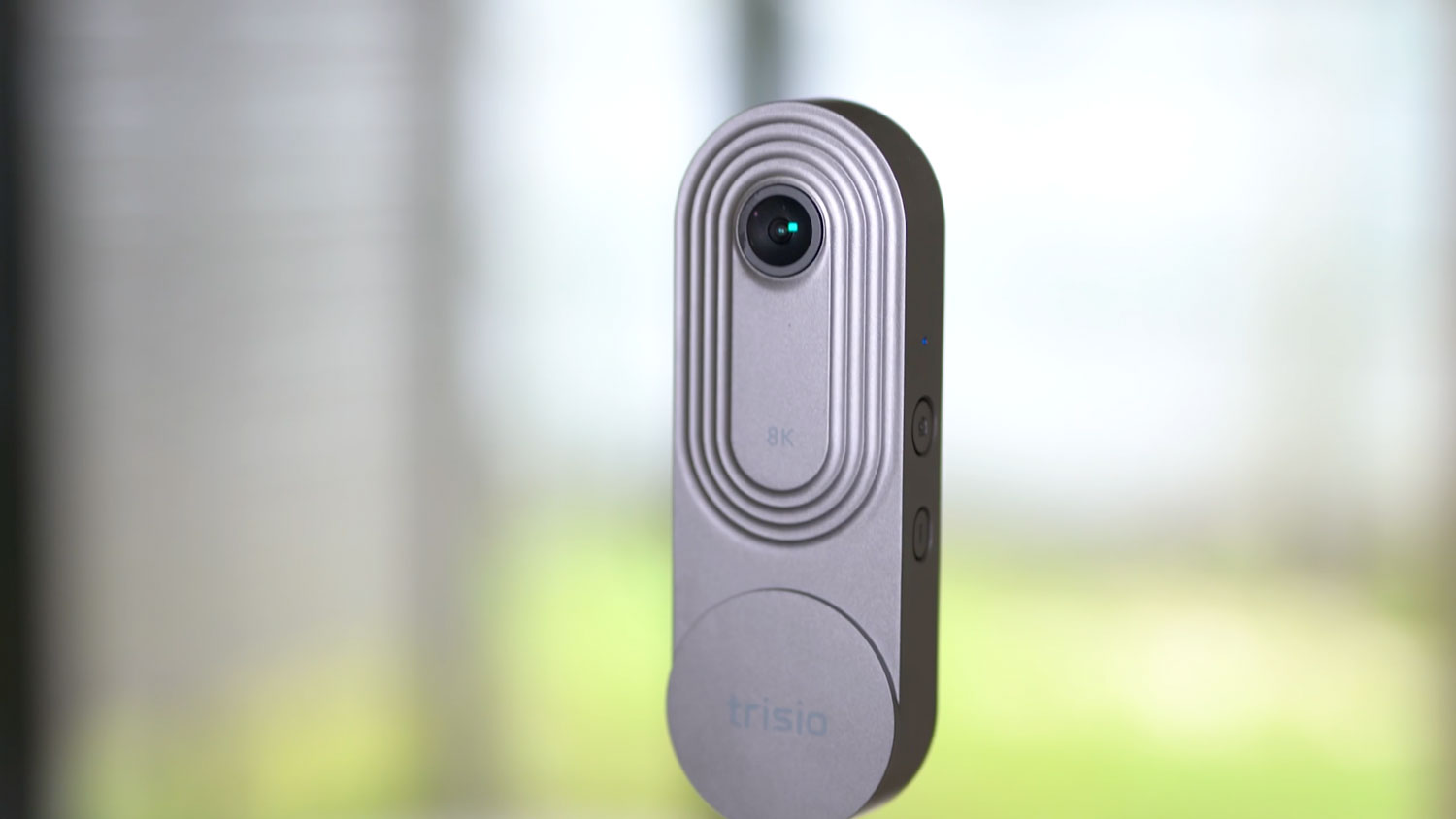 A full view of the Trisio Lite 2 VR. This little doohickey has just made shooting Virtual Tours a whole lot more affordable. The Trisio Lite 2 VR retails at less than half the price of most 360-degree cameras, and, as we'll show you here, can produce results that are just as amazing.
The Cost Is In The Camera But The Art Is In The Editing
Yes, the Trisio is a super buy! But before we look at some of the results we've got to point out that no Virtual Tour taken with any camera would be what it is without some solid editing.

Our 360° Image Enhancement and editing services have a fair bit to do with it!
Actually, it doesn't matter what camera you are using - when it comes to shooting and stitching together a high-quality 360° Virtual Tour, the secret lies in the editing.
Editing is the hidden force behind all good photography. Every photo you see in a magazine has been edited. Every stunning real estate photograph you see online is stunning because it's been edited.
Virtual Tours are even more dependent on editing. Not only do they require Image Enhancement like 'still life' real estate shots, but they also require stitching together (adding hotspots, navigational capabilities, and flow).
This is precisely the reason why it's a great idea to pick up a low-cost Trisio Lite as opposed to a more expensive model.
With Virtual Tours, the cost is in the camera but the art is in the editing.
The Trisio Lite 2 VR: An Odd Duck, But Effective
Yes, at first glance the Trisio Lite seems like a bit of an odd duck. More like a cyclops, actually - it has only one lens! Because of this, it must physically spin around to capture a whole room.
Most 360° cameras are stationary. They have multiple lenses and therefore require no physical motion to capture an entire room. If you happened to catch our last 360° camera challenge between the Ricoh Theta Z1 and the Theta X, you'll remember seeing this.
"This camera is really, really cost-effective, it is a great camera to use for Virtual Tours but you will notice that it does take a little bit longer to shoot each shot, so that is one of the downfalls of this device," Brad says as he sets the Trisio Lite down for its first shot.
As you will see on the video, though, "a little bit longer" in this case only means about five or six seconds, as opposed to one click of the button that the higher-priced cameras enable.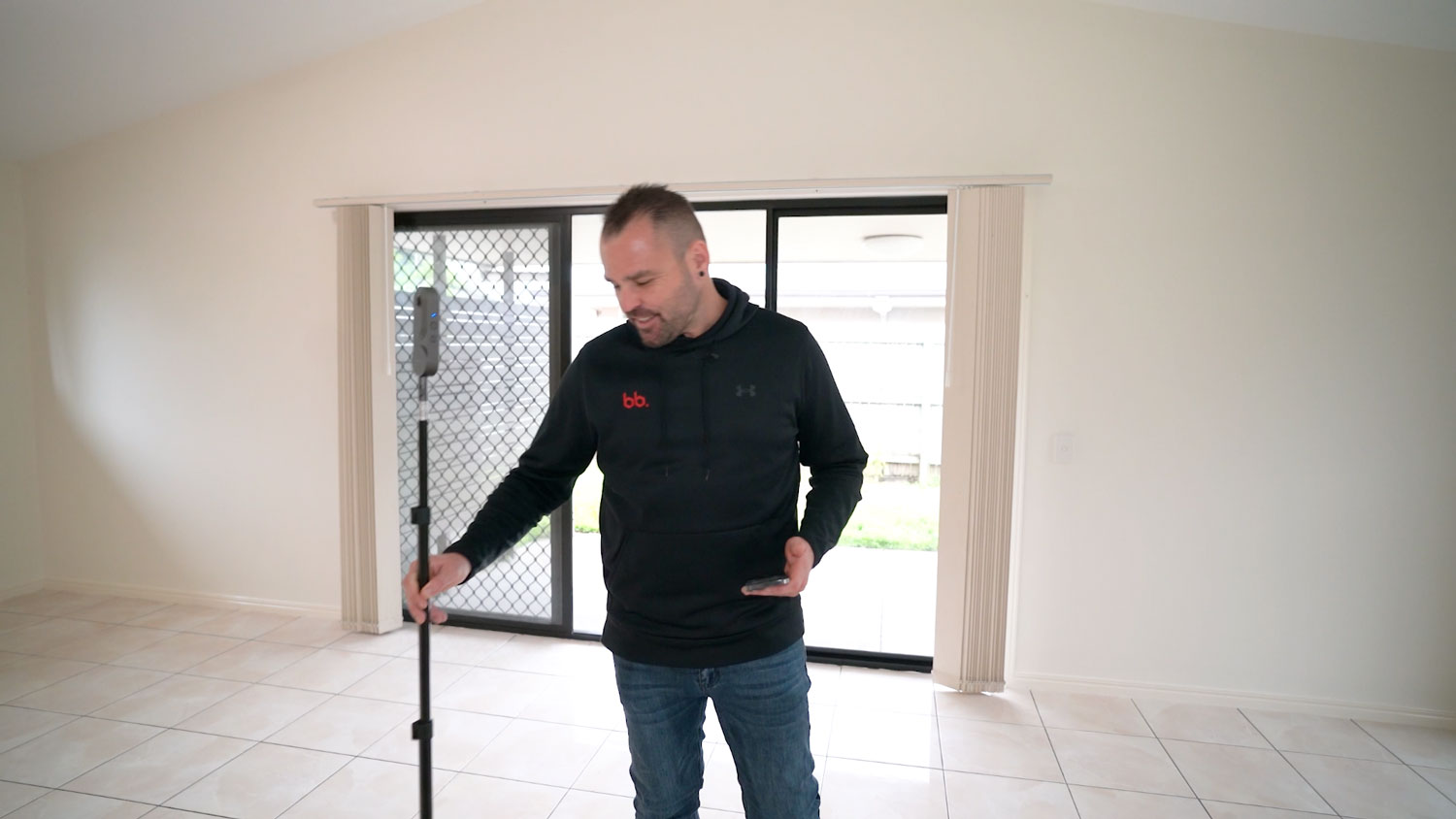 Our co-founder Brad Filliponi "chucks down" the Trisio Lite 2 VR, as he prepares to shoot this Virtual Tour.
The Unspoken Truth About 360 Cameras: Any Model Will Do

This same realization has already taken place among agents regarding DSLRs and smartphones.
There was a time not long ago when it went without saying that to shoot quality real estate photos, one needed a high-priced DSLR, an expensive lighting setup, and a professional photographer/photo editor.
By now, many agents realize that they can shoot their real estate pics on their smartphones, send the files to us for Image Enhancement, and get them back quickly and professionally done. The time, money, and hassle that can be saved by this method usually floors agents when the penny drops.
The same situation exists in the realm of Virtual Tours. Yes, for the most part you need a 360° camera to capture one, but beyond that it doesn't really matter what sort of model you choose. If you're not convinced, check out the Virtual Tour we shot using the ultra-cheap Trisio Lite 2 VR.
Virtual Tours Are Easier To Shoot Than "Still Life" Real Estate Shots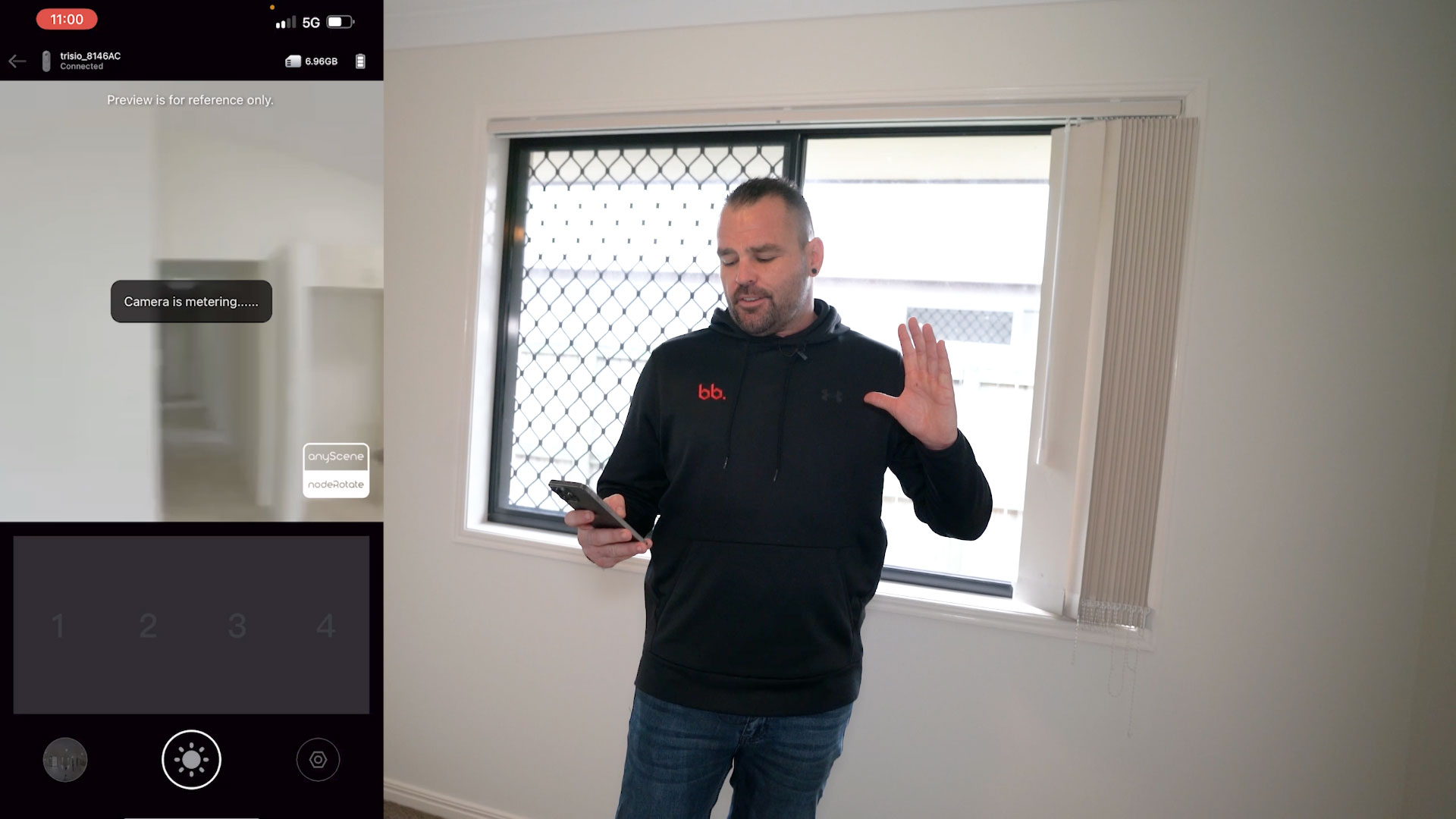 Shooting a Virtual Tour really is easier than shooting regular real estate photos. In this split screen from our latest video, Brad stands out of the way of the shot and lets the Trisio Lite 2 do its thing.
What fewer agents realize, is that it's even easier (much easier in fact) to shoot a 360° Virtual Tour than to shoot standard real estate pics.
As you will see in this video, all that is required of the 360° Virtual Tour photographer is to plunk the camera and monopod in the center of the room, get out of the shot, and hit the capture button. Then it's on to the next room.
There is no need to think of the best angles, or to employ such photographic techniques as 'the rule of thirds' to highlight a room's more impressive features. It's a fairly routine process, no matter what room you are shooting. Virtually no photographic training or talent is required.
You don't even have to worry about the camera's reflection appearing in the bathroom mirror. As Brad says in the video.
"Don't be too worried if you see the camera in the reflection in the mirror because under the 360° Image Enhancement editing service the camera does get removed from the reflection."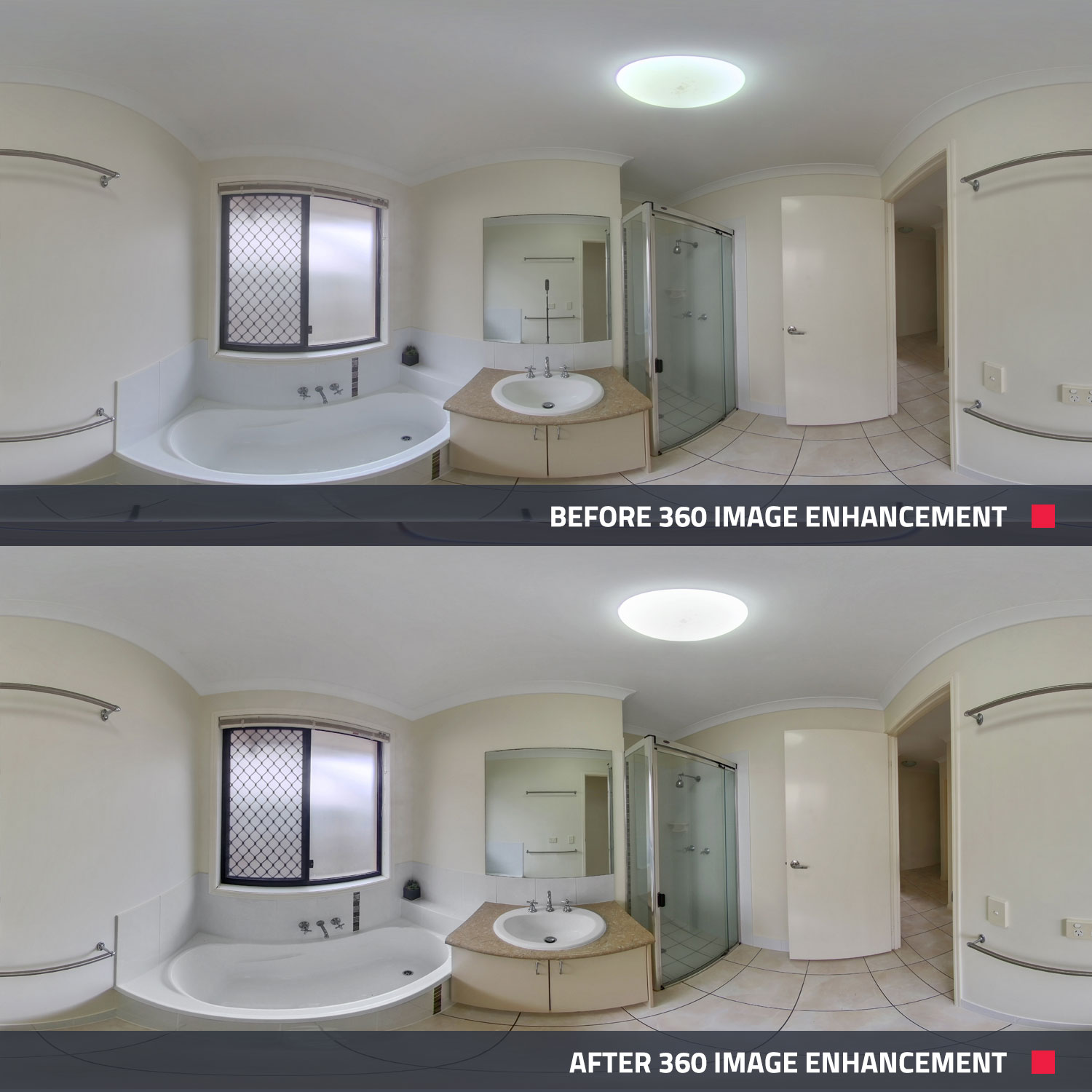 Now you see it now you don't. Yes, shooting a Virtual Tour is easy. But our editing package makes it even easier. You don't even have to worry about the camera appearing in mirrors. We get rid of that for you as part of our 360 Image Enhancement service.
Most agents and many photographers are probably still not aware of how easy it is to shoot a Virtual Tour. This is most likely because of the cost of the equipment.
In the past, 360° cameras have retailed in the thousands of dollars, making it a little prohibitive to pick one up on a whim.
This is why the Trisio Lite 2 presents such a groundbreaking opportunity.
Whether you are a photographer who wants to get into shooting 360° Virtual Tours but never had the budget for a 360° camera, or a realtor who didn't want to spring for thousands on what was essentially a side venture, the emergence of the Trisio Lite is wonderful development.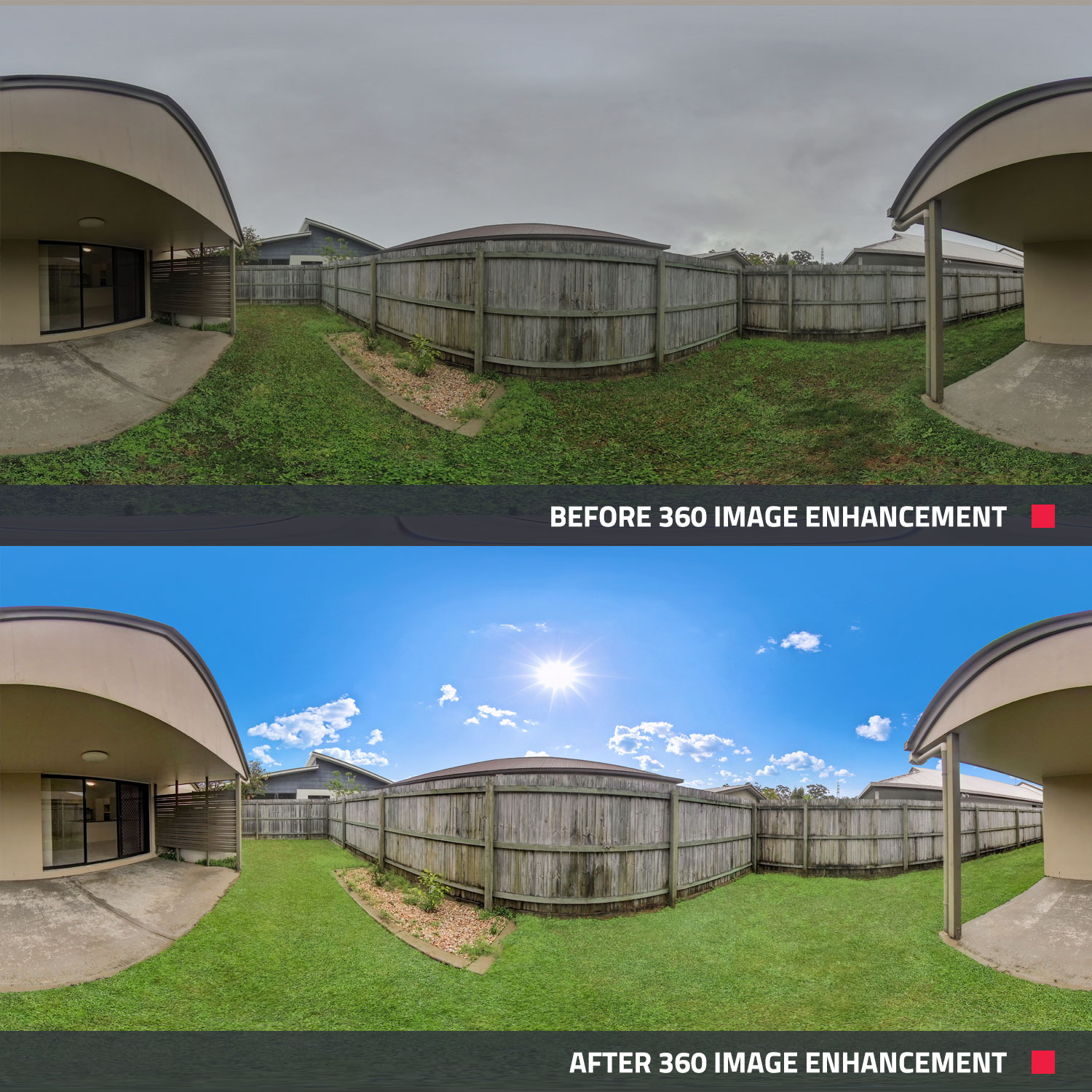 In this Before and After series, the importance of editing in Virtual Tours is as clear as the bright blue sky. Whether it's a budget-level Trisio or the most expensive camera on the market, there are certain things that no camera can accomplish. Sky replacement is part of our 360 Image Enhancement service.
The Trisio Lite Passes The Test
"The quality of this camera is quite jaw-dropping, considering its price," says Brad, after viewing the results.
A beautiful shot that doesn't break the bank. No matter what form of real estate photography you are referring to, this has been BoxBrownie.com's mandate since the day the company began. We are constantly seeking to discover and develop new ways for real estate agents (and photographers) to reduce costs and production times without sacrificing quality.

In 2017, we accomplished this with Virtual Staging. Our technology took Virtual Staging from an elite marketing tool reserved for only the most expensive properties, to one that was so fast and affordable that any agent could access it to market any level of property, using photos they shot with their smartphone.
The result was a worldwide Virtual Staging boom.
Now we are doing it with Virtual Tours, and as prices for 360° camera equipment plummet, we will continue to find ways for you to maximize your real estate marketing might, while spending less time, money, effort, and hassle doing so.
If you've been wondering how to shoot a Virtual Tour on a budget, we hope this post has you wondering no longer.
And remember, for an additional 15% off of this beautiful, budget device, purchase it through this link using our coupon code:
Discount Link: https://s.click.aliexpress.com/e/_oksBPxL
Coupon Code: BOXBROWNIE
---