IS YOUR PROPERTY STUCK ON THE MARKET? TRY THIS…
Introduction
Have you ever experienced having a property stuck on the market? It's something that can happen to every agent, no matter where you are in the world or what type of properties you specialize in marketing. Whether it's due to the property itself, the broader market or simply a run of bad luck, having a property sit stagnant for too long can be incredibly frustrating and is something we try and avoid at all costs.
We are going to have a look at a property that's been on the market for approximately 11 weeks. To date, only one offer has been received and, needless to say, it's been a frustrating experience for all parties involved. To try and get this property sold, we are going to drive more relevant traffic to the listing by using the Adwerx advertising platform.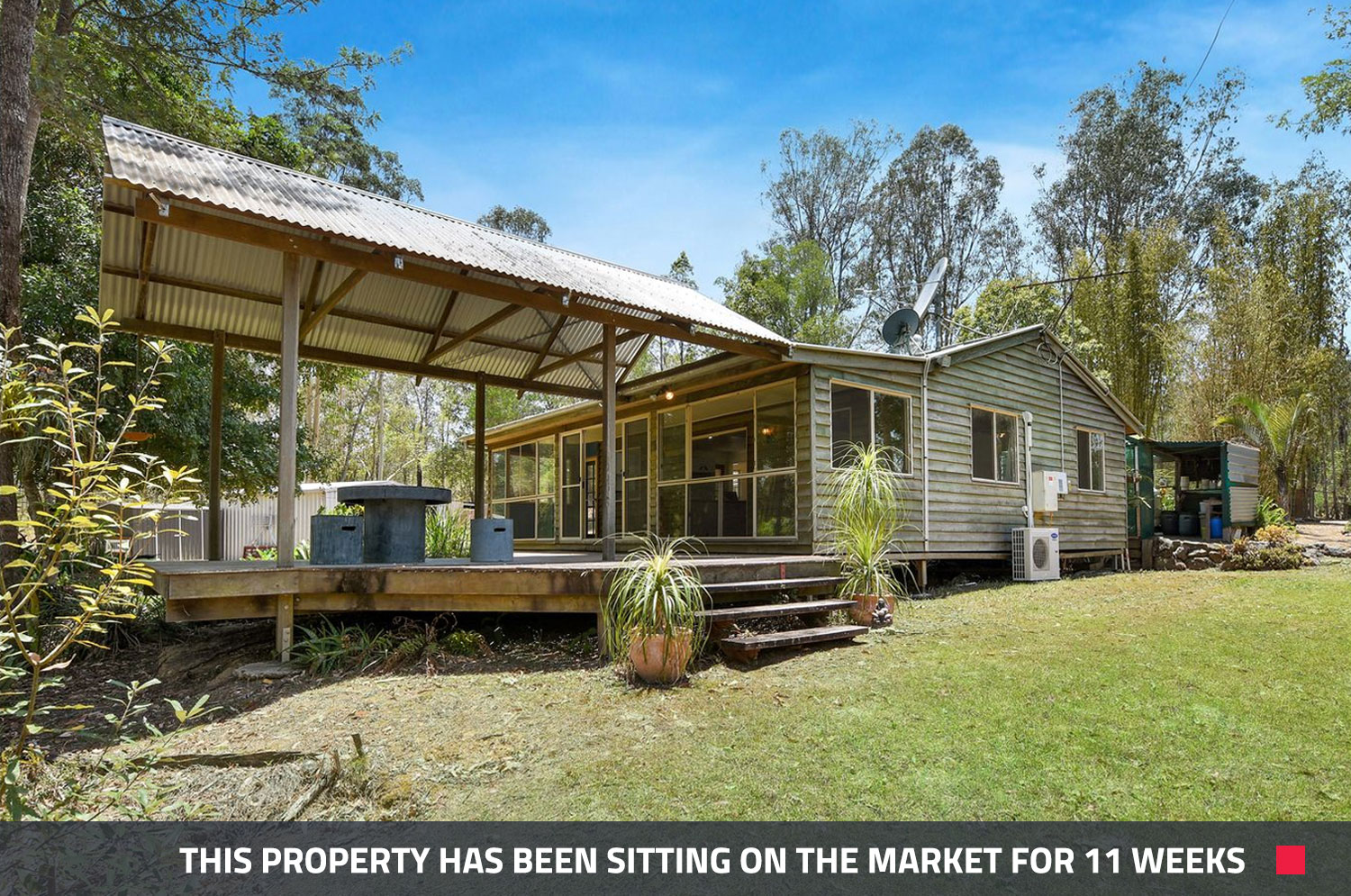 An Introduction To Adwerx
Adwerx allows you to harness the advertising power of Facebook, Instagram and online web ads to help promote your listing or your business. The best part about Adwerx is that there's no learning curve or graphic design experience required. The platform is extremely simple to use and will have you advertising like a digital marketing professional in no time.
Adwerx gives users access to three core products and we are going to take a deeper look into these below.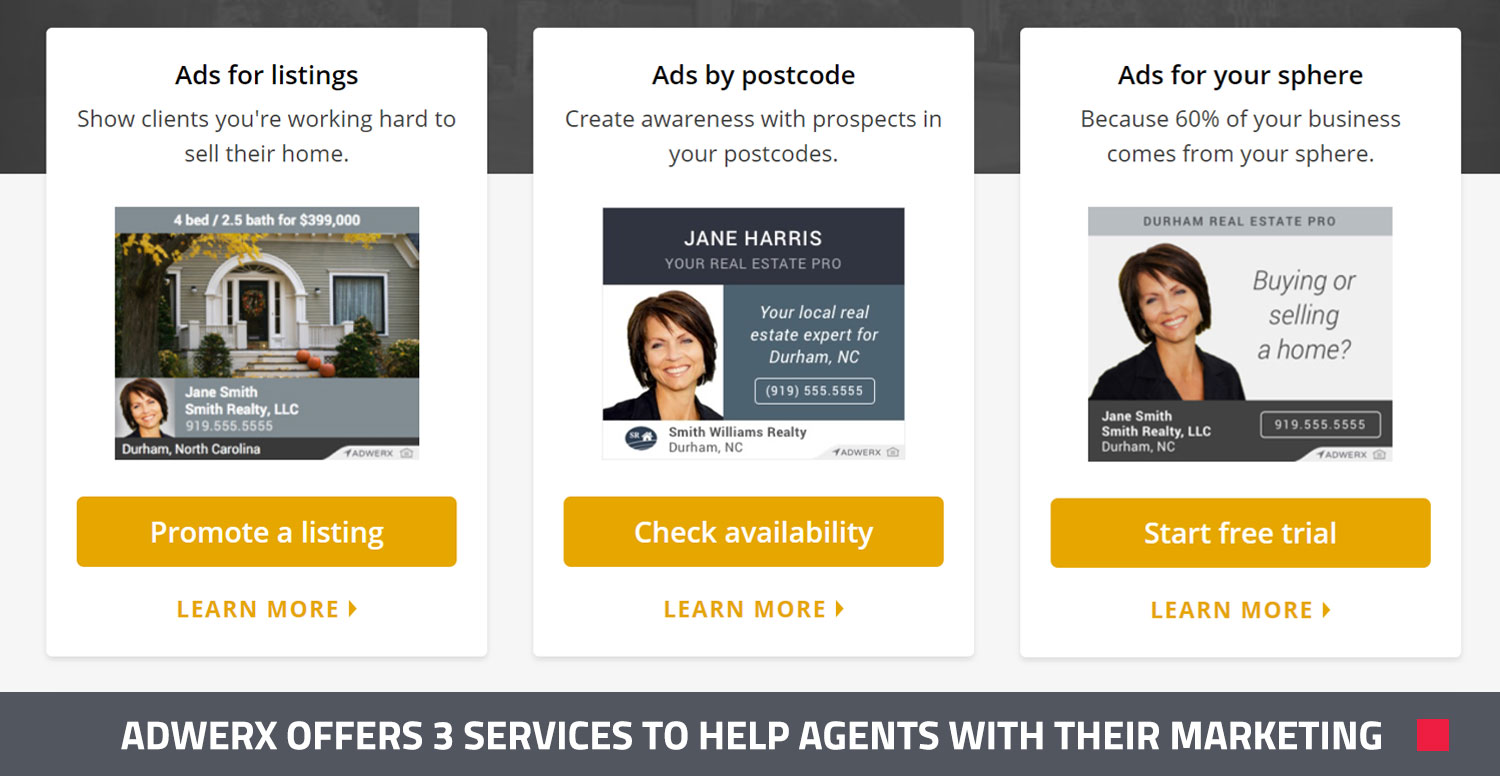 Adwerx Ads For Listings
We're going to promote our listing using the Ads For Listings service. This is a fantastic tool for agents looking to advertise a new or existing listing to potential buyers in online locations where they spend the majority of their time. As we mentioned previously, this is a super simple feature and we are going to show you how to use it to promote your listings.
All you need to do is add in relevant information including the property details along with your name, company, location, phone number and even a corner ribbon to highlight key messaging, for example Open House.
The image you choose to use is critical as it needs to be eye-catching and engaging so users' focus is drawn to it rather than the information they are currently consuming online. The next step is adding in the online location you would the ad to send users to once they click.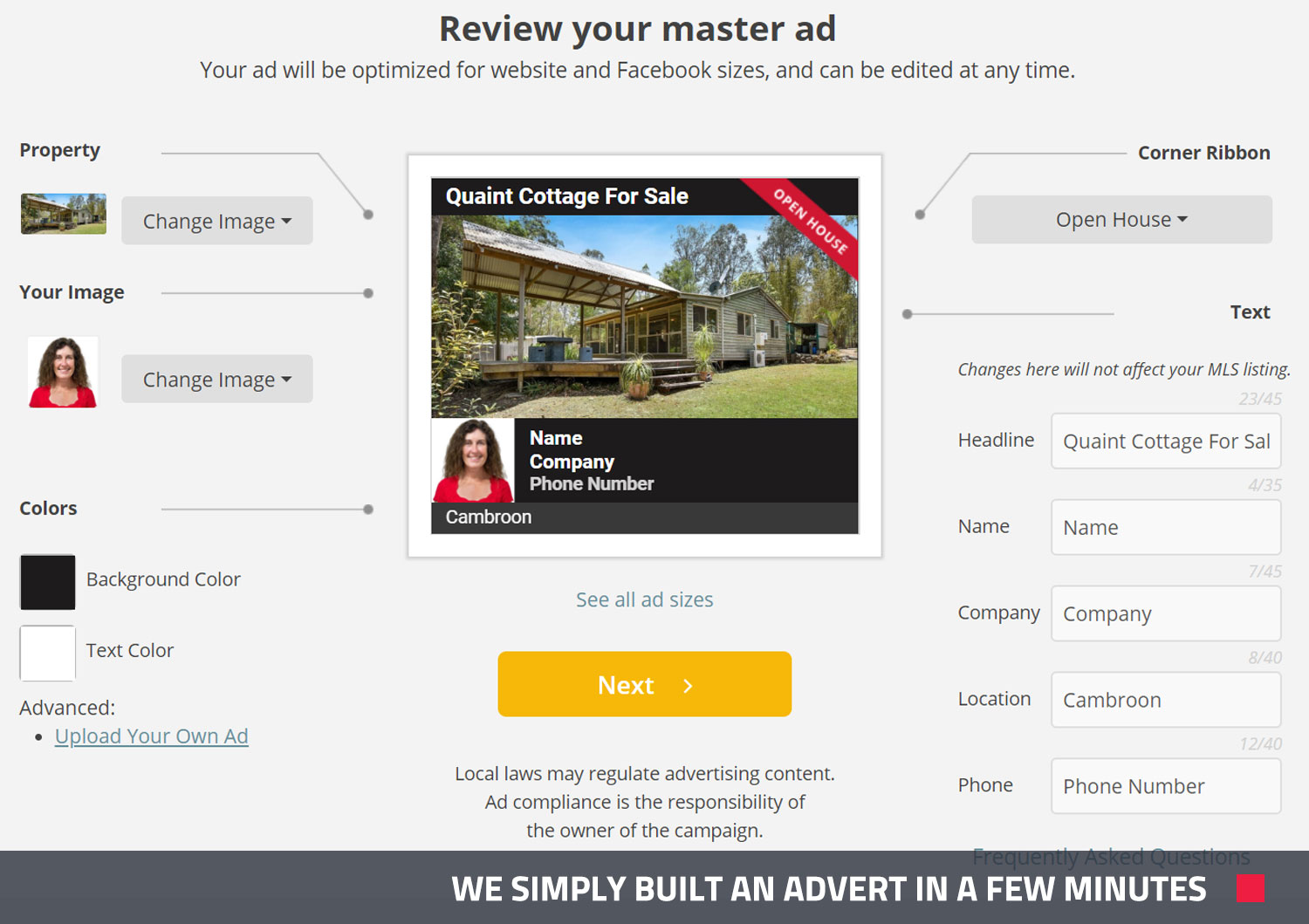 Adwerx can show you how the ad will appear in the various placement options and you can also choose to target potential buyers based on geographical locations near the listing itself or you can opt to add your own target cities and locations. Then it's simply a matter of adding in your budget and payment details.
The other clear advantage of using online tools like Adwerx is it shows your sellers you are a pro-active agent who is on the cutting edge of the industry. This is a fantastic quality to have in today's market and will help set you apart in the industry.
Once your ad is live, Adwerx will target the relevant users across social media sites like Facebook and Instagram along with hundreds of the internet's top websites. The platform will look for online users who are already browsing real estate-related content and websites while also retargeting those users even after they have left those related websites.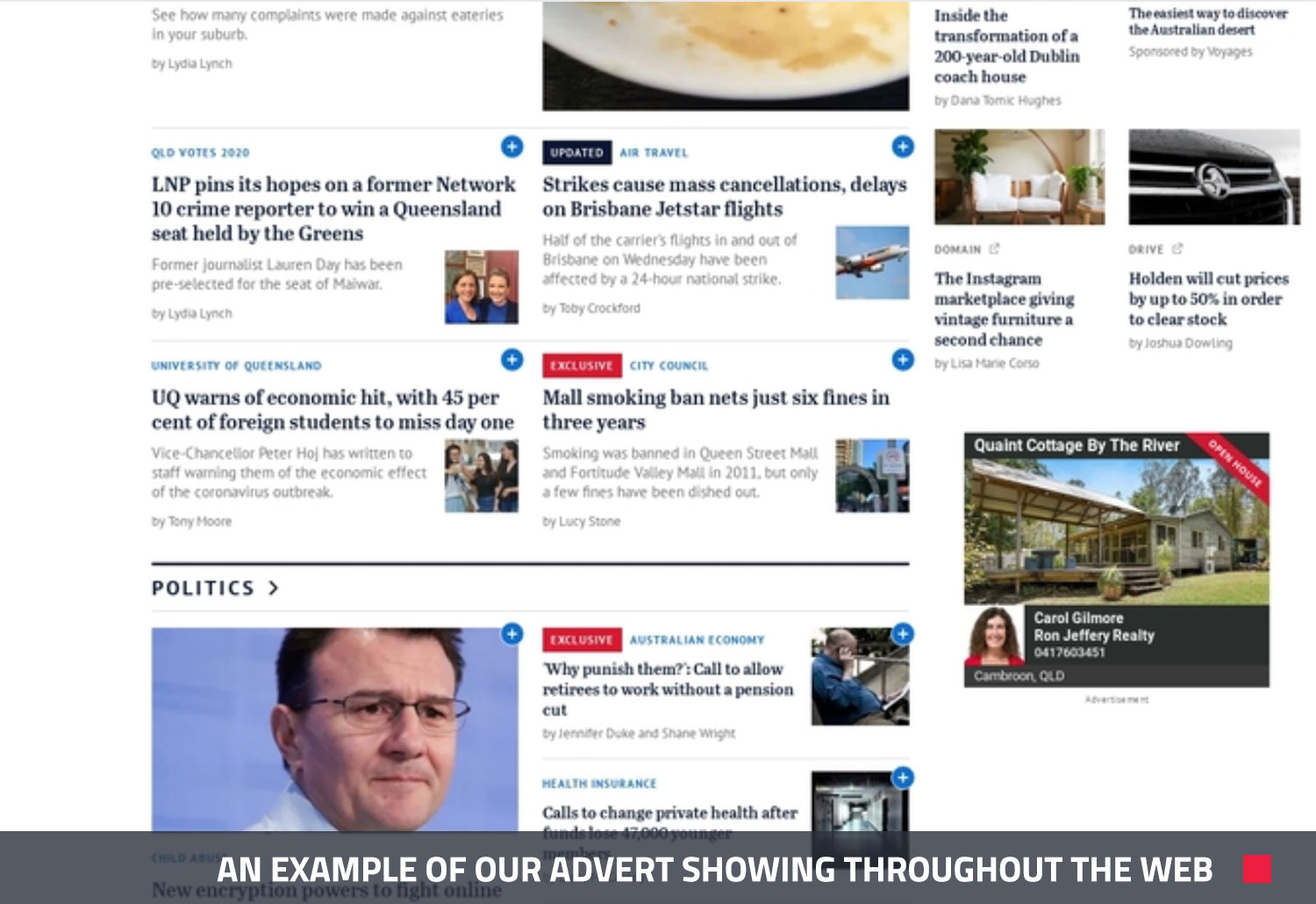 Adwerx Ads By Postcode
This ad format is essentially an online billboard for real estate agents with only a finite number of real estate agents allowed to appear per postcode. Think of this like a bus stop where you might usually see ads for real estate agents except it's online and shown within specific postcodes to users across mobile and desktop devices on Facebook and web ads.
All you need to do is simply select the postcodes and the budget level that you would like to spend, choose which type of ads you'd like to run and create the advert itself, it really is that easy. If you've missed out on your specific target postcode, you can join the waitlist for an availability to open up.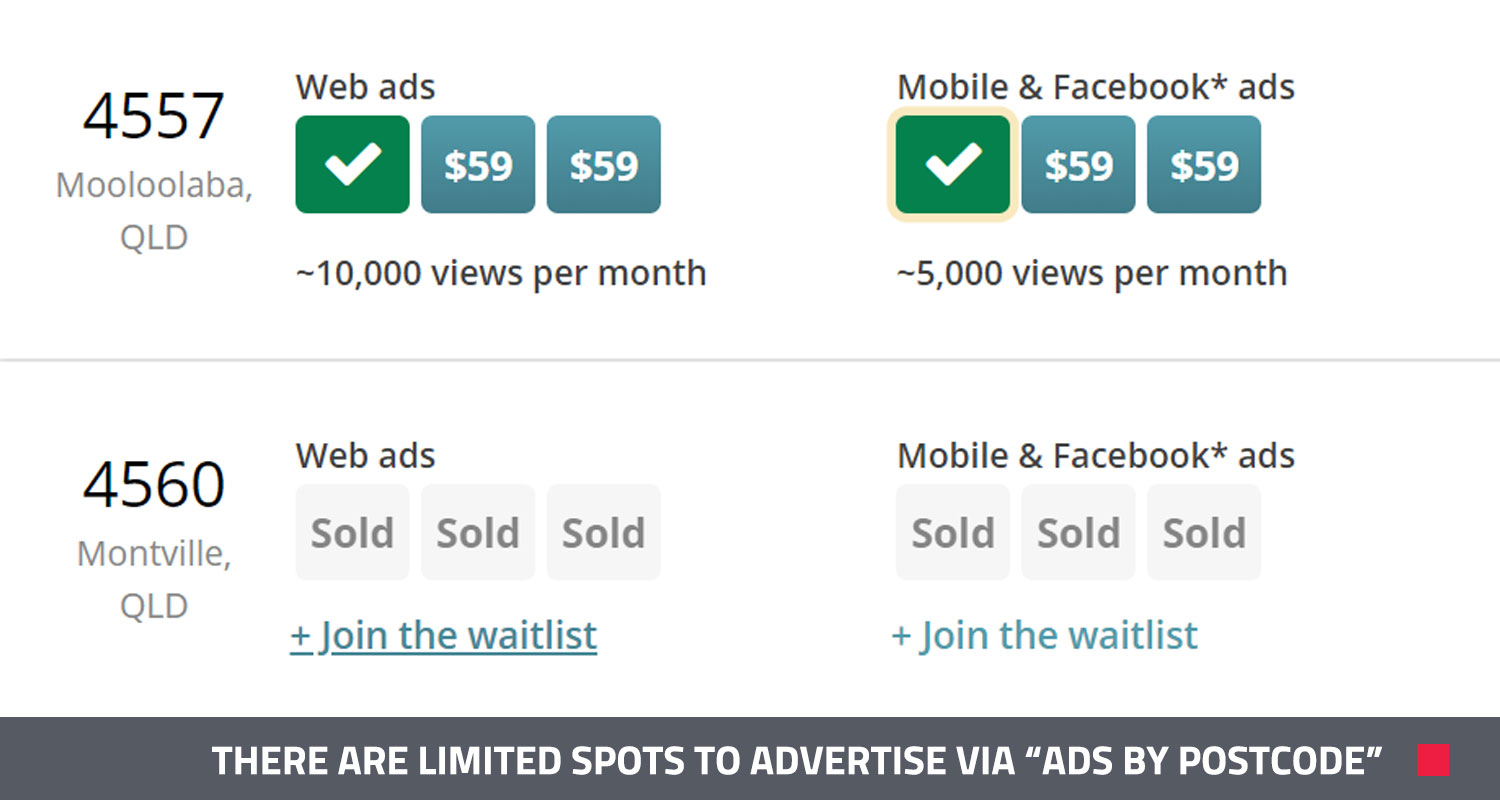 Adwerx Ads For Your Sphere

Most agents will tell you, your contacts and network are one of your greatest assets and are absolutely essential in today's world of real estate. Ads for your sphere allows you to leverage your existing contact network beyond your simple email channels and target them while they are browsing online.
Every time you meet someone, you should be capturing their contact data including their email address. With Adwerx, you can upload your existing database of prospects, previous clients and contacts and simply design an ad to show to these highly valuable and engaged users. As with the previous two ad formats, Ads for your sphere can show across social media sites like Facebook and Instagram along with some of the internet's top websites.
This is a great way to convert contacts or cold leads into hot prospects and ensure that you, and your listings, remain front and center for your core target audience. As if that wasn't already impressive enough, you can even trial Adwerx for free at adwerx.com.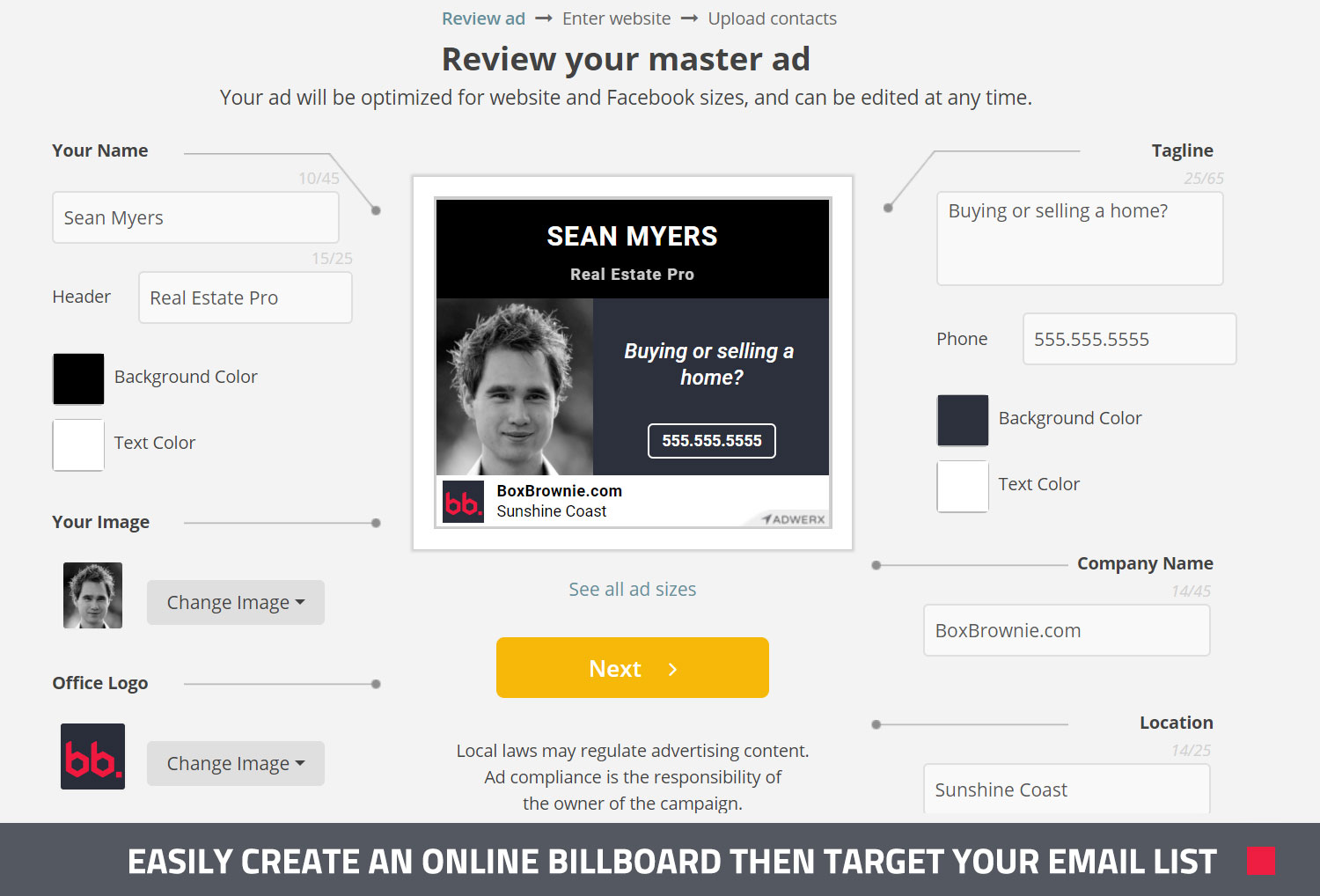 Conclusion
As we've discussed in this blog, Adwerx has three fantastic tools for real estate agents to promote both their listing and their own personal brand. There's no need to waste valuable time and money trying to learn your way through dozens of different platforms and user interfaces that seem to change every single time you log in to use them.
Adwerx is an innovative tool that takes all the guesswork out of online advertising for busy real estate agents and allows you to leverage the enormous power of targeted web ads and engaging ad formats. There's absolutely zero learning curve and no need to have experience with graphic design, Facebook and Instagram ads or Web Ads.
Targeted online ads could be the key to shifting that property that has sat on the market for weeks on end. Why not try Adwerx for free today?
---