INCOMPARABLE INES: A VIRTUAL PROPERTY MARKETING MASTER

Case Study
Name: Ines Hegedus-Garcia
Role: Executive VP;
Organization: Avanti Way Realty

"Mediocrity is not an option!"

BoxBrownie.com Services Used:
Introduction:
"Mediocrity is not an option." Or so Ines Hegedus-Garcia told us when we asked her to share some words she lives by.
There is certainly no trace of the mediocre wherever Ines is to be found. Even the flamboyant and fascinating Miami real estate scene that she moves in has no tolerance for mediocrity.
With its land boom of the 1920s, its ArtDeco South Beach, its Cuban ebullience, and signature MiMo ("Miami Modern") style of architecture - the Miami real estate scene is unmatched in style and pizazz.
Ines is a perfect fit for it. In fact, she's a massive force inside of it. Her bachelor's degree in architecture and her specialization in architectural and historical properties makes her a valuable commodity and consultant here.
And indeed she has earned the respect by banishing mediocrity. When it comes to marketing real estate, she insists upon meeting the highest standards of visual presentation every step of the way.
This is part of the reason why she gets along so well with BoxBrownie.com
"Because of my very visual and aesthetic background, it's crucial for our listings to be presented in their best light and that's what BoxBrownie.com has been able to do for us."
"Their pricing is competitive, turnaround time is like no other company but the best part is the final product. With my architectural eye, their proportions, shadows, and space distribution is unmatched."

Ines frequently uses our Virtual Staging service, which guarantees a 48-hour turnaround time for each virtually staged room.
Online And On Top Of Her Game
Ines is a social media influencer with 14k Instagram followers (@miamism). She also happens to be director of strategy and innovation for the constantly expanding Avanti Way Realty which boasts a stable of about 1200 agents in the South Florida, Orlando, and Tampa markets.
She credits Avanti's focus on virtual property marketing excellence with a great deal of this growth.
"At Avanti, we are on top of the proptech pulse in order not only to stay relevant but to help our agents have the best tools in the market," she said.
Ines gained an early insider's knowledge of the advantages of virtual property marketing when she taught a course in BoxBrownie.com as a REACH mentor for National Association of Realtors (NAR).
To understand our tools well enough to teach them, she of course had to learn them herself. This learning has paid dividends in her property marketing.
In the examples below, Ines shares some innovative ways that she has used our technology to remain at the forefront of a real estate scene that always demands a bit of extra sizzle in the selling of a home.
Day To Dusk: Breathtaking, But Also Time Saving
Which is more important to you, a breathtaking image or the time you spend obtaining one?
With our Day to Dusk package, you no longer have to worry about this question.
Though it has become renowned for its ability to turn run-of-the-mill real estate photography into breathtaking hero images, our $2 Day to Dusk image enhancement package was initially designed to save real estate photographers time.
Our co-founder Brad Filliponi, a real estate photographer for 16 years, grew tired of waiting around outside properties for the sun to reach just the right level so that he could get just the right shot. He also realized that time saved in the editing process was time that could be spent shooting other jobs, or attending to the growth of his business.
Great minds think alike, it seems. Though many come to our Image Enhancement package for its beauty, Ines saw the time-saving value that Brad first envisioned. Her description of what brought her to BoxBrownie.com closely mirrors the reasons why Brad launched the company in the first place.
"After sitting in my own listings with a professional photographer for over five hours waiting for dusk, in order to get beautifully lit photos, I had to try the easy and inexpensive dusk options," she told us.
Getting Smart With Virtual Staging
When the coronavirus pandemic hit, agents flocked to our Virtual Staging services as a means of eliminating the risks involved with physically staging a property during a lockdown.
By this time, Ines was already well-versed in the world of Virtual Staging. While much of the real estate world was just discovering how much money could be saved and how much risk could be eliminated via Virtual Staging, Ines was discovering advanced ways to use it.
She was one of the first agents to realize that Virtual Staging offered yet another advantage that physical staging could not: flexibility of presentation.
"[Physical] Staging has become prohibitively expensive for many sellers and digital staging is a fantastic option," she said. "During Covid, we even staged rooms with different options to give buyers ideas of what the room could function as."
Below are four images of the same room. Ines used Virtual Staging to show buyers various ways that the space could function. (Imagine the time, effort, and expense it would take to accomplish this via physical staging!)
Emptiness Means Full Of Possibility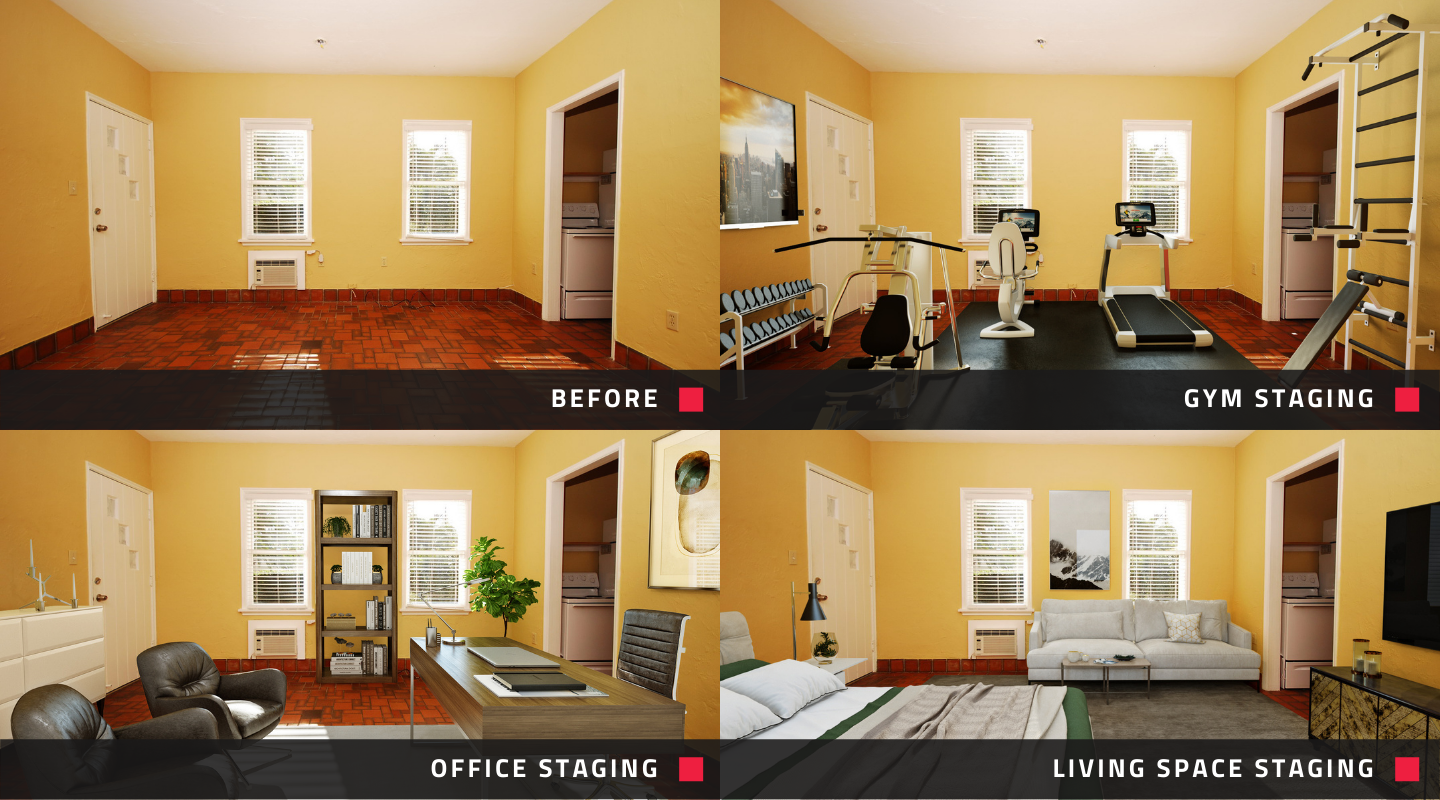 During the pandemic, Ines used our Virtual Staging service to show prospective buyers different looks at the same space.
How Would You Furnish The Above Room?
In using our Virtual Staging service to show buyers potential uses of space, Ines was one of the first real estate marketers to cash in on the extraordinary flexibility Virtual Staging offers.
Office, workout space, or bedroom, which do you prefer? Virtual Staging can help you decide.
"BoxBrownie.com allows us to paint different pictures for the consumer with regard to a property's potential," Ines told us. "Not only with Virtual Staging options, but the color and finish changes of a space."
Innovating With Item Removal
Our Item Removal service came into existence as a means of removing unsightly objects from real estate photos: hoses from lawns or swimming pools, garbage cans, clutter in occupied homes, personal photographs, tv mounts from walls, shoes, and boots from front hallways. You name it, there have been many ways Item Removal has been called upon to clean up the presentation of a place.
As Ines puts it:
"Dealing with occupied properties or properties under construction requires creative marketing and nothing like counting on Item Removal, decluttering or even enhancements when necessary."
Item Removal is almost exclusively used to deal with unsightly aspects of existing homes that are or were occupied. But Ines has found an extremely creative purpose for it in the marketing of homes that are still under construction.

Ines has pioneered new uses for our Item Removal feature, using it to eliminate debris from images of construction sites.
Construction debris can be one of the greatest obstructions to visualizing the potential of a space. Using our technology to remove such impediments to a property seeker's vision can help builders and developers breathe a sigh of relief, as the earlier their projects can look exceptional, the better.
"The Item Removal from construction sites came up when I wanted to show the construction progress of a home and found construction debris in the middle of the living room that would be distracting to prospective buyers," Ines explained.
"Sometimes a blank slate is best in order for a buyer to imagine and see the potential. Here's an example (above) where I had a pile of plywood and a ladder removed to show progress."
Here, Ines' use of Item Removal to remove construction materials has brought forward the saleable appeal of a home by at least a few weeks. The faster a buyer can visualize a finished product, the faster a seller will have a finished sale.
Survey Says: Floor Plans Sell Homes
Data from our July 2021 Real Estate Listings Analysis indicates that the majority of agents in the United States have yet to tune into the selling power of Floor Plans.
Perhaps it's her close connection with National Association of Realtors that excludes Ines from this surprising statistic. Every year NAR conducts a Home Buyers and Sellers Generational Trends survey, and every year Floor Plans rank among the top three features purchasers want to see in a listing. In other studies, they've been shown to increase clickthrough by 52%.
"Floor Plans have become crucial when presenting a property and those are not easy to get from prospective sellers," Ines told us. "BoxBrownie.com provides Floor Plan options as well as 3D Floor Plans/axonometric views of spaces."
True to form, Ines has also found ways to use Floor Plans that go beyond their standard function - including problem-solving.
She reminded us of a time when she called in a last-minute Floor Plan to deal with one of those all-too-common real estate conundrums where the result of construction comes out looking nothing like the architectural projections.
"We listed a home that was under construction and the architectural renderings were nothing like the final product. BoxBrownie.com helped produce Floor Plans as well as 3D Floor Plans for us to show final changes."
"They were able to grab super complicated architectural plans and simplify them for consumer consumption. They also went above our ask by providing 3D plans as well which made it easy to promote the property."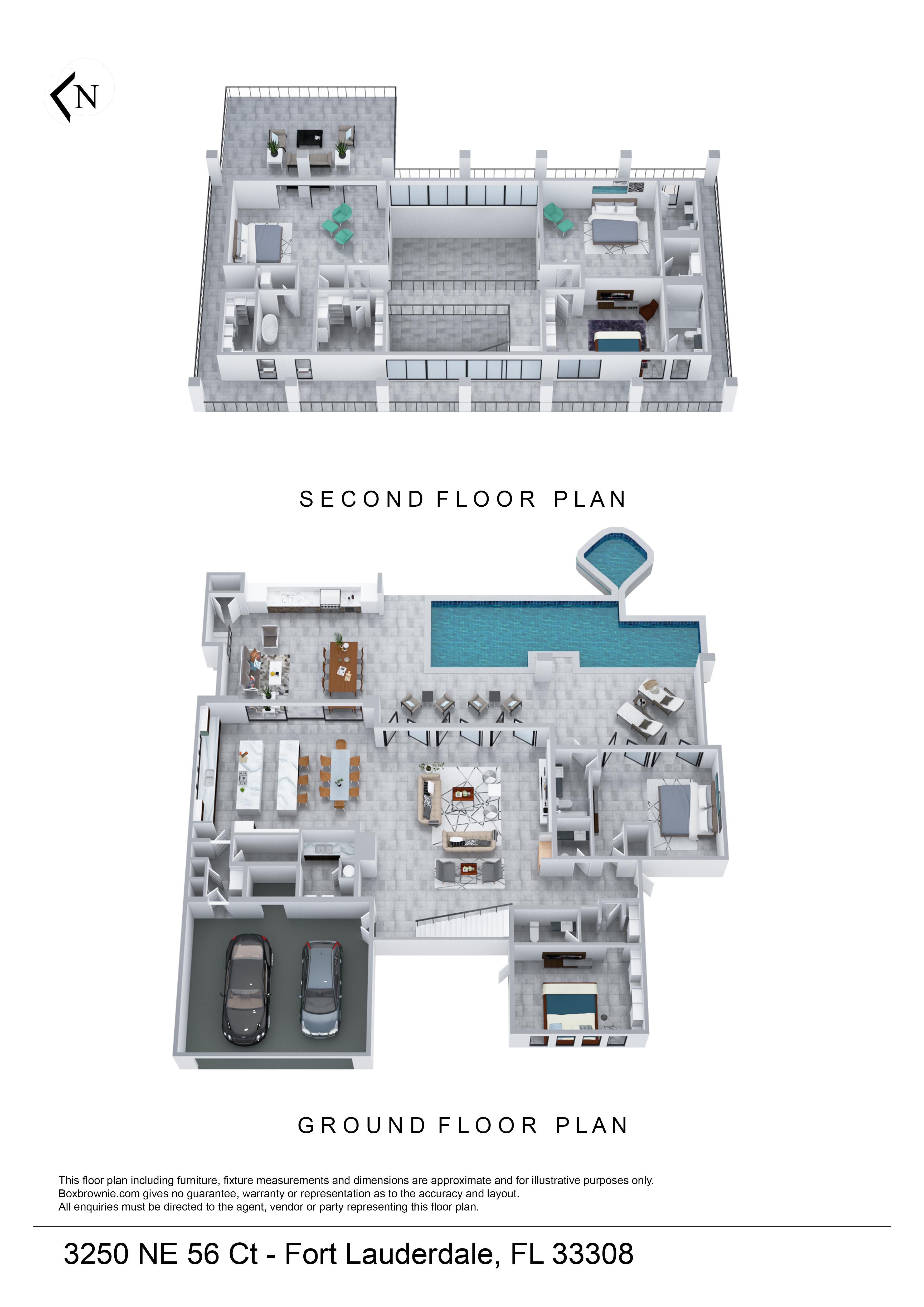 Well aware of the NAR research that indicates property shoppers place a high value on Floor Plans, Ines frequently works with us to create Floor Plans that pop.
Ines' Active credentials:
Florida Realtors Presidential Advisory Group - Professionalism
2018-2021 Board of Directors - Florida Realtors & National Association of Realtors
2018-2021 Corporate Board - Miami Association of REALTORS
2021 Vice-Chair of Communications Committee - Florida REALTORS
2020-2021 Federal Tech Policy Committee member - NAR
2021 Data Strategies Committee member - NAR
2020-2021 Board of Directors - Second Century Ventures
2019 Residential President - Miami Association of REALTORS
C2EX Endorsed, National Association of REALTORS
---