HOW TO USE SOCIAL MEDIA TO SUCCESSFULLY SELL REAL ESTATE

Introduction:
The internet is loaded with real estate agents who swear that social media is the platform for selling real estate. Yet for many agents, the clear path to social media success remains a riddle.
Facebook, Twitter, Instagram, TikTok, Snap - social media may provide many ways to connect with the world. But it can also be a way to waste time and get lost in the shuffle.
In the past, we have written about the general do's and don'ts of social media posting. In this post, we'll get a bit more specific about the art of selling real estate on major social media sites.
It is important to keep in mind that every real estate sale involves more than just a sale. Each transaction involves at least four ingredients:
A lead
A buyer
A seller
A sale
Keep this in mind as you put together your social media strategy. Your social media array should constantly be generating all four of the above.
The Golden Rule: Image Is Everything
Image truly is everything on most social media platforms. As we at BoxBrownie.com like to put it, presentation is the key to selling property.

As seen working its magic in the image above, our Day to Dusk edit is a great way to give your real estate photos that extra oomph they need to do well on social media.
The National Association of Realtors 2022 Generational Buyers and Seller's Report has once again confirmed that the most useful website feature for property buyers is photos.
This information is a great starting point. If you are going to get the most out of your social media, your photos are the way to stop scrollers in their tracks.
How To Gain The Inside Track on Instagram
Of all the social media sites, Instagram is the place for pics.
PropertySpark releases an annual Top 100 Realtors on Instagram list. Their researchers rank agents' pages using the following algorithm:
number of followers
the average number of likes per post
presence on other social sites, like Facebook, YouTube, or Twitter
quality of posts (which on Instagram means the quality of photos)
Of these four criteria, the one you have full control over as a real estate agent is the quality of the photos you post.
Our Day to Dusk and Image Enhancement edits have become the best friend of many agents who are making a splash on social. If you're looking to gain some 'Insta-traction', you should have a look at what they are all about.
Hashtags Can Take You From Lost To Found
When you're certain that your posts are of a quality you can be proud of, hashtags are probably the most reliable way to increase your Instagram following.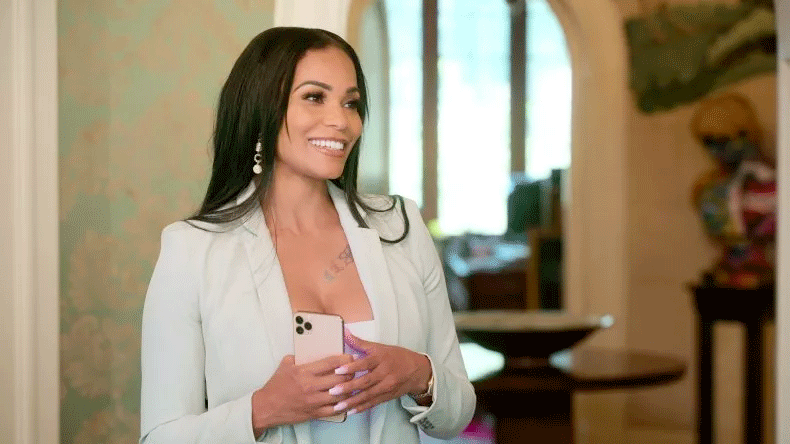 Property Spark ranked Tampa's Sherelle Rosado as the number one real estate agent on Instagram this year. Rosado no longer needs to worry about hashtagging her posts, but less influential agents should make this a habit.
According to SproutSocial, Instagram posts with at least one hashtag have 12.6% more engagement than those without. You're allowed up to 30 hashtags with each Instagram post, so if you're not using them, then you're really not using social media to your best advantage.
TrackMaven has found that 9 hashtags are the optimal number on Instagram and that the optimal length is between 21 and 24 characters per hashtag.
(Incidentally, TrackMaven's research has found that when it comes to using hashtags on Twitter and Facebook, less is more. One or two hashtags on these platforms tend to receive the most engagement.)
A Powerful Combo: Virtual Staging And Social Media Polls
Many agents often use our Virtual Staging feature to give different looks to the same room.
Should 'Empty Space A' be an office, a bedroom, or a workout room? Virtual Staging is a great way to enable buyers to visualize all three options.
But don't just use your Virtual Staging possibilities on the MLS, turn these images into polls on social media.
People on all social platforms love polls. They are easy to put together, easy to take part in, and incredible drivers of engagement.
Which look do you like better in the below series of images?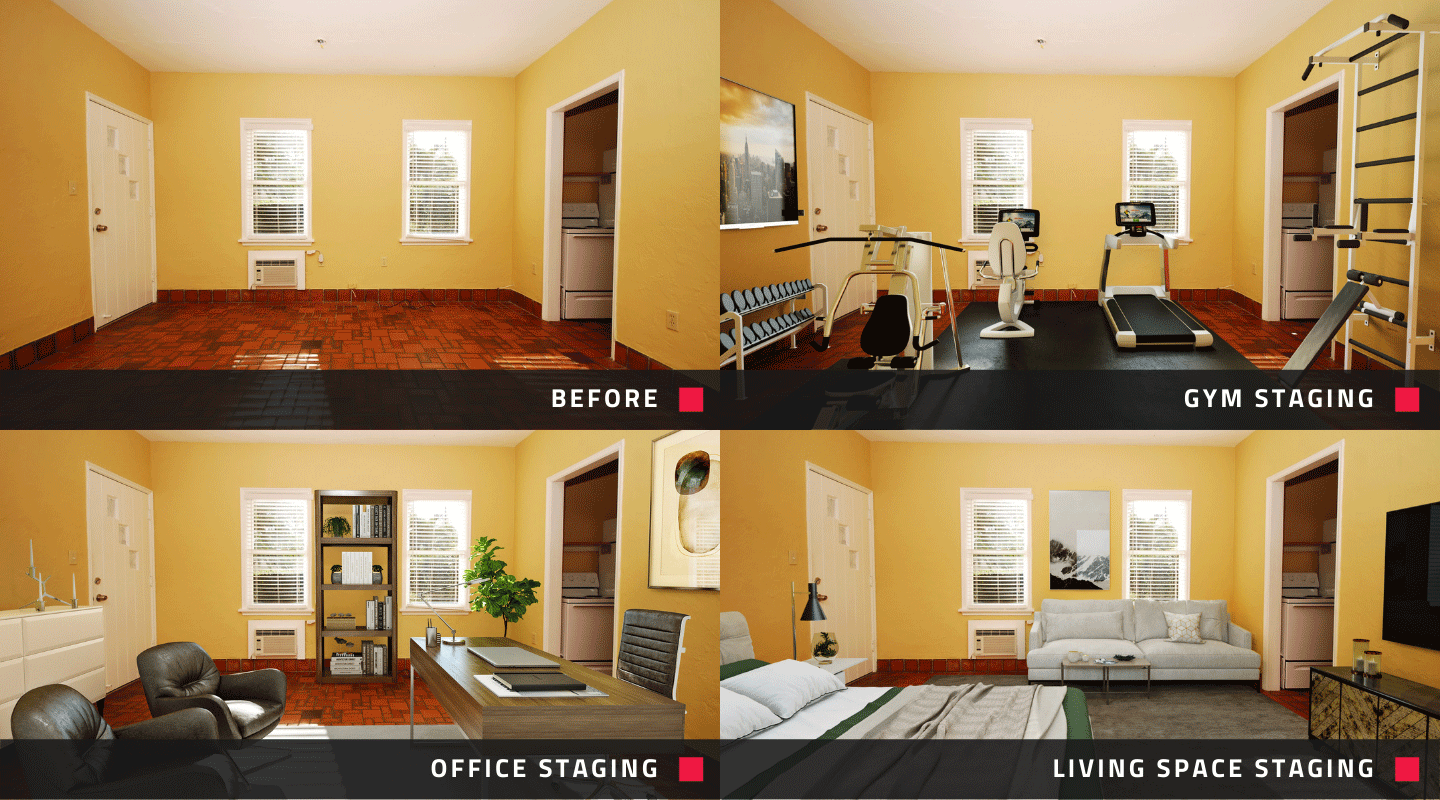 Agents who use our Virtual Staging service to show different looks for a space would be wise to re-use these images as part of a social media poll.
The Decline of Video
Perhaps the most alarming point of data in the NAR 2022 report is the substantial drop in the value property buyers are placing on video.
In 2021, 47% of buyers listed video as a very useful website feature. In 2022, only 28% of property buyers listed video as a useful feature in their search for property.
Almost twice as many buyers now value Virtual Tours over video in their search for property. This is good news because it's a lot easier to create a quality Virtual Tour than a quality video.
Should more Floor Plans be posted to social media? That is hard to say, but 56% of property buyers found Floor Plans very useful in their quest to buy a home. They might not grab the attention like our Day to Dusk glam jobs, but they are great secondary images that pack a lot of information in a single glance and are probably the most involving form of a static image.
Facebook Marketplace Is The MLS Of Social Media
Many agents soured on the powers of marketing real estate via Facebook when Marc Zuckerberg's crew changed its advertising algorithm to eliminate location targeting.
Previously, Facebook Ads allowed agents to make their listings appear on the feed of anyone in a specific neighborhood. Under the new rules, the location pinpointing powers for real estate ads have diminished so vastly that they are almost useless.
But Facebook still probably offers the best social media platform for agents to directly promote their listings. This platform is called Marketplace.
Anyone - agent or private citizen - can use location targeting to sell real estate on Facebook Marketplace. And unlike Facebook Ads (and most MLS sites) posting real estate listings on Marketplace is free.
It's a simple, unglamorous approach. But no agent should ignore it.
Facebook Groups And Pages Will Help You Farm Your Area
Social media may be a way to reach a global audience, but as the saying goes, real estate is always local.
At this stage in the game, it is unlikely you'll be the first agent in your area to create a group or a page aimed at generating leads. This does not matter. Facebook groups and pages are great ways to 'claim your niche'. Your group or page doesn't have to be exclusively about real estate, but you should follow these guidelines:
Make it local
Make it something you are passionate and knowledgeable about
Don't just blatantly promote yourself or people will flee
Engage with everyone who comments on your group or page
Keep it positive
For all the social strategies we will talk about in this post, the same rule applies: If your page can become a valued part of a person's daily social media check-up, you are bound to generate momentum in your real estate career.

Keep Your Real Estate Copy Brief
If you are going to post listings on social media, make sure to keep your copy brief.
A photo on an Instagram story lasts for seven seconds, while the maximum time for a video on an IG story is 15 seconds. This is not a lot of time to work with, but if you can get good at writing just the bare bones of a listing, that can be the perfect alluring complement to the breathtaking images you post.
Treat your stories like a good roadside billboard - if the text can't be read in the four seconds it takes to whizz past them at 55mph, then you've written too many words.
There's no better place to practice the art of writing brief copy than Twitter.
To Put It Briefly, Twitter Has Untold Real Estate Potential
In 280 characters or less, here is why Twitter cannot be ignored:
Twitter has constant reports of what's trending. It still accepts breathtaking images. You can follow or connect with everything and everyone in your farm area. You can post links to all your listings on Twitter! (213 characters ;)!)
TikTok: It's Only A Matter Of Time
TikTok might not be the ideal place to post "For Sale' listings. But it's working wonders in the realm of property management.
Madison Sutton is a 25-year-old agent in New York City. She works exclusively with rentals. Lately, her career has skyrocketed, and she gives all the credit to TikTok.
"There were days I was getting two or four hundred inquiries for one apartment," she reports. "What TikTok did, I couldn't have expected or planned or calculated in my entire lifetime. It's completely changed my life."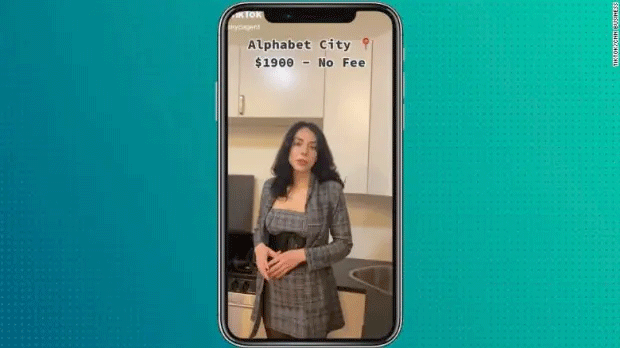 Maddison Sutton has figured out how to use Tik Tok to reach the lucrative NYC rental market. When this demographic becomes buyers chances are they'll return to Tik Tok to find their first home.
TikTok! If you are a property manager or selling rental units, or seeking to engage first-time buyers TikTok might be a great way to go guerilla with your marketing.
Snapchat, Is It Worth It?
The reasons not to use Snapchat if you are a real estate agent could probably be said about TikTok, too. Neither platform seems like a place for serious property buyers.
But before you dismiss TikTok and Snapchat as being the domain of the Millennials, have another look at NAR's 2022 Generational Trends Buyers and Seller Report. The Millennials now make up the highest percentage of all property buyers in 2021-2022.
That's right. The generation that most values Snapchat and TikTok is also the generation that is buying the most real estate these days.
Perhaps it's time to practice your dance moves and turn on your selfie cam! Just remember that people age a lot faster in the digital era, and you don't want to look ridiculous by trying to keep up with the kids. LOL.
---