THE DOS AND DON'TS OF REAL ESTATE SOCIAL MEDIA POSTING
Introduction:
Have you considered adding a social media component to your real estate marketing strategy? Of course you have. In 2021 and beyond, real estate social media marketing is a must.
The question is no longer whether to use social media, it is ''HOW to effectively use social media for real estate marketing?".
It is no coincidence that agents who have over 500,000 Instagram followers - like Barbara Corocan, Josh Altman or Carlos Reyes - also tend to be worth hundreds of millions of dollars.
The clear connection between social media stardom and soaring property sales, has almost every agent 'going social'. Competition has never been so fierce, and it's increasingly difficult to stand out from the crowd.
In this post, we'll share some real estate social media marketing tips that will help you achieve this. But first, let's make sure that the enormous power of social media does not end up working against you.
KNOW YOUR DON'TS BEFORE YOU DO
One wrong step in social media marketing can erase 1000 good steps and have you longing for those golden, long-gone days when a telephone and a camera were two different things.
Consider the story of the eager agent who tagged a prominent yoga instructor in a photo at a New Year's party. At the time, the agent was representing the yoga instructor on a multi-million dollar listing in the Sacramento area.
Unfortunately for both the agent and the yoga instructor, the client was tagged smoking a cigarette in the picture. When the agent tagged his client in this photo he did not consider the damage he was doing to his client's brand, which was built upon healthy living.
Not only did the real estate agent make the yoga teacher look like a hypocrite, he lost a valuable listing in the process.
Yes, social media can send your profile to the moon. But if you are not careful or considerate, this trip might feel more like a banishment than a marketing milestone.
Here are some more things to avoid if you want to remain on the sunny side of social.
DO NOT OVERSELL.
If you are a real estate agent, one sure fire way to turn people away, is to use your page as little more than an auction block for your listings.
Obviously, the real estate agent's main objective is to sell homes. Agents who have not yet got the feel for social, tend to accumulate as many friends or followers as possible then blast them with listing after listing, until eventually people either tune out, mute, unfollow or block.
It's not that you can't promote your listings on social media. But there's a kind of Jedi mind-trick involved in the process. Ironically, you won't sell people homes on social media if people on social media think that you are only there to sell homes.
James Rozanski, Head of Marketing at Real New York, believes listings are better left to paid social ads, rather than on an agent's organic page.
"I see a lot of agents posting videos and images of empty apartments on their Instagram feeds," Rozanski says.
"But for people who are already following them, they're very rarely looking for a new place and it's not effective. There's definitely a difference between paid and organic social. The listings you're trying to push are best suited for paid, targeted advertising to a specific audience, whereas organic social is very much for lifestyle, retention, and points of difference as an agent."
Other agents who have become social media influencers are perhaps not so stringent when it comes to keeping listings off their organic social page. But the majority of their posts are definitely skewed more towards exhibiting their personalities, sharing information that will retain client's interest, or other items of interest that have nothing to do with overt property sales.
According to wishpool, the 80/20 rule can be a golden rule for social media. That is, post 80% of your content about lifestyles, customer interests, and other updates; post 20% of your content about you and your product. This keeps your social media social, and engaging.
TOO MUCH IS TOO MUCH! (A.K.A. DON'T BE ANNOYING!)
Just as overselling can turn people away, many forms of overzealousness can undermine your social media marketing efforts. For potential homebuyers, constant, in-your-face promotion has minimal appeal.
Remember that social is a subtler art than the old school days of print, radio and television media. It's a long play. And it's not called 'social' for nothing. Don't be annoying.
It doesn't matter if it's Facebook, Twitter, or Instagram, people are careful about who and what appears on their feeds. Too much of anything, even too much communication, can send you to the doghouse.
For instance, too many email blasts will inspire a wave of unsubscribers. Too many messages, DMs, or questions requiring a response will turn people away over time. If your volume is too high, expect to be muted.
This also applies to message length. Sending out long messages is not considerate and will work against you. It's really strange to quote Shakespeare when offering advice on social media marketing, but if you are messaging your followers, remember, "Brevity is the soul of wit."
When effectively used, social media builds trust, is a marvel for lead generation, and gets people excited when they encounter you on their feed. If you go overboard, though, your social media appearance will inspire groans. Groans are never good for business.
DON'T SPREAD YOURSELF TOO THIN
Another way to put it is that the agent who is everywhere is nowhere. There are many social media platforms, but this doesn't necessarily mean you cultivate a following in all of them. There will only ever be 24 hours in a day. Being on every single social media platform might not be the best use of your time. Focusing on the two or three that work best for you, might be most fruitful.
For example, you wouldn't want to launch a Snapchat strategy when trying to sell retirement condos - the demographics there skew too young. If you're selling commercial real estate, consider connecting with successful professionals and industry organizations on LinkedIn.
BE VISUAL
Ever since skywriting was invented in 1923, the marketing world has known that what catches the eye, catches the interest.
At BoxBrownie.com we have built an internationally successful real estate photo enhancing business on this natural law of the universe. We are founded on the principle that presentation is the key to selling property, and because we are masters of the art of presentation, our dazzling images find great success on social media.
Our before and after images for our Virtual Staging or Item Removal services are highly shareable and it's rare that a property seller is not delighted when their agent shares what we have virtually done for their listing.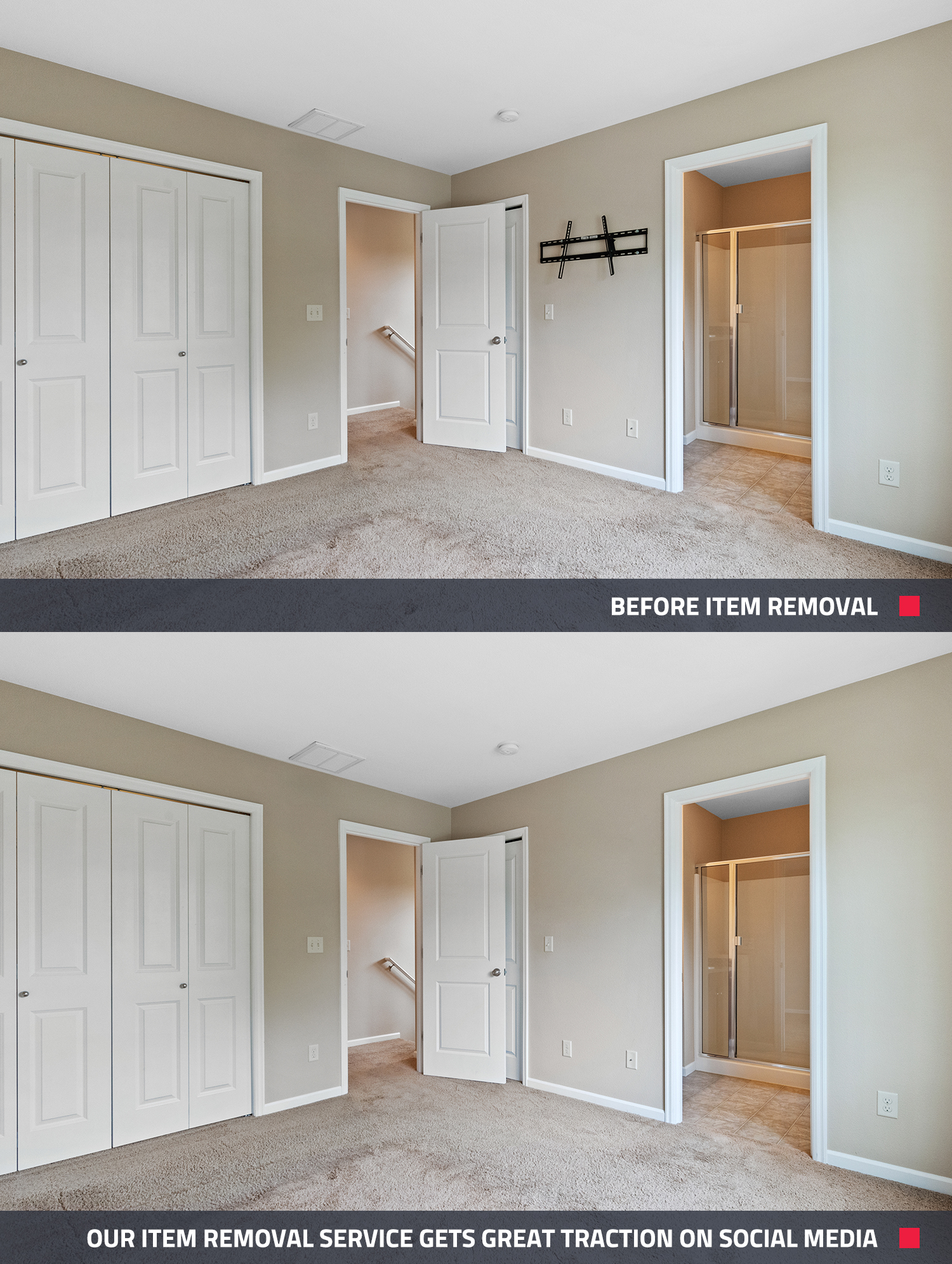 Question: Does the above room look better with or without whatever that is on the wall? Images of our item removal service, can be great for inspiring the valuable commodity of enjoyable social media participation on the part of your friends and followers.
Agents who use our item removal service are discovering that not only do our enhancements make great listing photos, they can have a life of their own on social media. Using an image for more than one purpose brings us to our next general pointer.
BE SMART (aka WORK SMARTER, NOT HARDER)
If you are truly serious about pushing your social media power to the max, then the following pointers are absolute musts.
Use real estate hashtags. People use hashtags to find things they are interested in. Instagram, for example, allows up to 30 hashtags per photo. Let potential clients know that you have what they are looking for!
Tag people. Unless you are a social media star, chances are that if you are tagged in something on social media, you will check to see how it involves you. If it casts you in a favourable light, there's a chance you might share it. But remember the above story of the real estate agent and the yoga instructor, and be extra sensitive with who and how you tag. Instagram allows you to tag up to 20 accounts of other real estate agents with clients in your market. This will send them a DM that they are mentioned in your story and they have an option to share it to their own stories, which then links back to your account.
Share and Retweet. There is twofold brilliance to sharing, retweeting or linking to other great social media content in the real estate industry. For one thing, it saves you time in that you don't have to labour to create interesting real estate content. Secondly, it can be a tribute and validation to whoever did create the content, generating positive social vibes and support for what you are doing. In other words, work smarter not harder.
Your clients are a great content source—whether it's sharing a quote from their testimonial or a photo of them toasting a new home.
Edward Hutchinson of Compass advises:
"Don't just shoot content at your own open houses - shoot stories at other agent's open houses, and tag the agent too. That same agent will appreciate the exposure and is likely to do the same for you one day."

BE CONSISTENT
A consistent presence on social media, especially if you are creating positive vibes, can be wonderful for your career in real estate. If you do it properly it can accomplish all of the following:
Gain the trust and affection of those who are not yet your clients.
Keep a connection alive with previous clients. An incredible 70% of homeowners can't even remember their real estate agent's name one year after closing. You can use social media to ensure this doesn't happen.
Establish your brand and your character as decent, reliable and trustworthy
It is not difficult to maintain a consistent presence on social media. Most major platforms have a post scheduling option, so in the space of about half an hour, you can schedule a week's worth of posts and leave it up to the technology to publish them at the time and date of your choosing.
BE RESPONSIVE
Unlike the old media of radio, television, or print, social media is not a 'broadcast' medium. It is an instant, constant sphere of interaction. If you treat your social media like it is a loudspeaker, programmed only to broadcast, you will miss out on the relationship potential of social media as a real estate marketing tool.
It is vital to respond to comments and questions your posts generate. Leaving people hanging is never a sound promotional strategy.
WORK TOGETHER! SOCIAL SYNERGY IS YOURS TO CREATE.
Social media is powered by people. Real estate agencies whose agents work together supporting, tagging, liking, commenting, sharing, retweeting one another's content create a massive social synergy that can get them trending.
Toronto's Pope Real Estate agency has mastered the art of social synergy. With 10.1k Instagram followers, Pope was ranked Canada's second-greatest social media influencers in real estate.
GO FORTH!
The above is a solid foundation of things to do and things to avoid in your social media strategy and marketing. Once you've got this covered, it's time to move on to the next level. Our upcoming blog post will feature more advanced social media techniques - this is where the fun really starts!
---