EFFECTIVE WAYS TO WOW YOUR REAL ESTATE CLIENTS (AND SEAL THE DEAL!)

Introduction:
Are you a real estate agent who has experienced the power of the 'wow'? If so, then you know there's no force quite like it in the real estate business.
It's one thing to be a trustworthy, reliable, knowledgeable, and hardworking agent who comes through for your clients and earns a solid reputation in the business. It's another thing entirely to elicit a 'wow!'
Unsolicited referrals, branding in the form of word of mouth, repeat business from everyone you impress and a momentum that lets you stop chasing business and start closing deals are just some of the benefits that will befall you when you hone your wow factor.
To inspire this three-letter exclamation, it is not enough to fulfill the minimum requirements of trustworthiness, responsiveness, knowledgeability, and diligence. You will have to do something outside-the-box, unexpected, personalized, and helpful to your client.
There are as many ways to wow a client as there are people on this Earth. But to narrow it down a bit, this post will explore two areas of focus where you have your best chance to make a big impression.
Your Marketing
Your Efforts To Help AFTER Each Sale
Great Marketing Amazes Buyers And Sellers At Once
Many agents assume they have to work one sort of magic to impress a buyer and a different kind of magic to impress the seller.
But the great thing about great marketing is that it will amaze the buyer and the seller at the same time.
It doesn't matter the situation, client, or type of property involved, our virtual property marketing toolkit has something that can crank a 'wow!' out of anyone.
But these tools will only work to your advantage when you know how and when to use them. Below you'll find examples of powerful and clever uses of this technology, but to really get it working for you you should familiarize yourself with all of it.
These are the tools that will take you from satisfactory to superb as an agent. Instead of hearing "well done" from your client, you will start to hear the welcome sound of "wow!"
Here are some ways to make that happen.
Commercial Virtual Staging: Pathway To Potential





As seen in the above images, Virtual Staging can greatly benefit the marketing of commercial property. Buyers, sellers, and prospective tenants all love it!
Virtual Staging has yet to make its big mark on the commercial sector - not because it doesn't net amazing results, but because the commercial real estate business just hasn't used it as much as the residential side of things.
But Commercial Virtual Staging offers two huge advantages en route to wowing a client.
Virtual Staging is still a relative novelty in the commercial sector.
Virtual Staging is an extremely flexible method of showing a specific buyer or a specific tenant how a commercial space would look with a specific buyer in mind.
Residential Virtual Staging Can Still Surprise
The element of surprise is always a valuable asset when trying to elicit a 'wow'.
You might think that Virtual Staging has become so popular and mainstream since the pandemic that it can no longer surprise someone to the point of a bona fide wow. Untrue.
Virtual Staging may no longer be the secret weapon it once was when it revolutionized real estate marketing during the pandemic, but some residential agents are still finding fresh ways to capture the 'wow's of residential buyers and sellers.
Jodie Hedley-Ward (from McGrath Caloundra in Australia), has come up with what can be described as a multi-dimensional hall-of-mirrors-type method of blowing the minds of buyers and sellers using Virtual Staging.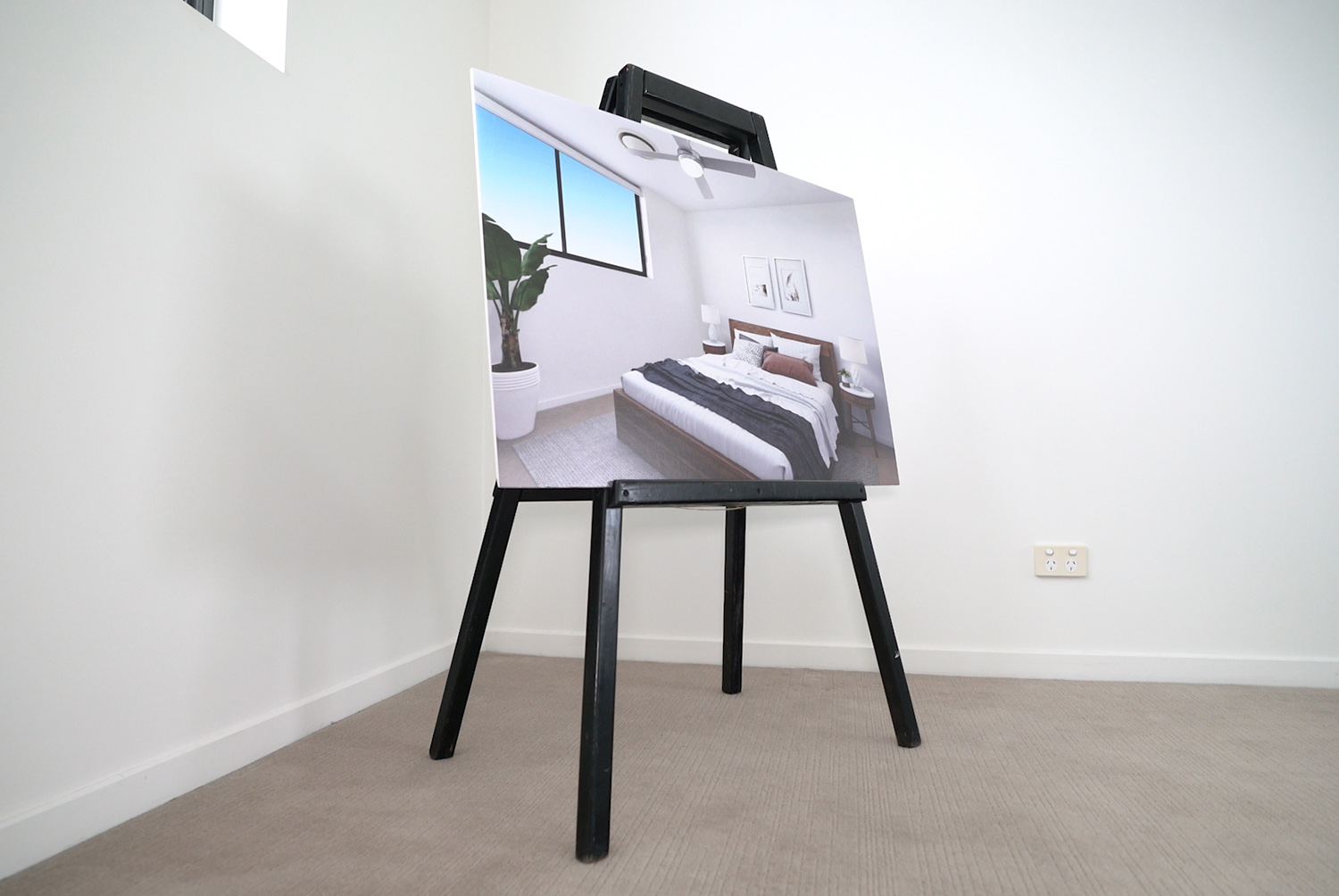 Australian agent Jodie Hedley-Ward furnishes empty listings with easels and large format images of how the room could look if it was furnished. By placing the physical images of Virtual Staging in the room, prospective buyers are able to connect with the images of the property they first encountered online.
Jodie prints extra-large, foam-backed versions of the same Virtual Staging images that she uses in her MLS postings, and places them on easels in the real-life unfurnished rooms of the residence.
In this case, the Virtual Staging IS the physical furnishings of the empty room that the buyers first saw online. It is a brilliant way to connect the buyer with the virtually furnished room that they first fell in love with online.
There is a touch of The Matrix to this whole experience and this only adds to the overall 'wow factor.
Pre-Build Their Dreams With Virtual Renovation
Bloomberg.com reports that sales of homes in need of renovation have spiked in the past year, primarily because of the dizzying rise in home prices. In fact, for many who have been priced out of the market, fixer-uppers have become "what's available."
This has given new purpose to our Virtual Renovation edit, and savvy agents are using it to help buyers see what their vision for a property could look like after completion.

For a potential buyer who's considering a renovation, nothing brings the imagination to life like the Virtual Renovation edit.
A buyer who is considering a specific project for a property can be greatly helped along via our Virtual Renovation tool, which allows them to envision what their project might look like in real life.
Always handy for those who already own their house, the Virtual Renovation edit has become a valuable tool for buyers who are deciding what home to buy.
If you are an agent dealing with a potential buyer who is on the fence about purchasing a home in need of renovation, our Virtual Renovation service is your perfect chance to elicit a 'wow!'
The savvy agent will talk to potential buyers who are already resigned to purchasing a fixer-upper, then work with our digital renovation specialists to see if their vision can work before they sign their life away.
Whether it's adding a pool or transforming a kitchen, Virtual Renovation gives buyers a vision of the future they hope to see.
The agent who uses the Virtual Renovation edit, to measure a buyer's dreams against reality, will become an invaluable ally to those who must reimagine, then rebuild, whatever property they purchase.
CGI Renders Sell Future Homes Today
Long before the Book of Boba Fett Sold captivated viewers across the globe, CGI Renders were using the same technology to captivate those hoping to buy or sell property off the plan.
Even static 3D Renders dramatically outperform the other two most common forms of marketing unbuilt properties - photos of a site in mid-construction, and 2D architectural drawings.
In a video interview last year our client Charles Nitschke tells of the extent to which one of our Exterior 3D Renders outperformed similar mid-construction listings that used photos and 2D architectural drawings to advertise their project.
Nitschke presented Zillow screenshots that showed how the 3D Render he used to promote a project had thousands more hits and hundreds more saves than both other projects combined.
(The numbers, in case you're interested. Our 3D Exterior render had 5,172 views and 265 saves. The other two listings had a COMBINED: 912 views and 12 saves on Zillow. Wow.)
The 360° CGI Render Tour
There is probably no greater jaw-dropper in all of property marketing than the 360° CGI Render Tour.
CGI Render Tours are not only incredible to behold and take part in, but they have also become essential for selling large-scale developments off the plan.
We recently did a feature on Michael Bryden, a drone pilot-turned-virtual property marketing extraordinaire.
We worked with Michael to put together a 360° CGI Render Tour for a major development on Australia's Gold Coast. Not only were buyers blown away, but the principal of RE/MAX Regency could hardly believe what he was seeing.
As Michael told us:
"The principal of RE/MAXRegency, which is number one in Australia, saw what BoxBrownie.com put together for us and said that it was the best 3D Render he had ever seen."
Take the 360° Render Tour that Mike is referring to HERE and chances are you'll utter a wow or two of your own. Remember, the property you are touring did not exist at the time this render was made.
2) Intensify Your Efforts To Help AFTER The Sale
If you really want to wow a client, ramp up your interactions and your efforts to help out AFTER the sale is complete.
The big advantage here is that it's not what anyone expects. Whenever you add the element of surprise to a favorable impression, you draw that much closer to eliciting a wow.
One way to do this is to become the Welcome Wagon. Create an 8 - 12 page document with an aerial photo of your client's house on the cover (Since your farm area is likely not to change, much of this document can be reused with every client you sell a house to, with only the cover and maybe the introduction page changing from client to client)

Aerial Edits with drop pins marking significant locations near a residence can make for an impressive cover page on a 'Welcome to the Neighborhood' booklet that you present to a new homeowner after the sale is made.
A simple Aerial Edit can include drop pins to all the neighborhood highlights.
The body of the document will elaborate upon these highlights:
cultural and recreational centers, favorite restaurants, gyms, art galleries, theaters
who to call to hook up electricity, water, cable, tv internet, heat.
a list of reliable tradespersons that can address all the needs that might arise in a new home occupant's first year.
a personal touch - tell your clients about your favorite walking trails, beaches, lookouts, and other little secrets that only locals know about
each page of the document should include your phone number, email, and other ways to contact you.
There are almost infinite ways to turn your customer service into overdrive once the deal has closed. Here are some of the most successful ones, as reported by agents across the world wide web.
bring pizza on moving day for new homeowners, or even help out
throw a housewarming party
after your clients are settled in, bring them a gift card to your favorite local restaurant.
connect them to community, either online or in the local market (ie. if they intend to renovate, hook them up with one of the social media groups that function as forums for first time fixer-uppers)
In short, the moment you first meet your client you should have meaningful conversations with them, listening carefully to all they say, knowing full well that when all is said and done, you are going to come back to them after the sale and blow their mind when they least expect it.
---