THE SKY'S THE LIMIT: THE MASSIVE POTENTIAL OF AERIAL DRONE PHOTOGRAPHY

Introduction:
Human beings are pre-programmed to awe when looking down on the Earth from above. And nothing sells property like awe.
Obviously, any agent will want to take advantage of real estate marketing that can achieve a feeling of awe in prospective buyers, but nowhere is the art of manufacturing awe more hit-and-miss than when drones are involved.
In some markets, due to air traffic regulations, acquiring real estate drone footage can be complicated. Still, most agents today include some form of "aerial drone footage" in their marketing plans and listings.
In less-regulated areas, quality drone footage is easy to come by. You might even be one of the increasing number of real estate agents who have learned to fly a drone and can acquire such images yourself.
Be this as it may, acquiring drone footage remains only part of the battle to making such footage sell property.
For one thing, a qualified drone operator and a good real estate photographer are two totally separate entities.
Many drone pilots might be able to expertly operate their craft, but that does not make them adept at photography, let alone real estate photography.
Furthermore, unless you are flying the drone yourself, it can be difficult to communicate your vision of how to best capture the selling points of a property to a drone pilot.
But even in the perfect scenario where a qualified drone operator, who is skilled at achieving marvellous aerial footage, and who understands exactly which aspects of a property to showcase… even in this perfect instance, drone photos and videos often sputter far short of their enormous potential.
Why? Because they usually require a bit of after-the-fact editing, a bit of 'touching up'.
More than any other form of real estate photography, drone photography, even exceptional drone photography, almost always requires a little dressing up, if only to orient a buyer to what exactly they are looking at.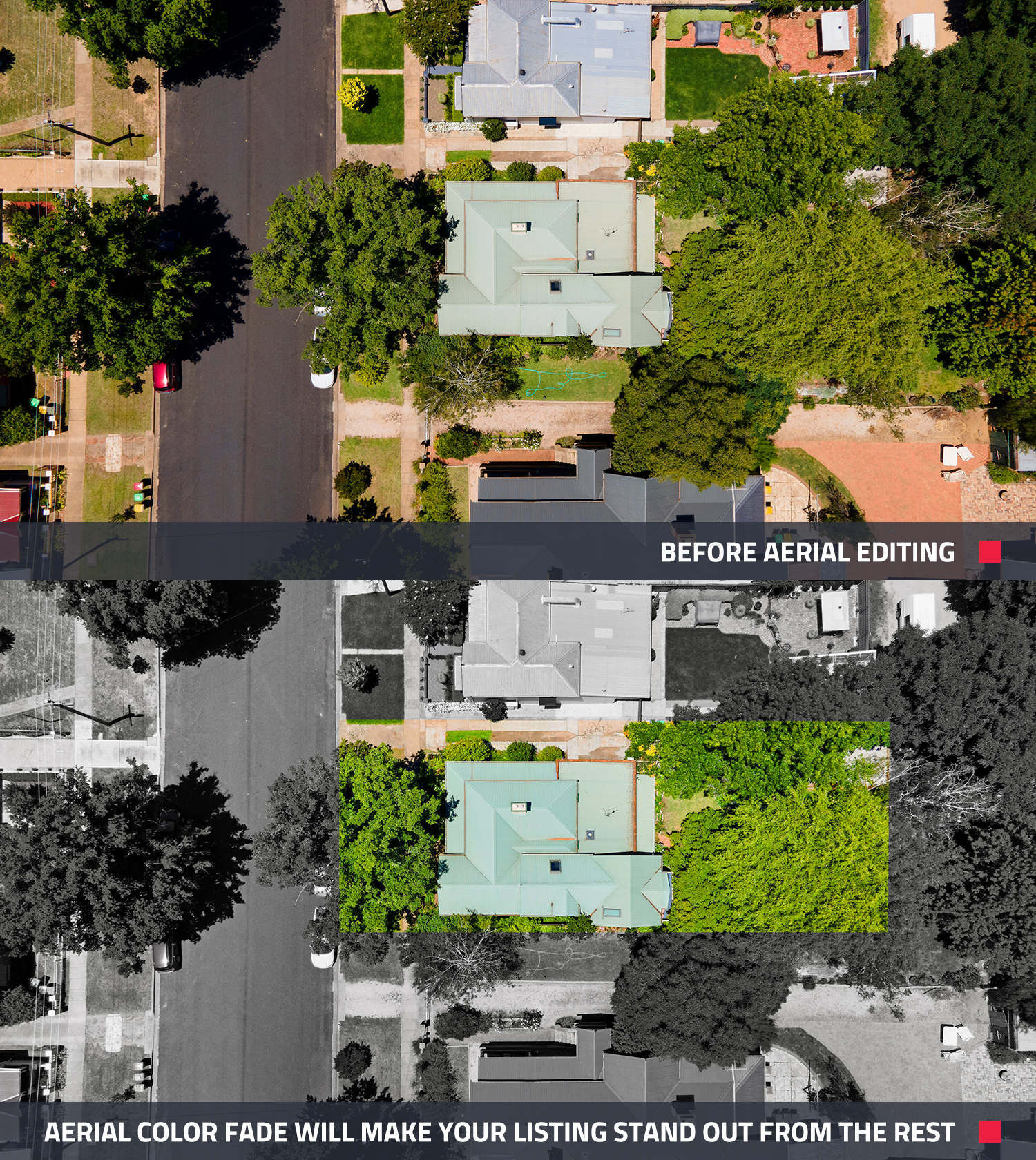 Whether it's highlighting the proximity of schools or shops to a home, indicating the precise boundaries of a block of land, or using graphics to indicate how a lot might be divided and developed, BoxBrownie.com's industry-leading technology can do this for you, in most cases for about the cost of a cappuccino.
BoxBrownie.com specializes in adding the little details that turn drone footage into the stuff that sells homes.
The value of our aerial editing services is best demonstrated and appreciated via "before and after" method.
In all of the below photographs, the drone photography that was submitted to us is pretty good. Even the "Before" pics in these examples provide well-captured perspectives of the property they intend to showcase. But you will immediately observe the power of a simple bit of our post-production editing work.
If you were a property buyer and asked an agent for an aerial shot of a home you were considering purchasing at 71 Kent Road North Ryde, which of the following photographs would be more helpful to you?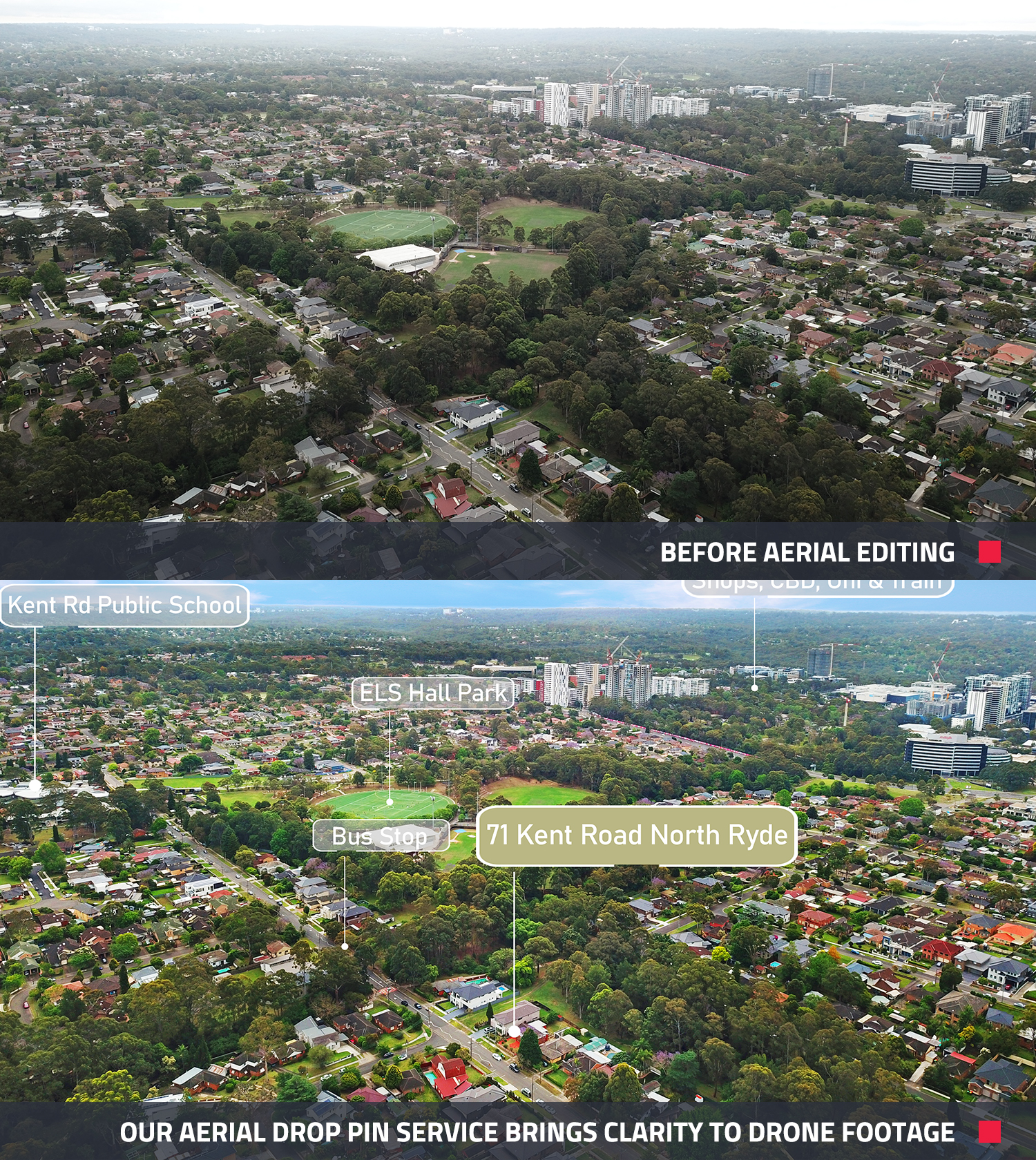 More than any other kind of real estate photography, drone photography requires graphics or some kind of editorial intervention to really be worth the time and effort it takes to obtain it.
Imagine if you were a potential buyer who wanted to find a home with acreage and you need to see exactly what space is included in the property, which of the following images would be worth more to you?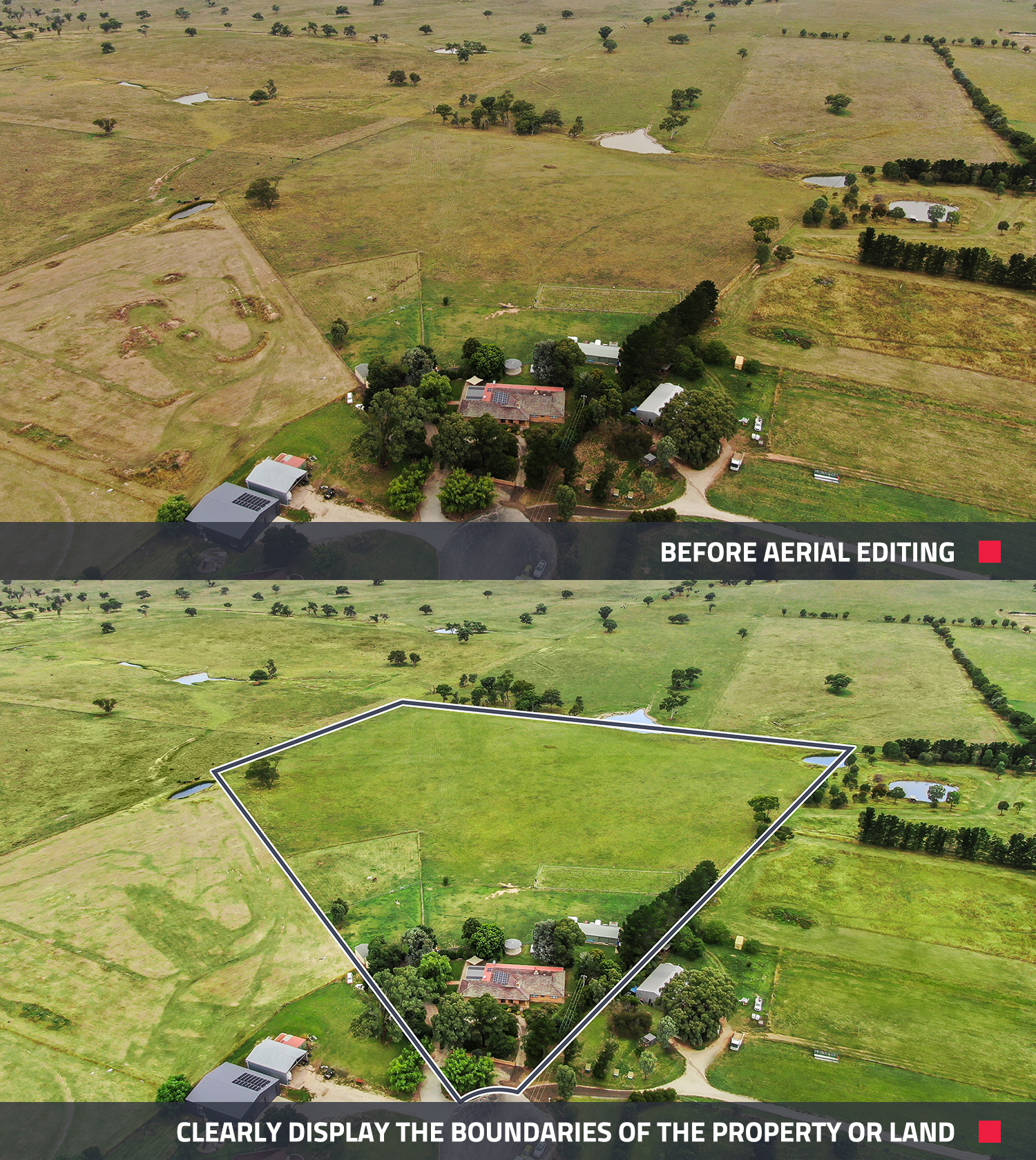 A developer considering either buying or selling a tract of vacant land will almost certainly require some sort of on-screen graphics to envision the ways a property might reach its potential.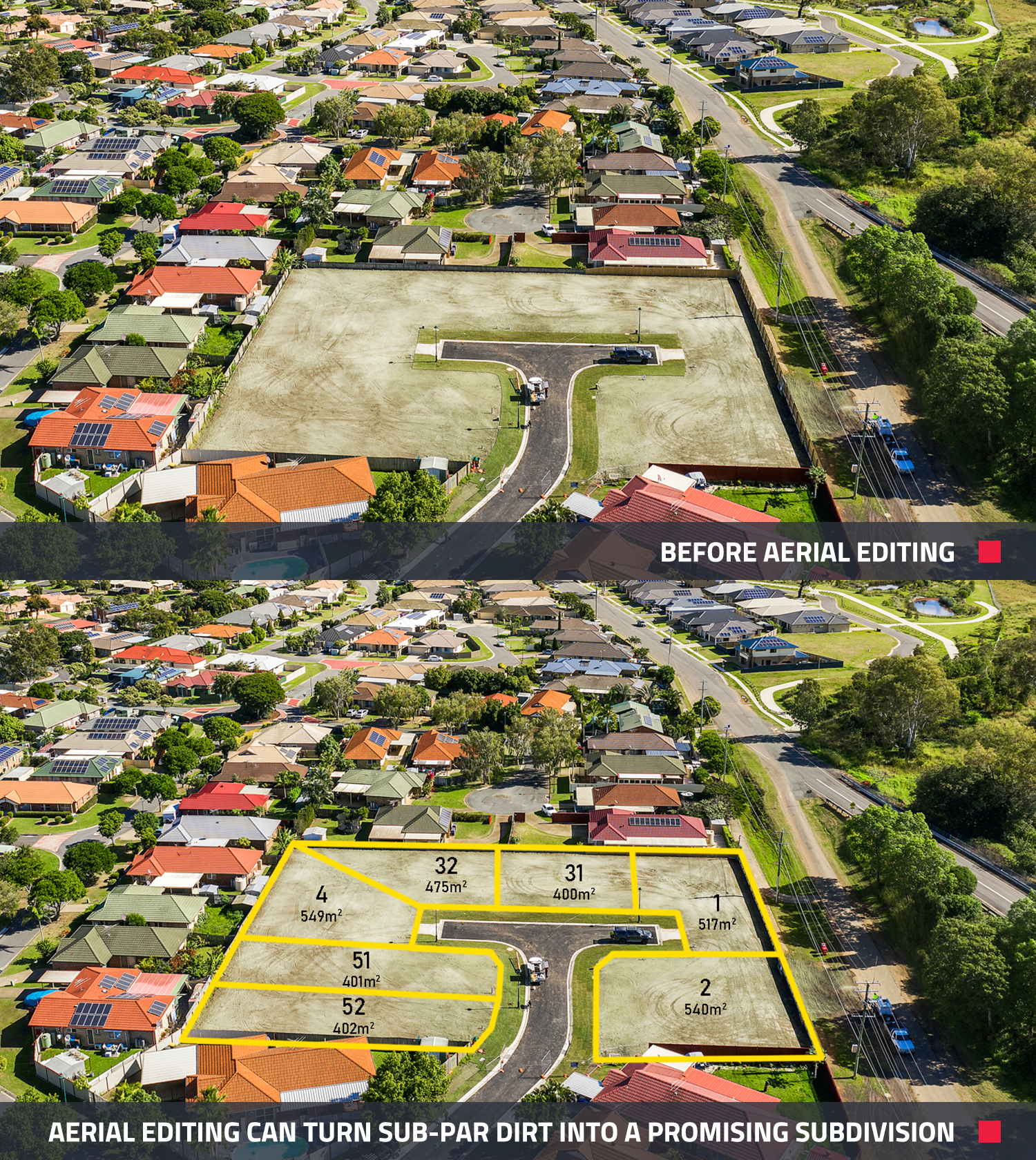 Within 24 hours any photograph you have shot from a drone can be turned into an example of the above. There is also much more BoxBrownie.com can do with your drone footage.
Anyone investing 'off the plan" will need to see some sort of aerial delineation before seriously considering their purchase.
When you consider the backgrounds and talents of our two founders it is no surprise that BoxBrownie.com has identified the most important missing ingredients in drone photography for real estate, and come up with the technological solutions to deliver them.
BoxBrownie.com co-founder Brad Filliponi is himself one of the most knowledgeable real estate photographers and photo editors in the business.
He is a leading voice in all areas of real estate marketing, especially photography, and his 'how to' photo tutorials are followed by tens of thousands of people across the globe. He is also a certified real estate agent.
Mel Myers, BoxBrownie.com's CEO, and co-founder is, to put it mildly, a computer wiz with prodigious academic credentials, including being Australia's youngest university student (he enrolled at the age of 12!).
If Brad is the man who knows what real estate agents and photographers most need in order to turn their images into powerful marketing devices, Mel is the man who can write the computer script necessary to ensure that these needs can be met inexpensively, quickly, easily and as many times as a property seller requires.
Fast turnaround times, low costs, and universal accessibility are three reasons why our aerial photo editing services have become vital to both real estate agents and photographers alike.
These qualities are at the core of everything BoxBrownie.com does. And drones are just a tiny tip of a massive technological iceberg that real estate agents across the globe are using to their great advantage.
The best way to understand all that BoxBrownie.com can do is to visit our website, and explore.
Begin your account with BoxBrownie.com right now.

---