HOW TO SHOOT REAL ESTATE USING AN IPHONE 12
Introduction:
It's a common question we get asked by agents, do I need to use an expensive DSLR camera when shooting my new listing? In this blog, we are going to be testing out the new iPhone 12 and pairing it with the CameraPixels app to see just how effective this new technology can be.
Just like the iPhone 11, the latest smartphone edition from Apple comes standard with the impressive wide-angle lens which we covered in a previous blog. This fantastic functionality can capture an entire space in one frame allowing you to show off the scale of the property and give potential buyers context around the layout of the home.
For this blog, the client has asked us to market the home for less than USD $35. Sound impossible? Let's see if it can be done.
The Importance Of Bracketing
Bracketing is when multiple shots are captured of the same image at varying exposures which can then be blended together into one final product. This quick and easy little hack is what sets professional photos apart from amateur shots and is a great way to capture window detail when photographing the interior of a property.
This technique also provides a greater dynamic range in the images which allow us to create a stunning magazine-quality shot in the editing process. If you'd like a refresh of bracketing or if you're new to the concept, check out our blog on 'How to shoot HDR Bracketing'.
How To Bracket On The iPhone 12
To set up bracketing on your iPhone 12, you will need to download an app from the App Store called CameraPixels PRO.
For those on a smaller budget, there is a free version of the app, however, the functionality is limited. We strongly recommend you download CameraPixels PRO (approximately $10) and enter the below settings.
1. Open Up The CameraPixels PRO App
Click on ISO and set to 20 (or the lowest number possible). This is an important step.
Click on Mode
Click on Bracketing
Click on Set

2. Under 'Image'
Resolution: 12.2MP x 4032 x 3024
Crop: 4:3
Quality: 100%
Stabilization: On
3. Under 'Bracket'
Type: Exposure
Image Count: 7 Images
EV Step: 1.5 F-Stop
Flash: Off
4. Under 'Intervalometer'
Timer: 1 Sec
Image Count: Single
Lapse: 1 Sec
Click Save As Preset
Give the Preset a name
Before And After Shots
Once you've set up the app with the above settings, you are ready to start shooting the property as you normally would. We have covered this in previous blogs however here are a few quick tips when shooting the property:
Always prepare the property for the shoot prior to getting started
Be sure to use a sturdy tripod when bracketing to limit any movement
Click on the image via the camera display to get the focus correct
Use bracketing to capture the shots in varying exposures
Watch out for mirrors or reflective surfaces to ensure you're out of shot
Use our Image Enhancement edit to bring your shots to life
The iPhone 12 quality is high enough for our popular Item Removal edit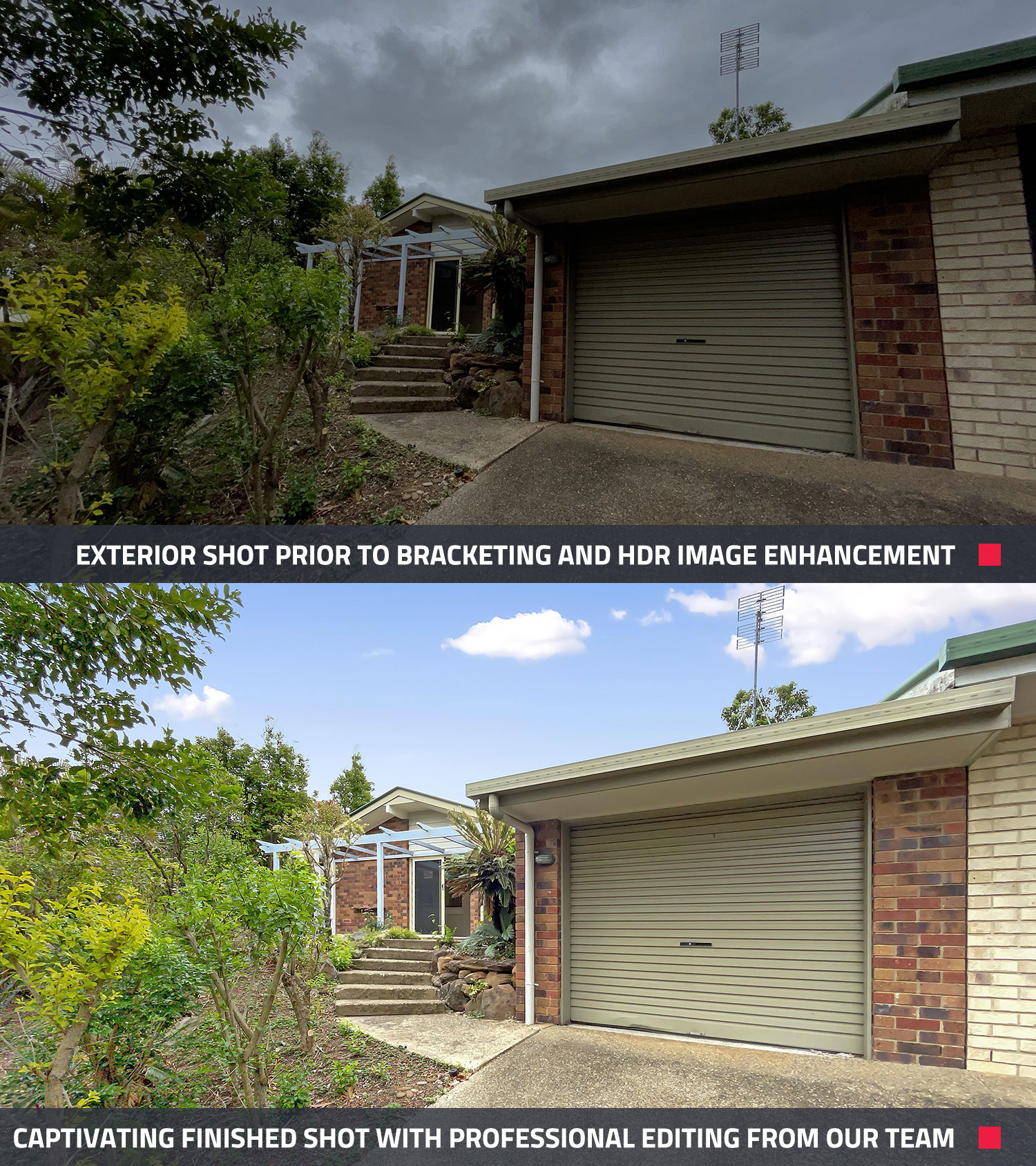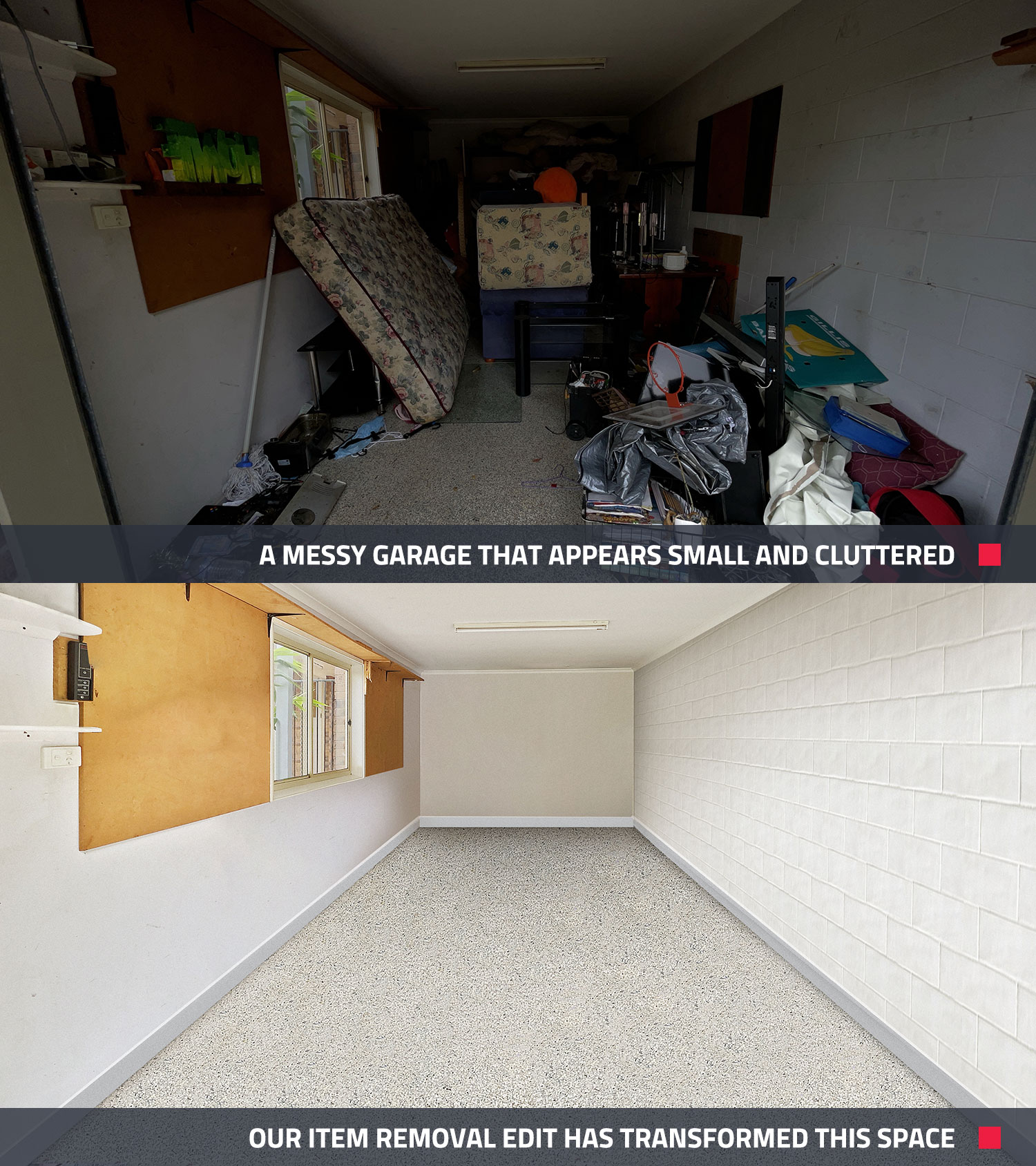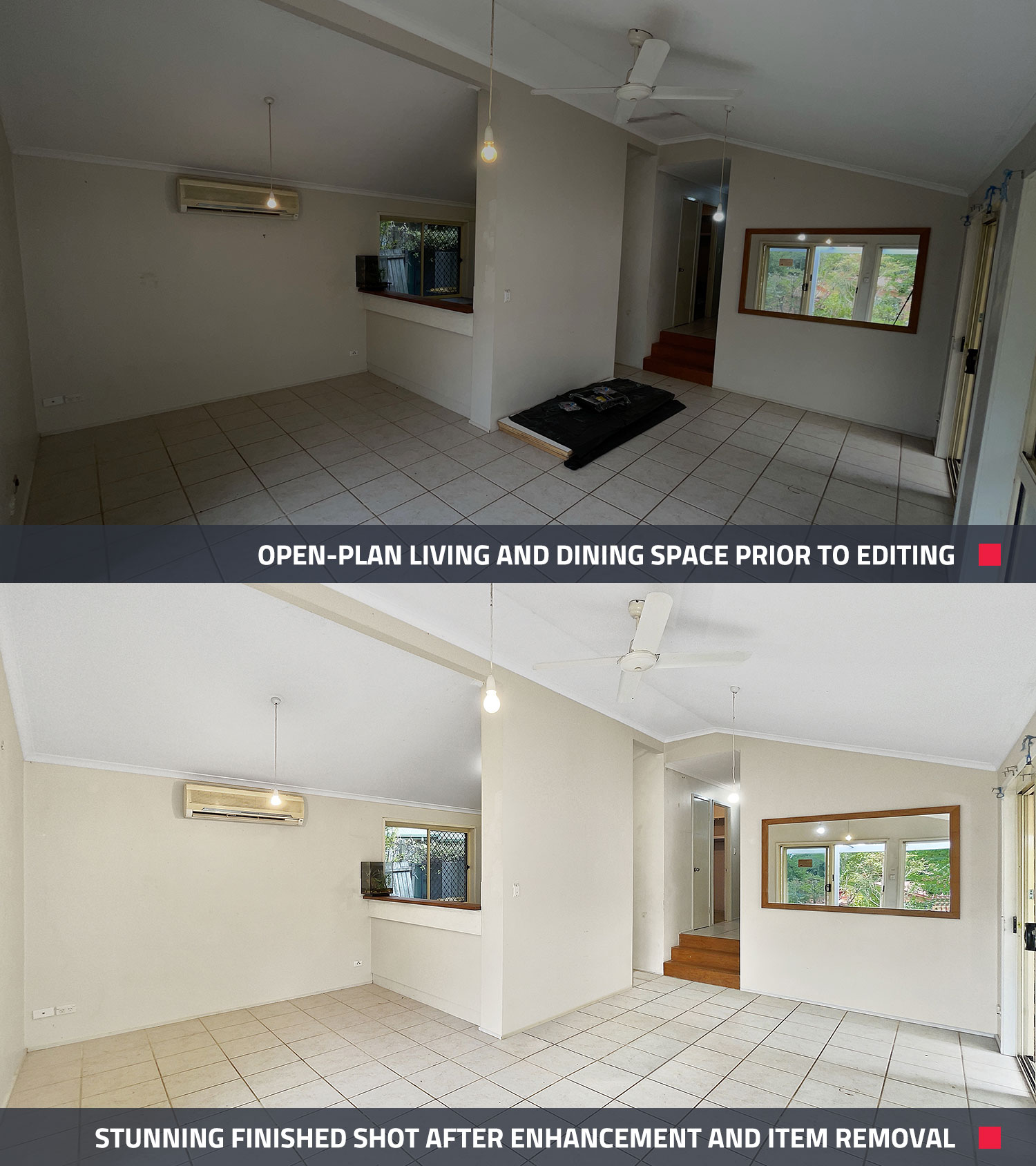 Item removal can also be used to remove the tripod from the shot when mirror shots are unavoidable. This can be particularly valuable when shooting bathrooms. It's also a good idea to use the image timer functionality to ensure you have time to duck down out of frame or move around the corner.
It's important to note that while the Item Removal edit is a powerful tool for showing the potential of a space, in many cases our editors don't know what's behind the items.
We suggest you always include a disclaimer (as shown in the after image above) or provide reference images for our team of editors to give them a better understanding of what hides behind the items in the shot.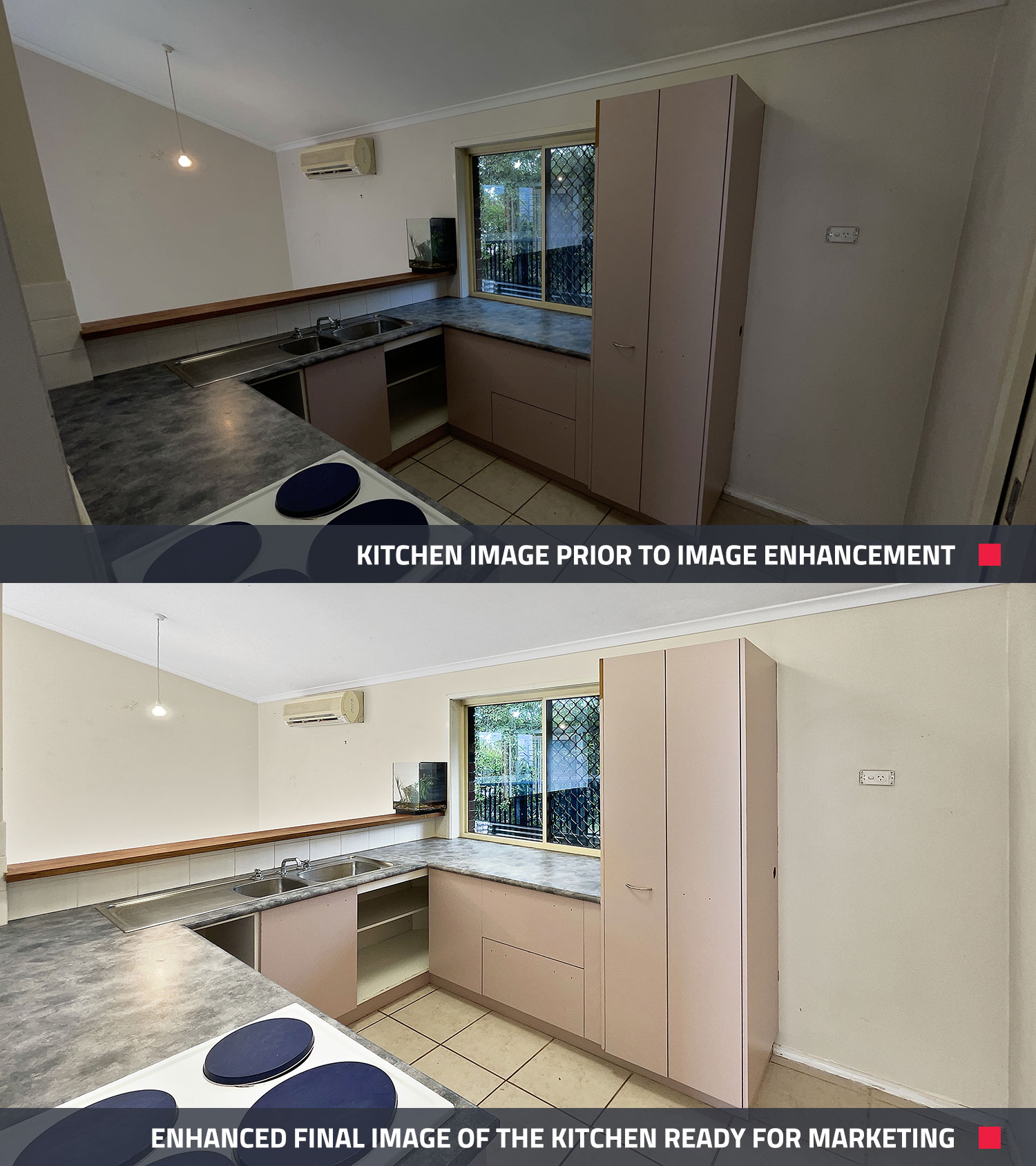 Clearly, there is some work to be done to this kitchen, however, due to the budget of the client we have just shot the space as is. If you would like to have a virtual renovation completed for your own listing we offer a Virtual Renovation edit which can really showcase the potential of your property.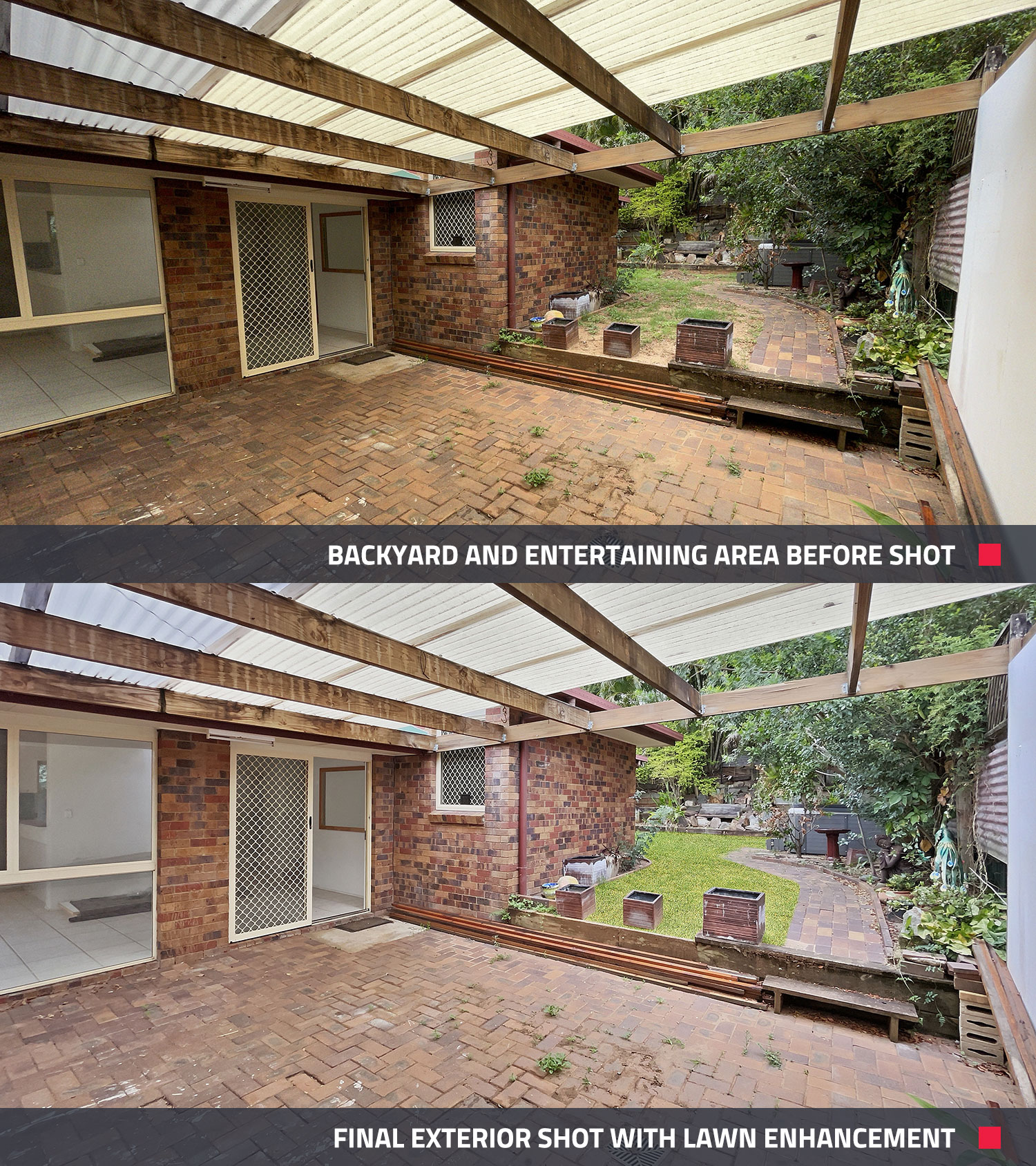 Conclusion:
As we've been able to show here, the iPhone 12 is an awesome addition to the Apple range of smartphones and it's an incredible asset for any real estate photographer. This cutting edge technology is a genuine alternative to a professional DSLR camera and it can definitely save you time and money when shooting your properties.
Make sure you pair it with the CameraPixels PRO app and shoot in bracketed shots which will help showcase your listing in the best light.
We have managed to shoot this entire property, and have all the images enhanced by our team of professional editors, for just USD $35 to remain within the client's budget. And even better than that, due to the efficiency of the editing team and fast turnaround time, the client is now able to take their listing to market faster, with magazine-quality shots.
If you'd like to try out our services, then we'd like to offer you 4 photo edits for free. No credit card is required on sign-up and there are no subscription fees. Simply click on the link here to get started.

---