HOW TO VIRTUALLY STAGE A LISTING SHOT WITH AN iPHONE 14 PRO
Introduction:
It's no secret amongst real estate agents that staged and virtually staged properties sell in less time and for more money than those that are marketed without the use of staging. But what many agents don't realize is how easy it is to shoot real estate for Virtual Staging.
In our latest adventure, our co-founder Brad Filliponi takes the iPhone 14 Pro into the field to demonstrate just how easy it is to shoot images for Virtual Staging with this beautiful new device.
The biggest takeaway from this brief video tutorial is that with the iPhone 14 Pro, shooting real estate photography for Virtual Staging is as easy as one-two-three:
Take a photograph of a room.
Run it through our Image Enhancement edit.
Select one of the many Virtual Staging styles that we offer.
In 48 hours or less, you will have in your possession stunning, virtually staged real estate photos that will leap from the MLS page and latch onto the imagination of prospective buyers.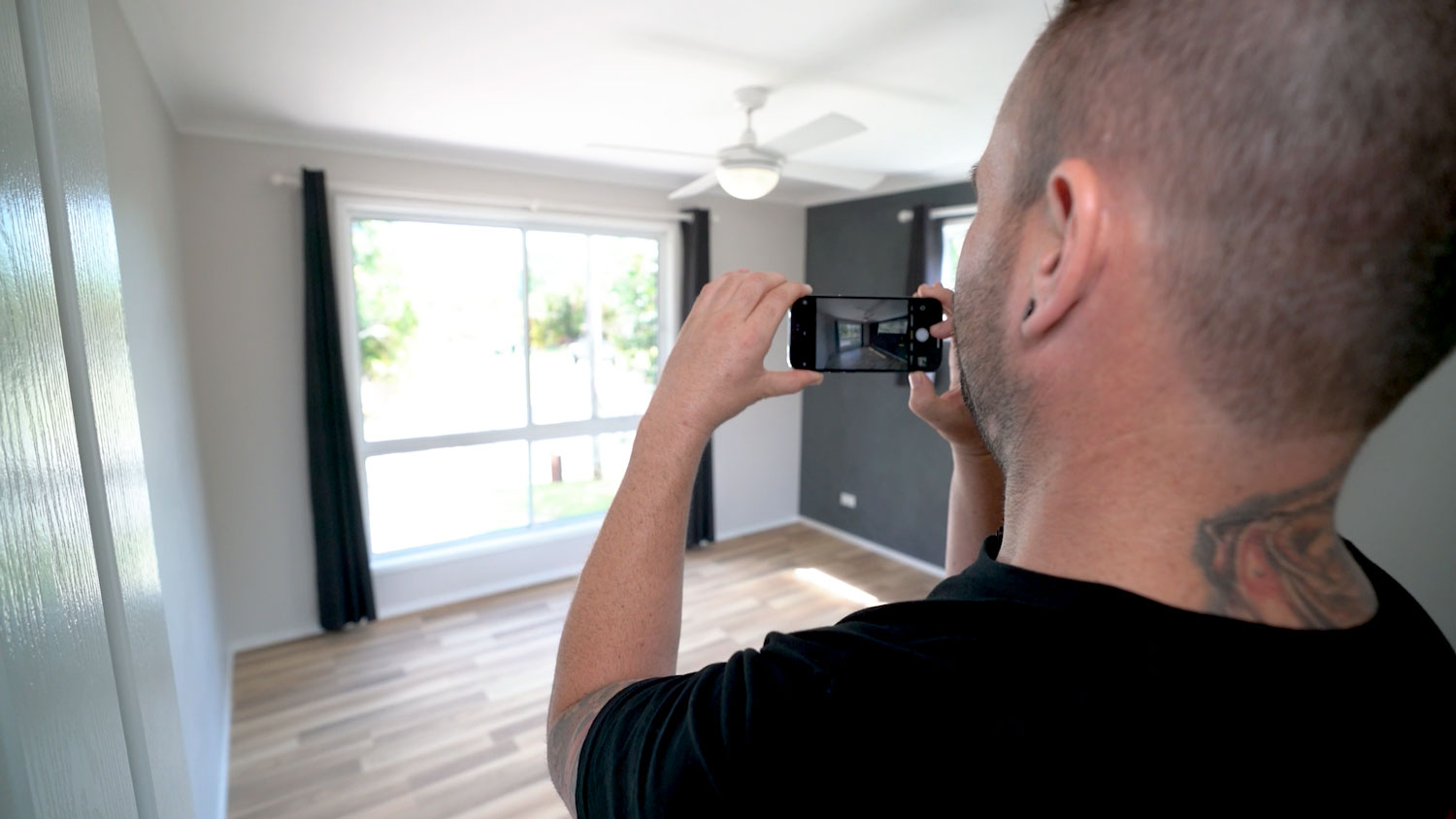 No tripod? No furniture? No DSLR? No photography experience? No problem! This post will reveal how easy it is to shoot Virtual Staging photography with your smartphone.
The Secret To Shooting Great Virtual Staging Photography Is That Anyone Can Do It
"We get asked all the time are there any special photography techniques needed to shoot for Virtual Staging?" Brad says. "The answer is No. You can shoot at any height. You can shoot any angle and we at BoxBrownie.com can make anything work."
To show just how accurate this is, Brad keeps the iPhone's camera on its most standard settings. The only adjustment he makes is to the zoom - he inches it up to .5x, which seems to frame the room perfectly on account of the iPhone 14's nice wide-angle lens.
"I always recommend getting into the corner of any room you can. That way you've got the widest range possible."
You'll notice in this video, Brad's not even using a tripod. He just keeps a steady hand, points, and clicks.
In this tutorial, Brad selects four spaces to be virtually staged. The outdoor patio at the back of the house; the spacious living-dining area; and two bedrooms.
(Note: it's usually not necessary to organize Virtual Staging for every room of the house. National Association of Realtors' research indicates that living spaces, dining areas, master bedrooms, and, to a lesser degree, bathrooms are the rooms that buyers most want to see virtually staged when they are deciding whether or not to purchase a property.)
Three Easy Steps, One Fantastic Result
Brad begins his tutorial on the bare back deck of a Queensland, Australia property. As he tees up his first shot, it's hard to imagine the full potential of this outdoor area - until Virtual Staging transforms it.
The below sequence of images reveals the entire Virtual Staging Process. The first set of images can be considered the 'before' part of the series - before we at BoxBrownie.com apply our magic touch, that is!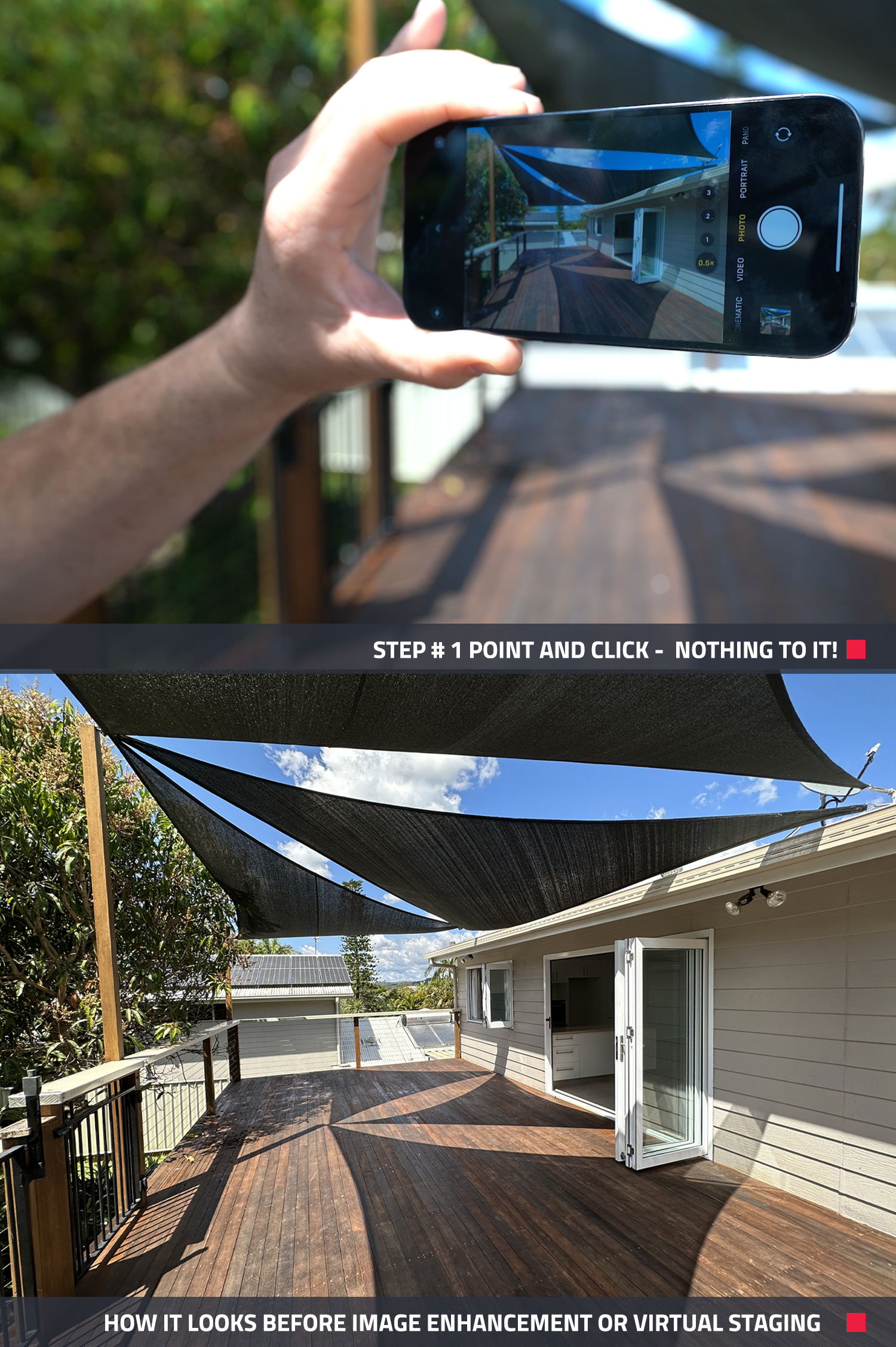 Standing in the corner of the deck, without even a tripod (above), Brad captures his outdoor shot with the iPhone 14 Pro on its most standard camera settings.
After a single image of the patio space is captured, it is then submitted to the BoxBrownie.com editing service to give it maximum 'Pop Power'. First, our editors apply the Image Enhancement edit, which consists of 17 Photoshop tasks that make the original image look as smart and snazzy as possible. Then comes the Virtual Staging, which turns this vacant backyard platform into a magnificent space to relax or entertain in.
After the Virtual Staging is added you can almost feel prospective buyers' wheels start to turn.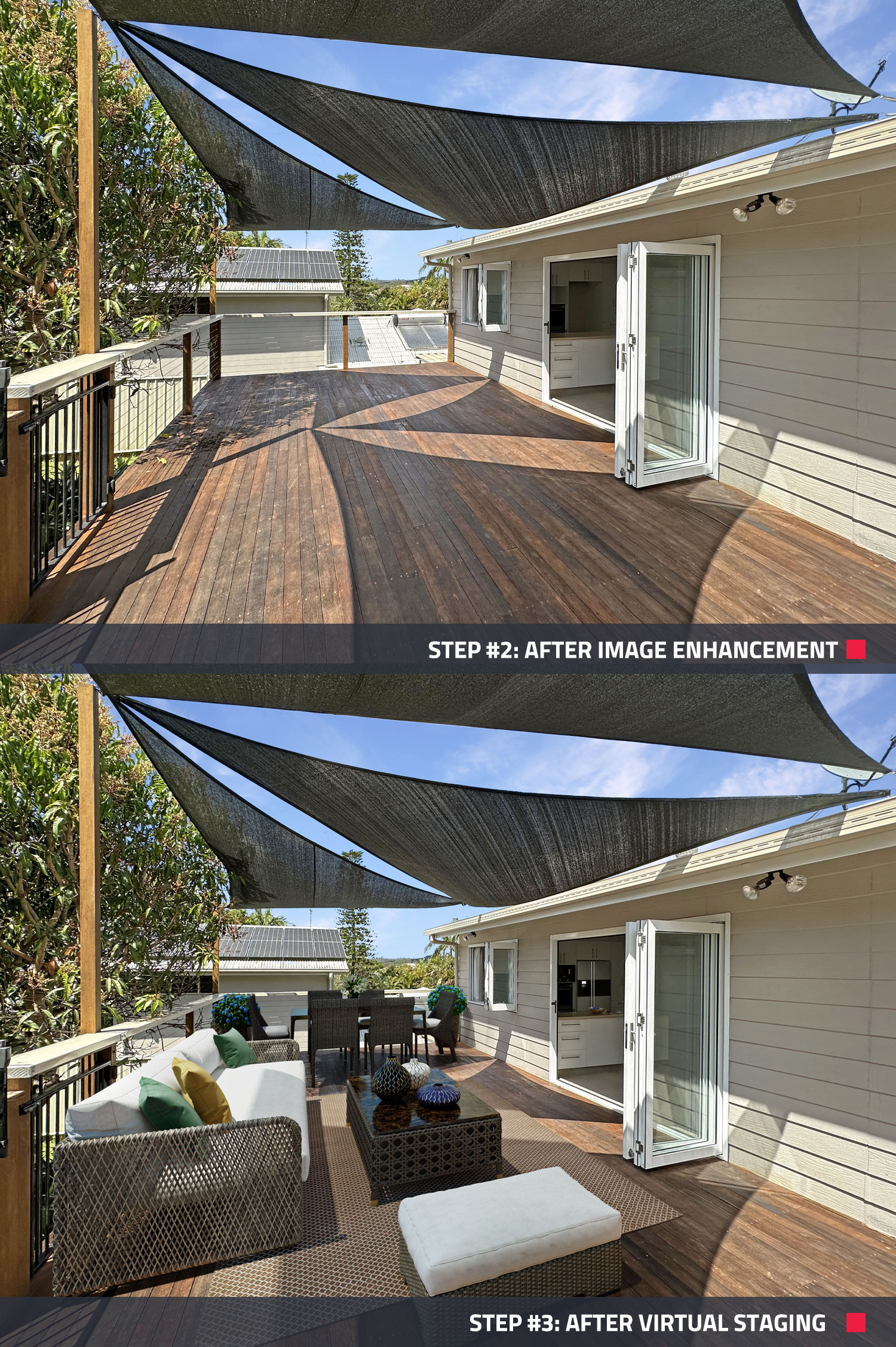 The Image Enhancement edit (Step #2) ensures the photo will look as appealing as possible before the Virtual Staging furniture is added in Step #3. This example makes it easy to see why virtually staged properties attract more interest and sell for more money than their unstaged counterparts.
The All-Important Living/Dining Area: Some Spaces Deserve A Double-Take
Many agents don't realize that at BoxBrownie.com, we can virtually stage the same room with the same furnishings from two different angles. It might be common practice to stage one image of one room from one angle. But for important spaces, this next little trick is a great way to immediately showcase the room's full potential.
For this property, the living/dining area is a massive, wide-open space that clearly seems to be the home's strongest selling point. The area stretches across the whole house, from the front entrance to the back entrance. By virtually staging it from two angles, using two separate images, you instantly communicate to the buyer what a liveable, pivotal, and enjoyable part of the house this is.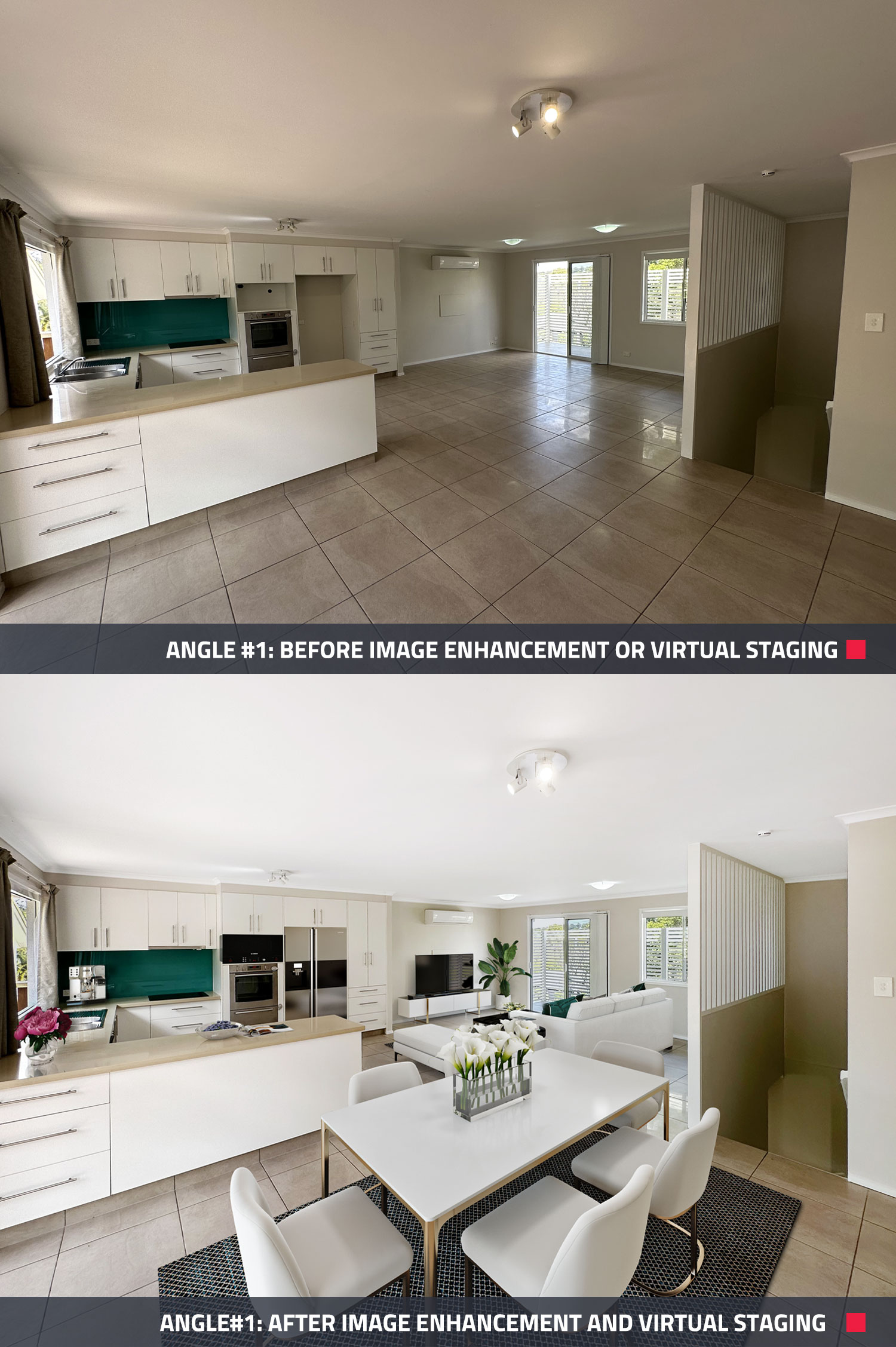 Without our editing (Top Image) this important part of the house seems unremarkable and possibly a bit gloomy. After Image Enhancement and Virtual Staging are applied (Bottom Image) this area suddenly seems like a great place to spend a lot of time.
This might be a fancy form of Virtual Staging, but as can be witnessed in the video, it takes no additional effort on your part. Stand at one entrance, click away. Stand at the other entrance, click away. Leave the magic up to us.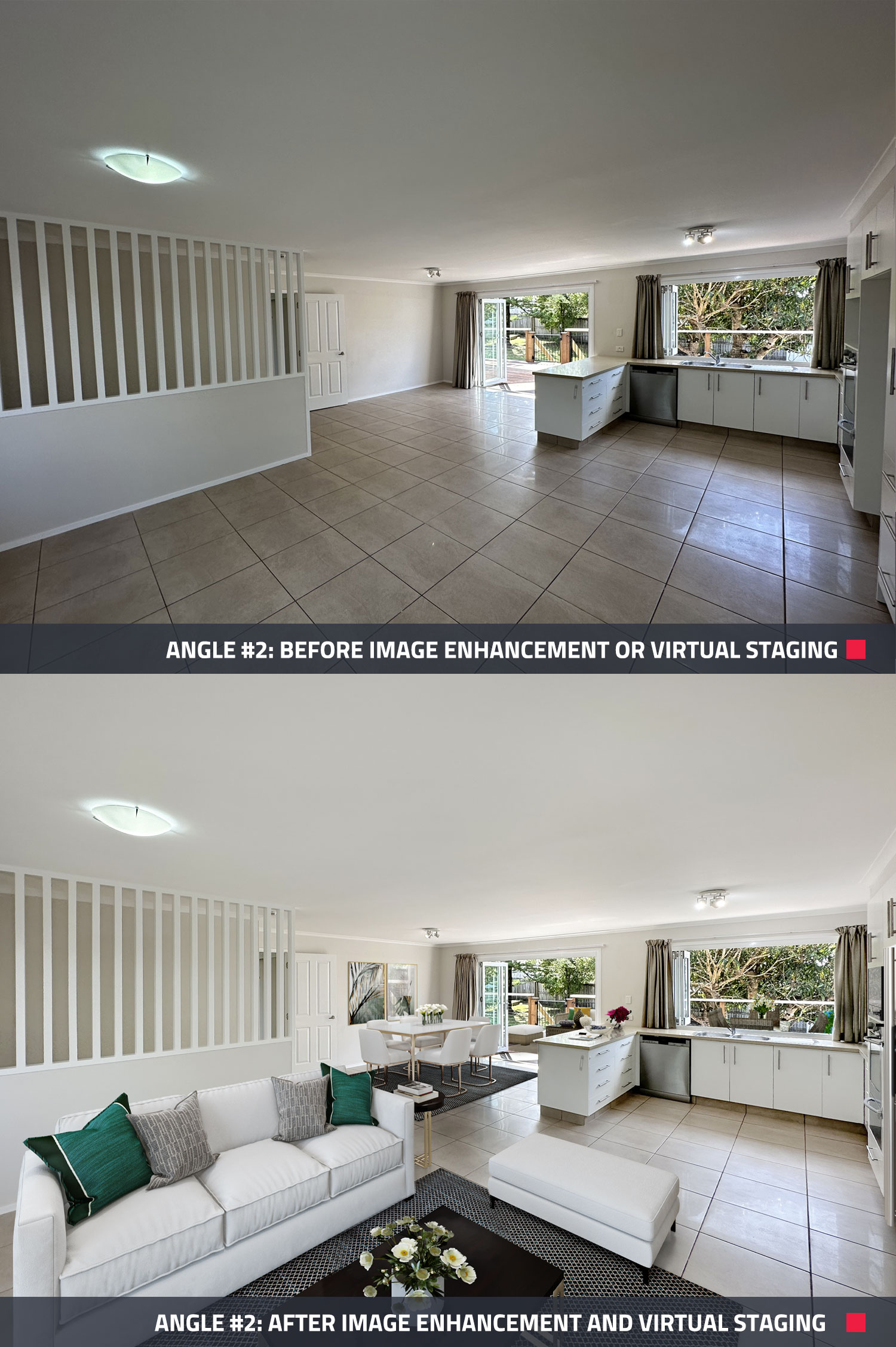 This shot captures the living/dining area from the front door looking towards the back. Note, even the patio remains virtually staged - a touch that allows the buyer to imagine this property as a home.
"What we're trying to show the viewers," Brad explains. "Is that we can mix and match on the same area.
"You can have multiple shots or angles of the same room and we can virtually stage it the exact same way."
When You Stage The Main Bedroom, You Sweeten The Buyer's Dreams
It is always worth your while to apply Virtual Staging to the main bedroom of a house.
Why? Well, chances are that the person who will be paying for the property will be sleeping in this room!
It never hurts to help them imagine having a good night's sleep.
Standing in the doorway, to capture the maximum area of the room, Brad does what he has done in the previous three images. He raises the iPhone 14 Pro and snaps a quick picture.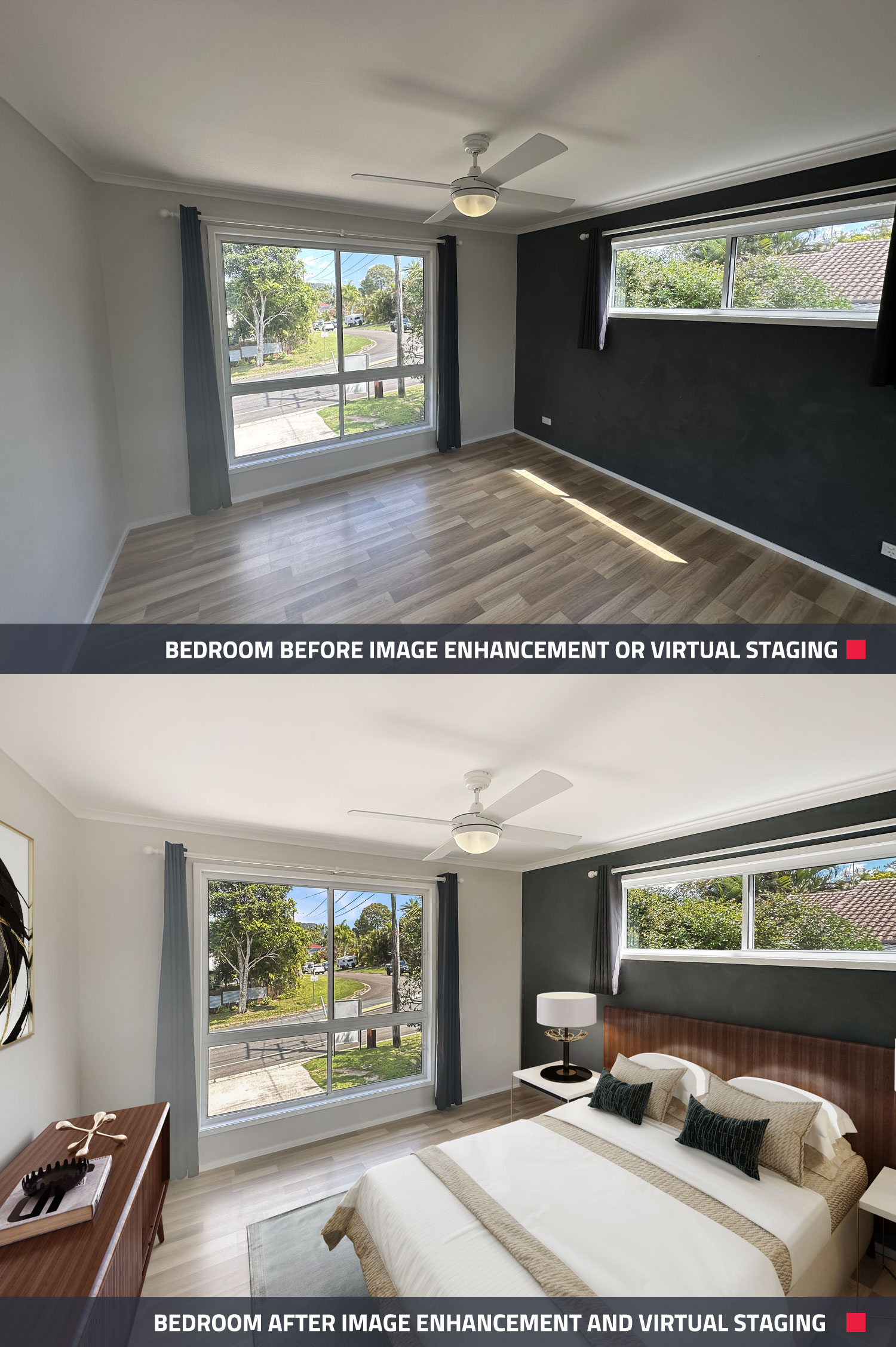 Chances are that when you virtually stage the main bedroom of your listing, you are connecting with the online property shopper who will decide whether to buy or keep looking. Show this person how inviting and comfortable the main bedroom can be.
After shooting one more bedroom, Brad completes his Virtual Staging shoot. In the time it takes to takes to complete a very basic walkthrough of the house, he knows he's got all he needs for a stunning MLS display of this property's potential.
Brad is a professional photographer with over 16 years of experience, but as you can see in this video tutorial, the iPhone 14 Pro (or any smartphone with a wide-angle lens) combined with BoxBrownie.com's suite of editing services makes capturing professional quality Virtual Staging photography an absolute breeze.
A Recap: Some 'Tips and Tricks' to shooting Virtual Staging With Your Smartphone
Yes, it's easy. But if you haven't used your smartphone to shoot for Virtual Staging before, you might not want to deviate too far from Brad's method in this tutorial. So here are a few tips and tricks (and quotes and paraphrases) from Brad to keep in mind:
"Always before you start any photo shoot give your camera lens a quick wipe."
Open up the standard camera on the iPhone 14 then put the "nice wide-angle zoom at .5x"
Stand in the corners of the room to capture the widest possible range.
Stand in the doorway for smaller rooms (as Brad did with the main bedroom in this tutorial).
Shoot at eye level (Brad's personal preference, again we at BoxBrownie.com can make any angle work).
Turn all lights on in the rooms you are shooting.
"You don't need to supply any measurements with Virtual Staging. All you need to supply is your favorite angle [or angles] of the room."
Take your shoes off! (You'll notice in the video Brad's wearing his socks. This may not improve photographic quality much, but it's always nice to show a little respect when entering someone's home!)

"As you can see the results are actually quite mind-blowing," Brad says. "And this is all just taken on your smartphone. Pretty crazy, right?"
Put this mind-blowing craziness to use in your own real estate marketing. SIGN UP with BoxBrownie.com today and enjoy four free edits on us!
---