TWO NEW HACKS: DISPEL THE SHADOWS, TURN ON THE LIGHTING!
Introduction:
Let there be light!
"Absolutely," says the real estate photographer, "But can you please do something about the shadows?"
"We can," say the editing gurus at BoxBrownie.com. "Follow us out of the Dark Ages of real estate photography."
Lighting, of course, is perhaps the most crucial consideration when photographing property.
As Realtor, Andy Gilbert states in an online interview, "The buying process is emotional and visual, and a well-lit home can appeal to both of these thought processes. One of the last things a home seller will want to do after pouring time and money into improving their home is to literally present their property in the wrong light."
This point is made shockingly evident below, in the BEFORE and AFTER comparison (Warning: It might be difficult not to laugh).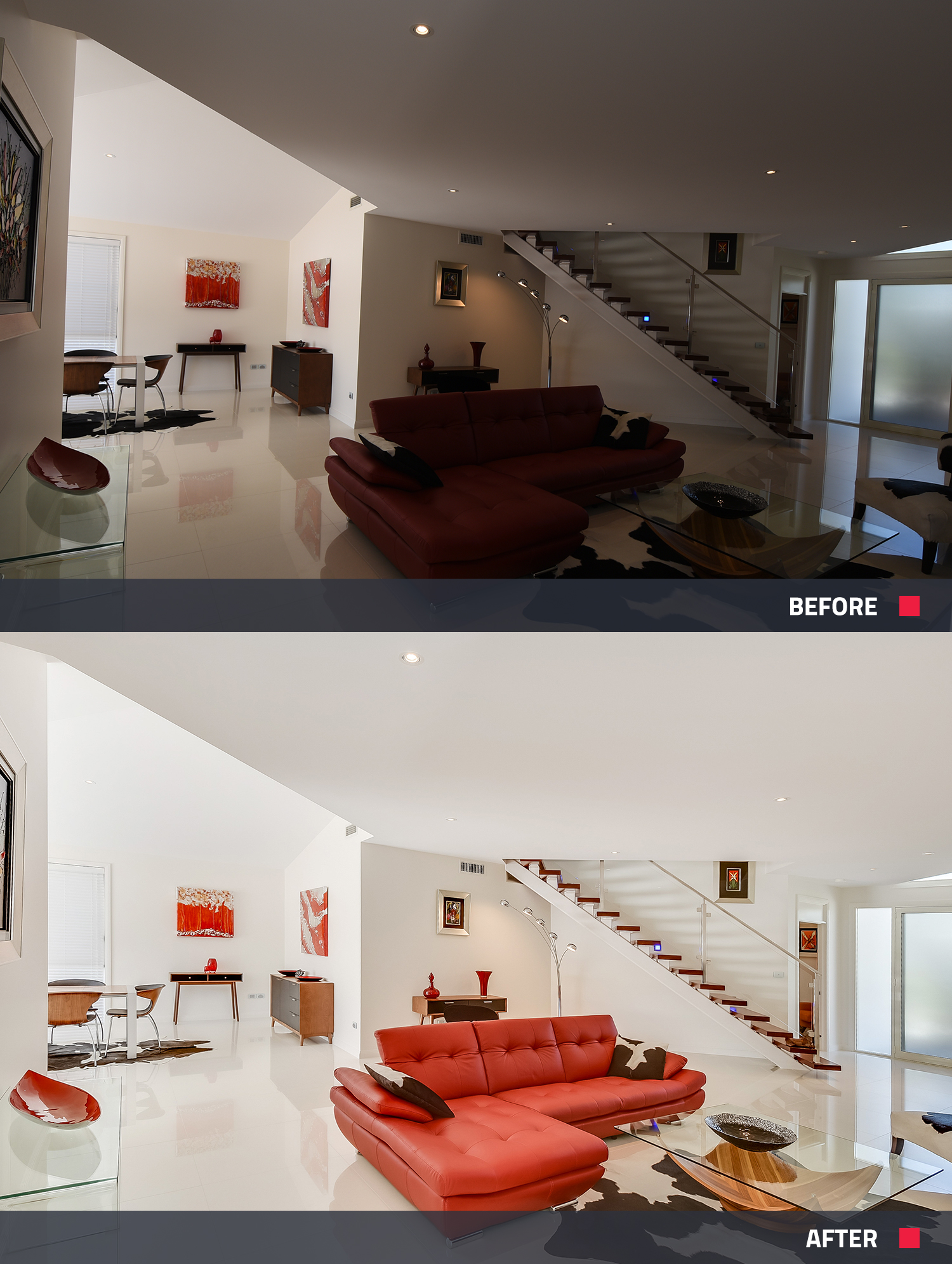 The importance of proper lighting is on full display above
Obviously lighting and light sources makes a HUGE difference when retailing property. But fixing general lighting levels (as seen above) is merely the tip of the iceberg when it comes to our ever-growing stable of illumination tricks.
At BoxBrownie.com we are ceaselessly innovating to develop new and more sophisticated ways to turbocharge your real estate photography. Our two latest breakthroughs are perfect complements for one another. One is a highly-customizable means of turning lights on, the other makes shadows disappear.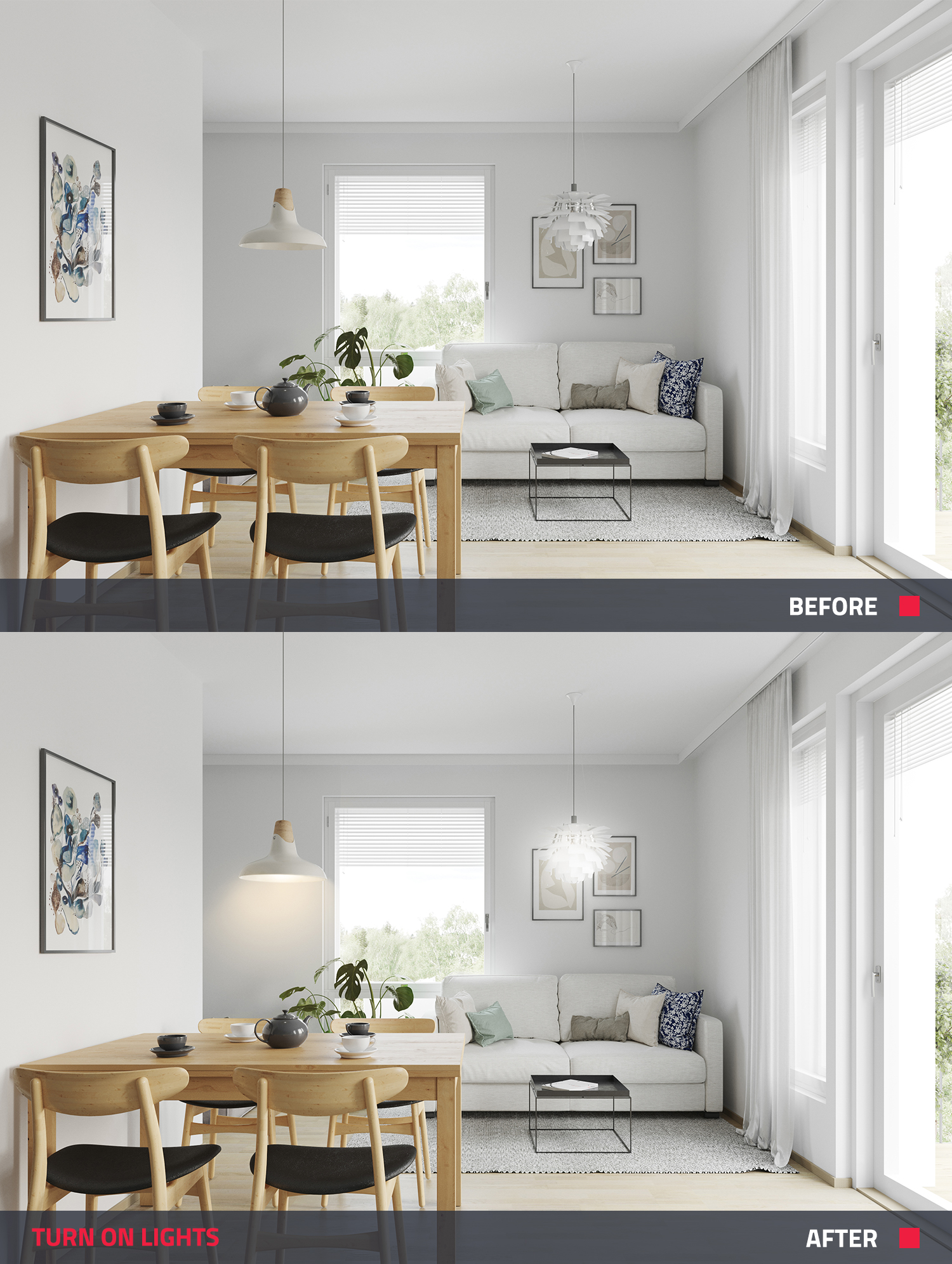 TURN ON LIGHTS
The lightbulb really went on with this versatile new service that we developed to combat the most common and annoying problems in real estate photography.
Anyone in this business will be acquainted with the numerous small annoyances that can hamper a photoshoot, sometimes to the extent that the shoot must be redone.
Our Turn on Lights service makes most of these annoyances a thing of the past. Everyday issues like blown bulbs, or electricity switched off in a building, or even human error, like forgetting to turn the lights on at a photoshoot, can now be remedied through this fast, inexpensive, and very useful new service.
For AU$1 per image we can save you a trip back to a property and give your drab image a twinkle of class.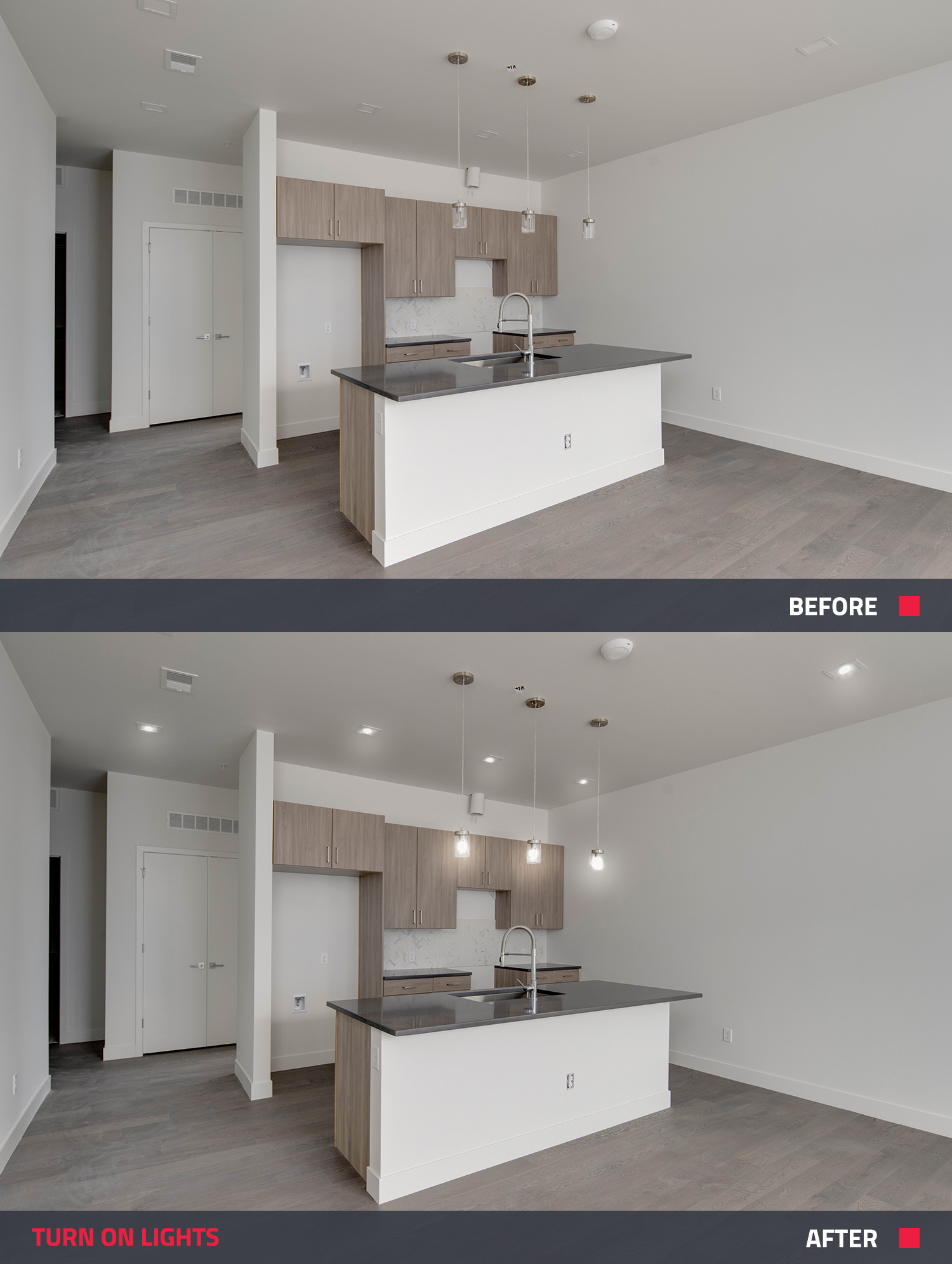 Electricity switched off in a building? Send your image to us.
Yes, Turn on Lights, is great for these little touch ups and additions. And for this reason alone it is sure to come in handy time and time again for real estate agents and photographers.
But that's not all it's good for.
TURN ON THE GLAMOUR
Turn on Lights could also be called "Turn on the Glamour". Look at how alluring our service makes the swimming pool appear in the image below. Wouldn't you just love to dive into the water on the right?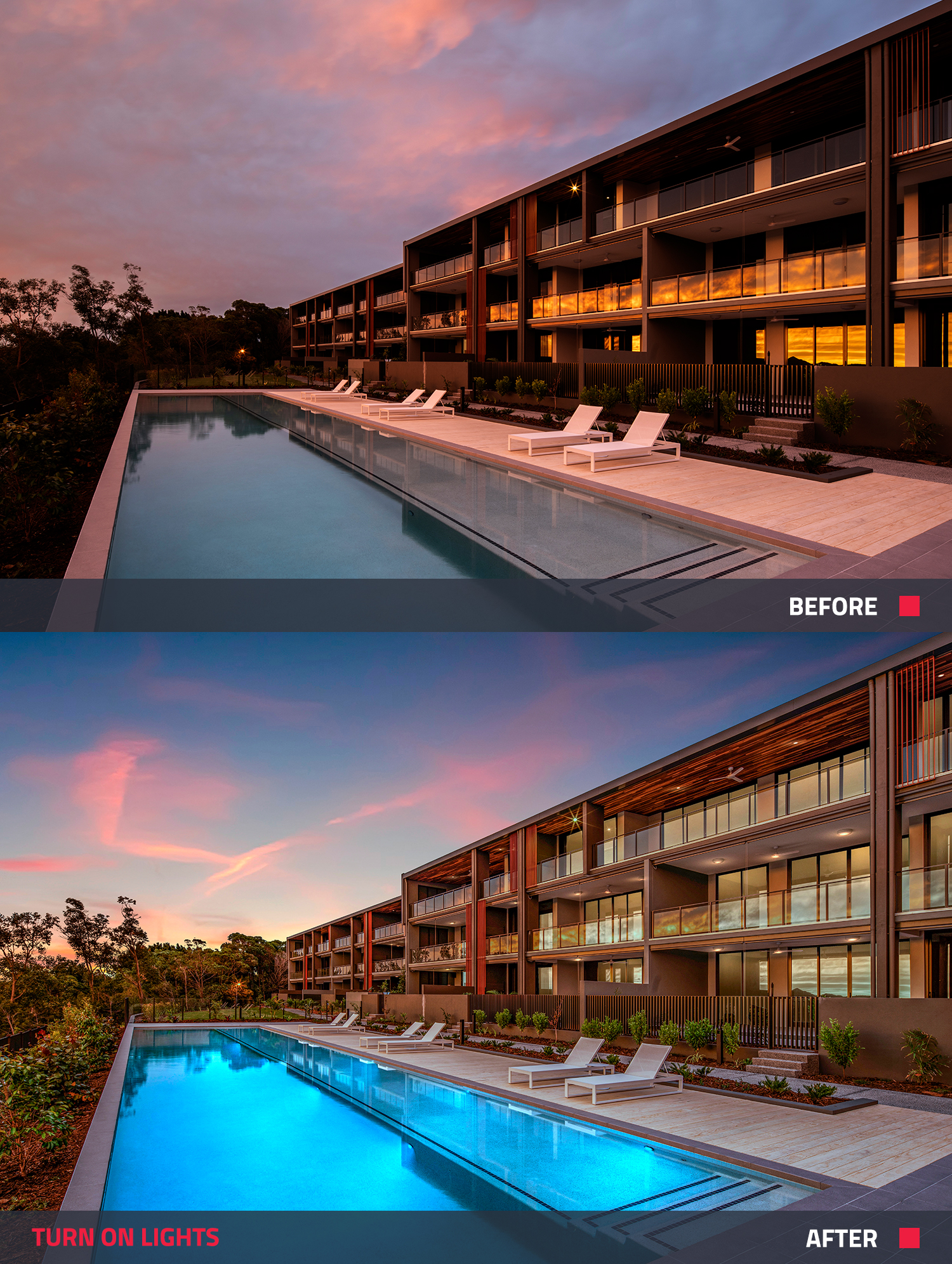 Imagine if the above images were the marketing of two competing agents selling units in the same complex. Which agent do you think would receive more enquiries?
Home buyers spend 60% of their time looking at images, so our Turn on Lights feature is a great way to get that edge over your competitors.
This service is included in our AU$5 Day to Dusk photo transformation package. Consider this a kind of training camp for your image. You send it to us, and we put it through a rigorous 7-step training process.
Within 24 hours, we return it to you in dramatically improved condition; a Hero Image if ever one existed.
The 7-steps in this training process are:
Outdoor Dusk Sky Replacement
Brightness & Contrast Adjustment
Turn on Lighting
Vertical & Horizontal Straightening
Remove Minor Blemishes
Adding Fire to Fireplaces
HDR Image Processing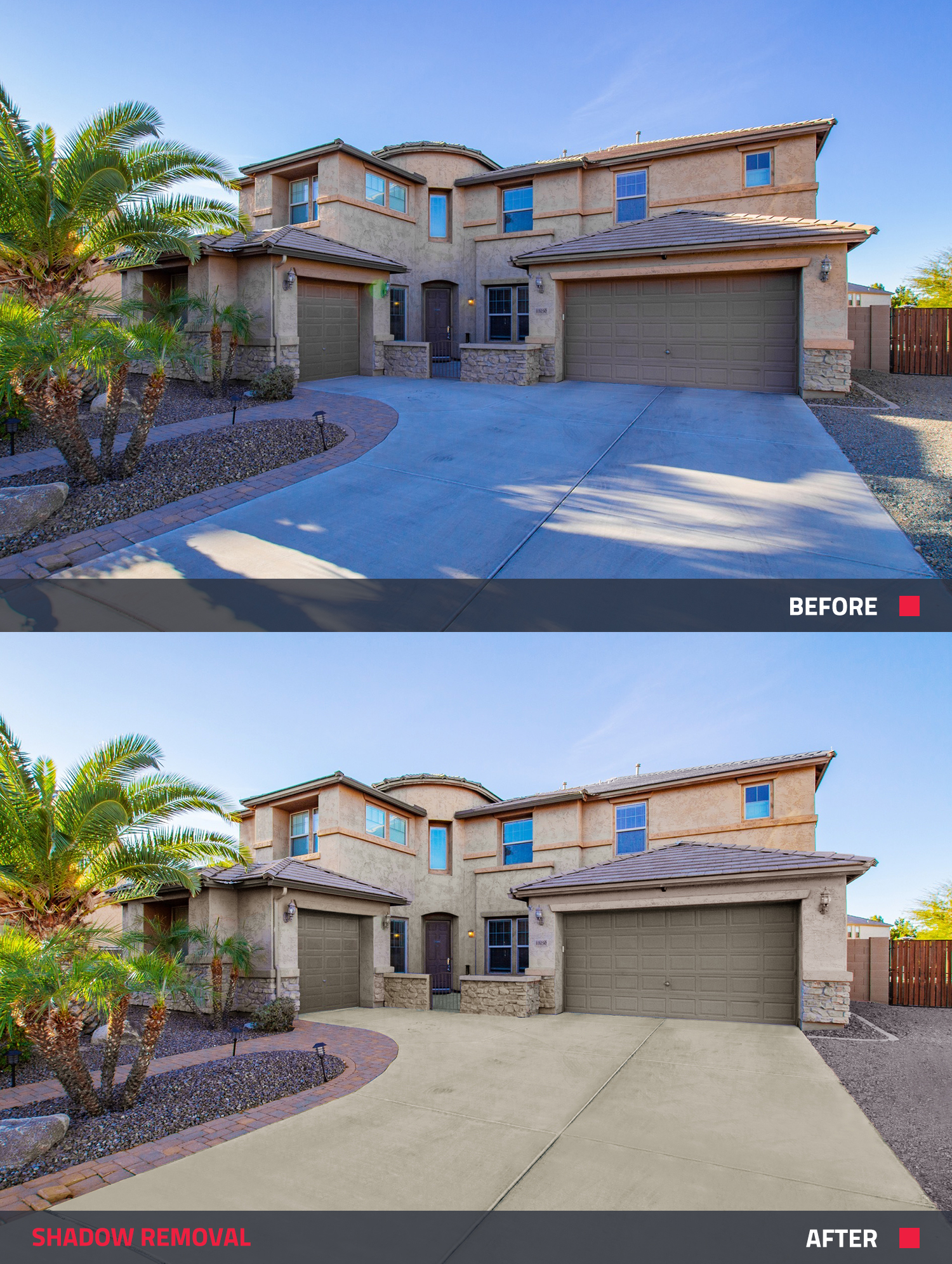 SHADOW REMOVAL
One of the advantages to our Turn on Lights service, is that the lights we switch on in your image produce no shadows. Unfortunately this is not the way it works in the real world.
Sunny days are lovely, but try asking the sun to cast no shadow as it brightens the afternoon. The more sunlight there is, the more shadows a real estate photographer will have to contend with. This applies to shooting interiors and exteriors, as window light can infiltrate living rooms and wreak havoc in the post production stages.
Consider the time and effort our co-founder, Brad Filliponi used to invest into outsmarting the shadows.
Brad was an industry-leading real estate photographer for 15 years, and conceived BoxBrownie.com to help photographers transcend the challenges like the ones he describes below.
"I would usually start off in the not so important rooms like children's bedrooms, bathrooms and smaller rooms… At this time, there would still be shadowing from natural light so I didn't want to waste time taking photos in the more important rooms.
"I would wait to use the time of premium light on the important rooms: kitchen areas, master bedrooms and ensuites, lounge/rumpus rooms and any main areas of the home.
"You know it's premium interior light when you don't see any shadows on the walls. Shoot these shots and wait for the right light to drop outside for the exteriors… if you leave it too late you will miss the shot."
After this description, it's easy to understand the thinking that led to the creation of our Shadow Removal service.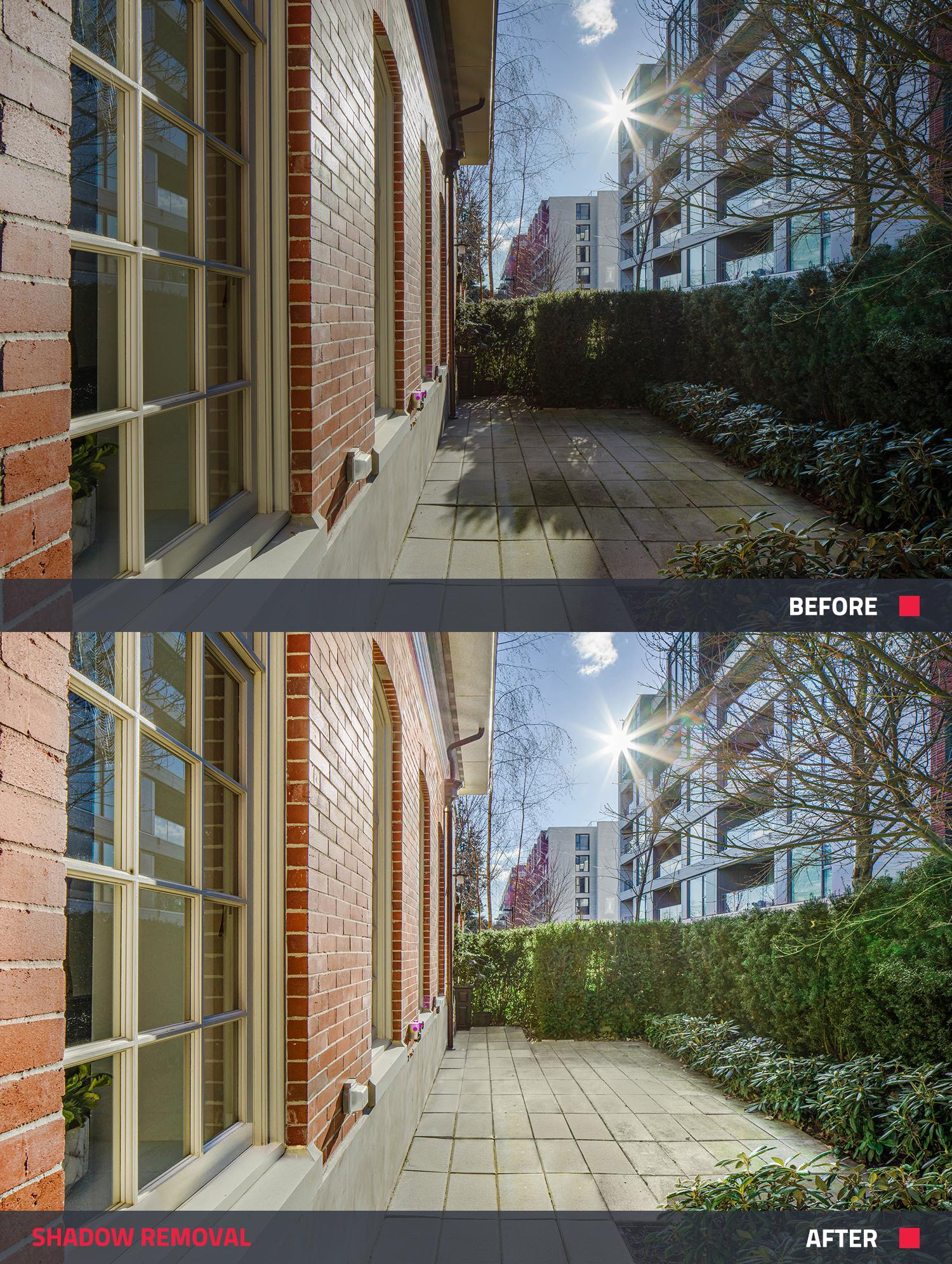 SHADOWS GONE IN A FLASH
But the sun is not the only culprit.
Bounced flash shadows can be hideous, sneaky, hard to predict and even harder to detect until you see a larger version of the image back at the office. In some houses, one could spend hours per room trying to figure out the appropriate camera settings and the best angles to shoot from in order to keep those wiley invaders from pouncing on the walls and ceilings the moment the flash ignites.
Our Shadow Removal service saves you this concern. As we can take care of all that for you after the fact.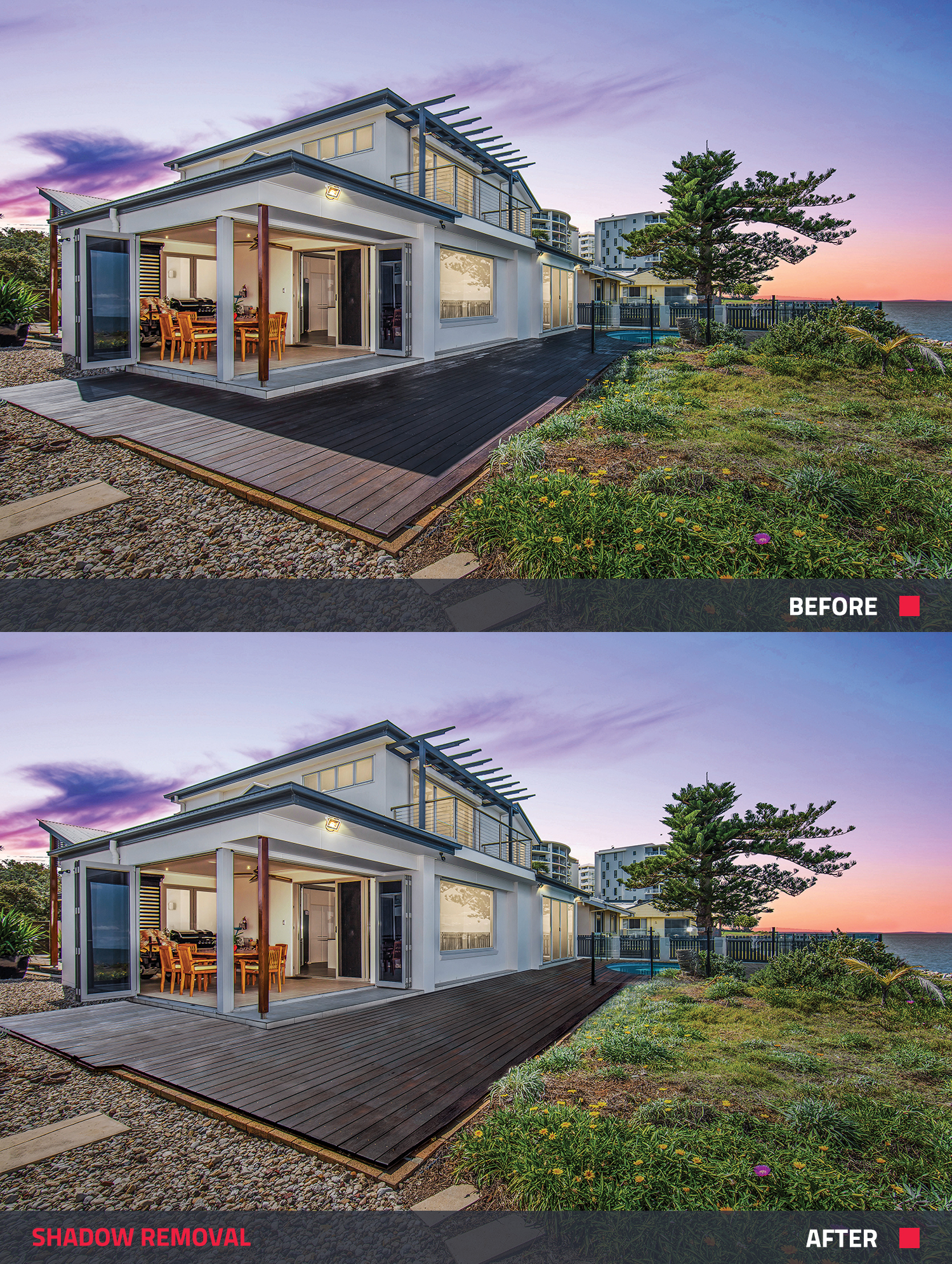 AND THE HERO COMES ALONG
Our Shadow Removal service is especially valuable when it comes to your Hero Image; the first and best image of your listing. Some in the business know it as the money shot.
When seeking a breathtaking Hero Image, realtors around the world frequently take advantage of our Day to Dusk transitions, which are popular because they are gorgeous, and because they spare photographers the hassle of waiting hours outside a property just to catch the light at the perfect time of day.
Our Day to Dusk service brings the colours of a sunset or a twilight to a daytime photograph, and turns even the most drab shot into something spectacular.
But these gems can usually benefit from our Shadow Removal service before they step into place as the final image in your marketing platform. Naturally, when the skies of a noontime photo are enhanced to exude the pastels of sundown or dusk, the shadows on the ground can seem inconsistent with the hour.
Our Shadow Removal service has been developed to remove these awkward contradictions so that your Hero Image can stand up to the scrutiny it is bound to receive. Can you spot the incongruity that the ground shadows bring to the twilight image on the left?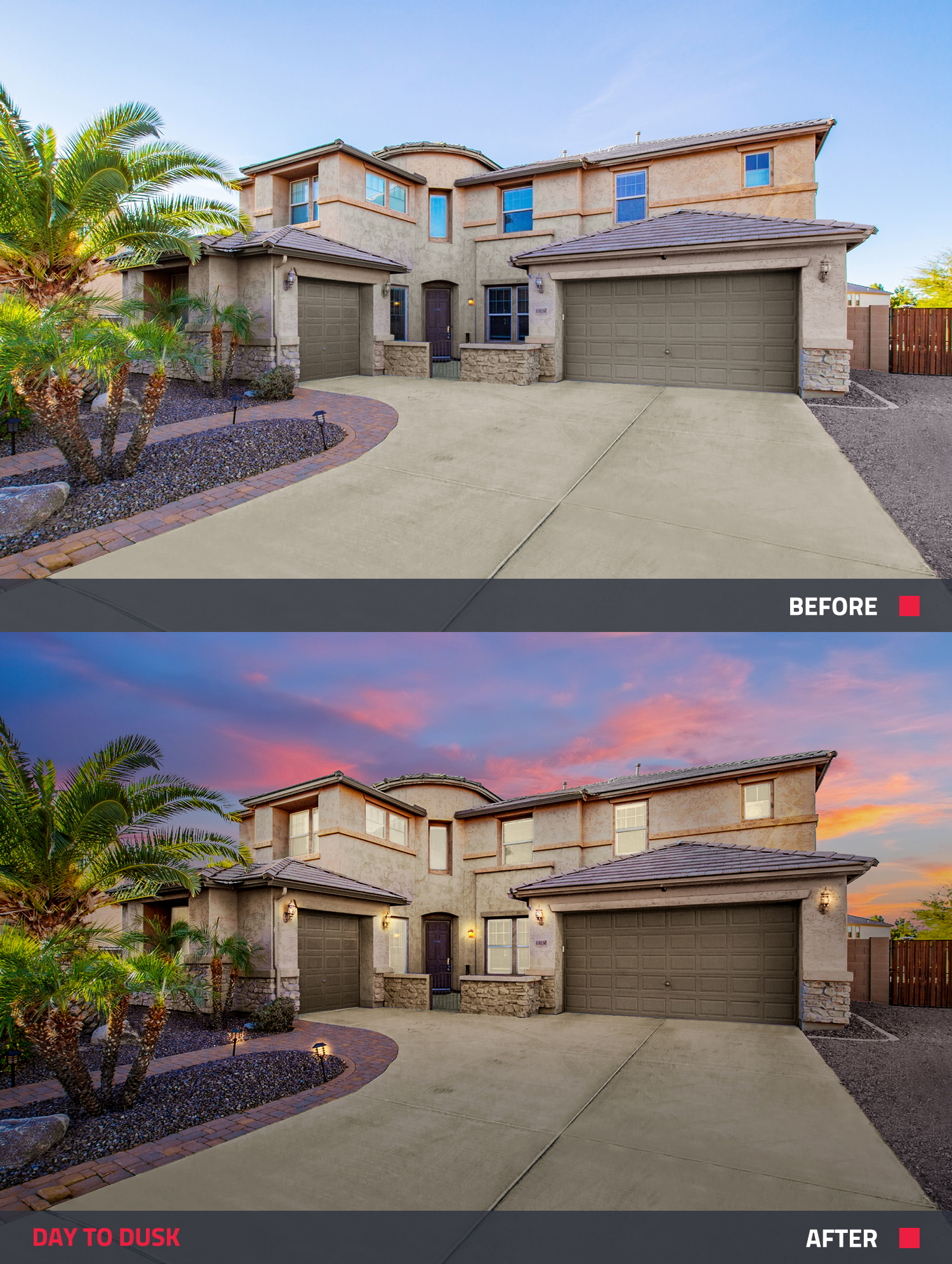 Sign up with BoxBrownie.com to take advantage of all of the above services: Upgrade your next listing image with BoxBrownie.com right now.

---