REAL ESTATE ANALYSIS: A REVELATION BORN OF FASCINATION
STUDY CROWNS FOUR YEARS OF INCREASED US INVOLVEMENT
Our 2021 Listings Virtual Marketing Analysis is the result of four intense years of involvement with the US property market and the care that has blossomed from it.
If our streamlined image enhancement capabilities first caught America's attention, our move to make virtual staging available and affordable to every agent caused its collective jaw to drop. Thanks to BoxBrownie.com the virtual staging boom of 2017 swept the real estate world.
When the pandemic hit, our virtual tour technology came to the rescue of many an agent who could no longer hold open houses or host in-person viewings.
Not only did we show agents exactly how to shoot a virtual tour, but we also spliced these images together for a result that gave potential buyers the confidence to purchase a property sight unseen.
Now that the coronavirus pandemic is (hopefully) on the wane, a spike in building permit applications has made our 3D render technology more important than ever.
American property sellers like Charles Nitschke are basking in the competitive edge our renders are bringing to the marketing of their projects.
But if we want to remain at the forefront of virtual property marketing in the United States we must continue to educate ourselves, inspect, and understand the US market. This was a major factor behind our decision to undertake one of the most sweeping assessments of listings marketing in the history of the USA.
ANALYZING THE ANALYSIS
Our 2021 Listings Virtual Marketing Analysis is partially meant as a resource for all real estate photographers, builders, developers and agents. But it is also meant for us to deeper involve ourselves with the trends and traditions of virtual property marketing in the US.
The analysis examined 25007 listings on what are arguably the two most important real estate portals in the US: Zillow and Realtor.com.
Between March 2021 and June 2021 we scrutinized those 25007 listings for the presence of four vital elements in property marketing:
Professional Images
HDR Bracketing
A Floor Plan
A Virtual Tour
We will no doubt be sifting through this data over the next several months. But here we can share with you some of the things that are standing out to us.
Of the 25007 listings that we examined, 76% had professional images, 30% featured HDR Bracketing, 17% offered Floor Plans and a mere 6% provided a Virtual Tour.
The most obvious theme that runs through the numbers is one of 'discrepancy'. In fact, all the categories we examined bore some form of a discrepancy - from the lack of HDR bracketing in otherwise 'professional' photography, to the surprisingly poor showing of the virtual tour, to the less surprising statistic that agents still seem to be undervaluing the power of the floor plan in listings marketing.
WHAT CONSTITUTES A PROFESSIONAL IMAGE?
There is a discrepancy in what passes for professional high quality photography in American real estate marketing.
Though 76% of listings we featured bore evidence that (via such factors as camera angles, lighting, or arrangement of decor) a professional photographer had been hired to shoot the listing, only 30% of listings featured HDR Bracketing.
The end result of HDR Bracketing is essentially that you can see out the windows of an interior real estate listing photograph as it would appear if you were standing in the room in real life. It is an easy process that requires a few extra images of the same shot taken at different exposures.
In places like Australia, New Zealand, and Scandinavia, it goes without saying that HDR Bracketing will be included in professional photography.
Does this mean that professional photographers in the United States are not required to include HDR Bracketing in their price?
THE CURIOUS ANOMALY OF THE VIRTUAL TOUR
Then there is the curious anomaly of the virtual tour. Since the pandemic hit reputable real estate sites have done nothing but laud the virtual tour. Some have credited it with saving the housing market.
Yet our massive study of the two major real estate portals found that only 6% of listings included a Virtual Tour. Here are some of the major outlets that commented on the Virtual Tour over the past year.
In March 2020, FoxBusiness declared that "Virtual tours have become the norm".
Zillow CEO Rich Barton told stakeholders and media at the company's earnings call that the "tectonic shift" and "grand reshuffling" were well underway as real estate marketing went virtual.
NAR published findings that said 35% of realtors rely on virtual tours to sell homes
Forbes declared in January 2021 that for the first time in history buyers now prefer to take a virtual tour before viewing a home in person.
CNBC published an article that basically credited the virtual tour with saving the real estate industry: "Housing market skirts crisis as sellers use 3D Virtual Tours to find eager buyers".
FLOOR PLANS
The data on floor plans seems to indicate that they remain undervalued by listing agents.
Though the floor plan figured more frequently than the virtual tour, with only 17% of listings featuring one it seems that the majority of US agents still have not recognized its value in the sales cycle: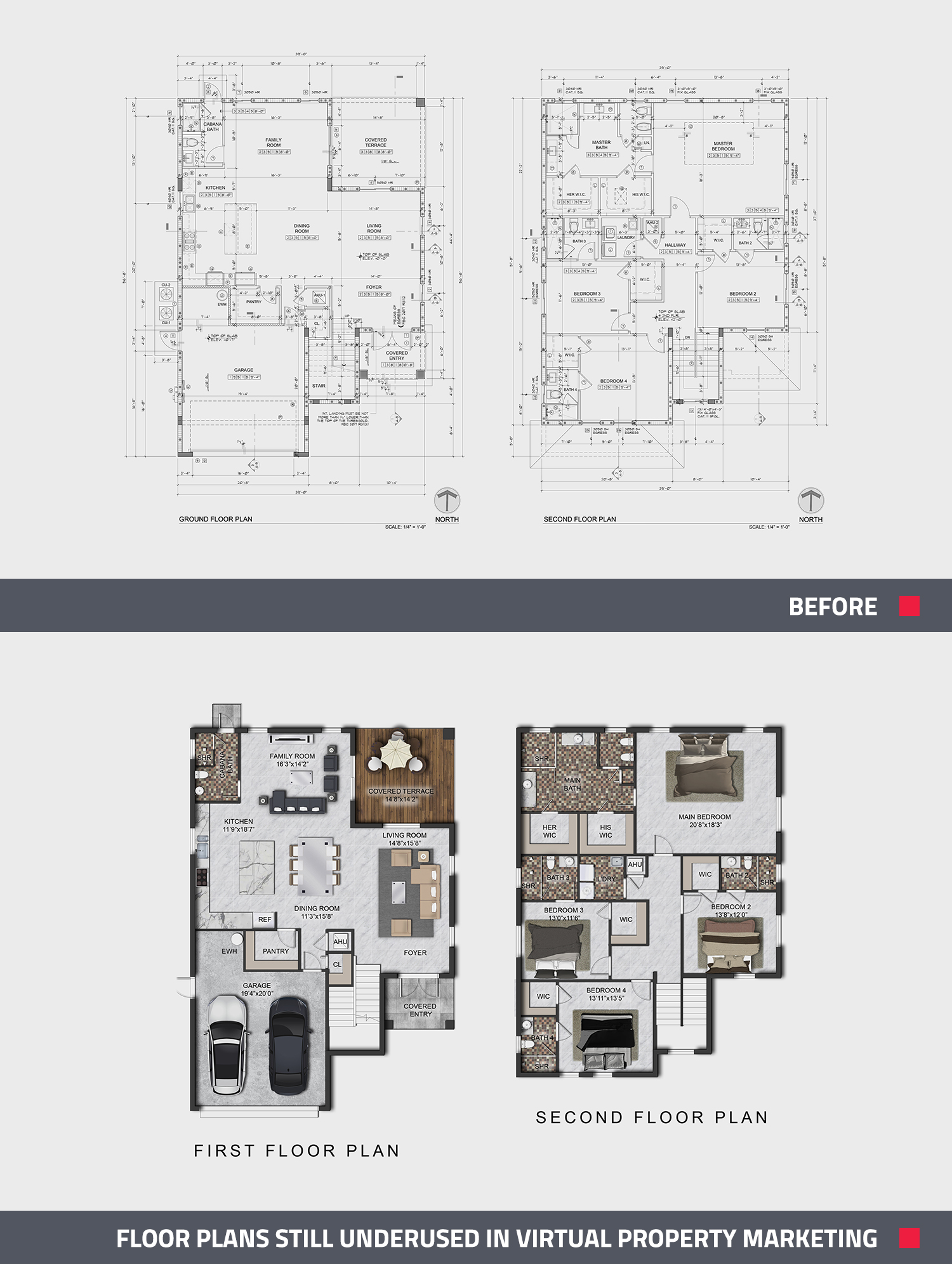 In a 2021 study, the National Association of Realtors reported that 67% of all purchasers regardless of age wish to see floor plans of a listing.
Further evidence to support the floor plan's unique ability to connect:
buyers consider floor plans the third most important piece of information when shopping for property.
a floor plan will increase visitor clickthrough by 52%
one in five buyers will ignore a listing that doesn't include a floor plan
42% of sellers will not hire an agent who doesn't offer a floor plan
floor plans are equally effective in marketing existing and off-plan listings
WHAT DOES IT ALL MEAN?
It is impossible to ignore the Grand Canyon of discrepancy between what buyers and sellers believe to be best practices in real estate marketing, and the sort of listings marketing that appeared on Zillow and Realtor.com between March and June of this year.
Why are so many 'professional' images lacking HDR Bracketing?
Why did only 6% of listings feature virtual tours? Our data was gathered during a pandemic where travel was restricted and after buyers expressed a preference to tour a home virtually before attempting to see it in person?
Why do floor plans continue to be neglected? 83% lacked a floor plan, even though an overwhelming amount of research indicates both buyers and sellers expect floor plans to be included in real estate listings?
One reason might be that this sizzling hot property market has caused agents to let up on their marketing a little.
Another possible explanation is that the advancements in technology are moving so fast that many agents are unaware of all the tools at their disposal when it comes to marketing property.
America is a land of rich traditions and sometimes old traditions die hard. We are here to make the transition as easy as possible. With our research we will discern the weakness in property marketing from sea to shining sea; with our tools, our technology, and our tremendous customer service we will continue to strengthen the marketing game of any agent who desires to stand out from the crowd.
Sign up for BoxBrownie.com today and receive three free image enhancements.
---