3 June 2021
EIGHT 3D ARCHITECTURAL RENDERING ISSUES TO AVOID
Introduction:
If you are hoping to sell property off the plan, high quality 3D architectural renders can be a fantastic way to bring your project to life in the minds of prospective buyers.
In a PREVIOUS POST, we've talked about this 'Picasso Factor' when it comes to 3D visualisations, in that they show us what Picasso meant when he said: "everything you can imagine is real".
Renders are wonderful, powerful property-selling devices. But they must be inspected carefully before being released to the property-buying public.
The 3D render is a complex creation. Though often the Crown Jewel of the marketing platform, it is also prone to being the most flawed.
This is partly because the artistic and technical competence required to put a high quality one together is much higher than that required for standard photo enhancements or 2D art. There is much more to keep in mind, greater potential pitfalls.
Some of these pitfalls can undermine the impact of your marketing, sometimes embarrassingly so. As a result, it is essential to carefully edit your architectural renders before releasing them to the public.
Before telling everyone about the fantastic future you are about to build, it's never a bad idea to take out your microscope and inspect what you are about to show them.
3D RENDERING PROBLEM AREAS
When it comes to 3D architectural rendering issues to avoid, focus your microscope on the following areas:
People, or entourage
Cars
Reflections
Level of Simplisticness
"Futurism Quotient"
Quality of Light
Perspective
Most 3D architectural rendering issues will really only be caught after editing a first or second draft of the composition. However, there's one that can be eliminated from the outset.
1. BEGIN WITH THE RIGHT PERSPECTIVE
True, you are going to have to give away some artistic license to the CGI artist with your project. But, the matter of perspective should be discussed with the CGI artist from the beginning.
If it's true that there are no wrong answers in art, it is generally agreed that there IS a wrong perspective for your architectural rendering to take.
"Don't be a giant," is how it's put in the architectural world. The giant's perspective refers to an unwritten 'no-fly zone' in the world of architectural visualizations.
Specifically, the "camera angle" of the project should not originate from anywhere between eight and 30 feet in the air.
For some reason, renders pack a great punch when they are portrayed from either ground view or bird's eye view. This power seems to diminish when the perspective comes from the no-man's-land that falls between.
The unpleasant effect of this no-man's-land may be more subliminal than direct. But it can be sensed in the below image from Alex Hogrefe's tutorial on perspectives in architectural visualization.
Let the viewer know they are seeing your project through either a bird's-eye perspective or that of their own. Confusion is never a good way to sell property.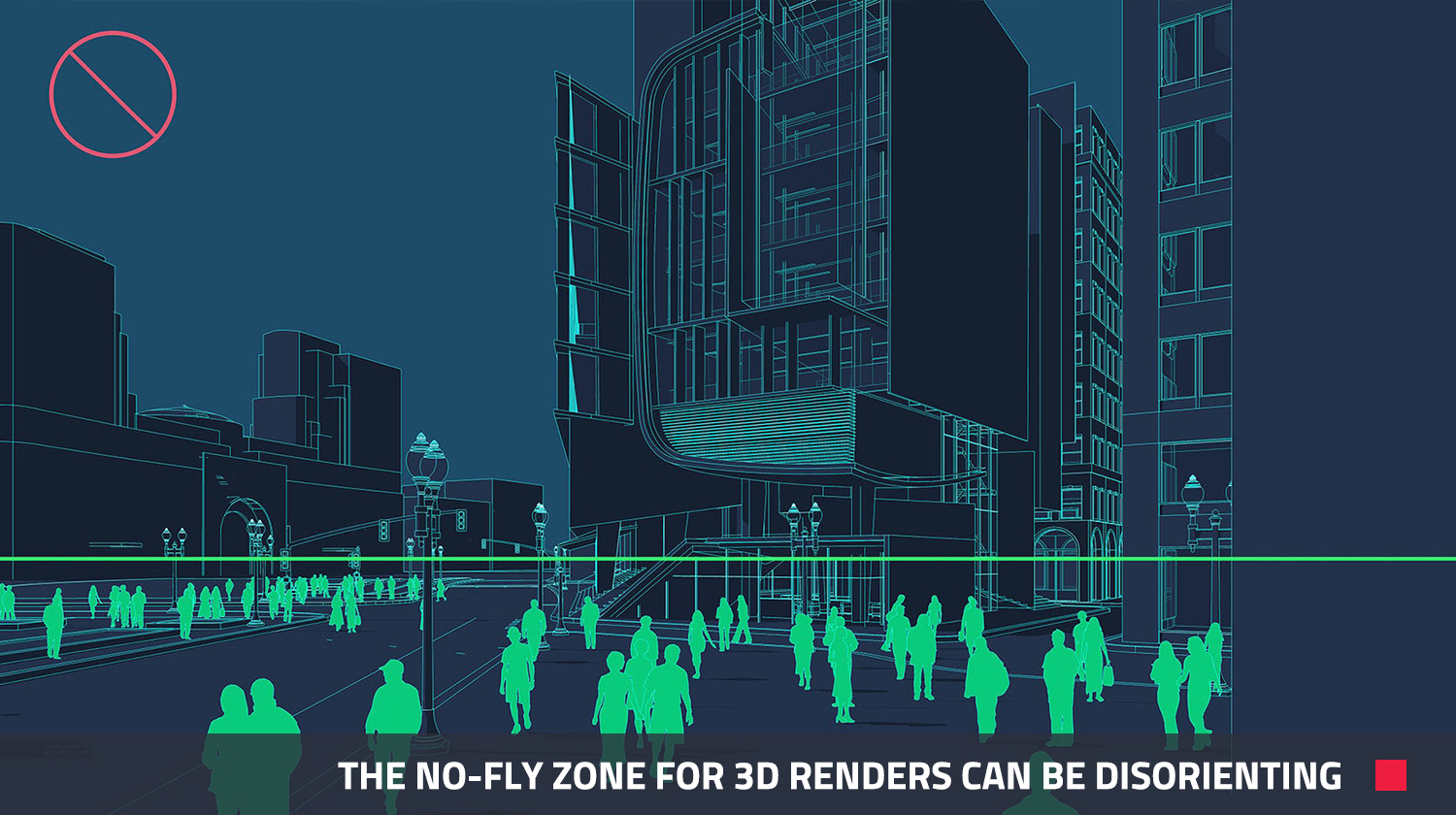 2. ADDRESSING THE VIEW
Another perspective-related issue that should be addressed at the outset is that of information.
Don't just submit architectural plans and wait for the end result. Make sure your CGI artist has as much information as possible about your project, including street address.
Omitting a small detail like a street address prevents the artist from including all possible selling features in the final 3D architectual visualisation. If there are beautiful mountain or ocean views off one end of the property, this needs to be incorporated into the render.
The architectural magic is one thing, but a CGI artist who is only working off the plans will miss the opportunity to include important WOW factors like the view in the overall work.
3. PEOPLE ARE STRANGE
Jim Morrison was probably not singing about 3D architectural visualisations when he crooned the above headline. Nevertheless, this is really something to watch out for in the CGI versions of your future project.
"ENTOURAGE", as it's known in the trade, is the word for populating the environment of your property development with people or animals.
Scaling is where you'll find the most common mistakes. A small child throwing a ball for a dog is one way an artist can portray a pleasant atmosphere. But if the dog is larger than the child's father, and the ball larger than the child's head, the effect is both bizarre and unprofessional.
Another issue could perhaps be called the cyborg effect. Computer generated 3D models of people are not always as realistic as you'd like. Faces can be deformed, unfinished, or downright horrifying. In render video, this problem is compounded by the tendency for their movements to appear robotic.
If you are going to include people in your artist impressions, be certain that they make the neighbourhood more appealing. Don't scare buyers away by populating the landscape with figures from a post-apocalyptic horror film!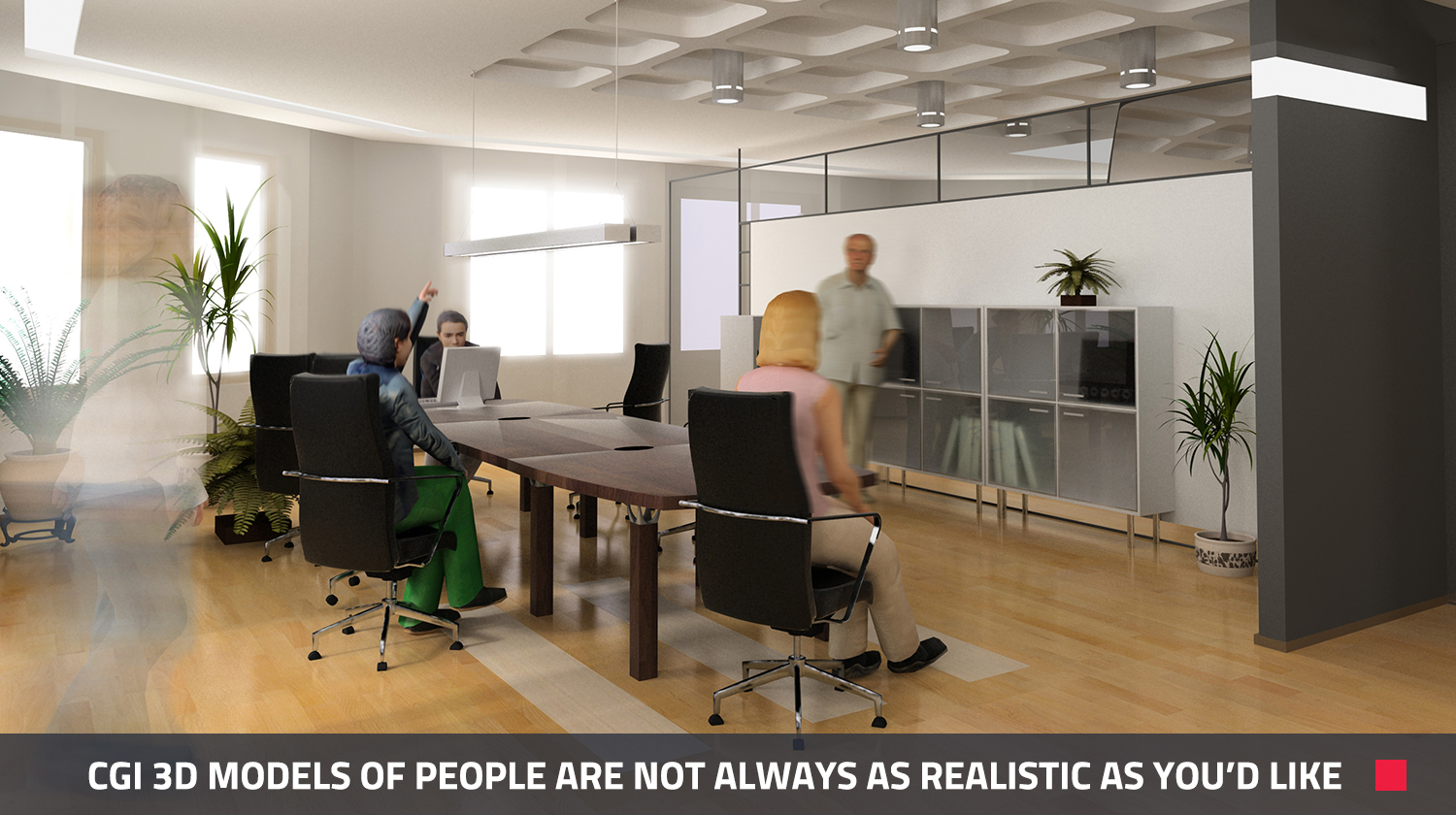 4. PEOPLE SHOULD BE LIKE SNOWFLAKES
Another issue with adding people to architectural visualizations occurs when the same people start appearing too many times in various renders.
The "woman in beige" has become the "Find Waldo" of the real estate marketing world. This stock photo of a woman with her back turned appears so frequently in architectural renderings, that she has become famous within the industry.
She even has her own Tumblr profile - on this platform she's known as the "Little Red Riding Bag".
This is funny and even has a certain pop culture mystique to it. But it can be distracting. It can also convey the impression that your 3D render is reusing materials from other people's marketing - never something you want to suggest when selling a sparkling new version of the future off-plan.

5. CARS SHOULD NOT BE THE STARS
CGI artists often add elegance to a scene by populating it with high-end automobiles.
This is definitely better than inserting a rusted-out vehicle with a flat tire in front of a property. But the cars in the scene should be proportionate to the value of the properties being exhibited.
A 3D exterior render advertising a row of townhouses probably should not feature a Lamborghini parked in a driveway. What does it say about the value of your project when a car worth six times one of the units is featured in the render?
Another common mistake involving vehicles is that, like Count Dracula, they often appear without shadow or reflection.
Laughter (unless it's Dracula's, perhaps) is lovely. But laughter is not something you want to elicit from potential buyers who notice that the Hummer parked outside the building you are trying to sell them has neither reflection nor shadow and is shorter in height than the mailbox beside it!
6. CHECK THOSE REFLECTIONS
The above example of the invisible Hummer is just one reason why reflections warrant close inspection when you review the image of your render.
Reflections are probably the most difficult aspect of any architectural rendering to master. They are tough to get right, and easy to overlook in the editing process.
Reflections are difficult because there is a lot for the artist to keep in balance to make it look like a real-life photorealistic image - light angles, shadows, scale. Even the time of day must be accurately reflected in a 3D render.
The forums of CGI artists are full of agonized remarks about how much trouble their reflections are giving them. Truth be told, CGI artists from other organizations often come to us so that we can get these tricky aspects of their job done right.
This is partly why we developed our shadow removal capability for our popular day to dusk Hero image service. Hero images are breathtaking. But a house at sunset that's reflecting a vision of noon in its windows can work against the grandeur that a Hero image should inspire.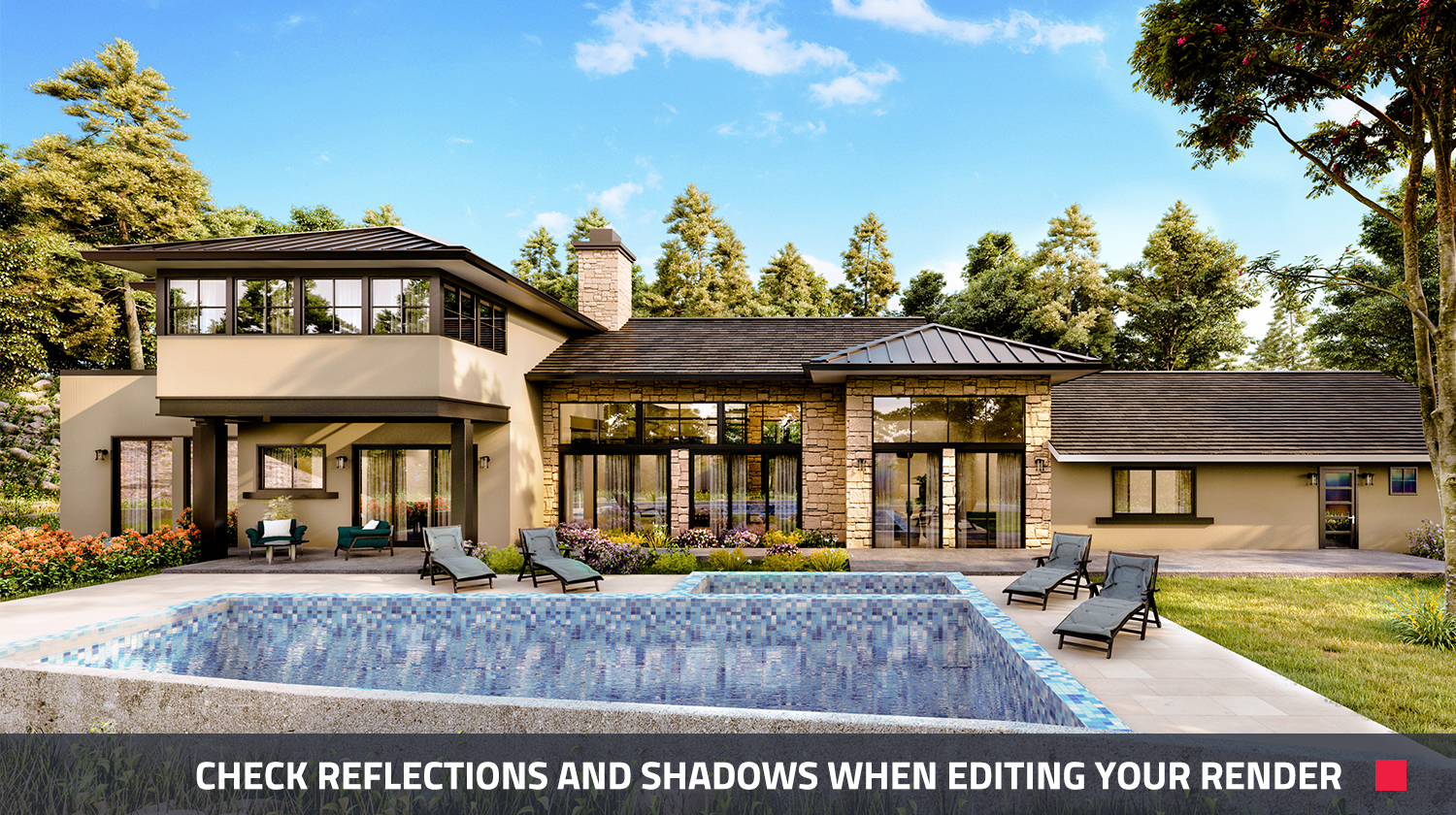 7. TOO EMPTY? TOO FUTURISTIC?
It is a flat-out failure for an architectural rendering to appear like it could use some virtual staging or some entourage.
A scene that's too crowded may cause potential buyers to seek calmer pastures. At the same time, an architectural rendering must not give potential buyers "that hollow" feeling".
Landscaping is another area that can make a huge difference to the feeling of your render. An absence of landscaping or the lack of realistic landscaping can make a render look very simplistic.
Even something as simple as a fence to frame a property can do wonders for the overall atmosphere of an architectural render. So can well-placed and well-proportioned vegetation.
Another thing to be on the lookout for is the apparent predilection for sci-fi among many CGI artists. There must be some connection between the desire to become a CGI artist and a love of sci-fi because the attraction is written all over the renderings of future construction projects. Many architectural visualizations of future projects seem like something out of The Matrix or Total Recall, and this can be alienating.
There's nothing wrong with appearing ahead of the times, but CGI renderings should not be so futuristic that potential buyers are unable to imagine inhabiting the space in reality.
8. BAD LIGHTING?
In Architectural Rendering, bad lighting is a more complex beast than in standard photo editing.
Of course, where there's light, there is the corresponding shadow. And shadows can be as troublesome in virtual depictions of real estate as they can in photography.
Light architecture is now an important facet in property presentation. Your 3D rendering studio must understand the principles behind spill and reflection, uplighting and downlighting.
One of the advantages to using our photo realistic architectural rendering services at BoxBrownie.com is that you can trust our CGI artists to get the lighting right, whether it's a photograph or a render that needs enhancement.
To learn more about our 3D rendering company CLICK HERE.