THE DOS AND DON'TS OF VIRTUAL STAGING
Speaking of virtual staging dos and don'ts now is definitely the time to do! Data indicates that virtually staged property listings sell faster and have a greater chance of going for more than the asking price.
But this doesn't mean there are no pitfalls to this marketing tool that combines technological aptitude, an eye for interior decorating and a sound understanding of the real estate industry.
Perhaps more than most forms of real estate marketing, virtual staging comes with a fairly stringent set of dos and don'ts - some are aesthetic, some are ethical, and some just make common sense.
WHETHER ADDING OR REMOVING ITEMS, DON'T MISLEAD
Honesty should always be a non-negotiable element of your real estate marketing. With so many people buying properties sight-unseen these days, it's become even more crucial to ensure that your virtual staging does not go too far in making a space "look good".
Addressing a conference in Washington, DC during the days before the pandemic, our own Peter Schravemade touched upon this issue. Schravemade cautioned against two temptations.
"Don't remove anything that is materially attached to a property," he said, citing an example where a virtual staging artist removed a heating unit and a kitchen sink to make a room appear more open.
Later, Schravemade added:
"I believe too many people misunderstand the Virtual Staging edit. They believe the edit should inherently make the room look better than what it is, this is not the case.
"Good virtual staging will tell the purchaser what the function of the room is without taking the focus off the property or altering the property in any way shape or form."
As a general rule, the following areas should not be altered through virtual staging:
Walls. Don't paint colors over them with the intent of hiding their original condition.
Built-in fixtures. Fixtures are often included in a home sale. So don't add things like built-in lamps, ceiling fans, or chandeliers, that might leave a buyer thinking they come with the sale.
Floors. Don't alter the flooring in a way that would require an expensive renovation in real life. For example, don't replace old linoleum with shiny hardwood or immaculate new carpet.
DO DECORATE TO YOUR HEART'S CONTENT
Unlike with fixtures, floors or walls, there is no ethical dilemma to adding furniture, plants or art to real estate photography.
This is where the power of the art form comes in. Good virtual and traditional staging captures the attention and invites a potential buyer to dream a little.
Indeed, bringing the full potential of a space to the awareness of a buyer is the essence of virtual staging. This takes a lot more than mere technical know-how - it takes solid grounding and talent in interior design.
Every empty room or outdoor space calls for a slightly different style - from Farmhouse to Urban/Industrial to Contemporary, and many in between.
To gain a full appreciation of the skill and versatility of our virtual staging artists, please see our Virtual Staging LookBook.
DO GET SOCIAL WITH IT
There's a common belief in real estate marketing that it's a bad idea to flood your social media posts with listings. But the before/after photographs of virtual staging are perfect for this visual, interactive medium.
The juxtapositions elicit great response in polls (i.e. What style would best suit this room?), attract sellers (Here's what I can do for your empty listing!), or simply share amazement at the powers of virtual staging (I can't believe this is actually the photo of an empty room!).
DON'T TRY THIS AT HOME
Toronto real estate agent Lynn Tribbing points out: "The most important thing is to hire a virtual staging company with real estate experience. Pay particular attention to sample portfolios to ensure the finished product looks professional."
In the wrong hands, virtual staging can backfire. Sometimes agents with a touch of tech-savvy want to virtually stage their own listings. More common is the proliferation of virtual stagers who are unable to produce work of high quality.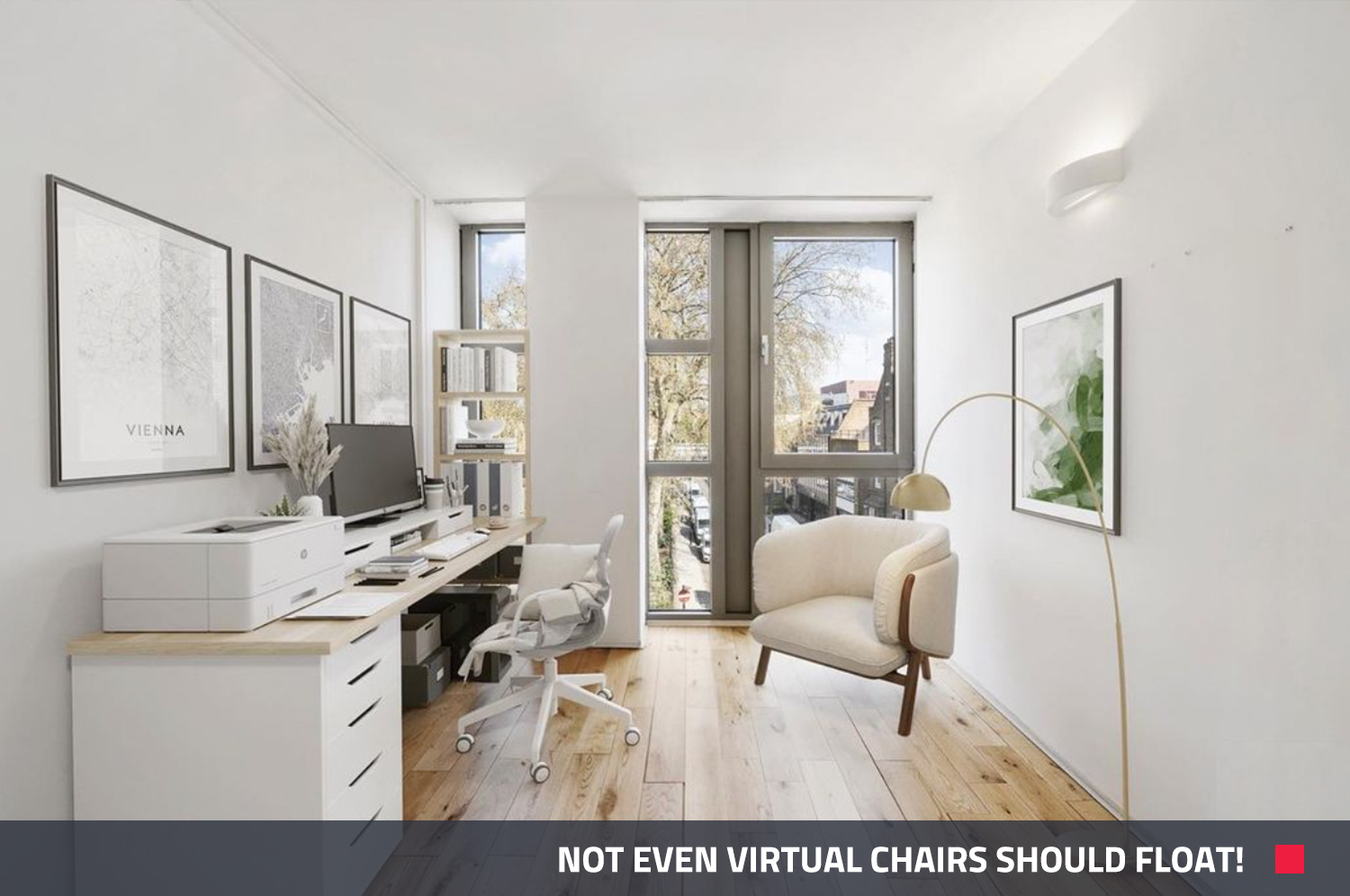 In the above example (not our work!) there seems to be a chair floating between floor and ceiling.
Since we started the virtual staging boom in 2017, many fly-by-night 'virtual staging services' have come out of the woodwork hoping to capitalize on the demand. Many are barely a step up from trying it yourself.
The last thing you want is to virtually stage a room only to find that it looks less appealing once it's complete.
In the below photo (again, not the work of BoxBrownie.com!), the home staging only makes an already small room seem cluttered, uncomfortable, and bizarrely scaled.
CAN YOU SPOT THE FLAWS IN THIS VIRTUALLY STAGED PIC?
In the image above the laptop is the size of about half the table, the chair on the right is pushed so close to the wall that it would be impossible to get in (or out!) of, the books on the bookshelf seem to be the same books but are completely out of scale, and the enormous mug, pencil jar and lamp do nothing but create a sense of clutter.
It is a total exercise in absurdity to have a room virtually staged, then require our item removal service to remove items that aren't even there in the first place!
DO BALANCE THAT SCALE!
In the previous photo, we saw how a skewered scale made a room look cluttered and awkward.
There is a slightly more serious side to the scaling of virtually staged photos.
In the below image, a five-seat sofa fits into a space beneath two small basement windows. In real life, this would be impossible.
Not only does such an anomaly detract from the quality of the virtual staging, but it also risks misrepresenting a space by suggesting that it is larger than it actually is.
SCALING MUST MATCH THE ACTUAL ROOM SIZE
BoxBrownie.com can measure areas in your photo like door frames, windows and ceiling heights so that the scale of our furniture is 100% correct and not misleading.
We will never place a 10-seater sofa where only a 4-seater would fit.
DO LET THEM KNOW A ROOM'S BEEN STAGED
Finally, Virtual Staging might seem like magic, but it needn't involve a 'trick'.
Let people know they're looking at a virtually staged image. Perceptive buyers will appreciate it.
"When in doubt, disclose," Schravemade said.

---