HOW TO GET THE MOST OUT OF YOUR SMARTPHONE WHEN MARKETING REAL ESTATE

Introduction:
Attention all agents! Don't let this this real estate market slowdown get you down. The solution to keeping ahead of the game is right in the palm of your hand.
Quite literally, in fact. In this post, we'll look at ways to get the most out of your smartphone in real estate marketing. That little gizmo might be more powerful than you think.
Smartphone cameras are becoming more capable with each new model.
Our suite of products and services are customized to bring the best out of any model of smartphone and produce professional-quality real estate images.
These two truths mean that real estate agents have never been more in control of their destiny. Even as the market seems to slow down across the globe, the savvy agent takes advantage of the technology to save time and money, and gain a degree of independence that has never before been possible in the field of selling real estate.
In this post, we'll show you how to use your smartphone in tandem with our technology to pull off virtual property marketing acrobatics. Not so long ago these results would have required a heavy-duty DSLR, a sophisticated lighting set-up, and probably an expensive professional photographer to boot.
Now, much of it is as simple as shooting a selfie!
This great news could not have come at a better time, as many real estate agents are now having to tighten their belts, sharpen their pencils, and manage their budgets with a little more care.
1) How To Imbue Your Smartphone with DSLR powers

The Day to Dusk edit is the jewel in our Image Enhancement crown. This service is the perfect way to get the absolute most out of your smartphone photos. With this edit, everything a smartphone shoots comes at least as good as the product of a professional DSLR.
Our Image Enhancement edit is probably the most straightforward way to enshrine your smartphone camera with the powers of its long-lensed predecessor - the DSLR.
Point.
Click.
Submit.
Wait 24 hours, and experience the 'Wow Factor' in the image we send you back.
No photographic training is necessary. This fast, easy, and extremely popular edit, means that you never have to worry about booking (or paying for) a professional photographer to shoot your listings. And it costs less than a cup of coffee $1.60USD per image.
The Image Enhancement package can even do many things that a DSLR could never dream of accomplishing, like put fire in fireplaces, remove garbage bins from outside a door, or green-up a lawn.
The shining star of our Image Enhancement stable is the Day to Dusk edit. At $4.00USD per image, this edit offers a few more features than your standard Image Enhancement package. Perhaps the most notable and popular reason that agents flock to this "drab to fab" transformational feature is that it eliminates the necessity of waiting around for the perfect moment, or depending on Mother Nature's cooperation to capture that perfect sunset pic.
You provide the original image, we'll provide the stunning sunset.
2) Spitting Images: 2 Smartphones, 1 DSLR, and our Virtual Staging Challenge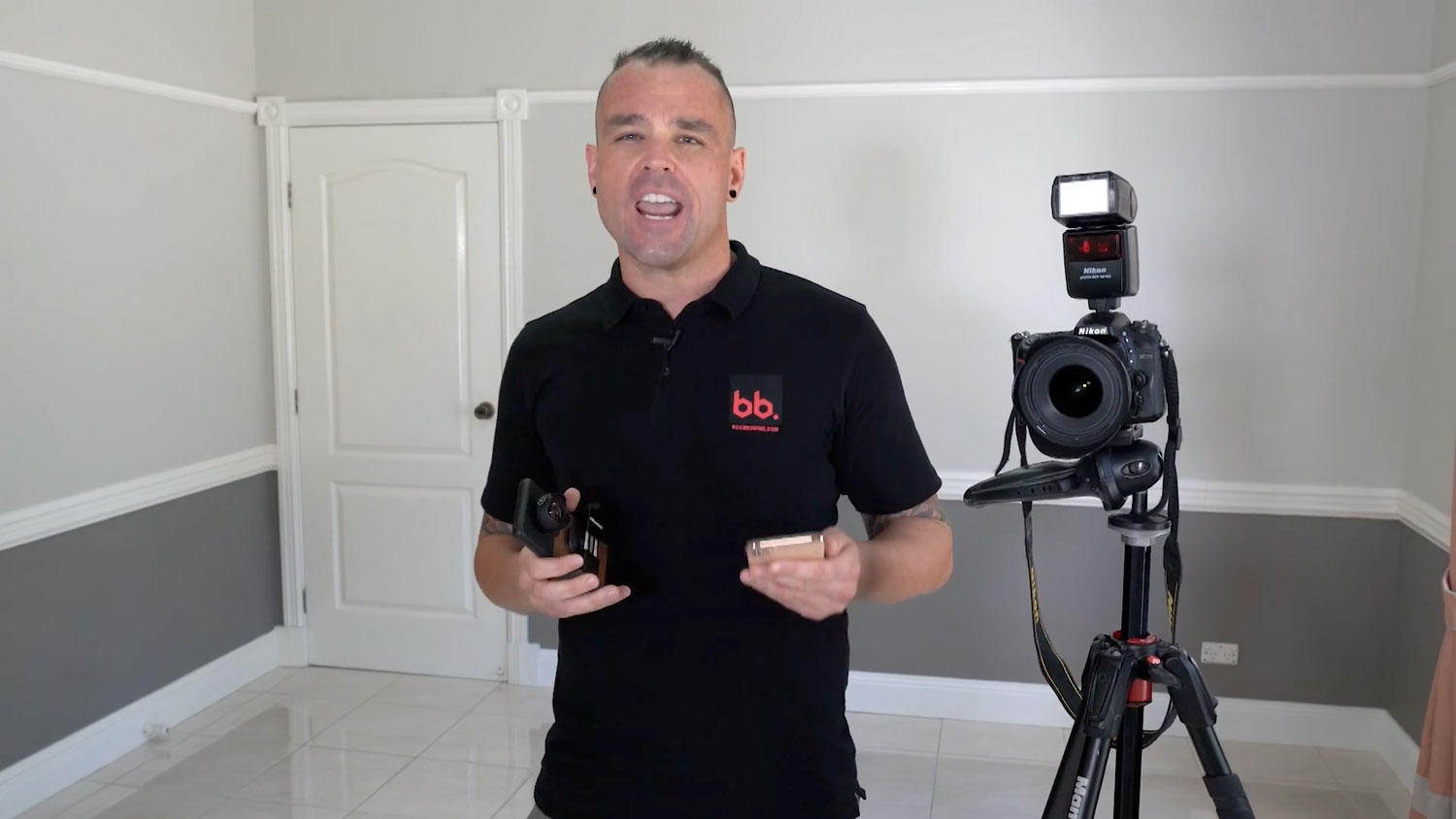 In one hand he holds the iPhone 11; in the other, he holds the Samsung S9, to his left is the Nikon DSLR that he used during his career as a professional real estate photographer. Our co-founder Brad Filliponi put these three cameras to the test in a "Virtual Staging Challenge." It was incredible how well the smartphones held up against the professional model DSLR camera.
Our Virtual Staging challenge provides a great example of just how powerful your smartphone can be as a real estate marketing device.
One of the most frequent questions we get asked is can you shoot professional caliber Virtual Staging with a smartphone?
To show you how similar the results can be we shot the same room with three different cameras:
Nikon D7200 (professional DSLR camera)
Samsung S9 smartphone (with the Moment wide-angle lens attachment)
iPhone 11 smartphone (with the inbuilt wide-angle lens)
Bear in mind this experiment was conducted upon the release of the iPhone 11. Smartphone cameras have only gotten better in this age of the iPhone 13 Pro.
But even back in the day of the Samsung S9 and the iPhone 11, our Image Enhancement / Virtual Staging combination was every bit as breathtaking as the Nikon D7200 - which incidentally was the DSLR setup that our co-founder Brad Filliponi used in his days as a professional real estate photographer.
Check out our post or watch the video to see how fantastic the smartphones (combined with our edits) performed against the DSLR.
It is 'virtually' impossible (pun intended) to distinguish the DSLR results from either of the smartphones.
"Ninety-nine percent of the people won't be able to tell which image is which," Brad says. "It would be a great test actually to see if you could get somebody in and see if they can distinguish the difference between the smartphone images and the one shot with the DSLR."
3) Your Smartphone Can Help Create A Floor Plan

If you need proof that the smartphone and the old pen-to-paper method can actually work together in today's high-tech world of virtual property marketing, this method of creating a Floor Plan might spark some ideas and give your MLS listings an additional dimension of appeal.
This smartphone hack involves a bit more thinking outside the box and a wee bit of exercise - but it's well worth it.
Floor Plans are among the most effective and underused elements of virtual property marketing, but many listings for homes or commercial properties don't include one.
We've got a great post called "How to create a Floor Plan without a Laser Measure". This procedure combines the old-school method of putting pen to paper with the new-school advantages of digital technology (specifically, your smartphone, its camera, and its cyber capability).
To put it more simply, you take a photo of the sketch you've just put down on paper, and submit it to us. We will turn it into a thing of beauty that gives prospective buyers an attractive way to imagine your listing's layout and one that never fails to impress the seller you are representing.
4) Virtual Renovation: Versatile And Increasingly Relevant
Equally astonishing is the smartphone's compatibility with our Virtual Renovation edits.
These edits are becoming increasingly prevalent in the world of real estate - primarily because the overheated housing market has forced many buyers to settle for fixer-uppers instead of new, or move-in-ready homes. The practice of Virtual Renovation leverages our CDI Render Technology to give potential buyers a glimpse into the full potential of any property.
Recently, Brad Filliponi took his smartphone for a stroll through a cobwebby old shed. The walkthrough took only a few minutes in which he snapped three photos of this gloomy, by-no-means-inspiring space.
Using only his smartphone, our Image Enhancement edit, and our Virtual Renovation render, Brad transformed (virtually) this old shed into a three-bedroom vacation property as attractive as any of the finest listings you'll find on Airbnb.
This is one of our most versatile products. Builders love it, buyers love it, and commercial landlords do too. In this age of DIY, new homeowners with their work cut out for them, are also starting to discover Virtual Renovation as a helpful first step towards building the home of their dreams.
Whatever clientele you deal with as an agent, it's a good idea to know about this technology and how easy it is to access with your smartphone.
5) HDR Bracketing Is Now Possible To Shoot With Your Smartphone
HDR Bracketing it is the gold standard of real estate photography. For several years this has been what has set the DSLR apart from the smartphone as a real estate photography device. Not anymore.
Thanks to the CameraPixels Pro app and our HDR Image Enhancement service, it is now possible to achieve this same effect using your smartphone.

The difference that HDR Bracketing can bring to a real estate photograph is on full display in the above juxtaposition. Note the obscuring window glare in the 'Before' image, and the magnificent view out the same window in the 'After' image on the right.
HDR (High Dynamic Range) Bracketing image or a High Dynamic Range image that can highlight important details of the property you're shooting, particularly homes with a fantastic outlook or view that you want to capture.
For a step-by-step guide to achieving HDR Bracketing with your smartphone, check out this post which walks you through the entire process using an iPhone 11.
---