HOW TO VIRTUALLY RENOVATE A SHED INTO A BREATHTAKING AIRBNB
Introduction:
"If you build it they will come."
This famous logic from the movie Field of Dreams could equally apply to outfitting a space to attract guests on Airbnb. But you can't build what you can't imagine, and this is where our Virtual Renovation service can be an enormous ace up your sleeve.
Our co-founder Brad Filliponi loves a challenge, and in this post, he finds one in the form of a large, unoccupied shed that the owner hopes to transform into an Airbnb. At first glance, it seems like a very tall task. In fact, at first glance, it seems like a virtual impossibility.
Virtual impossibility meet Virtual Renovation! Armed with only an iPhone 13 and a vision for a better space, Brad ventures into this gloomy, unadorned, cobwebbed territory and begins to point and shoot.
He uses only his smartphone to demonstrate how easy it is to shoot real estate (even real estate in need of major TLC!) with this impressive everyday device.
"Let's go for a walk around this shed and plan some of our shots," Brad says in the YouTube tutorial he produced to demonstrate how easy (and enormously helpful) Virtual Renovation can be. "The end goal of this marketing is to convert this shed into a liveable Airbnb listing."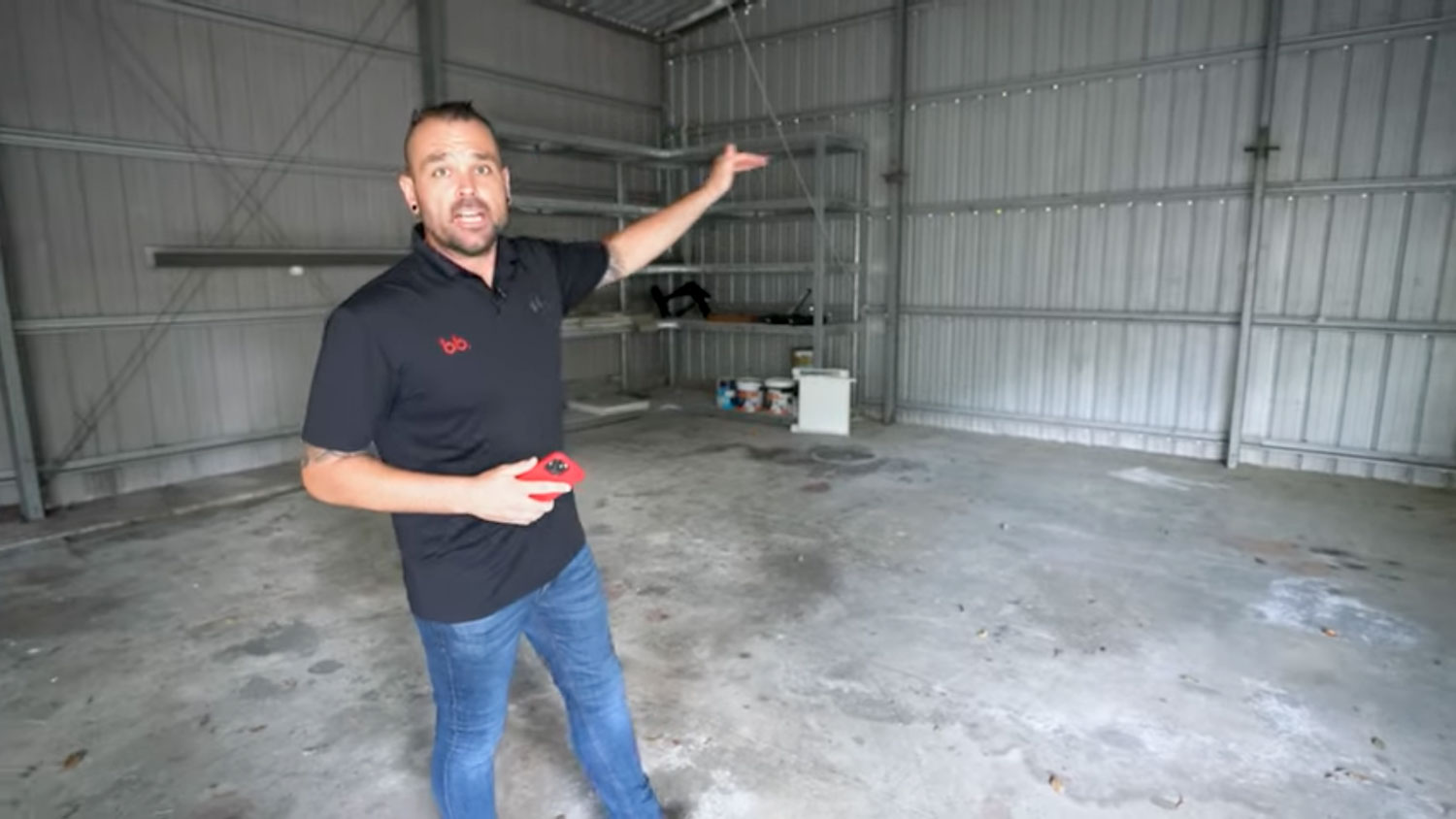 "What I'm really thinking is a mezzanine floor up top which will contain a bedroom area." Brad Filliponi has never been afraid to dream big. In this screenshot from our latest YouTube video, Brad demonstrates how our Virtual Renovation service can help everyone dream big, and make these dreams come true.
Watching the video you could be forgiven for thinking that Brad's engaged in some crazy talk here. It's hard to imagine a more uninspiring, unliveable space than the one Brad is walking through. Yet that is perhaps why he chose to shoot this video here.
"Obviously this space does not suit many people," Brad says. "However, by a little bit of Virtual Renovation and a bit of guidance from our clients, we can really transform this space and show you the full potential of what we can do with it."
Our imaginations (or lack thereof) are often the greatest impediments to our success. This truth is at the heart of the Virtual Renovation edit which can furnish a client with visual, living proof of what is possible.
Even in spaces like this shed, which are hard to imagine as ever amounting to anything more than a place to store old bikes, ladders, vehicles, and other miscellanies that you wouldn't want in your house, our technology can make it seem simple.
Virtual Renovation: Point, Click, And Shoot - Leave The Rest To Us
Watch how easy Brad makes it look. In this five-minute video, equipped only with an iPhone 13 Pro, using no fancy lighting, expensive photography gear, no fiddling with exposures, Brad puts his architect's hat on and wanders the shed, imagining the most spectacular Airbnb he can think of.
He takes only three photographs. The one adjustment he makes for each photo is that he pinches the screen to 0.6x zoom for each room. That's it.
Brad shoots two angles of the large Quonset area, and one inside the tiny dilapidated "bedroom" (it's more like a room with a bed in it than an actual bedroom) that is attached to the shed space.
In the below Before and After example of the mezzanine area that Brad envisioned for his first shot, the full scope of our Virtual Renovation service is on full display.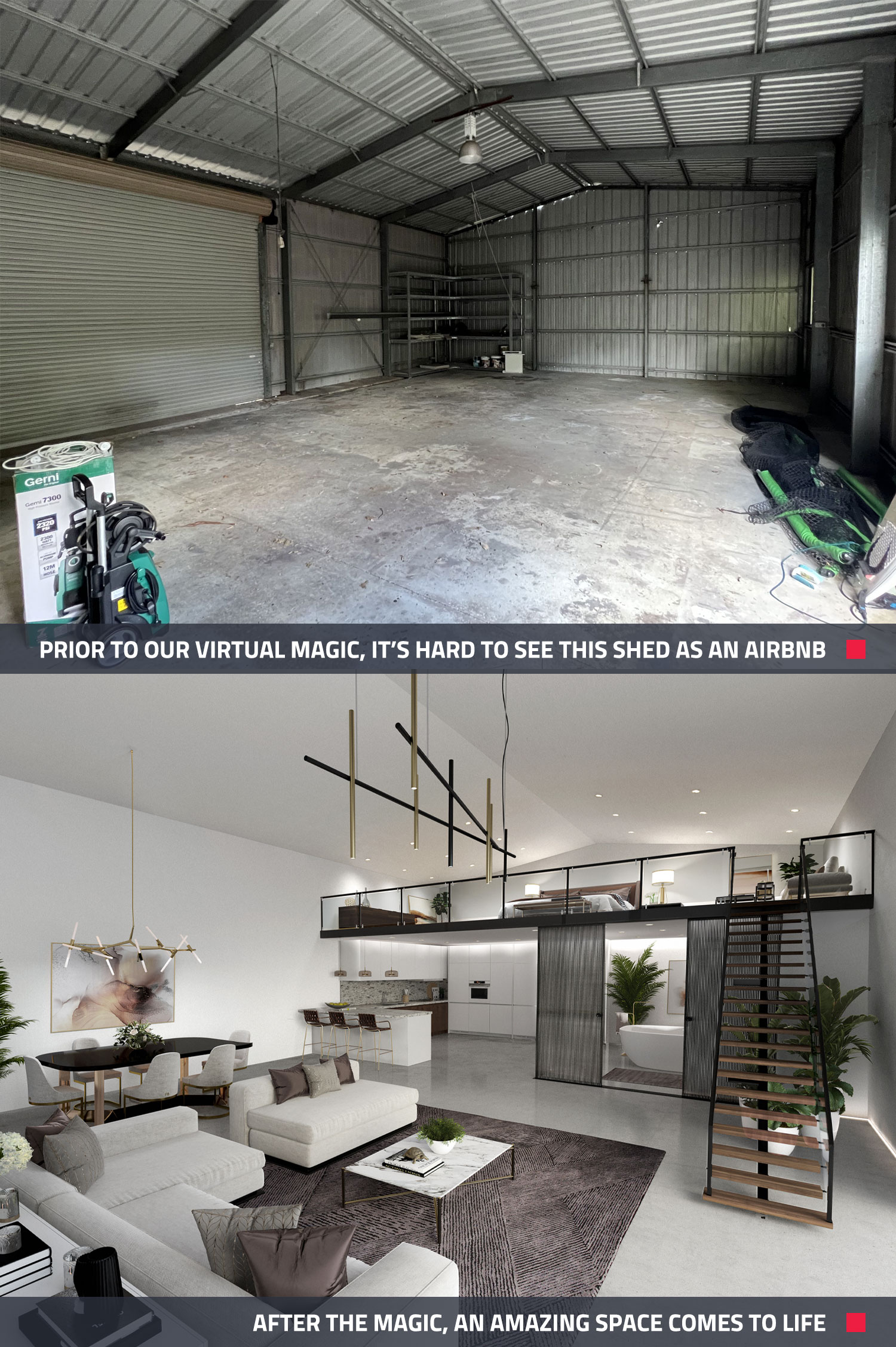 If you were seeking out a room on Airbnb where would you rather stay - in the space shown in the top image or that in the bottom one? It's a bit of a trick question - they are the same room! The bottom image has used our Virtual Renovation edit to evoke a stunning transformation of a mundane shed into a space that could demand a pretty price on Airbnb.
Virtual Renovation Can Turn Imagination Into Reality
Without question, this does not look like a space that might be suitable for an Airbnb. No matter how talented the contractor is, if you told them that you wanted to convert the space to an Airbnb property, they might laugh in your face (or at least snicker privately to themselves behind your back!).
This is where the value of Virtual Renovation comes in. Describing a vision for a space with words is one thing. Presenting a contractor an image of the space that aligns with your vision for it is something else entirely. And as any contractor will tell you, they would much rather have an image of your ultimate goal than have to try to recreate the same thing based on what you convey to them verbally.
Furthermore, if you have ever tried to communicate your vision of a project to a contractor, you will understand the principle that 'a picture is worth 1000 words'.
"With the editing at BoxBrownie.com, we can really bring your ideas to life," Brad says.
Walking to the other end of the shed, he turns and repeats the process. He points the iPhone at the part of the shed that best frames his vision, adjusts to 0.6x zoom, and clicks. Then he moves on to the bedroom.
One of the reasons that our Virtual Renovation service is so popular is that it's so easy for the client to carry out. All the hard work is done in the editing room - at our end. That's fine, that's our passion - we love to do it, we love making real estate dreams come true!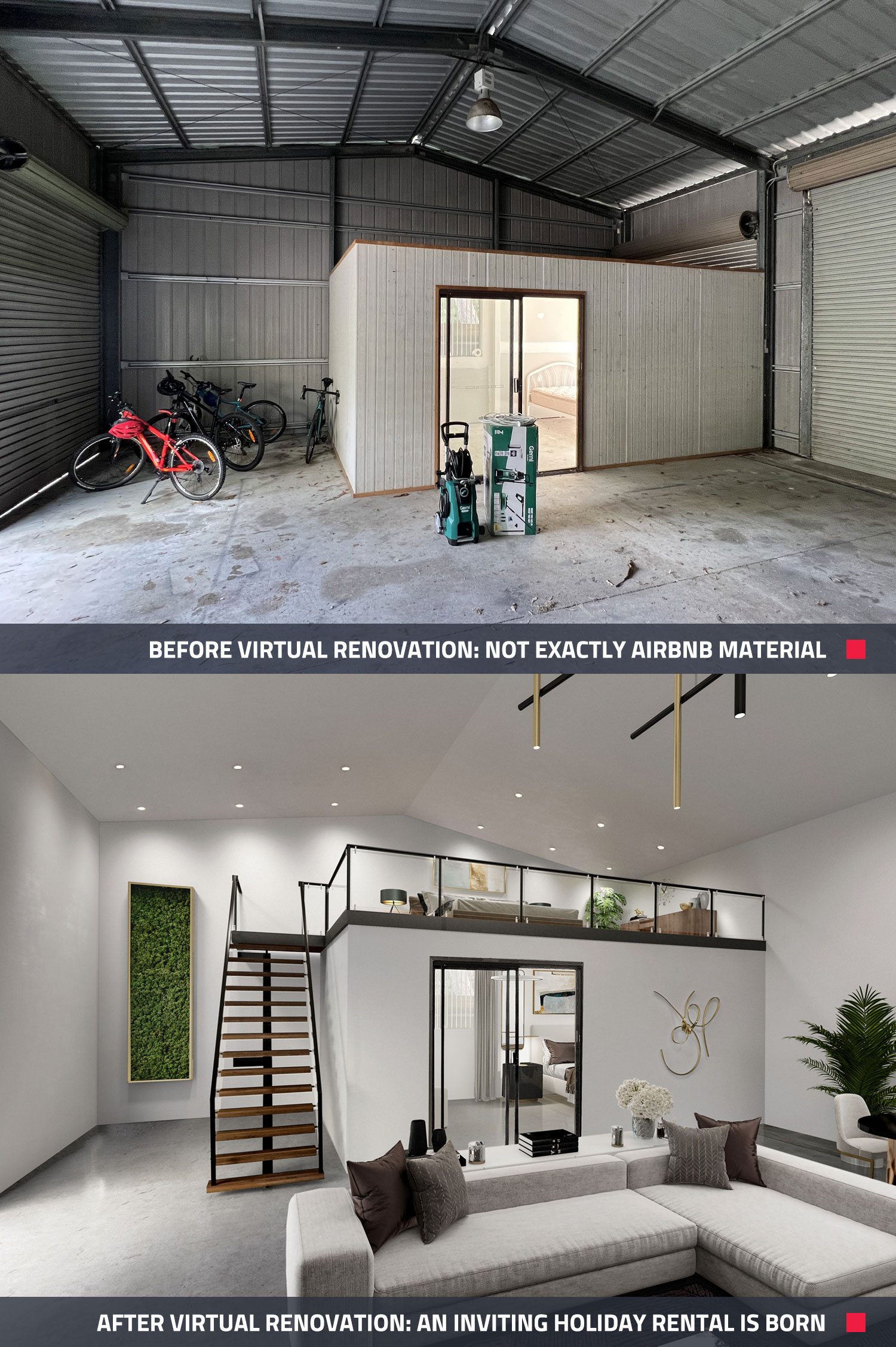 Using only an iPhone 13 Pro and no extra lighting Brad uses only our Virtual Renovation service to convert this old shed full of bikes, debris, and tools into an alluring prospect for an Air BnB listing.
Airbnb Just The Tip Of The VR Iceberg
Readying a space to become an Airbnb rental is of course only one great use of this service.

According to Newsweek, 52% of homes purchased in the United States this year will require major renovation. In a Previous Post, we talk about ways to use Virtual Renovation and our other services like 3D Floor Plans, Aerial Edits, and Image Enhancement to address this trend among home buyers.
The flexibility of this service will see it in high demand this year, with more homeowners choosing to renovate and more home buyers having to purchase fixer-uppers due to the soaring prices of real estate everywhere. Whether it is interior or exterior renovations you are after, Virtual Renovation is the perfect bridge between the current state of your property and the big (or small) transformation you envision.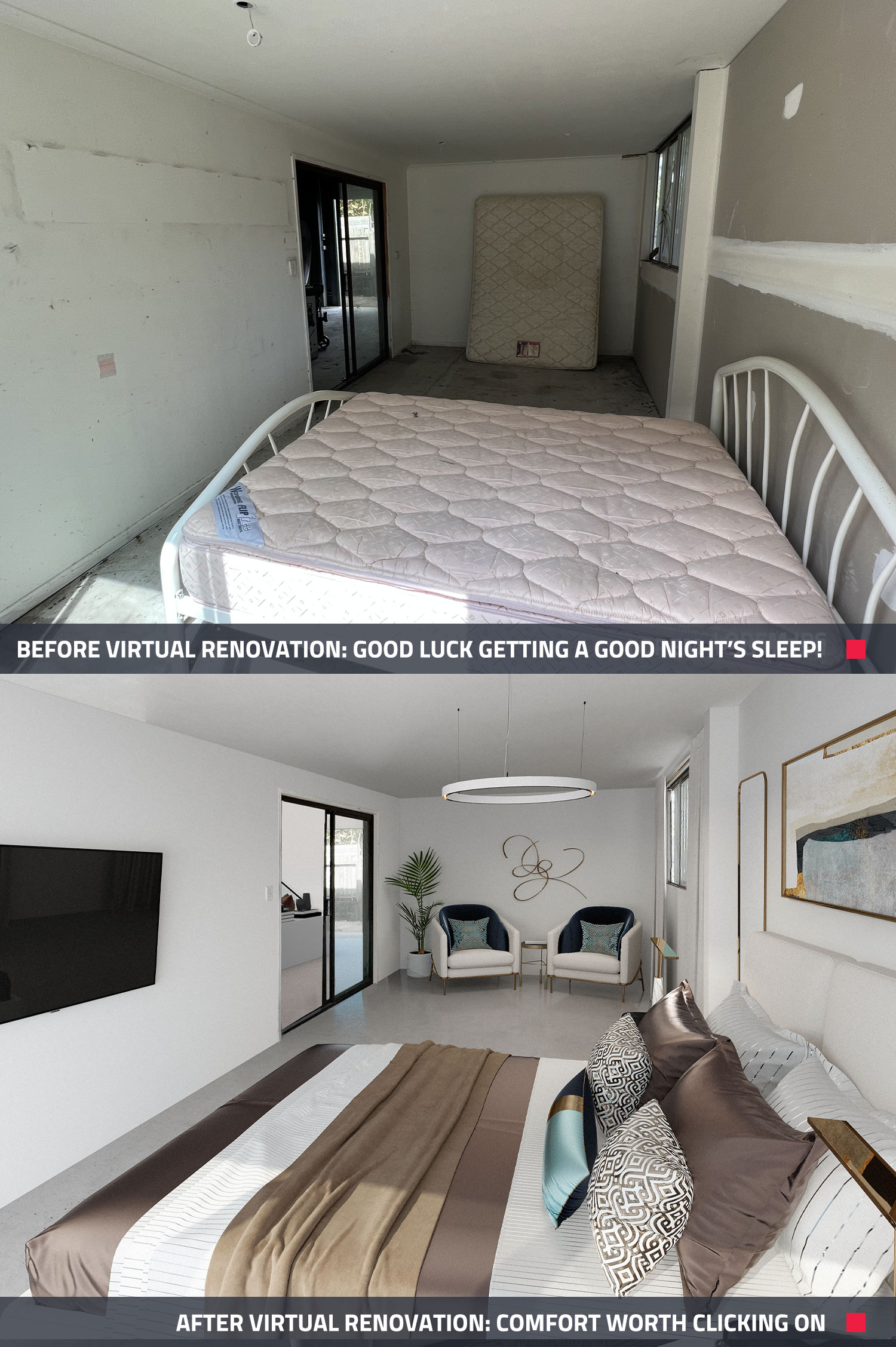 It can be hard to imagine this old bedroom (shown in the top image) looking like anything other than an old bedroom where you wouldn't want your worst enemy to sleep. Our Virtual Renovation editors can see the good in any space and help bring that vision to you.
Your Secret Weapon Is In Your Back Pocket
Almost as remarkable as the reality-enhancing powers of this edit is the fact that the results can now be accomplished using only a smartphone.
Once you've captured the perfect shot for your space, the next step is to find and submit a reference image along with your property photo to help give our editors a feel for the type of renovation you're envisioning. Imagination can always be a tricky thing to put into words, so a reference image taken straight from Google images or sites like Pinterest or Houzz can help communicate your vision.
"iPhone 11 and upwards have a wide-angle camera so they're perfect for this type of work," Brad says. "Don't be scared to use your iPhones, they are really your secret weapon that's in your back pocket."
The changes forced upon almost every sector and sort of real estate are also making Virtual Renovation a wise first step for real estate agents, landlords, and tenants involved in the commercial side of the business. It's a great way for agents, owners, and tenants to 'think out loud' and stay on the same page as they strategize new uses for commercial spaces that no longer suit the altered habits of businesses and customers in life after the pandemic.
Due to varying complexities from job to job, there is some variance in the price range for our Virtual Renovation outputs, but small jobs begin at around $25 USD per image. An expanded list of prices involved for a wider selection of Virtual Renovation edits can be found HERE.
---