5 REASONS WHY 3D FLOOR PLANS SELL REAL ESTATE

Introduction:
If professional-quality photos are the shiny objects that first attract a buyer's attention to a home, the 3D Floor Plan (especially when linked to a 360° Virtual Tour) consists of the sticks and twigs and soft moss that enables the buyer to start envisioning the nest they are planning to inhabit.
As Nadia Elias, Marketing Manager at HAUS told LinkedIn:
"Providing a high-quality floor plan is all part of the visualization process agents need to use to get a potential buyer's attention. It works similarly to staging and Image Enhancement, you want to display all the property features in the most attractive way."
If you are one of the 85% of real estate agents who still do not regularly include Floor Plans with your MLS listings, this post might make you rethink your approach.
If you are a real estate photographer trying to add a new and relevant offering to your repertoire, this post might show you why offering 3D Floor Plans is a great idea that can easily be achieved using our Floor Plan Redraw service.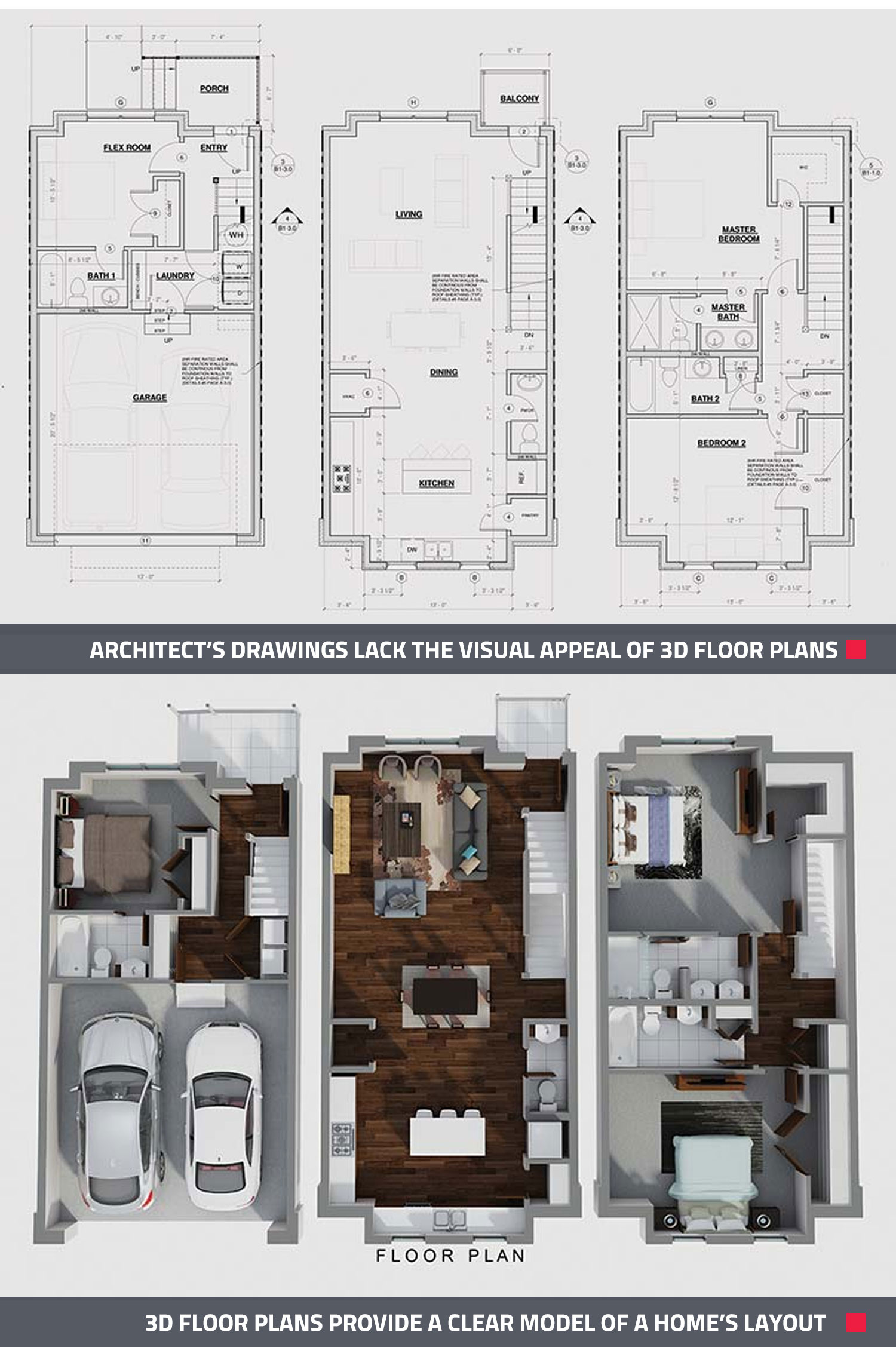 Although architectural drawings contain much of the same information as the 3D Floor Plan, they fall far short of the mark as a marketing tool. The above comparison makes it easy to see why 3D Floor Plans are so much more effective than 2D architectural drawings when selling homes.
1) Floor Plans Punch Way Above Their Weight in Buyer Popularity
Adding a floor plan to a real estate listing can increase clickthrough from buyers by 52%. But this is just one of the many tellings statistics that point to the enduring power of the Floor Plan.
64% of home buyers are interested in viewing floor plans (Zillow)
Floor plans are clicked on 7.5 times more frequently than maps (realestate.com.au)
A listing including a floor plan can reduce time on the market by 50% (mov8 Real Estate)
55% of buyers who found their home online found floor plans useful (National Association of Realtors)
1 in 5 buyers will ignore a listing if it does not include a floor plan (Rightmove)
1 in 10 buyers won't even arrange a viewing if they don't see a floor plan first (Rightmove)
And it's not just buyers who are interested in seeing Floor Plans with the listings they are pondering purchasing. According to Inman.com "almost three out of every four sellers said they are more likely to hire an agent who includes Virtual Tours and/or interactive floor plans in their services."
2) Floor Plans Were The Unsung Heros Of The Covid-19 Property Boom
If the Virtual Tour got all the credit for saving the housing market during the coronavirus pandemic, the Floor Plan was just as important in the minds of buyers.
Compared to Heroic Twilight Conversions or (the 360° Virtual Tour) Floor Plans often come 3rd in the race for real estate marketing sexiness. But what many don't know is that Floor Plans even slightly outranked Virtual Tours in buyer preference in National Association of Realtors' last market survey.
NAR found that buyers' top four real estate marketing items were:
Informative property descriptions (aka real estate copy)
Floor Plans
Virtual Tours
And according to Zillow, a floor plan is the 2nd most important listing feature and correlates to capturing potential leads. Overlooked and underrepresented on MLS pages, Floor Plans have been a quiet favorite of buyers since 2017 when National Association of Realtors started asking property buyers and sellers about their use.
3) Floor Plans Have Incredible After-Effects
The 'After Effect' of a Floor Plan refers to its use by property shoppers after they have viewed a property in person. This is the time when the decisions are usually made.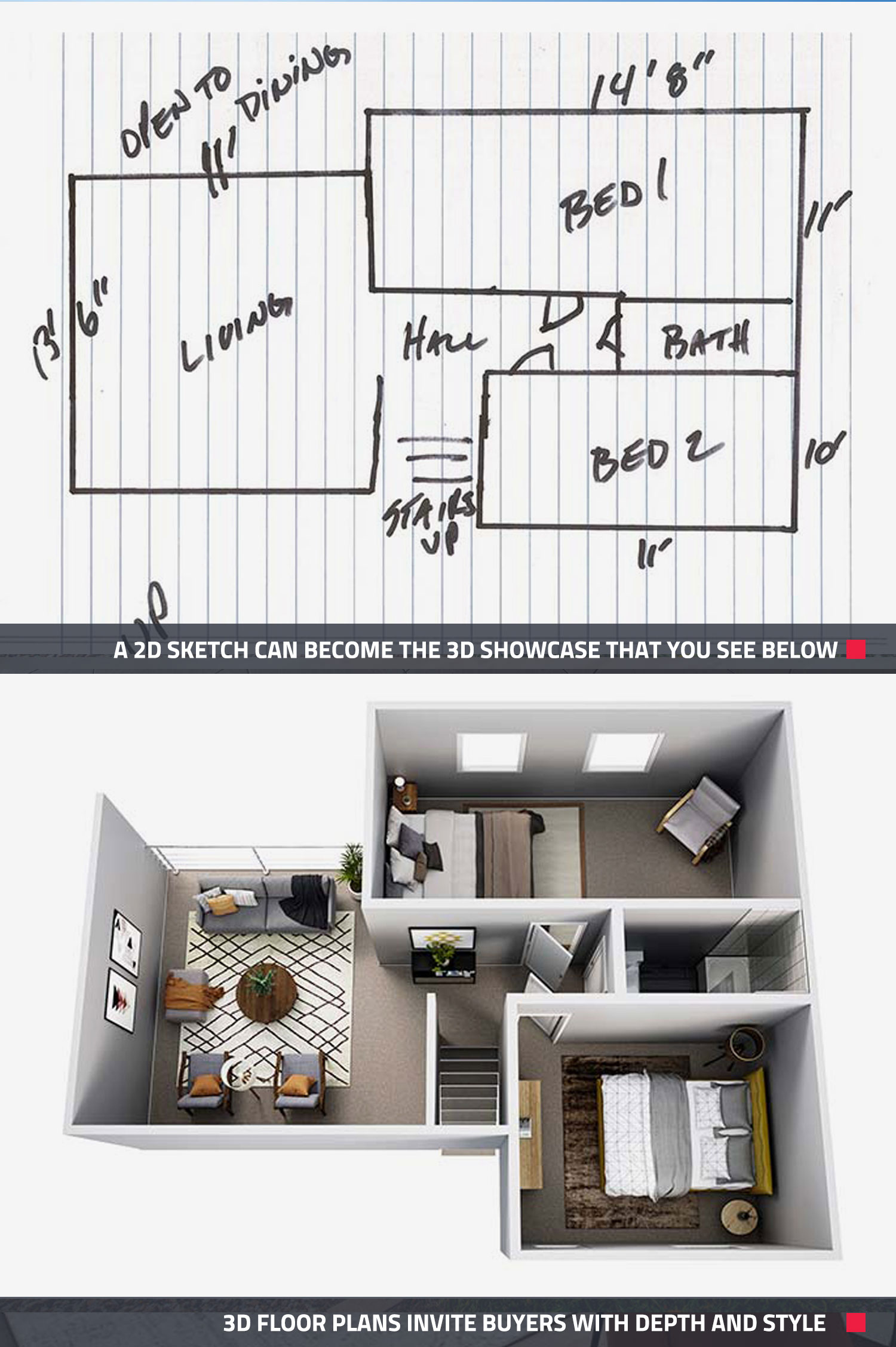 Floor Plans allow a buyer to visualize the entire layout of a property in a single glance. This special characteristic (which not even Virtual Tours or gorgeous photos can accomplish) becomes incredibly useful after a buyer has visited a property when they need to visualize the place they are contemplating buying.
After viewing it, it can be hard to remember the layout of even a single home. People shopping for real estate often view more than one property in a day, so can you imagine the hard time they have trying to sort out one place from another when they've viewed all the properties they want to see during the "real world" stage of their search?
Floor Plans are an instant reference point at this crucial juncture of the buying cycle, answering many of a prospective buyer's questions at a single glance. The amount of back-and-forth between buyer and agent that this can eliminate is one strong reason why Floor Plans help sell property faster.
Our 3D Floor Plans have literally taken this mnemonic refresh to a new dimension. Unlike blueprints or 2D reconfigurations of a place's layout, 3D Floor Plans rival the visual appeal of images, Virtual Tours, and Virtual Staging, without losing their value as vital reference material in the home-purchasing process.
4) Floor Plans Provide The Mental Feng Shui For A Move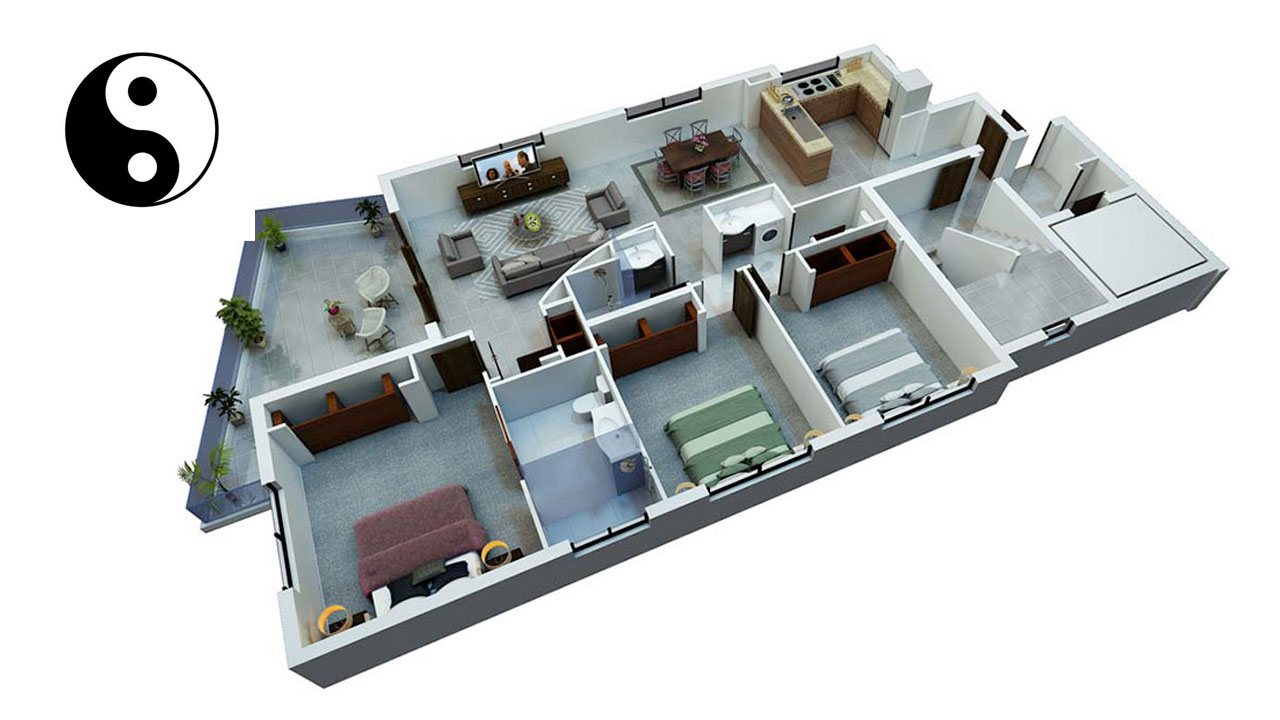 Whether it's traditional Chinese Feng Shui or one's personal preference for the arrangement of space, 3D Floor Plans deliver this important information, enabling buyers to visualize their life inside the house they plan to inhabit.
As the Chinese would have it, the physical arrangement of a space can have mental (even spiritual) reverberations.
This relationship between the flow of our physical movements and our personal Zen can appear in blueprint form in a 3D Floor Plan. Floor Plans reveal many vital pieces of information involved with assessing the Feng Shui of a property:
location of doors and windows
position of rooms at front or back of house
angle of staircases (do they face the front door or not?)
location of kitchen relative to bedrooms
These might be general items of importance to formal practitioners of Feng Shui, but most home buyers have their own personal theories of Feng Shui, whether they call it that or not.
Some real estate professionals call it the "emotional connection" that Floor Plans unfailingly elicit. This connection begins when a buyer begins to imagine the flow of their lives within a property.
360° Virtual Tours are one great way to demonstrate this flow, but what they cannot do is provide a birds-eye view of an entire floor's layout, displayed on the screen in a single image that allows a prospective buyer to imagine the arrangement of their possessions and design the flow of their lives inside a home.
(Note: Be sure to take your smartphone out and locate the North point when you are sketching your 3D Floor Plan. The back end of our site makes it easy to include such compass points, and to true practitioners of Feng Shui, these are essential pieces of information!)
5) Our Floor Plan Redraw Service Makes Floor Plans Super-Easy To Obtain For Any Property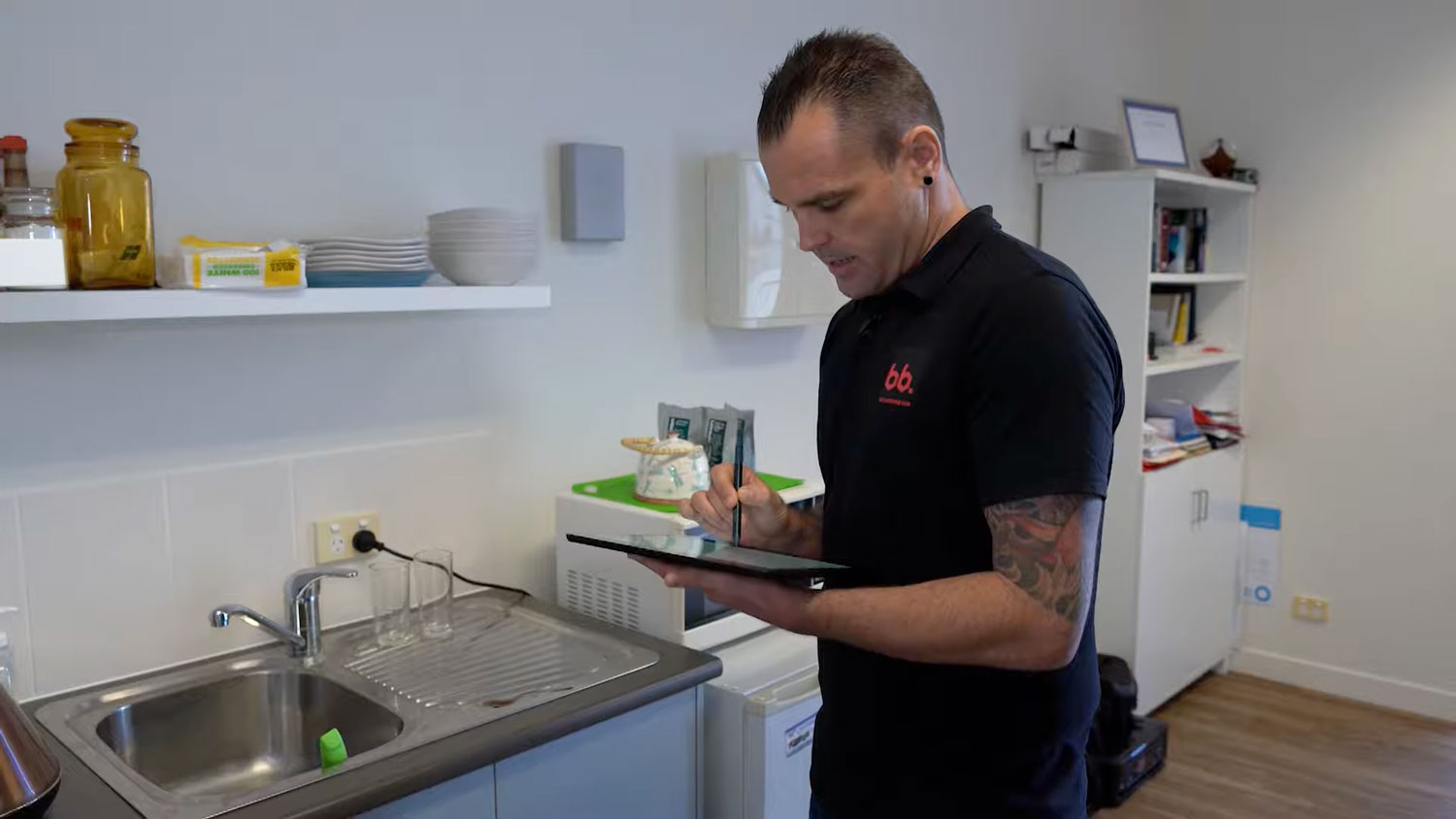 In this screenshot from our tutorial "How To Draw A Floor Plan By Hand" our co-founder Brad Filliponi demonstrates how easy it is to create a rough plan for a 3D Floor Plan, right down to the ways the doors open and the location of the windows and sinks.
A common hurdle to providing Floor Plans with real estate listings is that many agents don't have access to one and don't know how to create one.
If you fall into this category you will be delighted to know just how easy the process is. Our co-founder Brad Fillipponi loves breaking down barriers for agents who want to improve their marketing materials but don't know how. You could say that BoxBrownie.com was created out of the desire to make life easier for real estate agents and photographers - our Floor Plan Redraw Service is certainly an example of this.
One of our most popular tutorials involves Brad walking through a property and drawing out a floor plan by hand. This is the perfect video to watch if you are a real estate agent or photographer who wants to gain the massive benefit of being able to offer DIY Floor Plans to your clients.
"We get asked all the time what's the easiest way to create Floor Plans," Brad says in the video. "Some people can't even get a laser measure they just want to get them done. All you're going to need is some graph paper - a 1 x 1cm grid is perfect."
Given the popularity of Floor Plans and the power, they have in the sales process, learning how to create them is a skill you will never regret as a real estate professional.
SIGN UP with BoxBrownie.com today and enjoy four free edits on us!
---