8 REASONS WHY BUYERS (AND AGENTS) PREFER VIRTUAL TOURS OVER VIDEO
Introduction:
Before the pandemic, 360° Virtual Tours were a fringe element of real estate marketing, often reserved exclusively to market luxury properties. During this not-so-long-ago era, there was even confusion as to what constituted a Virtual Tour - some agents reported submitting images to a provider only to have a slideshow returned to them; some clients reported asking their agent to provide a Virtual Tour and discovering that the agent had posted a video walkthrough instead.
Now that the 360° Virtual Tour has become so crucial to real estate marketing, most buyers, sellers, and agents know the differences between a slideshow, a video walkthrough, and a Virtual Tour. And now that these differences are clearly understood, it has also become clear that property buyers and real estate agents prefer 360° Virtual Tours by a wide margin over the other options.
This divide seems to be growing. National Association of Realtors' 2022 Home Buyers and Sellers Generational Trends report revealed that only 28% of buyers found video to be a useful website feature in their property search - down from 47% the year before.
In another survey, Zillow found that more than 80% of millennials (the demographic that now buys the most real estate in the United States) would like to view 3D Virtual Tours and digital Floor Plans when shopping for a home.
In yet another survey, Realtor.com has found that listings with a Virtual Tour receive 87% more views than those that don't include one.
In this post, we'll look at the many reasons why both buyers and agents prefer 360° Virtual Tours over video in their search for a home.
1) Virtual Tours Are Self-guided
One of the biggest and most important differences between a video tour and a 360° Virtual Tour is that 360° Virtual Tours are entirely self-guided/interactive. They are like the visual equivalent of a Choose Your Own Adventure novel for real estate, and this element of control and self-direction is one of the major reasons why buyers prefer them over video tours.
On the We Get Around Network, which is a forum for real estate professionals, the issue of video versus Virtual Tours has been widely discussed. Most agents, like the following user from Argentina, recognize that the participatory nature of Virtual Tours makes them superior marketing devices to video:
"In my opinion, a virtual tour allows interactivity. The possibility of wandering around, going back and forth, and staying in a fixed point all the time you want. This is something that you cannot get with a movie.
"The possibility of having 360 views gives you the opportunity of seeing every detail, while the video can be designed to hide those very same details. There is no place to hide in a virtual tour. It is more real.
"So, in a single word: interactivity. This is the key advantage factor that virtual tours offer."
2) Virtual Tours Are Fully Immersive
"I would 100% rather take a Virtual Tour than watch a video walkthrough." These are the words of Uche Ayologu, a millennial from Ottawa, Canada who is currently searching for her first home.
"With a Virtual Tour, you feel like you are right in the home, almost walking around in it. With a video, even if it's a good video, you still feel like you are just watching and that makes it hard to get a sense of the property or to decide if you actually want to see the place in person."
The immersive aspect of the Virtual Tour is largely the work of the 360° camera required to capture one. It's a technological shortcoming that even the best video cameras have not caught up to and buyers - especially millennial buyers like Ms. Ayologu - can detect, feel and appreciate the differences.
It's similar to the difference between the experience of Google Street View (which uses the same technology as our Virtual Tours) and the experience of watching a video shot by someone in a car.
In both cases, the immersive 360° experience provides the sense of being there. This might be enjoyable for users of Google Street View but for people who are seriously looking for a home the feature can make the difference between making an offer sight unseen or moving on to a different property.

3) Virtual Tours Can Be Virtually Staged, Video Tours Can't

Yet another massive advantage to the Virtual Tour over the video tour is that the Virtual Tour can be virtually staged with our 360 staging technology. This technology has not yet been adequately perfected for video tours.
One massive advantage to the 360° Virtual Tour is that it can be virtually staged. Video Tours cannot be virtually staged.
You might remember Virtual Staging as being one of the early breakthroughs in the proptech revolution.
Like the Virtual Tour, Virtual Staging was once a fringe element of real estate marketing, until agents discovered how well it works and how much more cost-effective (and time-effective) it is compared to the physical staging of a property.
Now the benefits of Virtual Staging are well known:
homes that are virtually staged sell 75% faster than those that are not
85% of virtually staged properties sell for the asking price or above
Virtual Staging enables realtors to give different looks for the same space
Virtual Staging eliminates (and stylishly!) that empty feeling that unfurnished listings often exude
If you opt for a video tour over a 360° Virtual Tour you are cutting yourself and your client out of such enormous potential benefits.
4) Virtual Tours Do Not Depend On An Extended Attention Span
The video experience is a linear one that begins and ends when the camera operator (and/or video editor) says it does. If a viewer is most interested in seeing the kitchen, they have to wait for the cameraperson to take them there, or awkwardly fast-forward the video until they locate it in the reel.
Aside from providing zero interactivity, this can be problematic in this age of the ever-shrinking attention span. The average adult attention span is, hilariously, around eight seconds long (about the same level as a goldfish!).
As AdAge reports, if you haven't fully engaged your viewer within the first 30 seconds you will likely lose 33% of your audience. If you can't engage your viewer after another minute you'll likely lose over 60% of your audience.
Most content creation sites recommend that your video be no more than two minutes long (realtor.com recommends 3 to 5 minutes) - this can be a reasonable and manageable target for many topics however this constrained time limit is by no means ideal for showing a house.
If you've ever taken a video tour that feels rushed (and chances are you have!) this is probably the reason. Videographers, aware of the general public's low tolerance for videos over three minutes are pressed with the challenge of capturing all the rooms of a house in such a short frame of time that it's not uncommon to find video tours that barely show the minor bedrooms of a residence, or skip them altogether.
The 360° Virtual Tour on the other hand is an entirely different arrangement. It places the controls in the hands of the viewer and allows them to explore the property as they see fit, within their time frames, and at their leisure. Virtual Tours engage the viewer in the act of exploration - unlike with video, their unique interface does not lead the viewer to wonder what other videos they could be watching. Also unlike with video, buyers are not conditioned to click away at the first feelings of boredom.
5) Quality Virtual Tours Are Much Easier To Shoot Than Quality Video
One of the big myths about video tours of real estate is that they are easier to shoot than Virtual Tours.
In reality, it is much more difficult to produce a quality video tour - especially one that's going to retain the interest of a prospective buyer.
True, anyone can walk through a property with their smartphone filming what they see. But if you've ever tried to capture quality, brief-yet-thorough, video footage of a residence you know this is easier said than done. This is likely why the quality of most video tours falls well below a professional standard.
On the contrary, almost nothing can be easier to shoot than a quality Virtual Tour.
For an average-size home, the 360° photo shoot time is only around 15 minutes. Then lodging a job with our 360° Virtual Tour platform is approximately two minutes. We do the rest of the work to produce your Virtual Tour.
To get an idea of just how easy it is, check out this tutorial from our co-founder Brad Filliponi. In this post, Brad compares the Ricoh Theta Z1 with the Ricoh Theta X to see which camera shoots the best Virtual Tour.
You can see that all that shooting a Virtual Tour involves is setting up a 360°camera on a monopod, in the center of the room and getting out of the way of your shot. Repeat this procedure throughout the house, and we will stitch your images together for a seamless (and gorgeous) Virtual Tour that will exhibit none of the all-too-common flaws of a video tour: unsteady hand, rushed, or agonizingly slow camera pans, annoying or poor audio quality.
It's as simple as setting up, click, and submit. We can have your Virtual Tour live within 24 hours of receiving the footage.
6) Video Tours Cannot Achieve HDR Bracketing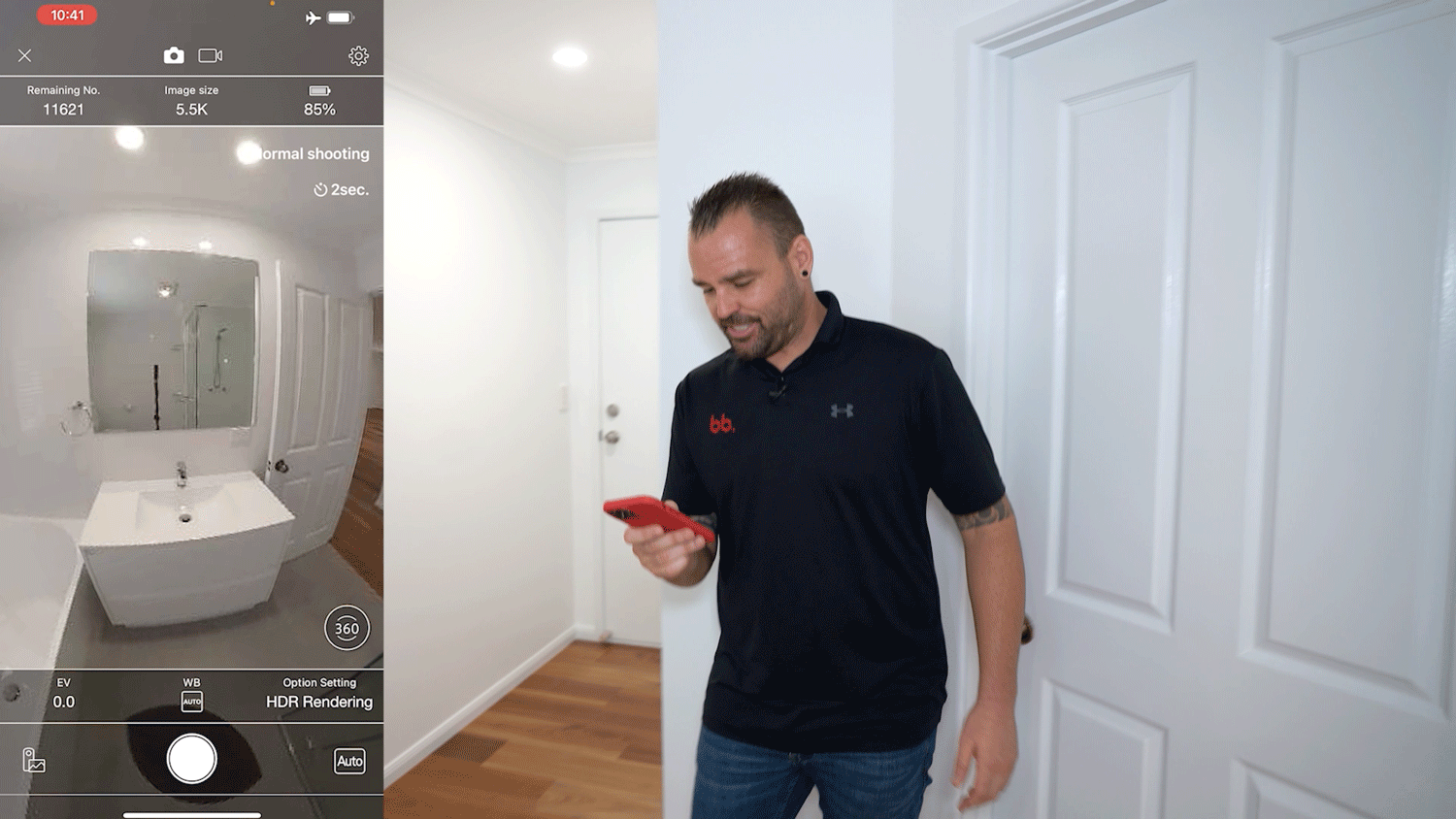 The HDR Rendering setting, shown on the left of the screen, is a vital capability that most video cameras lack. This setting allows your Virtual Tour to exhibit HDR bracketing, which to many in the industry, is what separates professional real estate photography from the amateur variety.
Many experienced real estate marketers regard HDR Bracketing as the photographic trait that separates an amateur real estate photograph from a professional one.
When HDR Bracketing is employed, the light inside a room (and outside the room's windows) will appear as it does in real life with no distortions.
In still photography, this process usually requires five exposures that we can blend together so that the view out the windows of a room is exactly as it appears in real life, without distorting the lighting inside the room.
Many of the latest 360° cameras come with an HDR Rendering setting that captures this effect automatically and with a single take.
If you're shooting a video walkthrough of a room with your smartphone or even with many higher-end video cameras, this effect will be almost impossible to accomplish consistently. And as the camera moves from room to room (as evident with the vast majority of video walkthroughs) the ambient light from outside to inside will vary wildly depending on what side of the house you are on.
And regardless of whether too much or not enough light is flooding a room, the essential professional feature of HDR Bracketing will be absent from most video tours.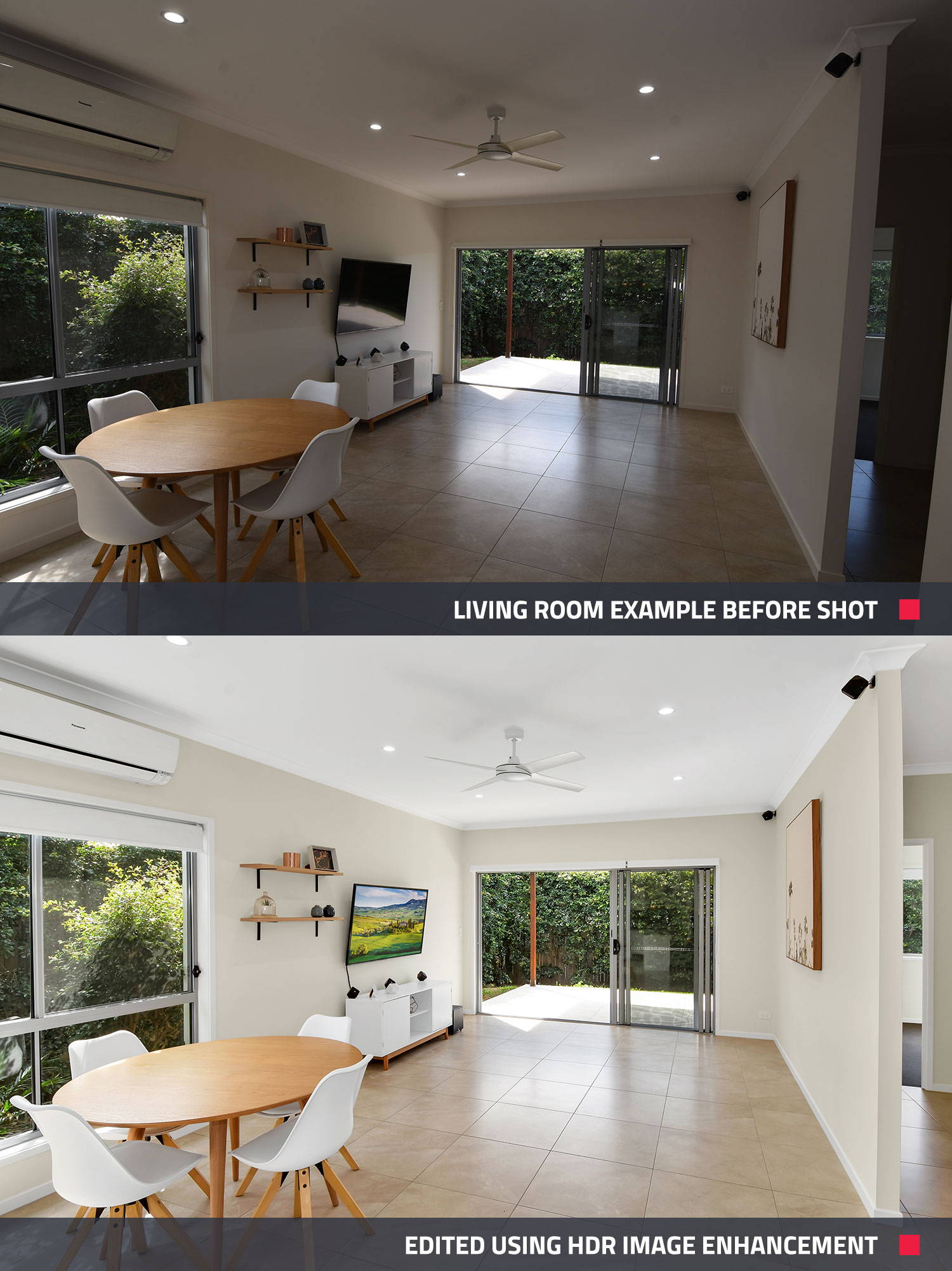 These before and after shots demonstrate the difference between a photo that uses HDR Bracketing and one that doesn't. The difference is considerable and is perhaps reason enough why Virtual Tours are superior to video tours of a property.
7) Virtual Tours Separate The Curious From The Serious Buyers
"Prospective buyers who contact an agent after taking an online virtual tour are far more likely to be serious about buying the property than the neighbor and their friends who show up at an open house for something to do throughout a weekend," says Brad Filliponi.
This is a reason why both buyers and agents love the Virtual Tour option. As a real estate agent, when you include a Virtual Tour with your listing you are probably saving hours and hours of your life that you are NOT spending showing property to people who have no intention of buying it.
Yes, Virtual Tours are valuable in that they can make people want to see a property. But they are almost as valuable in their ability to show people that they DO NOT want to view a particular property for whatever reason.
It's not just agents who love this. Buyers value their time as well, they would also rather not meet an agent to physically tour a property only to discover that the property is not for them at all.
It's been an unintended blessing of the Virtual Tour upon the way real estate is sold - it has streamlined the buying process in a way that allows everyone to put their time to better use.
8) "Video Doesn't Sell Listings, Virtual Tours Do."
These are the words of Michael Bryden, a drone pilot, real estate marketer, and CGI Render specialist from Australia's Gold Coast. Over the past two years, Michael has seen time and again the selling power of Virtual Tours.
"I know another agent with LJ Hooker here on the Gold Coast," Michael told us in a feature. "He had me take some pictures for him. I wanted him to include a Virtual Tour with his listing and he didn't want to.
"So I said to him 'Let me give you a free Virtual Tour. Just so you can see how powerful they are.' Within two days, he had sold the property to an out-of-state buyer who had taken the Virtual Tour.
Now he wants to do a Virtual Tour with every home he lists."
It's just one anecdote of many that we have received directly from our clients who have used our Virtual Tours to sell property. Time and again our clients have told us how Virtual Tours we compiled for them were directly responsible for either out-of-state or out-of-country property sales.
We are not alone in such experiences. Within a week of this post being written UK website the Intermediary published results indicating that, since the pandemic, homes marketed with a Virtual Tour can command a premium averaging £15,648 - that works out to over $18,500 in American funds.
There is plenty of indication that the housing market has begun to cool down in the third quarter of 2022. If these stats hold true Virtual Tours may become more important than ever as ways to attract interest and command value in real estate.
In Defense Of Video
It should be noted that we're not suggesting that video has no value in real estate marketing. There remain many important reasons to use video as you seek to grow your brand. Social media is the perfect example, no form of content possibly works better than video on this medium.
But offering a tour of a home is some of the most important listings marketing content you will publish and when it comes to this essential field video tours simply cannot compete with their 360° Virtual Tour counterparts.
Buyers love them, agents love them, and because of this, sellers love them as well.
If you haven't done so already, take a Virtual Tour and discover their power for yourself.
---