AERIAL ATTACK: HOW TO USE DRONE PHOTOGRAPHY TO SELL REAL ESTATE

Introduction:
Drone photography, with a touch of editorial tweaking, is a great way to accomplish the two most important challenges you will meet as a real estate agent.
Sell property.
Attract new listings.
MLS data reveals that real estate listings with aerial photos sell 68% faster than those with only traditional photos. Furthermore, 73% of homeowners prefer to work with realtors who use aerial photography.
In this post, we'll share some ways to use Aerial Editing to make your listings come alive in the imagination of prospective buyers.
Certain properties are simply made for Aerial Editing. As you'll see in this post, it's important to let the nature of the property you are selling dictate which edits you use in your marketing.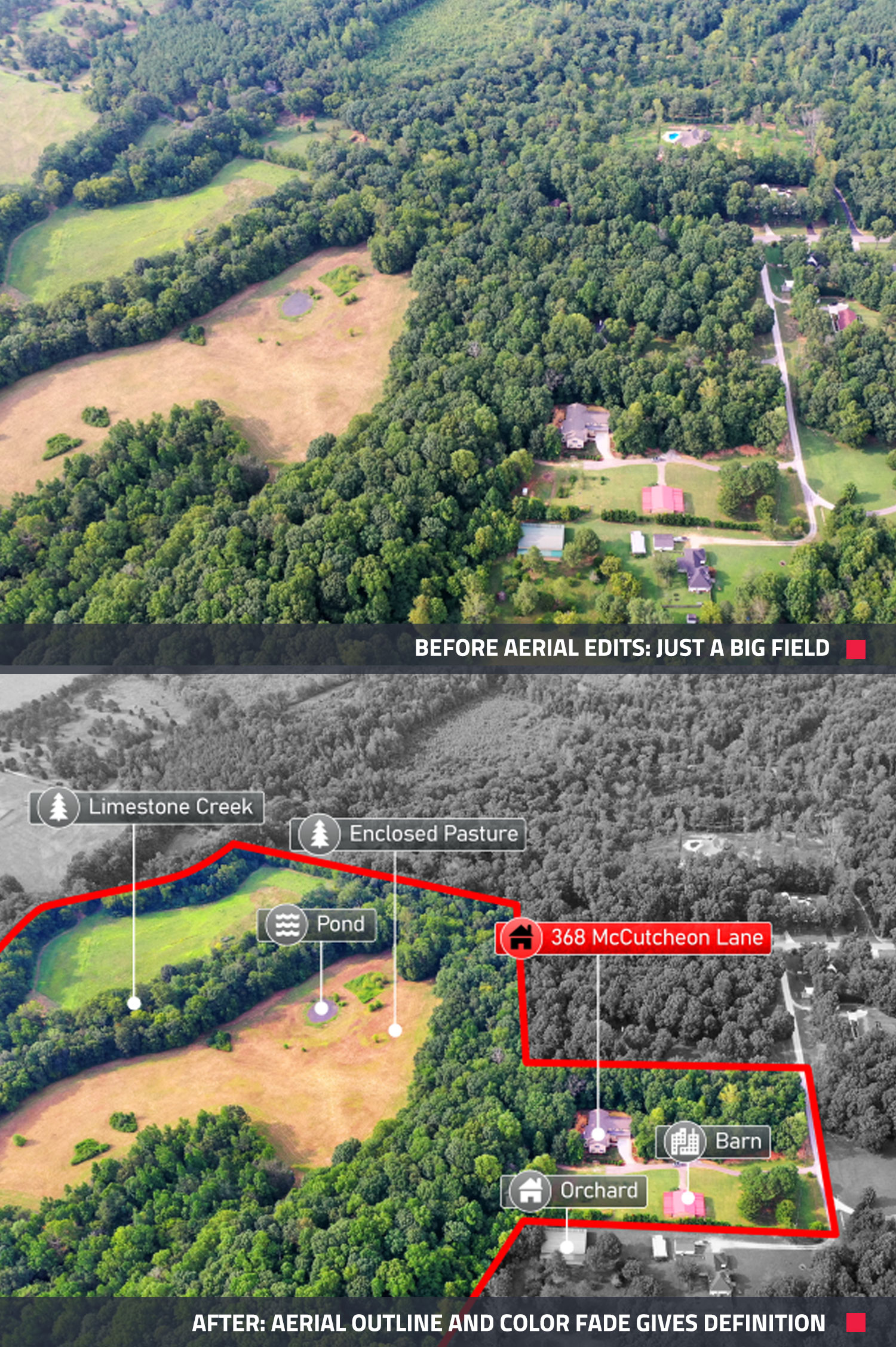 Aerial Editing is a perfect way to market large blocks of property in unbuilt areas. This image employs Aerial Drop Pins, Aerial Colour Fade, and an Aerial Single Lot Highlight to feature the strengths of the property, while giving prospective buyers a clear understanding of how much land and how many buildings are included in the sale.
Aerial Pics Are The Rare Eye-Catching Gems Of Real Estate Marketing
You've probably experienced it yourself. Aerial real estate photographs jump out among the other photos in a real estate listing. Some properties are so splendidly located that an aerial pic is even the best choice for the Hero Shot - the most spectacular image in a listing (usually used as the thumbnail on MLS sites).
With more and more agents shooting real estate photos on their smartphones, and with 360° Virtual Tours becoming so easy to shoot and so inexpensive to acquire, drone footage has become something of a final frontier in real estate marketing.

Drone photography with Aerial Edits is an ideal way to showcase a diverse range of features among a diverse range of properties.
Large, rural properties
Fixer-Uppers in attractive or convenient locations
Undeveloped land before construction
Unique backyards
Future Renovation or landscaping projects
Places with stunning location, location, location!
The Big Advantage To Drone Photography In Real Estate
In the age of the metaverse, there is almost nothing that a smartphone can't accomplish in real estate marketing. But one thing the smartphone still can't do is fly.
This gives drone photography and Aerial Editing a distinct advantage in real estate marketing.
Consider the below image of a house near a beach. Very little text was needed to promote this property. And it's almost impossible to tell what sort of house you're looking at. Is it a fixer-upper or is it multimillion-dollar prestige home? Who knows?
The only message the Aerial Editing wished to convey in this pic is that the property is extremely close to a spectacular-looking beach. Do you think it succeeds in conveying this message?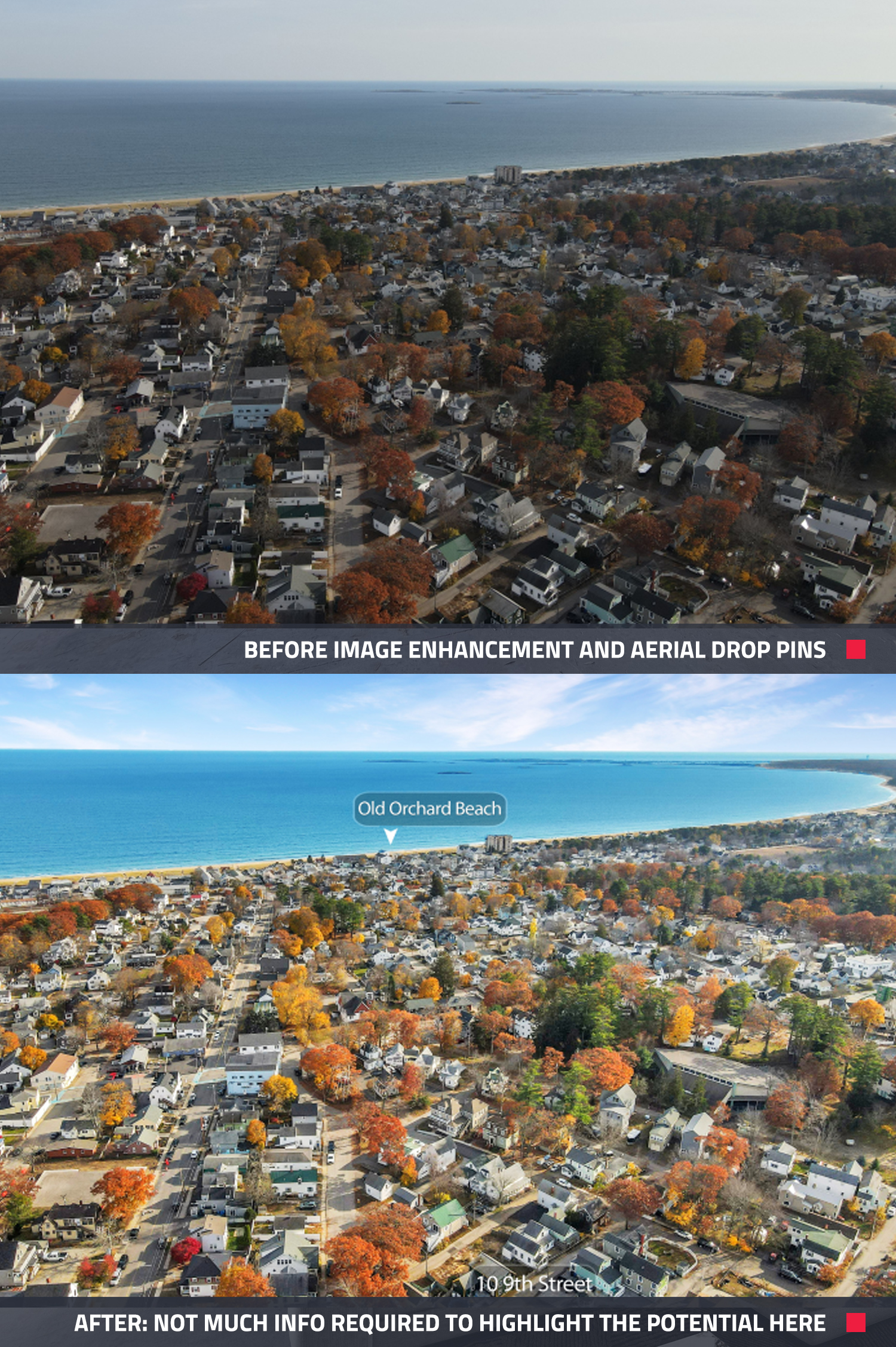 Sometimes less is more. This edit involves Image Enhancement to lighten things up and a very simple and clean set of Aerial Drop Pins. One street name is given as a coordinate and a little unobtrusive arrow to the spectacular beachfront location is all that this pic needs to get your attention. There's no need to let an abundance of text markers interfere with the stunning geography in this image.
If "less is more" is the approach to the above image, the below example presents a property that suits a slightly more informative Aerial Edit.
Unlike the above sweeping panorama that showcases a lot more surface area (along with a stunning beach) the below "hovering" shot zooms in upon a single backyard. Here, Aerial Editing highlights what an incredible backyard this is.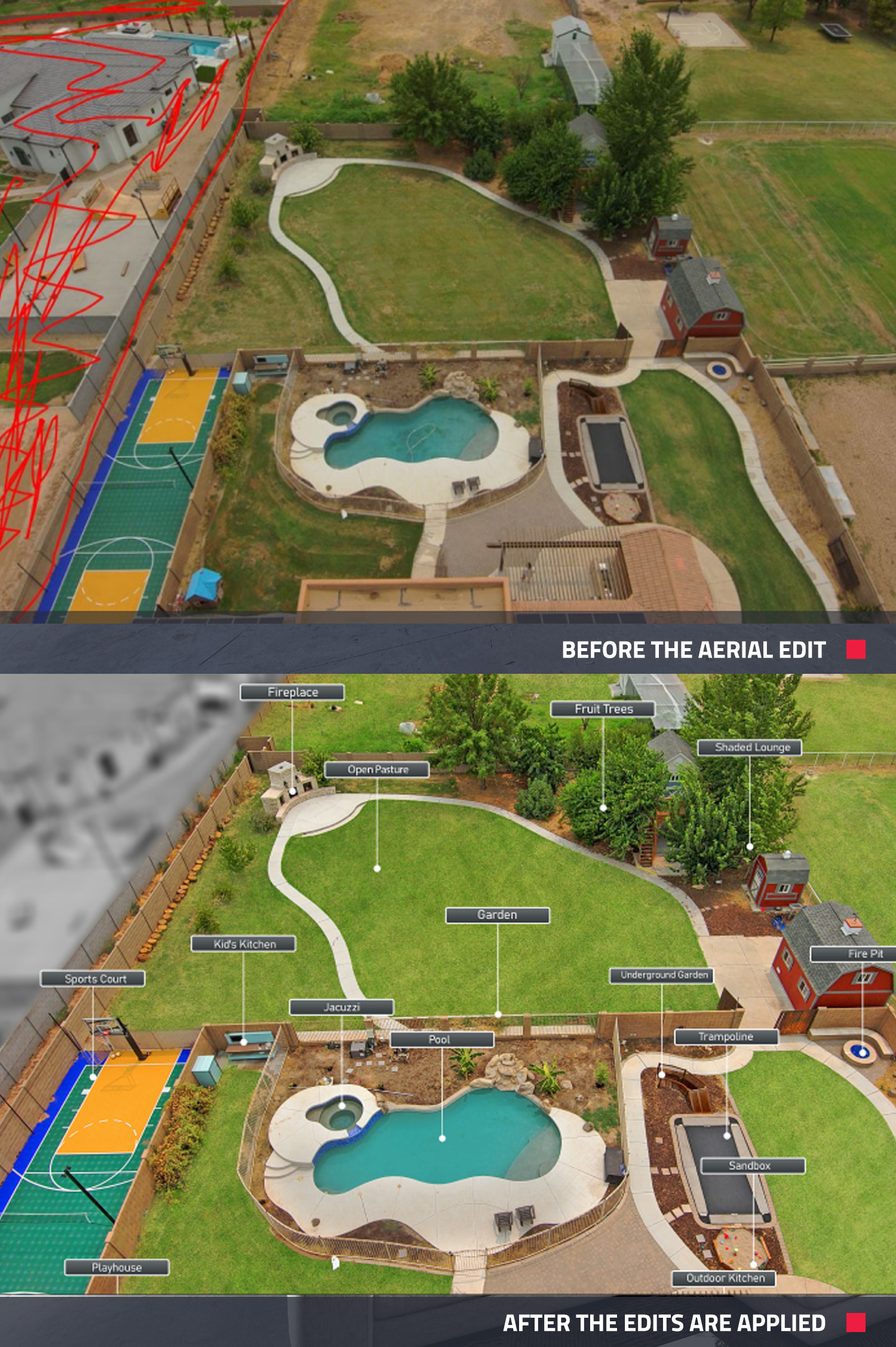 Sometimes more is more. This image uses an abundance of Aerial Drop Pins along with an Aerial Color Fade to point out some highlights that a prospective buyer might not necessarily identify in the original drone pic. This property has a fireplace, a fire pit, a trampoline, a sandbox, and fruit trees. Here the location of the home is not being promoted. In this case, the Aerial Edits introduce you to the features of the backyard - and what a cool backyard it is!
The creative combo of editorial information and drone photography in the above image provides an instant understanding of what a fun backyard this property offers.
Other forms of virtual property marketing would have a hard time communicating all this important information in just one image. But the birds-eye view and the Aerial Drop Pins convey this message literally in the blink of an eye.
Note that this image doesn't even show the house. The agent went out of their way to ensure that prospective buyers wouldn't overlook the selling features of this unique backyard. Our Aerial Edits combined with this unique focus were the perfect way to make sure this didn't happen.
Development Site Plans
Development Site Plans were probably the first reason why aerial photography became so important to the real estate business.
They remain an absolute necessity when trying to sell property off the plan. But as evidenced in the example below, Aerial Edits of site plans can become crucial to developers at even earlier stages of large projects.
Our CGI Render gurus can even produce full blown 3D Aerial Flyovers depicting how a site will look at any stage of a building project.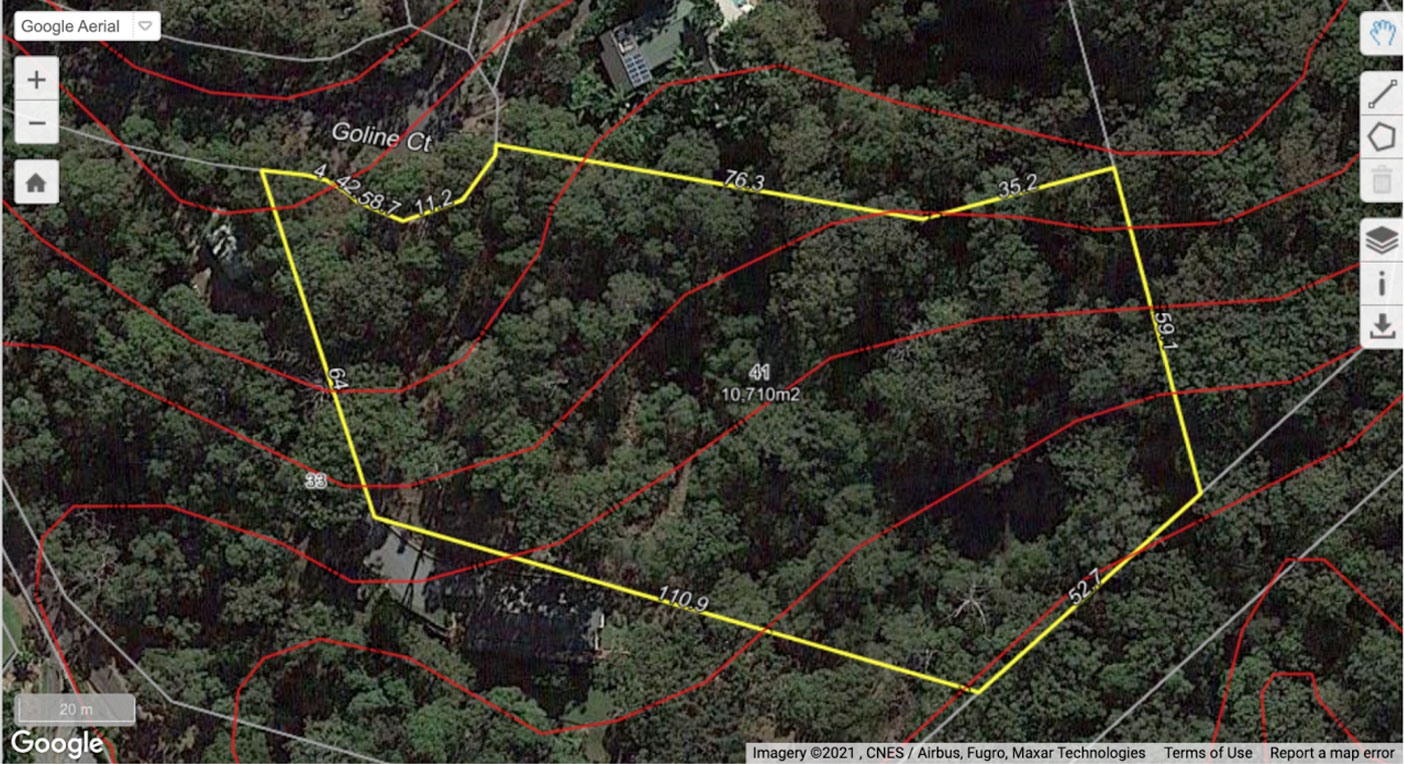 Some Aerial edits don't even require a drone. For pre-construction development site boundaries, including topography as shown in the image above, Google Earth resolutions are enough to provide a sufficient outline of a future project.
If You're Looking For Buyers, They're Easier To Find From The Skies
The above are just some examples of the important function Aerial Edits can play during this time when buyers are harder to find.
On the brink of this verified housing market slowdown, a great way to keep above the competition is to do so literally … get a drone, or find a drone pilot, and head to the skies.
When buyers become harder to find, marketing that includes aerial photos will help them find you.
When a listing provides aerial photographs, buyers will be able to make an informed decision in a short amount of time. If you want to make a real estate sale fast, having drone photography could help make that happen!
Don't Forget The Fun Factor
And don't forget that flying drones can be fun! They are surprisingly uncomplicated to operate and are actually used as a form of relaxation by many agents.
Drones can capture cool photos that can be used with so many of our Aerial Edits to promote a wide range of property types - some built, some just an empty lot and a dream.
If you're feeling a little uninspired these during these slightly more difficult days of selling real estate, a drone might be your answer to the Market Slowdown Blues.
What are you waiting for?!
---