CAN YOU VIRTUALLY STAGE PHOTOS TAKEN WITH AN IPHONE 13 PRO MAX?
Introduction:
Gone are the days when real estate agents and photographers had to carry around big, heavy and very expensive equipment to take professional-quality images that would showcase their listings in the best light. Today, we are going to show you how to combine the iPhone 13 Pro smartphone with our Virtual Staging edit to create engaging property imagery when shooting a vacant property.
We will discuss just how powerful Virtual Staging can be and also look at the features and benefits that make the iPhone 13 Pro a fantastic choice when shooting real estate. We will highlight our top tricks and tips along the way and also point out a few common mistakes that seem to trip people up when shooting the keys rooms of any property.
Before we go any further, if you've been thinking about giving BoxBrownie.com a try, now's the time. You can sign up today and receive four FREE photo edits just for getting started.
What Is Virtual Staging?
Put simply, Virtual Staging is where furniture and other styling elements are added to an image during the editing process. This furniture can be added to a completely vacant space or a room that's already partially furnished and is just in need of some extra elements to truly bring it to life. The furniture can come in all different styles allowing you to convey personality through the images to really help draw your potential buyer's attention.
The benefits of Virtual Staging are extensive and can help with everything from providing context and scale to a room, highlighting a property's potential or simply making a home feel warm, lived-in and inviting.
We all know the challenges that can come with trying to sell a vacant home that feels empty and cold. This is where Virtual Staging can really help make a difference and can take your property marketing to a whole new level.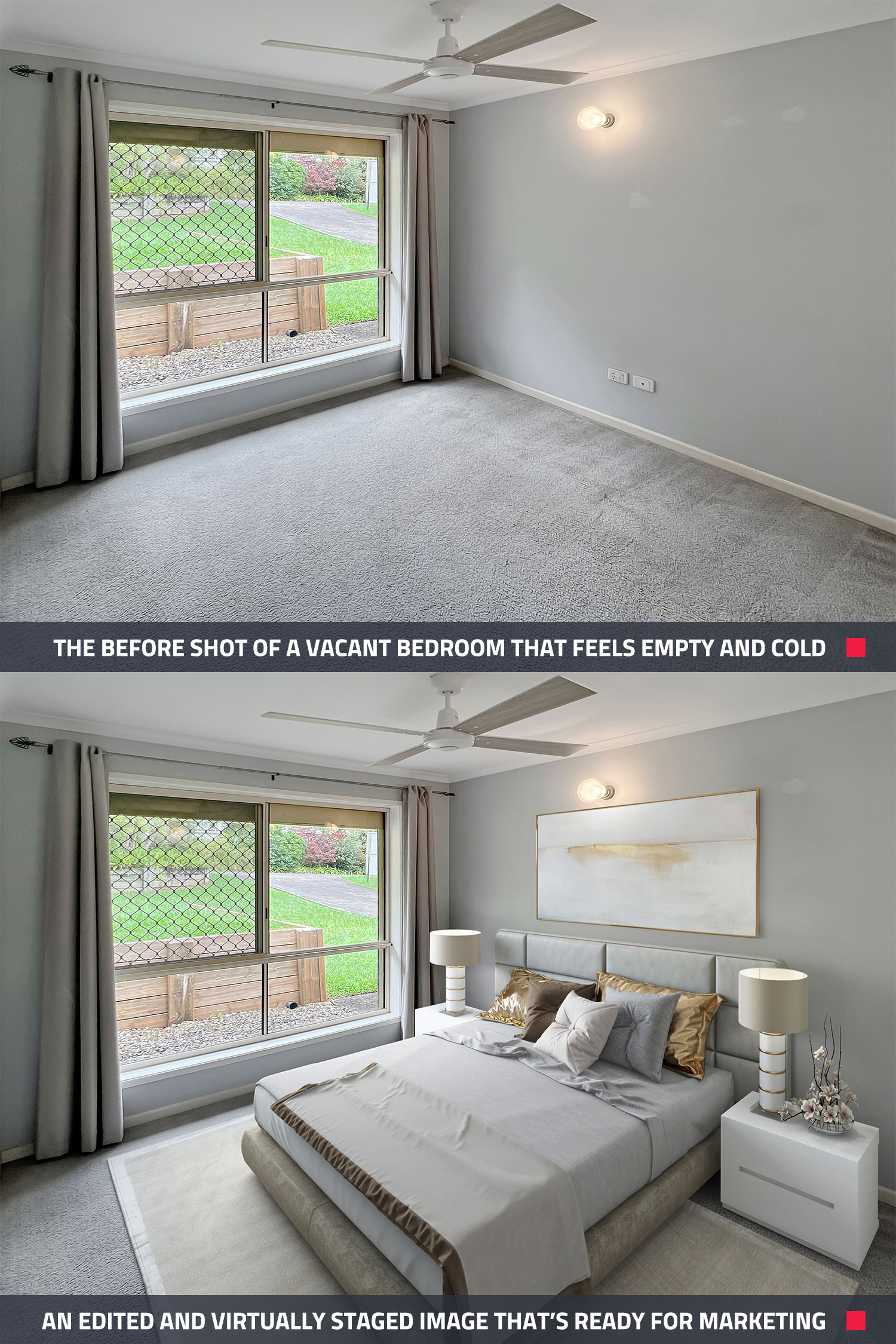 Shooting The Main Living Areas
The iPhone 13 Pro is great for shooting open spaces thanks to the standard wide-angle lens that will help you capture as much of the room as possible. It's a great idea to position yourself in the corner of the space, turn on any lights, open up the curtains and ensure all ceiling fans are off and any unnecessary clutter has been removed.
Simply open the standard camera on your iPhone 13 Pro and pinch the screen so the camera adopts the widest view possible. Next, zoom the camera into 0.6x which will help to showcase the room in the best light and display the room as it feels in person.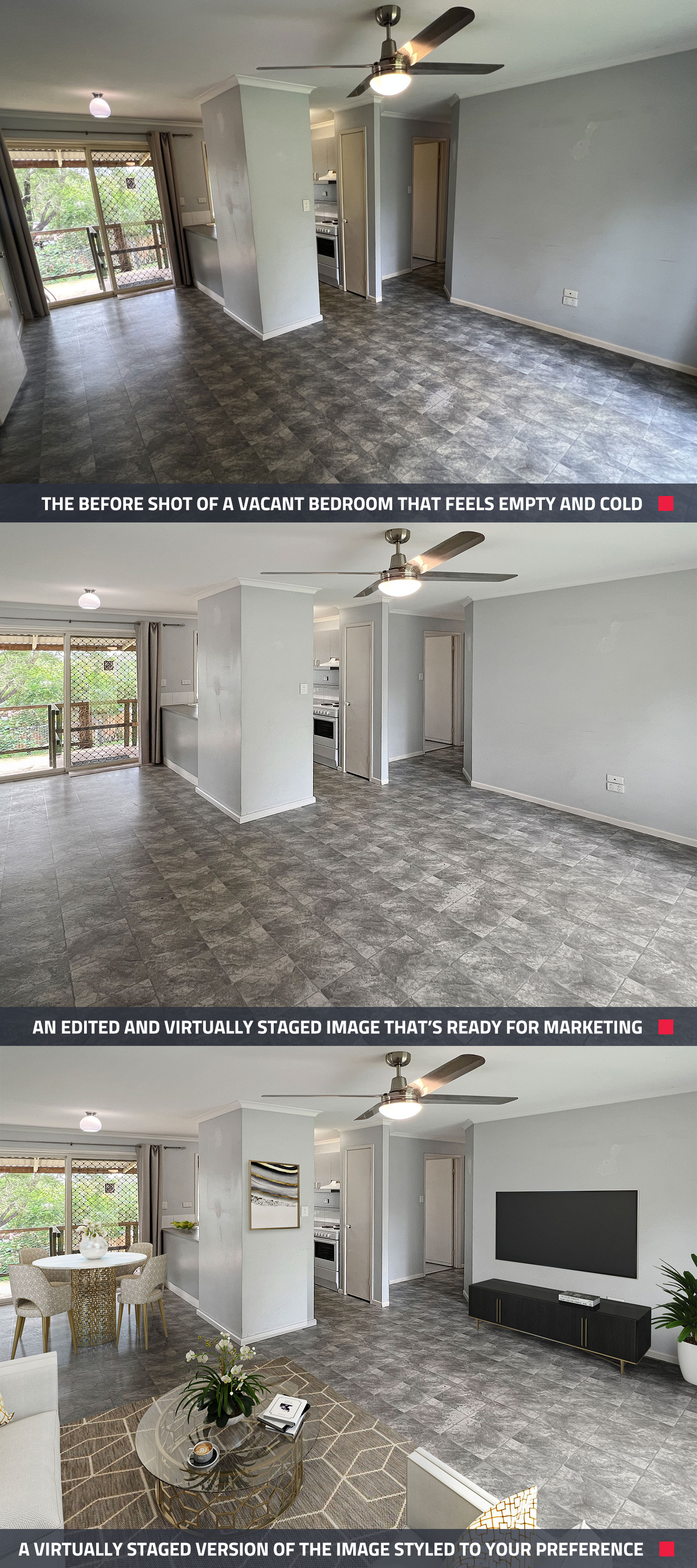 Capturing The Property's Kitchen In The Best Light
The kitchen is one of the most important rooms in the home and can really help potential buyers get a feel for how they would live in the space. As with all areas, ensure the kitchen is prepared for the shoot prior to getting started. Close all the cabinet doors, remove any messy items, clear away any dishes and turn on the lighting.
Look to position yourself in such a way that the full scale of the kitchen can be captured and look to ensure as much of the counter space and cabinetry are on show. As shown in the before and after images below, the initial Image Enhancement edit helps to even out any shadows, color tones and highlights while the Virtual Staging edit can include objects like appliances and plants.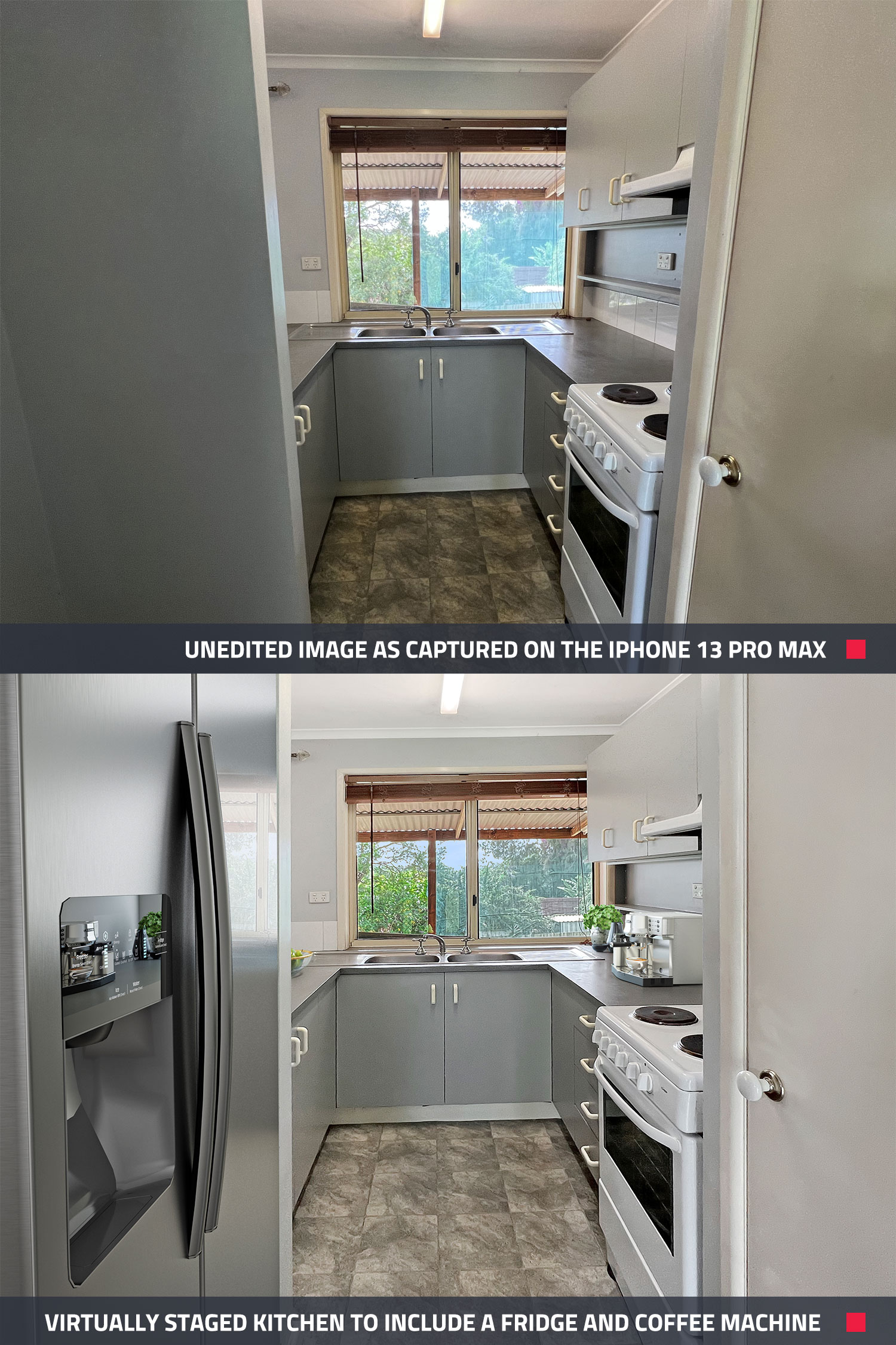 Conclusion
As we have shown in this blog, there really is no need for most real estate photographers to invest in anything more expensive or complex than a smartphone with a wide-angle lens. When focusing on the iPhone 13 Pro, we have been able to capture high-quality images of the property and then leverage our Virtual Staging edit to bring the spaces to life.
Why not give it a try? Sign up today at BoxBrownie.com and receive four FREE edits to get you started. Or, if you have any questions please reach out to the friendly team at [email protected]
---