FLOOR PLANS IN PROPERTY LISTINGS: 2D VS 3D
Introduction
Don't get floored by floor plans – they're simple to create, useful, and a value-adding feature that helps produce an effective property listing. We have a variety of floor plans available, but if you have browsed through our many options, perhaps this question has popped into your head: should I choose a 2D or 3D Floor Plan?
Both 2D and 3D Floor Plans are used for the same purpose in real estate marketing – to communicate the architectural layout and features of a structure to potential buyers. So, what's the difference and which type should you use? We'll break it down for you and compare the benefits and features of each, so you can choose the floor plan that best suits your needs.
What Are The Benefits Of Floor Plans In Property Listings?
The benefits of including a floor plan in your listing have long been clear – they can increase time spent on a listing, generate more interest and help to sell a listing faster.
The most recent 2022 Home Buyers and Sellers Generational Trends Report from the National Association of Realtors (NAR) again found that floor plans are the third most important website feature among those who purchased homes over the past year – third only to professional images and informative copy.
What's The Difference Between 2D And 3D Floor Plans?
2D Floor Plans
2D Floor Plans are simple drawings that display the technical information of a structure's entire floor and the relationship between rooms. Shown from a view above, 2D Floor Plans primarily use lines and text to showcase the layout of a space.
3D Floor Plans
3D Floor Plans go a step further than 2D, incorporating additional elements such as depth, lighting, textures, furnishing, and fittings.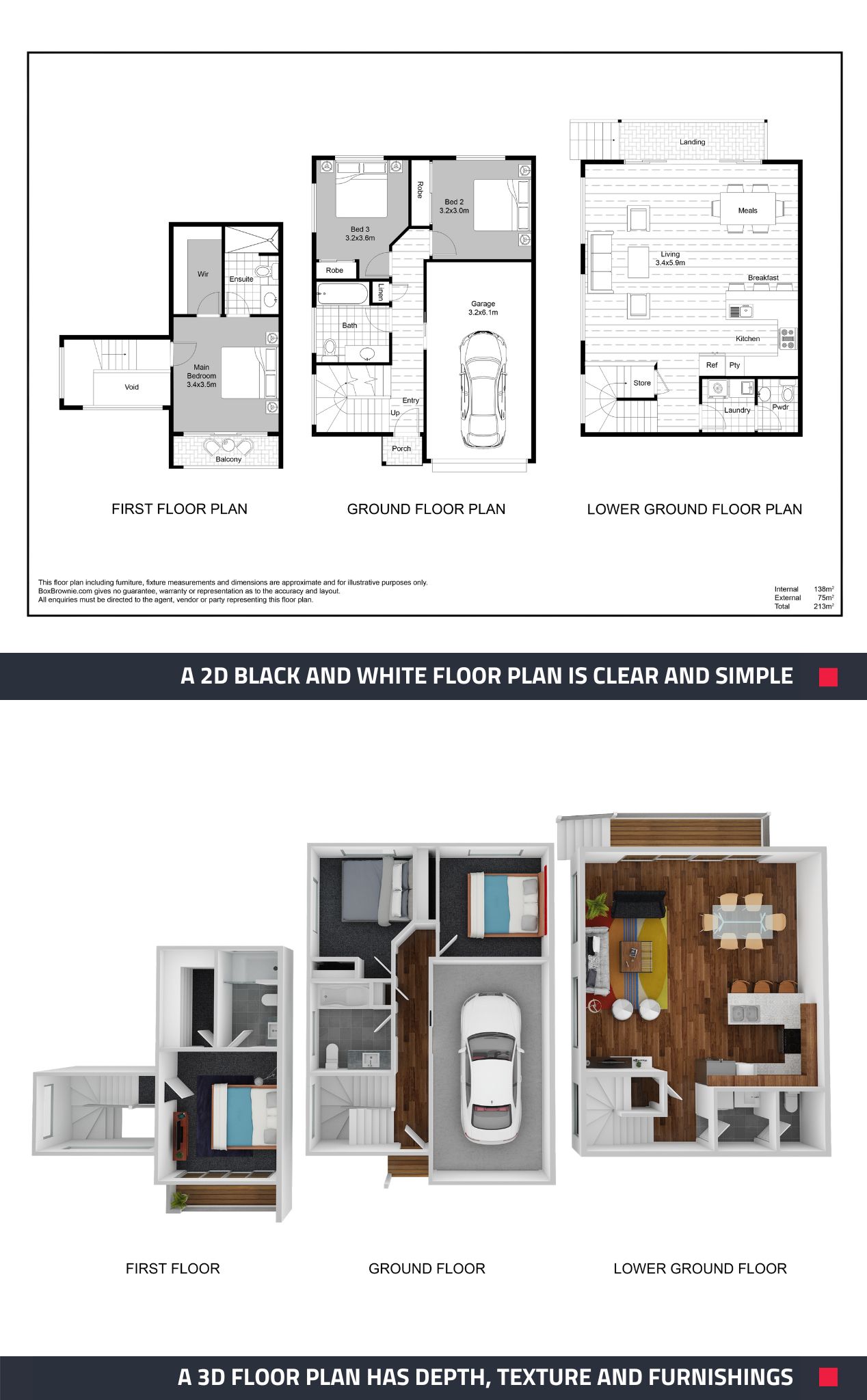 Detailing And Visualization
You might have already guessed that the extra detail in 3D helps in visualizing a space – 3D Floor Plans do all the heavy lifting for people who struggle to look at a property layout and envision living there or using the space. 3D Floor Plans show additional elements within the space, incorporating depth, lighting, textures, furnishing, and fittings. These features can also be useful when considering furniture arrangement or interior decorating. However, if you are considering 2D Floor Plans instead, you can choose a 2D Full Color or 2D Textured Floor Plan to increase visual appeal and further clarify property features and layout.
Affordability
When it comes to price, 2D is the more affordable option – we can provide a 2D Black and White Floor Plan for US$24. While 3D floor plans are slightly more, at US$32 per storey.
Time
If time is a factor, your best bet is 2D. 3D Floor Plans take a slightly longer time to create than 2D. We can deliver a 2D Floor Plan within 24 hours and a 3D Floor Plan in 48 hours.
Conclusion
For a straightforward and visually clean floor plan, our range of 2D Floor Plan options can effectively showcase a space – they are more affordable and can be created within 24 hours. If you would like to further demonstrate the possibilities of a space and help viewers visualize living there, 3D Floor Plans are a great option – they are slightly higher in price compared to 2D and can be created in 48 hours.
If you're new to BoxBrownie.com, you can sign up now and receive 4 edits free. No credit card needed.
---