10 SIMPLE SOCIAL MEDIA POST IDEAS TO BOOST YOUR EXPOSURE

Introduction:
Are you an agent who wants to get the most out of social media without necessarily turning your life into a 24/7 selfie session? This might be the post for you.
Here we have compiled 10 simple social media post ideas to boost your exposure and get technology working in your favor.
The suggestions in this post are for the agent who doesn't really want to invest a whole lot of work into social media, but would rather have social media working for them.
Some of these ideas show how you can re-use the work that we have done for you on social media.
Others, like this first one, simply suggest ways to boost your social media presence, with only the bare minimum of time and effort.

1) Share, Share, Share!
There is probably no social media content that is simpler to "create" than a share. All you do is find something compelling from someone you follow, click the share button, maybe add a little commentary - and Voila! you've just created a simple post that has boosted your exposure.
When you share someone else's post, not only have you just leveraged some virtually effortless content, but you've gained the attention of everyone on your feed - and you've certainly lifted the spirits of the person or group whose post you just shared.
Doesn't it feel great when someone shares your post?
Are you one of those people who gets so moved when someone shares your stuff that you check them out a little deeper than you might have previously?
Sharing content is a great way to become involved in your social media community.
2) Post One Image: Keep It Simple But Stay Heroic
Aside from sharing someone else's content, the most simple thing you can do on social media is to post one image.
If you do this properly, you will come to experience the meaning of the phrase "less is more".
Make sure you post the right sort of image, though. Images ARE powerful. A poor image will work against you with the same power as a great image will bring you an abundantly wonderful response.
Post your Hero Image.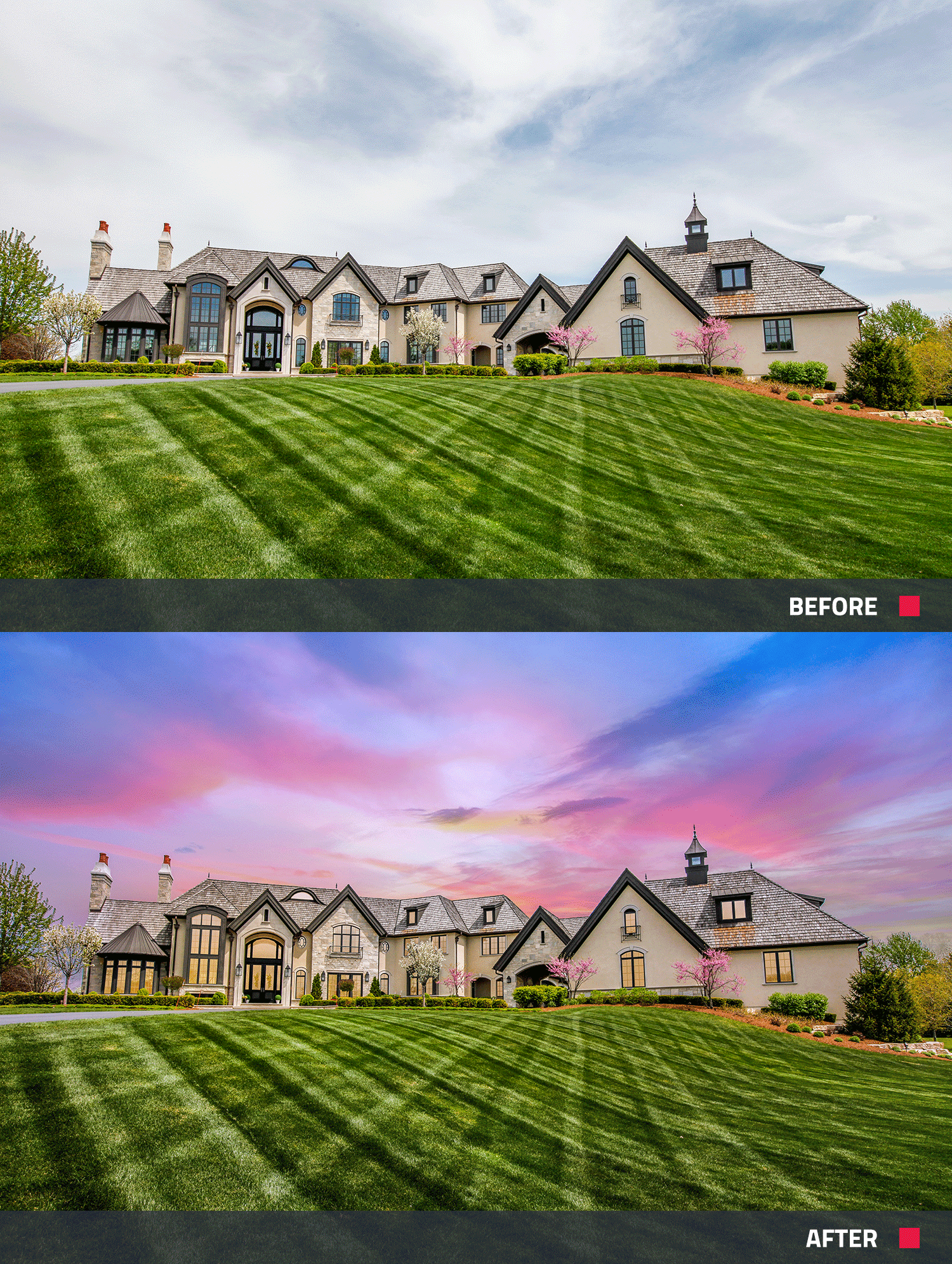 If you need a Hero Image to make your listing pop both on MLS and social media sites, our Day to Dusk package was built to turn decent-looking images into downright heroic ones. In this example, Chicago agent Michael LaFido used the service in the marketing of an Illinois mansion that broke sale-price records.
Your Hero Image is the one you use as your listing thumbnail, it is the first image a scroller will see on your listing, it is the listing you pour your most intense oomf into. One of our earlier staff members used to refer to the Hero Image as the Money Shot - and in a sense, it really is what can bring the money in.
Your Hero Image is the most powerful image you possess of a listing - the one that demands maximum exposure.
Many agents use our Day to Dusk service to turn a good image into a great one. The smart ones don't just use our Day to Dusk images on their MLS, they scatter them all across their social media platforms. There are a lot of good photos floating around social media. If you want someone to stop and look at one of your listing's pics, it's going to have to be great.

When it comes to simple but effective social media posts for real estate, almost nothing is as simple as uploading a single image.
3) Facebook Ads Take Care Of Most Of The Work
It can take a lot of time and energy to craft a social media presence that attracts the sort of demographic you are seeking.
In many cases, an agent can spend years making the right social media posts, and still receive very little in the way of results.
Facebook Ads involve a small outlay but are a great way to build momentum and even score direct hits upon your target demographic.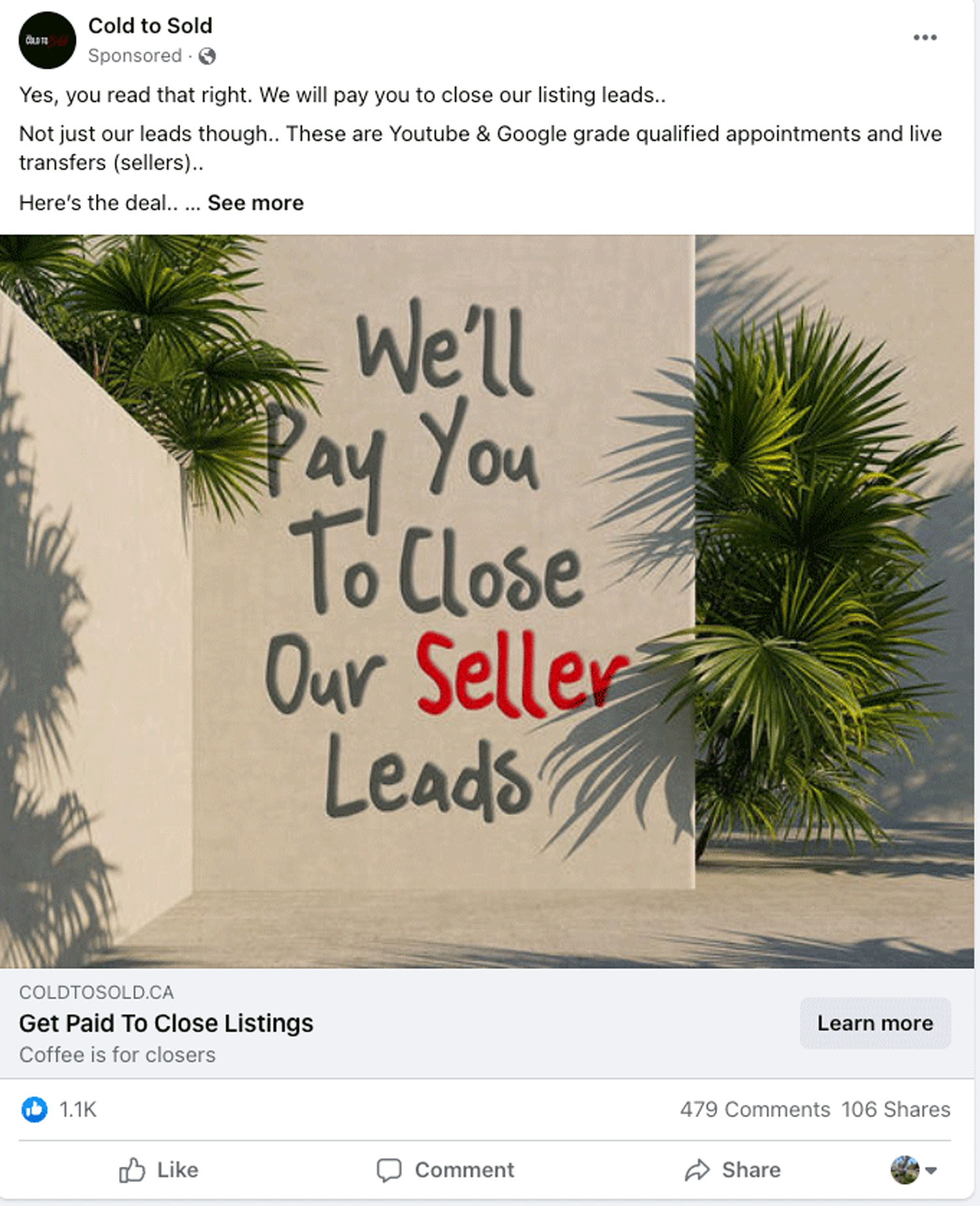 Facebook ads, like this one, are easy to set up, can be targeted to a specific demographic, and are great for capturing contact information as well as providing metrics for you to gauge how well they are working.

Whether you want to showcase your listings, target fresh leads or just accumulate new subscribers to your blog, Facebook has developed an ad format that works very well.
Facebook ads are simply structured, allowing you just enough space for the optimal amount of text, placing great prominence on the image (another perfect spot to use your Hero Image!) and every ad is built with its own call to action button 'Learn More', 'Download' 'Book Now' …
Facebook allows you to choose the specific call to action and to target the Facebook User you seek the most - even down to the ZIP code! These ads are also set up to collect and pass on to you the contact info of those who engage with your ad.
The ad's content is up to you, but the structure of Facebook ads is designed by the best in the marketing business. Take advantage of this expertise!
4) Post A 360° Virtual Tour With A Link To An Article About Virtual Tours
When the pandemic arrived 360° Virtual Tours became the real estate agent's best friend. There are scores of articles about this from almost every major media outlet in the United States and across the Globe: CNBC, Wall Street Journal, New York Times - you name it all have sung the praises of the Virtual Tour as the most powerful new form of real estate marketing.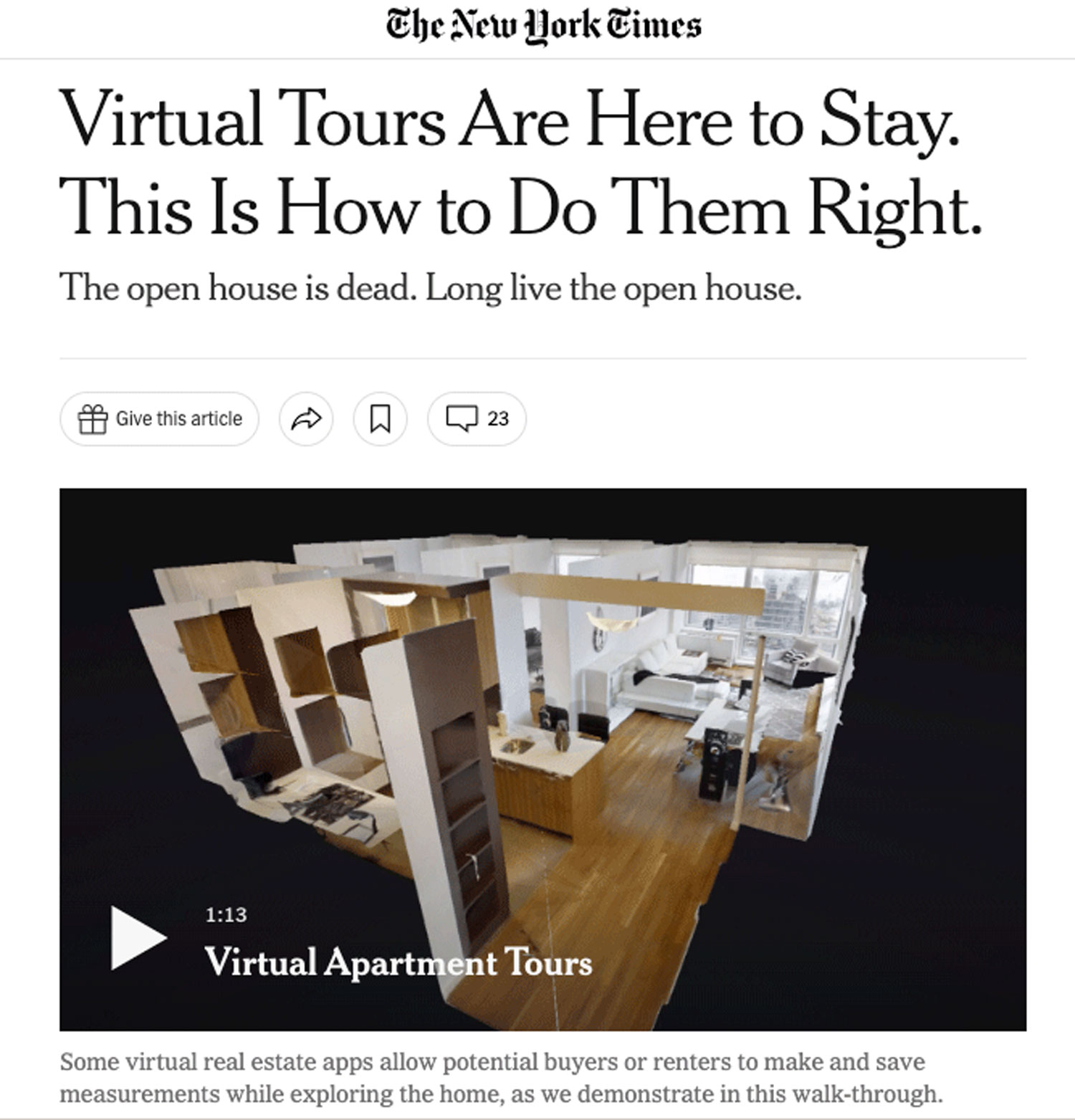 The internet is loaded with articles from the most credible news sources about the fact that Virtual Tours are here to stay. A very simple social media post idea is to publish a Virtual Tour that we made for one of your listings with a link to one of these articles - like this one from a screenshot of a New York Times story.
After the pandemic?
Google "Virtual Tours are here to stay" and you will find articles from all of the above, plus Forbes, medium.com, NAR, and (according to Google about 73 000 000 other sources all declaring this transformative fact.
Since you've already had us design one of our award-winning 360°Virtual Tours, why not repurpose it into a social media post. It takes almost zero fresh effort on your part.
Two actions and you're done. Approximate time: less than two minutes.
5) Behind-the-scenes Videos Make Magic Out Of The Mundane
Your time preparing for an open house no longer needs to be considered downtime or time away from your promotional activities.
At the very least you can turn everything you do into social media content that puts you out there, even when you're sitting in your kitchen waiting, say, for some muffins to finish baking.
This is exactly what Carrie Bressette of RE/MAX Canada did the other day. She was preparing muffins to serve at an open house. And decided to post a social media story about the preparation process.
It might seem like a mundane thing to put out there. But in doing so not only did Carrie display the sort of effort she puts into her open houses, but she included a call to action.
"Come on out to the open house at X address, and taste one of the delicious morsels for yourself."
A simple post but an extremely clever use of time. Next time (in fact every time) you're involved in one of the more ho-hum aspects of your daily grind, snap a quick pic and send it out to the world.
You never know the positive inflow that can stem from such action. At the very least those in your social media sphere will come to see how hardworking and committed you are.
6) First Correct Answer Wins: Is this Photo An Example Of Virtual Staging, A 3D Render, Or A Physically Furnished House in Real Life?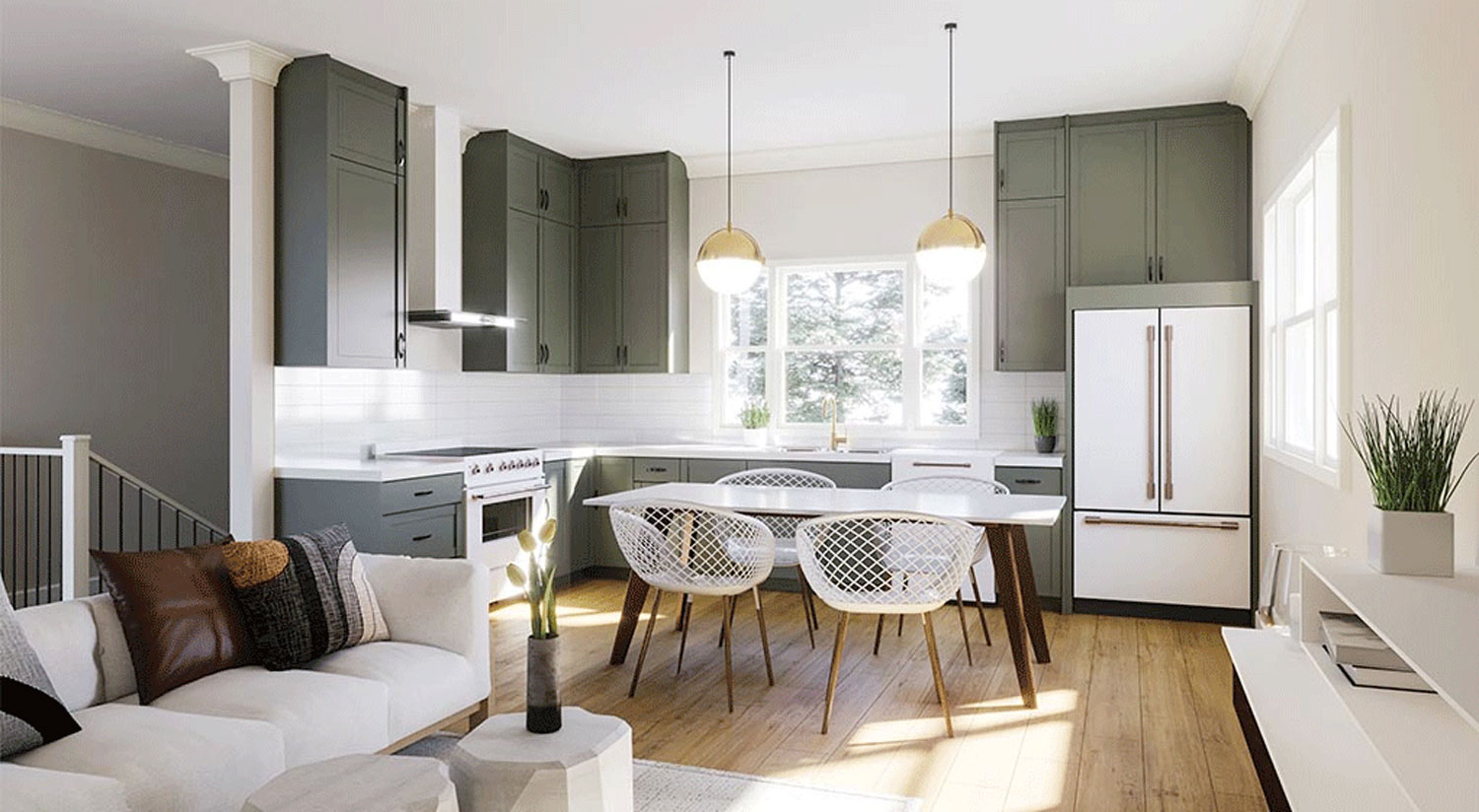 What do you think the above image portrays: 1) a virtually staged room? 2) a physically staged room? 3) a CGI render of a room that does not yet exist in real life? (Keep reading for the answer!)
Let's now play the fun game that we are referring to in this title. Is the below image an example of:
A virtually staged room?
A physically staged room that exists as is in real life?
A room that does not exist at all, but is actually a CGI Render?
If you guessed #3, Congratulations!.
Now think of how simple the above little quiz would be to upload to your social media feed. One image. A quick question to your followers. Then hit Post.
This is an inexhaustible setup that you can use time and again, and is perfectly suited for scheduled posts.
The questions can remain the same - the answer will vary depending on whether you are posting an example Virtual Staging, Image Enhancement, or a CGI Render.
7) Nothing Sparks Participation Like A Poll
Polls might not be quite as fun as the above interactive quiz, however, they are difficult to resist.
Polls appeal to both the human love of participation and the human desire to express their opinion.
One social media platform where polls seem to work extremely well is Twitter. On Twitter, polls are easy to implement and the passive scroller is unable to see the results unless they take part in the poll.
Twitter also tells you how long the poll will be running, which gives each query a certain sense of that valuable marketing commodity: urgency.
The only situation when polling your followers should be avoided is perhaps if you are in the early stages of building followers. It can make you appear a little silly or irrelevant if you post a poll question and nobody responds.
8) Life Is But A Meme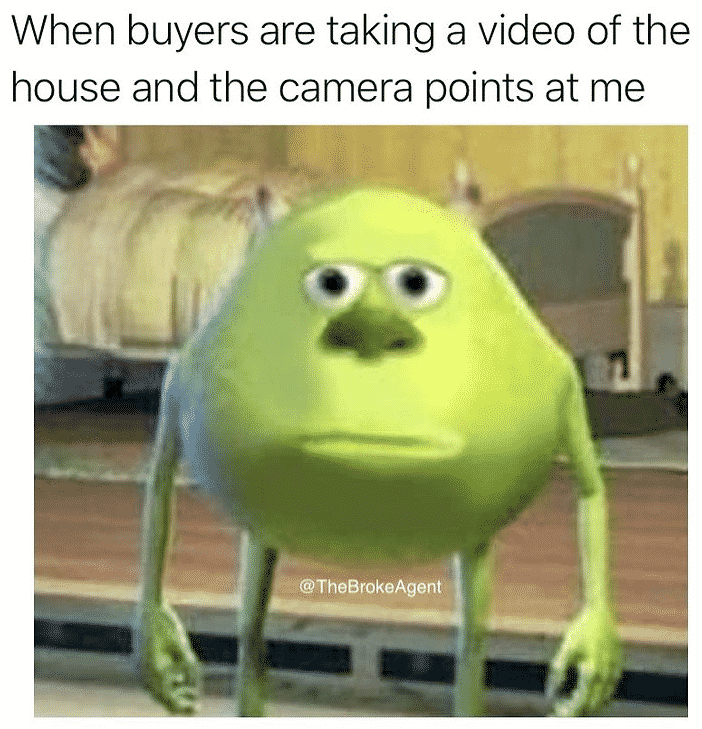 Memes make for great, simple social media posts when you want to keep them up in the minds of your friends and followers. But memes can be a double-edged sword. This cute one is okay. But what do you think of the meme at the bottom of this section?
As a real estate agent who wants to maintain a presence on social media, it is good to establish at least two solid meme sources: one for real estate memes, and one for general memes.
Three notes of caution:
In recent times there has become such a thing as "meme fatigue". This has arisen from the fact that memes are everywhere and always and can feel like a bit of a bombardment. Don't overdo it. Treat memes as more of a standby, when you're having trouble coming up with other fresh posting ideas, yet want to maintain a presence on the social stream.
Memes can be controversial. Of course, memes tend to be humorous, and most humor relies on a tiny bit of scandal for its edge. But if you are going to use means as a fallback, remember that you are using them to increase your professional exposure. Don't make them so edgy that people start unfollowing you!
Consider your audience. There are many memes out there that will no doubt make your fellow agents laugh, but might make potential clients reluctant to list with you. If the below meme is posted on your social platform, do you think it will inspire someone to want to list their house with you?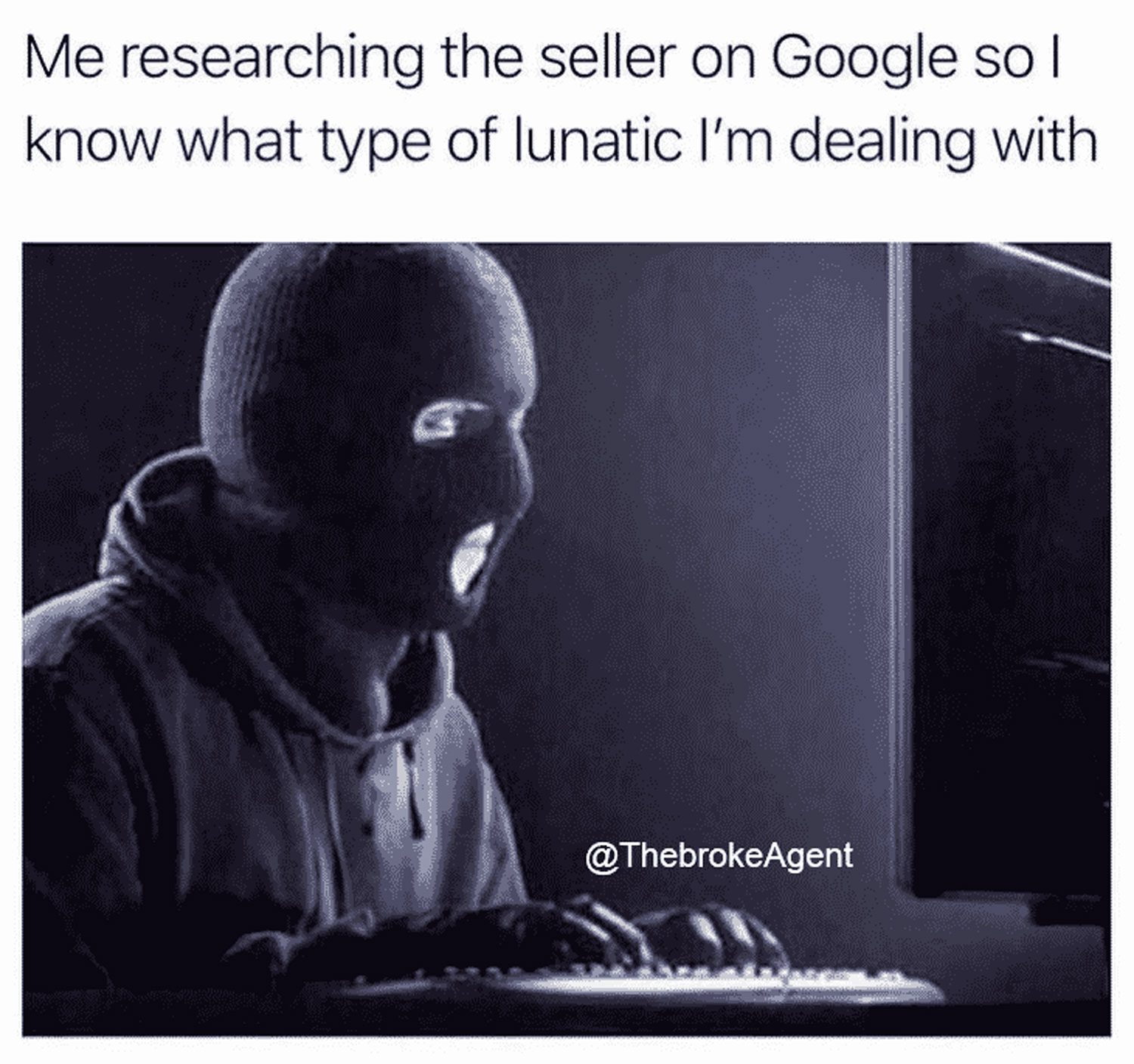 Many memes might make your fellow real estate agents chuckle, but put yourself in the position of those who are not involved in the real estate business. If you were scrolling through the social media pages of agents trying to find someone to sell your home, would you hire the agent w who posted this?
9) Pump Up Local, Independently Owned Businesses
Free publicity can be a two-way street - especially on social media. One of the most intelligent ways to use social media posting to increase your exposure is to share your positive experiences with local businesses.
Get in the habit of going to new restaurants, cafes, antique stores, clothing boutiques - you name it. If it's new and if it's locally owned, consider it a great chance for you to make their day.
If you check out one local business a week and post something positive about it. This is a great way of introducing yourself to the owners in a highly favorable manner
Furthermore, there is a strong likelihood that the owner of that business will share or repost the kind words you say about them - and in doing so, they are introducing you to their network of friends and followers.
Like fire feeding on fire, positivity feeds on positivity. As an agent, who needs constant local exposure this is one of the best and easiest ways to build your presence and your reputation in the local community.
Make a habit of it and you will have discovered the art of building momentum.
10) Post All Good News: New Listings, Sales, Testimonials
Just as the new business you visit will love to share your positive testimonial about them, you should be sharing the fine things others say about you.
It certainly doesn't hurt to ask. You should get in the habit of asking your clients for testimonials.
On one hand, it's ideal if they agree to post a positive testimonial on their social media feeds. This way you can share the words of others rather than be blowing your own horn (using their words) on your page.
The dilemma here is that clients can agree to post a testimonial, then put it aside and forget. This can make things awkward.
Is to ask for the testimonial, and if they agree, take their photo. When you have their photo you have an excuse to remind them. When you send them the pic you can include a gentle reminder of the positive reference they have agreed to post.
Failing that, since you have their blessing, you can post the testimonial to your feed.
"I've just found another happy family a home on the East Side! What can I do for you?"
or
"I've just sold another house for more than the asking price. Let me do the same for you!"
---