18 September 2018
360 Photography: The Future of Real Estate Photography
360 photography is a relatively new technology that can be used in the real estate industry (especially to get ahead of your competition!). 360 images can be 'stitched' together into what we known as 'virtual tour' - where online viewers can literally walk through a virtual simulation of the property.
In this article, we'll talk about 360-degree photography using the Ricoh Theta V and how it can be combined with BoxBrownie.com's photo editing services.
About Ricoh Theta V
We highly recommend using the Ricoh Theta V for 360-degree photography. This is because:
It is super user-friendly;
It allows you to take interactive, sweeping photos of your property; and
It provides an extremely convenient way of showcasing a home at your fingertips.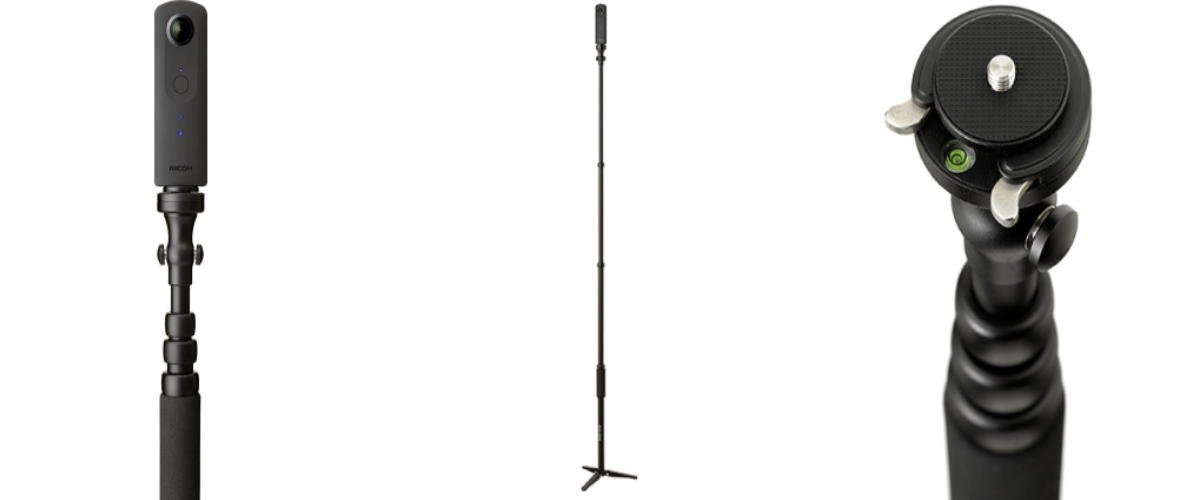 Image 1. The sleek Ricoh Theta V with the optional mono-pod.
Setup for Ricoh Theta V
Download the Theta V app on your phone or tablet and pair with the device. Your gadget will then serve as a wireless remote in capturing photos while you're out of the room to exclude you from the images.
Extend the tripod to its maximum height and place it in the middle of the room for best results.
Turn your camera on and move to another room - just within 10 meters - when taking your photos.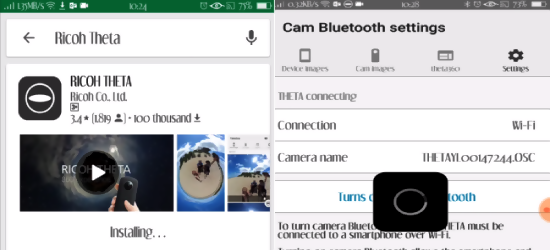 Image 2. View of Ricoh Theta V app on Play Store (left) and smartphone and device pairing after installing the app (right).
Tips on how to use the Ricoh Theta V for real estate photography
Capture at least 3 to 5 brackets under low, medium, and high exposures.
Set the shutter speed high to capture a dark image that accentuates the outside views.
Next, set the shutter speed to medium for a perfect exposure that shows a crisp view of the interior while blurring out the exterior.
Lastly, capture a very bright image of the interior; expect for overexposed windows. This is where we lift the shadows in the editing process.
Repeat the process for the rest of the property.
Images are automatically saved in your smartphone or tablet so you can easily transfer them to your PC for editing.
OR, just upload your 360 photos to BoxBrownie.com for guaranteed professionally-enhanced images ready for marketing in just 24 hours! We'll deliver excellent overviews of each room with bright, airy interiors and extremely clear and focused outside views.
Shot 1

Shoot 2 exposures under to capture details and colour like in the window
Shot 2

Shoot 1 exposure under to capture colour in the left hand side window
Shot 3

Shoot at normal exposure to capture colour of the walls and floors
Shot 4

Shoot 1 exposure over to capture bright colour of walls and doors
Shot 5

Shoot 2 exposures over to capture any highlights they may be needed for blending purposes
The End Result

The end product. This image presents the five carefully blended exposures in one, improved image with our 360 image enhancement. With our team's help, you can get a quality, hyper focused image that's sure to vamp your listing.
Regular images aren't the only candidates for virtual staging; did you know you can also stage 360 images? Our team will simply take your 360 photos and dress your dull property to (your) taste to create an on point virtual walk through, capped with furniture, fittings, and decor.

Image 3. In this image you can see a virtually-staged 360 image of a property with multiple views, furnished with lounge fittings, dining set, and some art decor.
With a market that's hungry for appealing visuals and convenience, offering virtual tours provide an excellent and quick means of increasing buyer interest and closing deals. Let our team handle your 360 image enhancements and virtual staging for professional-looking and compelling images sure to get you ahead of the game.
Ricoh Theta S
We've also written an article on how to create 360 images using the Ricoh Theta S. You can check it out in the link below: