30 March 2021
FINDING SUCCESS THROUGH REAL ESTATE SOCIAL MEDIA POSTS
Introduction:
Be visual, be responsive, be consistent, work smarter not harder.
In real estate marketing, these are the ways to connect with home buyers, influencers and other key members of your target audience. In our PREVIOUS POST, we went over them in detail.
After you've built these fundamentals into your daily social media routine, the freestyling and the fun can really begin. Finally, you'll be ready to craft a social media strategy that suits your character, interests, and strengths.
Only at this stage are you likely to experience the true powers of real estate social media marketing.
These powers can boost every area of your business. They can create excitement over open houses, turbocharge lead generation, throw live 24/7 virtual open house tours, retain existing clients, and sometimes they can even bring buyer and seller together in that most magical moment of all... the sale.
In this blog post we'll unveil some real estate social media marketing tips and show how some agents are using them on various social media platforms to build their brands, make connections, and sell homes.
'FIND POWER IN BEING YOU'
Being yourself is less a technique than a necessity. Your real estate social media posts must reflect who you are as a person, or your marketing impact in this medium will fall short of its potential.
This was the Eureka moment for Cindy Ambuehl. Before turning to real estate, Ambuhel had a respectable career as an actress, landing minor to mid-sized parts in many sitcoms and in the TV series JAG. When she switched over to selling property, she struggled at first to make an impact on social media.
It wasn't until her son sat her down for some straight talk that things picked up.
"He suggested that I stop shoving housing photos and videos down my followers throats and start creating content that was true to me," Ambhuel told Forbes magazine.
She swapped aggressive selling for Instagram skits, and her social media went through the roof.
"Fellow realtors," she proclaims, " "no one is following you so they can see your listings! Find power in being you. If you're informed and good at what you do then surely your knowledge of the industry will take care of the rest."
Ambuhel has 43.1k Instagram followers. Her real estate agency recently celebrated $1billion in sales.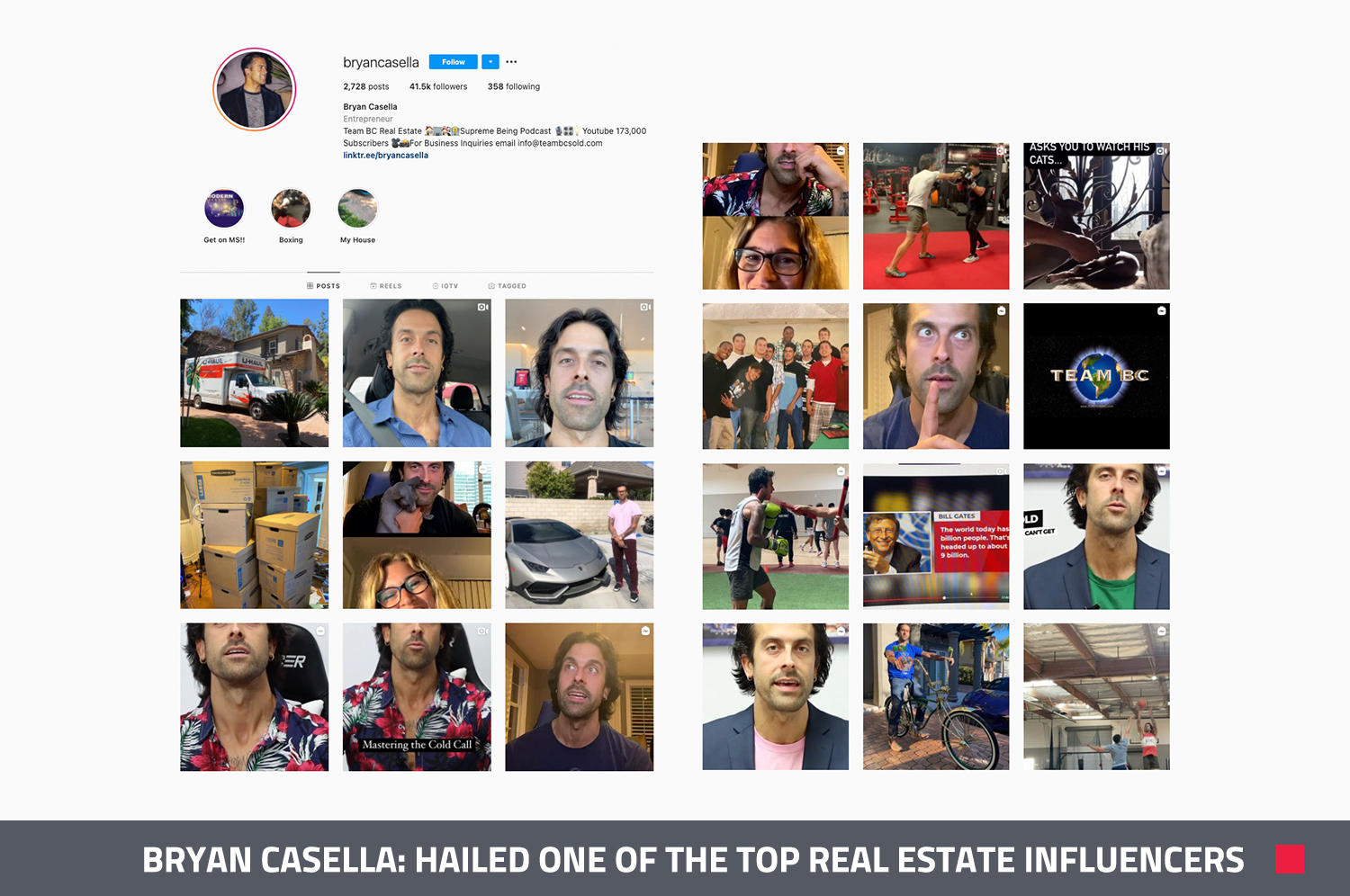 OUT THERE AND IN DEMAND: PEOPLE LOVE 'BC'
Any agent who is feeling apprehensive about personal/professional balance on social media, will relax a little when they visit Bryan Casella's refreshing page.
Cassella looks like a surfer, and probably is. He's tattooed, charismatic, and candid. Actually, it takes a fair bit of snooping around his Instagram or YouTube to find any indication that he's a realtor at all!
You never know what you're going to get when you click on a 'BC' video. Sometimes he's a spiritual guide, sometimes he's on the hunt for fascinating real estate stories, and sometimes he just wants to talk basketball.
Like Ambuhel, 'BC' does not push his listings on social media. Yet numerous industry websites hail him as one of the top real estate influencers.
Not everyone could pull this off, because not everyone is unique in the way of Bryan Casella. It sure works for him though: His follower count on Instagram 41.4k; On YouTube he's got 178k subscribers.
JULIO FLOREZ HAS GOT LOCAL NEWS FOR YOU!
Compared to Casella, Julio Florez in isolated and oil-rich Fort McMurray, Canada, takes a much more traditional approach. Unlike 'BC', Florez usually appears wearing a suit, and he looks a lot more like a real estate agent than Casella.
Instead of exhibiting how he stands out from the crowd, Florez draws leverage from the interests he shares with his followers. He finds his power on social media in at least two discernable ways:
He is the only agent in his city to post in English and Spanish, opening himself up to the city's second-largest immigrant group.
He has transformed his love for Fort McMurray into a vibrant social media community.
Florez made PropertySpark's list of Canada's Top 20 Real Estate Agents in Social Media. This is in large part because he's become a hub of information for people who, like himself, are interested and passionate about Fort McMurray.
"A crucial part of this community was constructed upon social media," says the PropertySpark website. "On Twitter Florez retweets all matters relevant to Fort McMurray, and the pride he displays in the region is infectious."
The local love-local knowledge approach is perfect for the real estate business. Almost all social media influencers in real estate include some local news, culture or entertainment items in their feed because this sort of information is exactly what people new or moving to an area want to know.
Such an approach builds trust, secures long time involvement with people new to the area, while generating social media content that is interesting and highly shareable.
When employed consistently, and passionately, sharing your local knowledge and enthusiasm can pay dividends at all stages of the real estate sales cycle. It can attract new buyers and sellers, pave the way for future transactions, and retain existing clients by keeping them informed about what's new and exciting in their community.
TRIBALISM 2.0: FIND YOUR TRIBE
Real estate super blogger 'Notorious' Rob Hahn would suggest that the above diverse social media marketing strategies have succeeded because in each case the agent has connected with his or her particular 'tribe'.
As Hahn points out in his December 2020 blog post, Twitter, Facebook and Instagram culture has brought about a new kind of tribalism. There are a lot of negative connotations that come with such a notion, but it is a pervasive new reality, and one that is worth keeping in mind when you use social media as a marketing tool.
"I have this theory that real estate agents should recognize that we are now living in an age of tribalism with so much division, so much disagreement, and so much… well… tribalism," Hahn says. "And while agents all should transcend all of that personally and professionally and provide excellent service to everybody, marketing is a different story."
So far, we've shown examples of agents who have stayed on the safe side of their tribal territories. Some, however, have taken it a step further and intentionally gone political with their posts.
This is a risky approach that takes both caution and courage. But for Cody Battershil of Calgary and Sean Reynolds of Seattle big dividends have come from beating that tribal drum.
Reynolds was a surprise selection on Rob Hahn's "Seven Most Interesting People In Real Estate" list for 2020. Hahn is clearly impressed and astounded at the explicit political nature of Reynolds' YouTube podcast, especially since the Seattle market Reynolds covers is traditionally very left-of-centre demographic and Reynolds' posts are anything but.
Hahn remarks: "Maybe Reynolds is on to something with social media for real estate. Maybe it isn't trying to position yourself as a generic local expert who can recite MLS numbers that connect with people, talk about wonderful restaurants, or whatever other safe topic there is that works. Maybe it's about letting it all hang out there to connect with people emotionally, and if that pisses off potential clients… so be it… But courage like this ought to be rewarded."
Battershill is equally, if not more political than Reynolds, but his politics at least align with the majority of people in his area. His pro-oil activism has been a hit with local business, and his youth and ability to use social media as a tool for personal engagement led PropertySpark to name him the number one Canadian real estate agent on social media.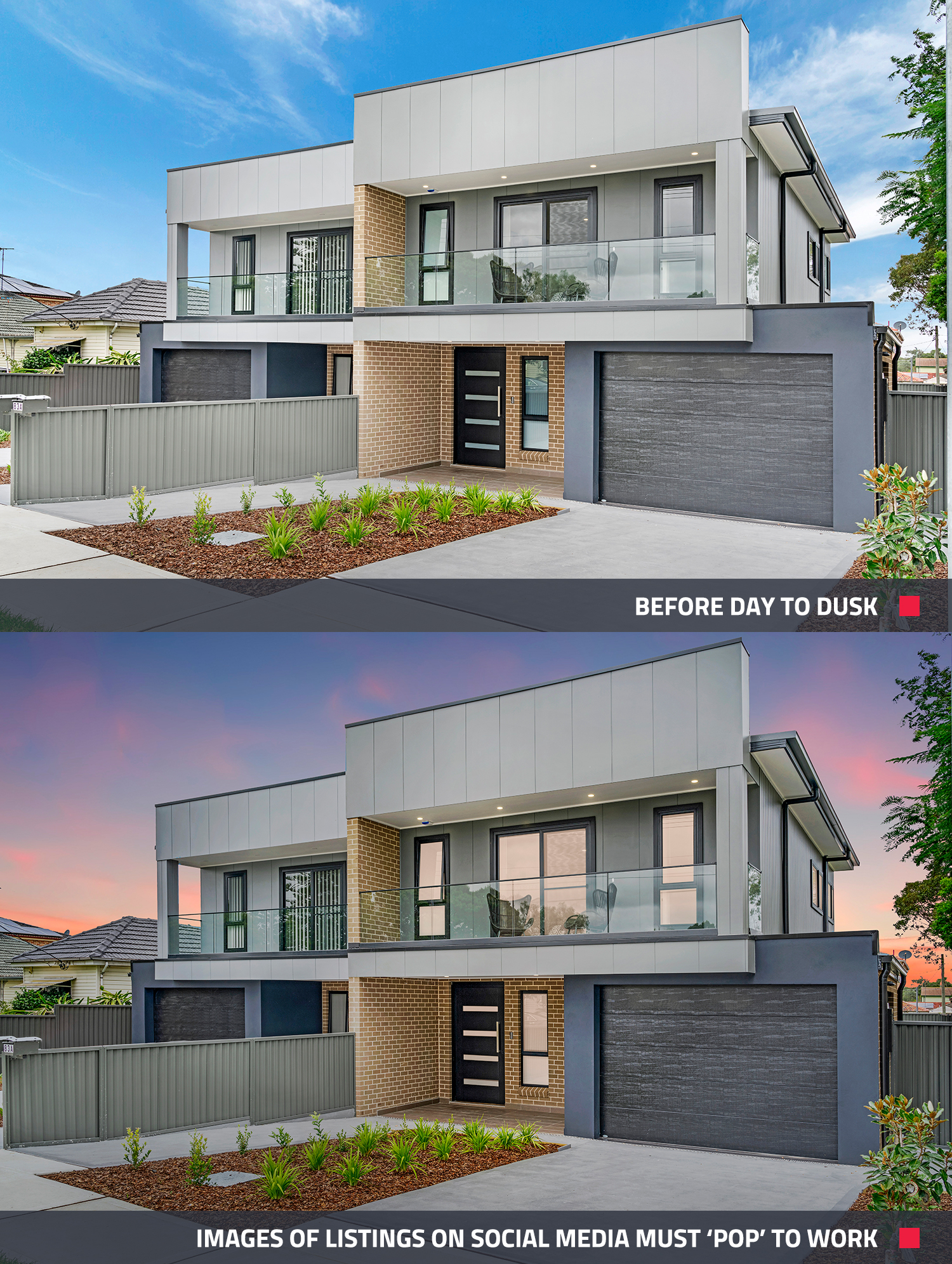 KEEPING IT REAL (ESTATE)
As you can see, the above examples of real estate agents attracting impressive social media followings, have very little to do with pushing real estate. We've brought them to your attention to highlight what a different game social media marketing can be compared to more traditional models.
That said, if you are a real estate professional willing to put time and effort into amassing a social media following, you will want to make it count towards the business at hand, which is, of course, selling real estate.
There's definitely a "less is more" mentality to this kind of marketing, but it can be done. If you are smart and selective with what you post on social media, you can still keep your page loaded with real estate content and even directly market some of your listings.
Because social media is such a visual domain, the property images you choose to share have got to pop.
When American writer Ernest Hemingway was a boy, his father taught him to hunt rabbits by sending him out into the woods for the day with a rifle and only two bullets. Hemingway learnt early on that he had to make every shot count, or he would come home empty handed. It was a lesson he went on to apply to his sparse, Nobel Prize-winning writing style.
This is a perfect way to approach every real estate post idea you have on social media. Don't bombard your followers with endless mediocre photos of a listing's second and third bedrooms or a basement laundry room. Make every image count.
We at BoxBrownie.com can work with you to produce a hero image that will take people's breath away.
As our co-founder Brad Filliponi says of the hero image, "It's the most important shot you can take, or your one chance to grab that buyer's attention."
We get a lot of repeat business from agents who have discovered that for a very low cost they can turn BoxBrownie.com into their own personal hero image factory, and never have to worry about being outshone on social media.
Our day to dusk photo editing service is a fast and inexpensive way to transform a photo of a home's exterior from drab to fab with the click of a few buttons. If photos of your listings have any hope of standing out among the Kardashians and Taylor Swifts on social media, they're going to have to be heroic.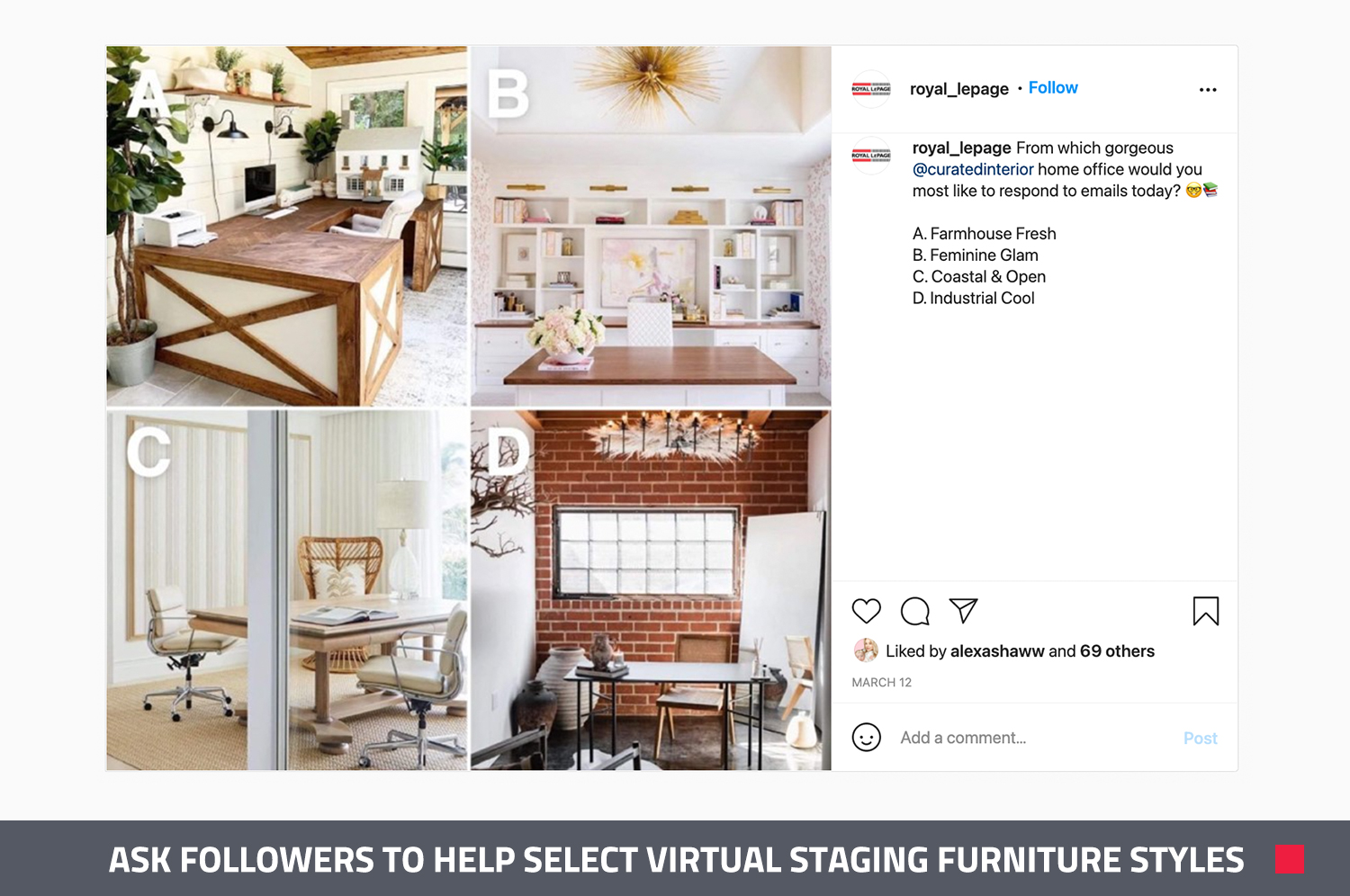 PARTICIPATION IS THE PRIZE
With so much clamouring for the eyeball's attention on social media, it often takes more than a breathtaking image to draw people in. Sometimes you need a hook.
Involve the audience. Ask their advice. Gone are the days where the Participation Prize is the laughing stock of the competition. On social media, participation is the goal and the reward.
Our Virtual Staging options can be a great way to get your social media community talking about your listings. Our CGI artists can virtually furnish an empty room in any number of styles: Modern, traditional, urban/industrial, contemporary, beach/coastal, farmhouse.
Why not turn this into a talking point on a post on Facebook?
In the 'before' photo (above left), the decision was made to virtually furnish the room using an urban industrial style (above right). Do you think this was a good choice?
WHAT IS OPEN 24/7 FOR INSPECTION BUT CLOSED TO INFECTION?
The answer to this riddle is the 360 Virtual Tour. Riddles, jokes, humour, trivia can all be a way to draw people into your social media content.
Our 360 Virtual Tours have become a global sensation. In January 2021, for the first time in history, property buyers said they would rather take a virtual tour of a property before touring it in person.
It's no wonder that agents who use our 360 Virtual Tour services want to show them off on social media. Making them the subject of a riddle or a contest is a slightly softer sell. And that is exactly the way to do business on social media.
Much of the above visual expertise comes from our personal experience on our own social media. Our BoxBrownie.com Instagram has a steadily growing 12.8k followers. To get a feel for the success we are having using real estate images on social media, please follow us and enjoy!
Not only do we utilize the stunning skills of our CGI artists, we offer tutorials and informed advice on all things relating to our core belief: Presentation is the key to selling property.
Obviously, this belief applies to social media, as well.