HOW TO SELL PROPERTY FASTER WITHOUT DROPPING THE PRICE
INTRO
This blog is all about generating more online clicks for your listing. As we know in real estate, more clicks often result in more leads and in turn, more buyers. We are going to show you the tools high-performing agents are using that are not only affordable but can be implemented immediately.
"I recently used BoxBrownie.com on one of my listings in Lynwood and basically I asked them to green the grass and blue the sky. I even had a broker call me and say 'That image looks like a painting, where did you get it?' Well I have to tell you, it worked because I sold that house in 12 hours, multiple offers and $20,000 over list and I have to thank BoxBrownie for that. We looked awesome," Kat Grassell.
IT ALL STARTS WITH BETTER PHOTOS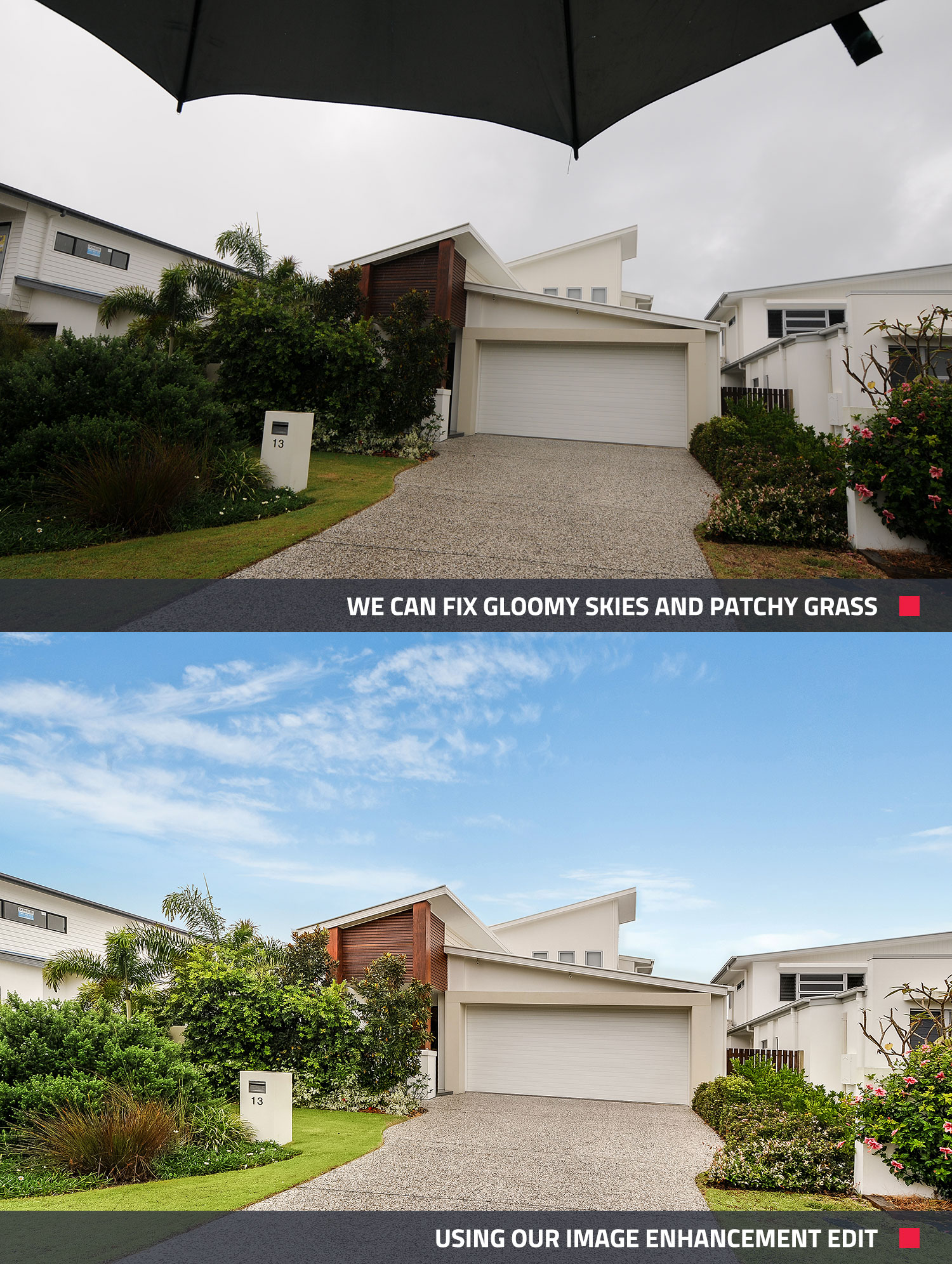 Here at BoxBrownie.com, we make it more affordable for everyone to have the best marketing possible. We have no subscriptions or ongoing fees and everything is pay-per-use, which makes it super easy. Our Image Enhancement product starts from $1.60 USD.
Through our 16-step enhancement, we can lighten and brighten the interior and really highlight the exterior detail to make it pop. We can also take an overcast day and make it look like a sunny day with our blue-sky replacement, bringing a brighter and more inviting feel to the image.
We can do so much to make your images look better, which is essential for your real estate marketing. With technology, people are flicking through multiple properties online and you want your photos to stand out from your competition.
DAY TO DUSK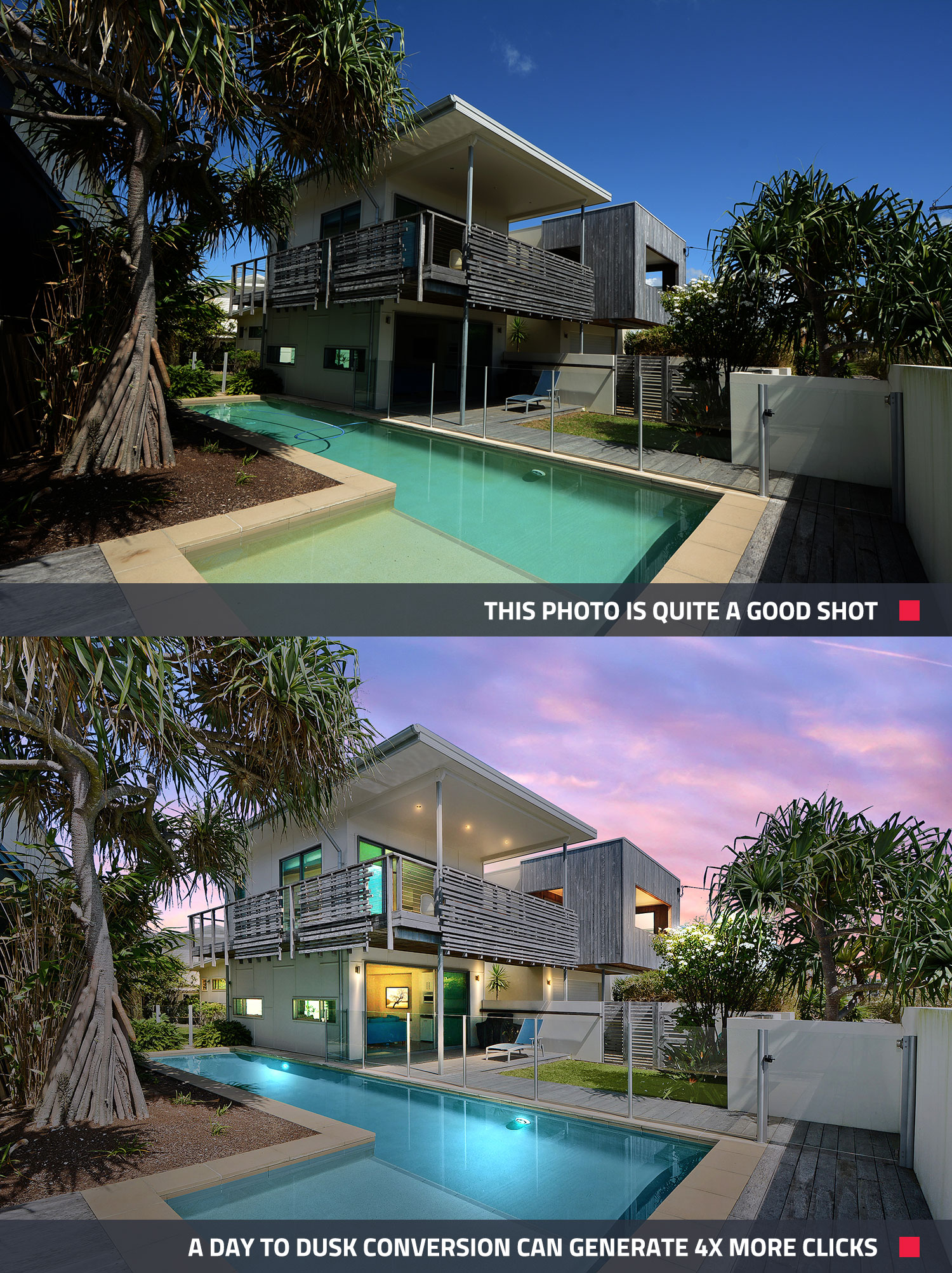 This is the more affordable way to highlight your property through a twilight or dusk setting. If you supply BoxBrownie.com with a daytime image, we will activate the lights and add in one of our sunset options that you have selected for only $4.00 USD per image.
NAR (National Association of REALTORS) statistics highlight that dusk or twilight images will get you a minimum of 4 times more clicks on your listing when they are used as your hero shot. Again, more clicks generate more leads which result in more buyers - all for less than a cup of coffee.
ITEM REMOVAL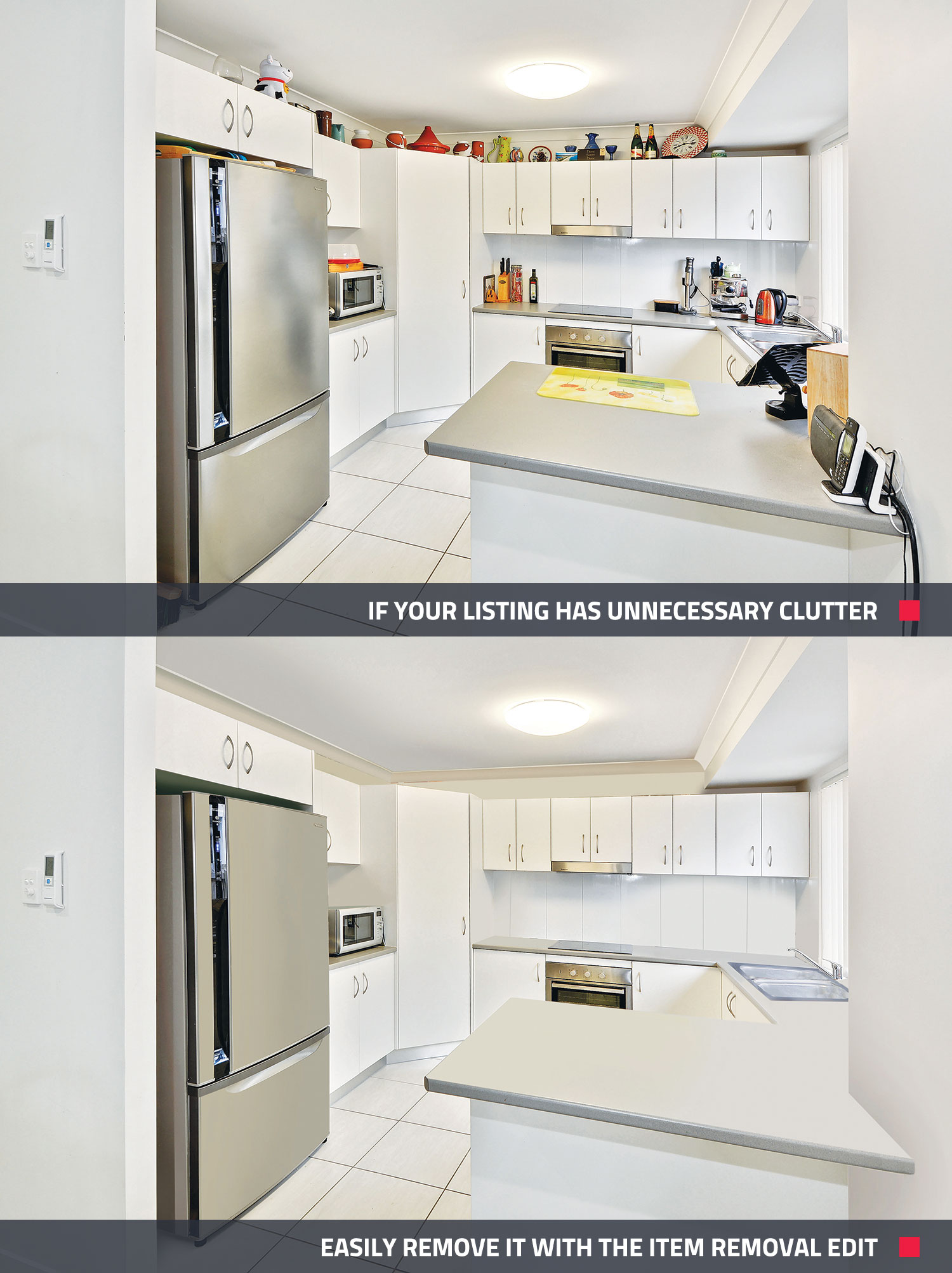 What a great edit. It is not always easy to remove clutter from somebody's home especially if it is a tenanted property. With BoxBrownie.com we can digitally remove these items from only $4.00 USD.
With a 24-turnaround time, it is such an easy option to help you better present the property. If you have one or two items, it will set you back $4.00 USD. This is also a great option for digitally removing an item that you physically cannot move but is blocking part of the property.
Ranging from $4.00 USD to $8.00 USD (depending on what items you need removed), it will be as if they were never there. If you're not happy with an edit, please use our "please change button" and we can rework the image until you're 100% happy. We want to work with you to help you get more enquiries for your listings.
VIRTUAL STAGING

This is our most popular edit in the more than 80 countries that we currently service. We can take an image of an empty room and transform it with realistic CGI furniture to help you show potential buyers what the space could look like.
Without this, clients can get confused with an empty room as to what to do with it, but by adding a bit of furniture it can transform the space and show its true potential. We offer up to 8 different furniture styles ranging from modern, contemporary, Scandinavian and farmhouse etc.
If those styles don't suit, you can simply upload a google reference image to show us exactly how you would like the room staged. We can even stage a room that already has some furniture in it.
Sometimes agents and realtors like to add extra furniture to finish off the room. This can easily be done at BoxBrownie.com. We can even do commercial examples, covering everything from an office fit-out to retail and hospitality.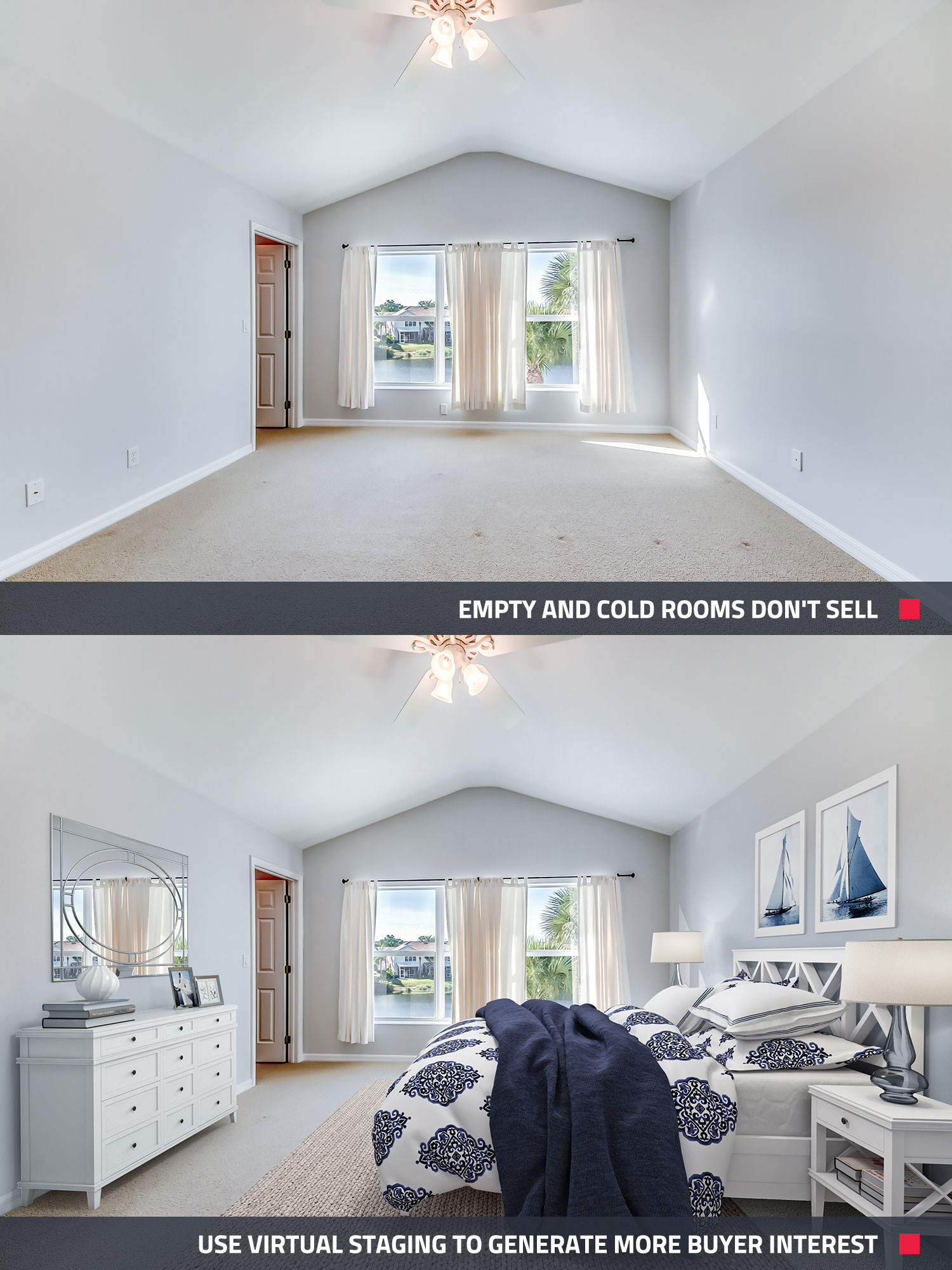 TIP: Keep in mind all our edits we have mentioned today are available for both residential and commercial listings.
We get asked a lot if we can digitally empty an entire room and then virtually stage it and the simple answer is yes, we definitely can. The example below shows how we can take this image of a room that may not be ideal for marketing purposes and transform it into a stunning bedroom to better suit potential buyers.
It's important to not only demonstrate the space on offer for clients but also market the property in the best light.
TIP: Everything on BoxBrownie.com is a la carte, therefore, you are only paying for what you use. It also means you can mix and match our options to suit all your needs.
VIRTUAL RENOVATION
After being in the photography industry for over 16 years, this is what gets me excited. Virtual Renovation allows us to take a room that has objections and help clients see past it by virtually renovating the room and showing the finished product.
With a little painting, some flooring and CGI realistic furniture, what a difference it can make! This product is used by builders, architects, developers and realtors, and is loved by everyone and we know why!
This is a great example of what we can do with an outdated room and convert it into a fantastic open-plan and modern living space
Do you have a home that is partially finished or run-down? We can bring it back to life through our virtual renovation edit.
This home pictured below, was for a luxury listing specialist in Chicago. He advised us that the home was only 8 years old however it looks like it is 80 years old! He wanted to market this property in two different forms - as it currently is and in a way that would show off its potential.
He virtually renovated 8 rooms in the property and designed up two different styles of marketing brochures to suit both forms. A great tip from this specialist was that he backed up this virtual renovation with costed quotes for trades to complete the work and really help sell the dream.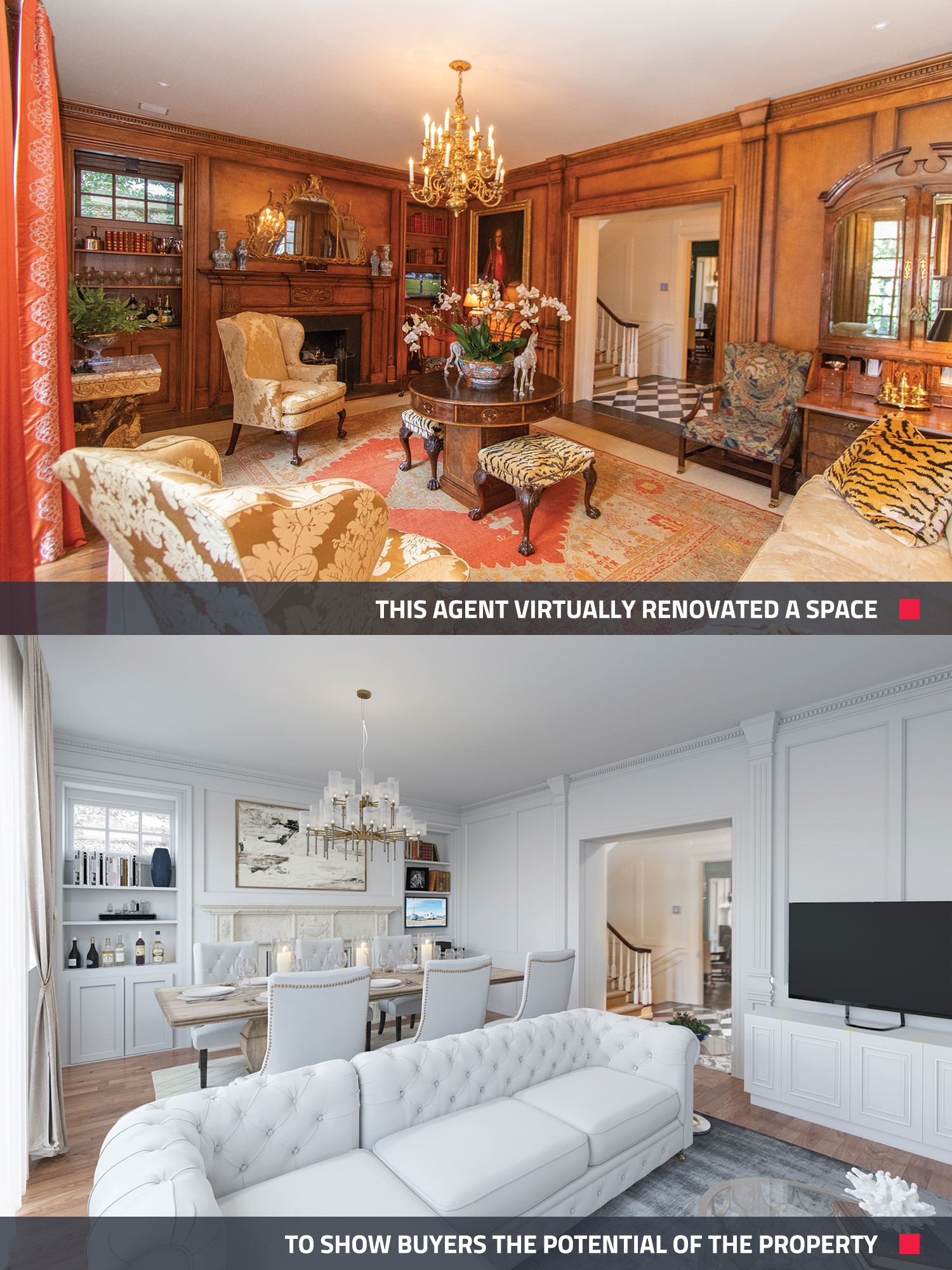 We have also had a home in the Hollywood hills that had a nightclub in it. The seller wanted to virtually remove those sticky floors and show what the potential could be by transforming it into a stunning living area. They even supplied us with a photo of the view from the window so we could superimpose it on the completed image to ensure it looks as realistic as possible.
We don't just stop at the interior, we can take an exterior image and revamp it by adding cosmetic work to the exterior facade.
We can even add a pool to show how it will look in the backyard. You can supply us with a google image of what you would like it to look like and we can add it in. It really is a simple as that and look how effective it can be. This is a great way to demonstrate an idea that is often hard to imagine.
Again, this is also a product that we offer commercially. As you can see from the examples below. Often commercial properties can be blank spaces and with this edit, it can really aid in showing potential buyers what the finished product could look like.
All virtual renovation edits start at $16 USD and depend on how much work you would like done. All of our pricing options are available on our website so you can see the outright cost to ensure you receive the desired outcome.
FLOOR PLAN REDRAWS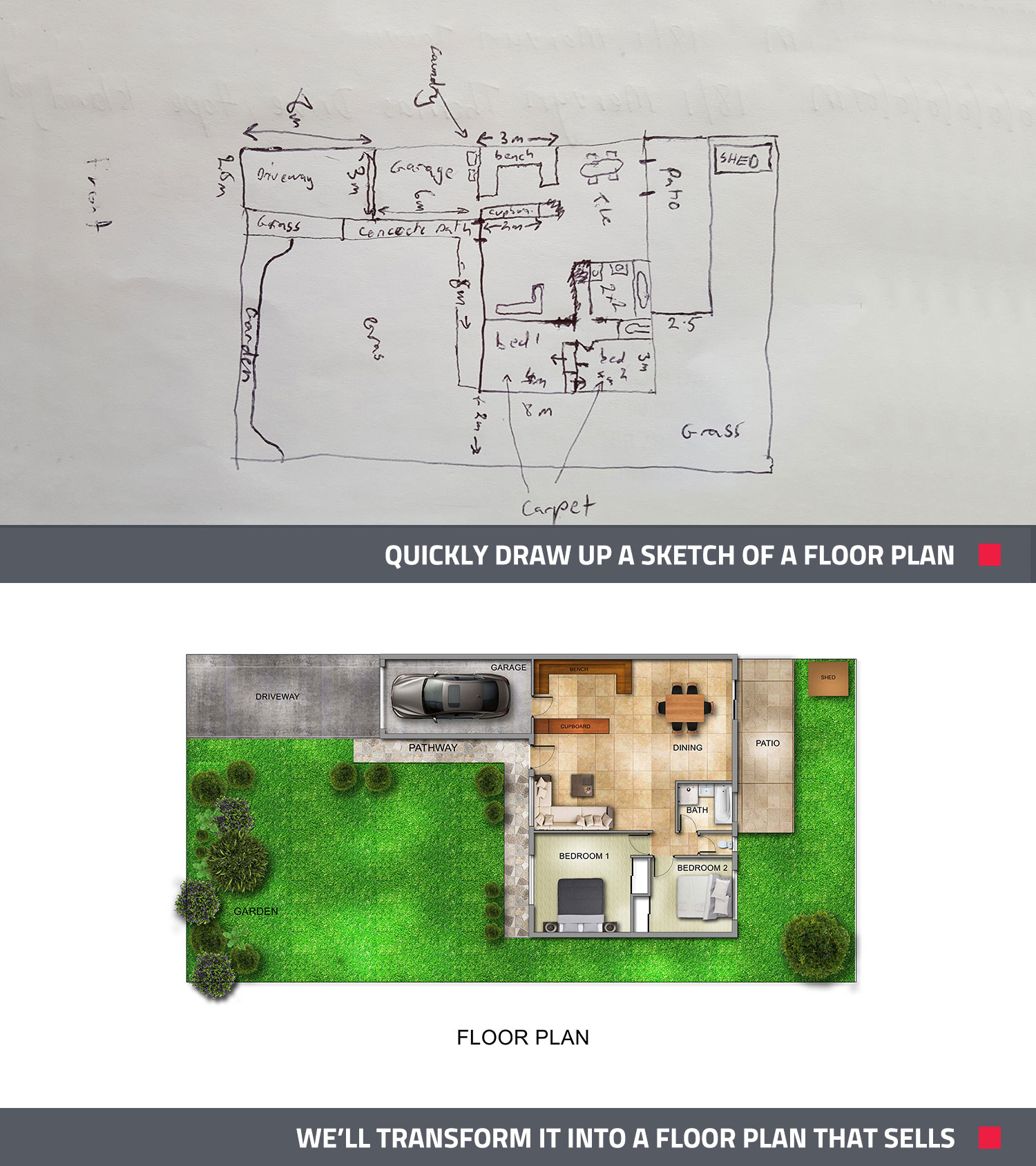 Last but not least is our floor plan re-draws that start at $24 USD. From something that could be drawn on the back of a napkin, we can provide you with a clean and easy-to-understand 2D floor plan.
Ideally, we recommend supplying the builders plan or blue-print, if you have a copy, as it will give our editors as much information as possible to provide you with the best output. Within 24 hours you can have a 2D floor plan redraw returned to you.
TIP: We can also add in company logos and disclaimers to floor plan re-draws.
Our 3D option sits at $32 USD per floor. Is it our only edit that we charge per floor due to the CGI technology that is used to create these plans. It is a great tool to add to your marketing and show off your property to its full potential.
CONCLUSION
This is what all of the top agents are using to make their marketing better. With clients in over 80 countries, we are here to help your marketing stand out from the rest.
If you have any further questions, please do not hesitate to email us at [email protected] Our customer service is available 24 hours a day, seven days a week via live chat, phone and email.
---