28 February 2019
HOW TO SHOOT A COMMERCIAL PROPERTY USING A SMARTPHONE
Introduction
Smartphone cameras are getting really good these days… but can they take photos good enough for real estate photography? Well, what better way to put it to the test than by shooting a $4.2 million dollar commercial property with a smartphone!

Now before we start, I just want to state that it's always best to use a high-quality DSLR when shooting real estate, however, we all know that this isn't an option for some listings.
The End Result (What you'll learn from this tutorial)
So below is a before and after shot of a commercial property that we've taken with a Samsung S9 smartphone.
The before shot is very average... the image is cropped in, the sky is overcast, the colors are dull. Really not suitable for real estate marketing.
The after shot is far more attractive and if you own a smartphone, we're going to show you how to produce this by using a 10 second hack.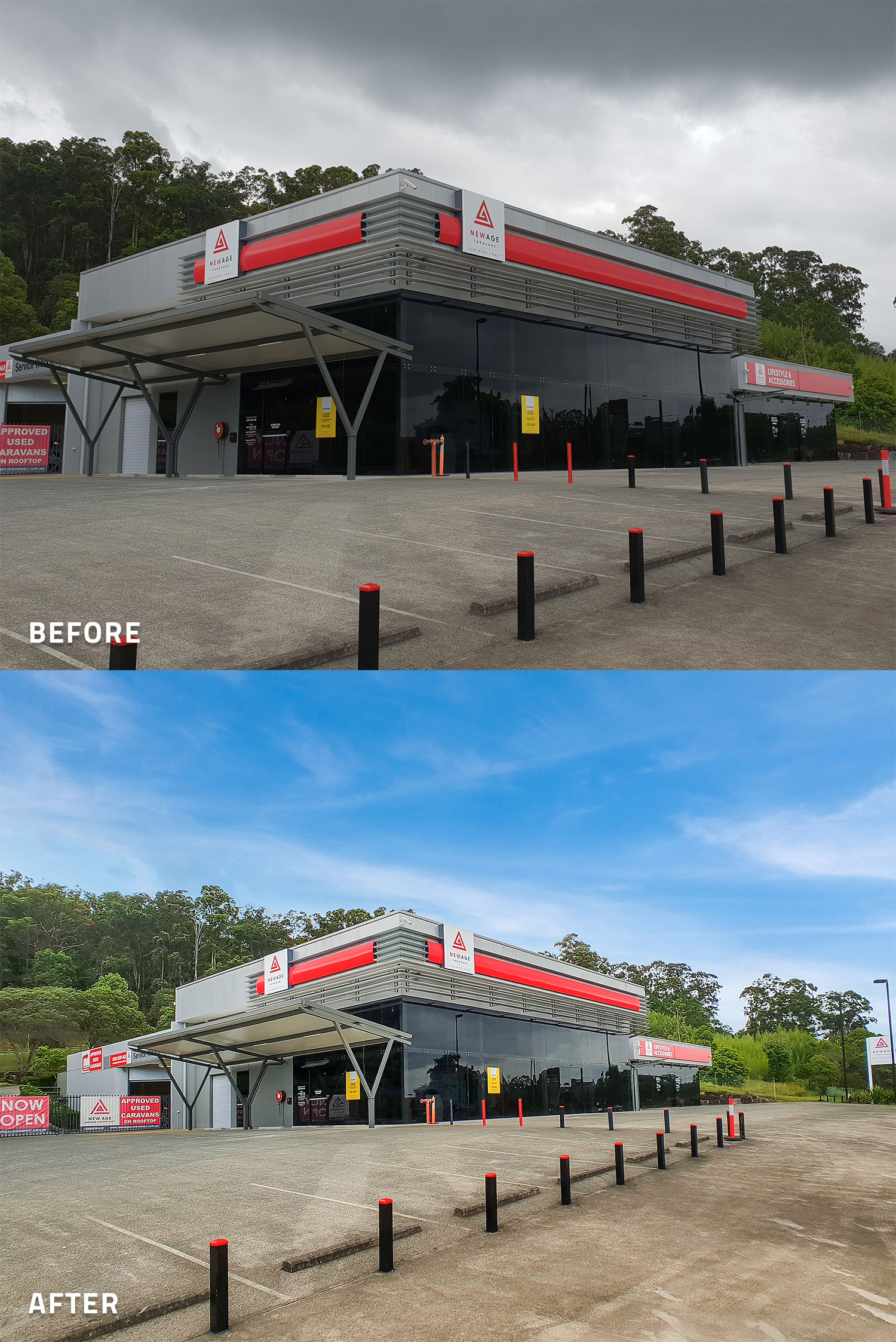 The Setup
Okay, to produce the shot like the one above, you're going to need the following setup.
• A relatively new smartphone - We suggest an iPhone 7 (or higher), Google Pixel or a Samsung Galaxy S8/8 (or higher).
• An 18mm Moment Wide Angle lens (costs $120) – Allows you to take beautiful wide angled shots.
• A Moment Phone Case (costs $30) – This will allow you to mount the lens onto your phone.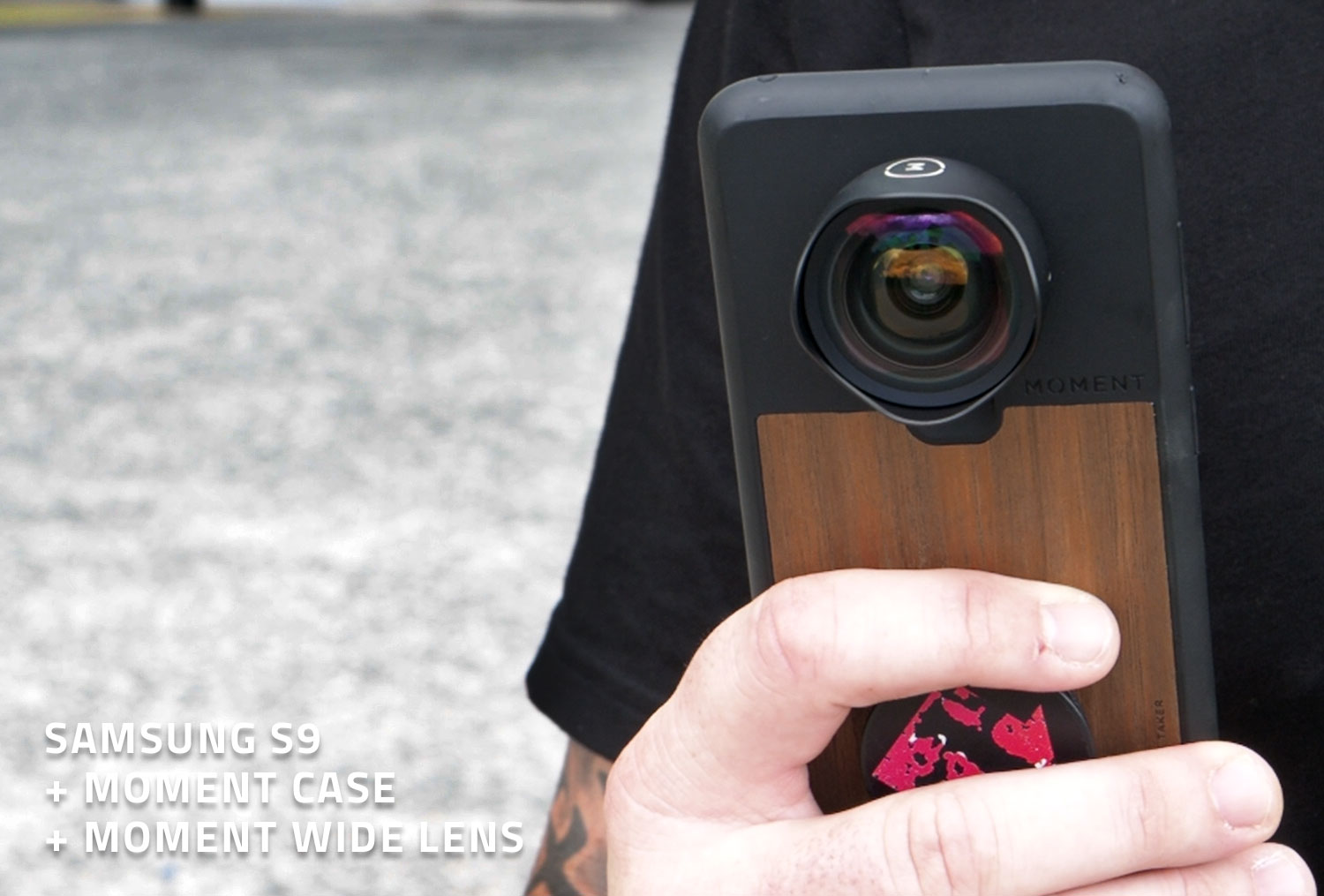 Shooting A Commercial Property With And Without A Moment Wide Lens
The 18mm Moment Wide lens makes such a big difference when attached to your smartphone. As the name suggests, this lens allows your phone to shoot wider which is preferential when it comes to real estate photography.
Conversely, without the Moment Wide Lens attachment, your shots are going to look cropped in which is an unprofessional look.
To illustrate this point, we took 2 pictures of a commercial property; one with the Moment Wide Lens and one without.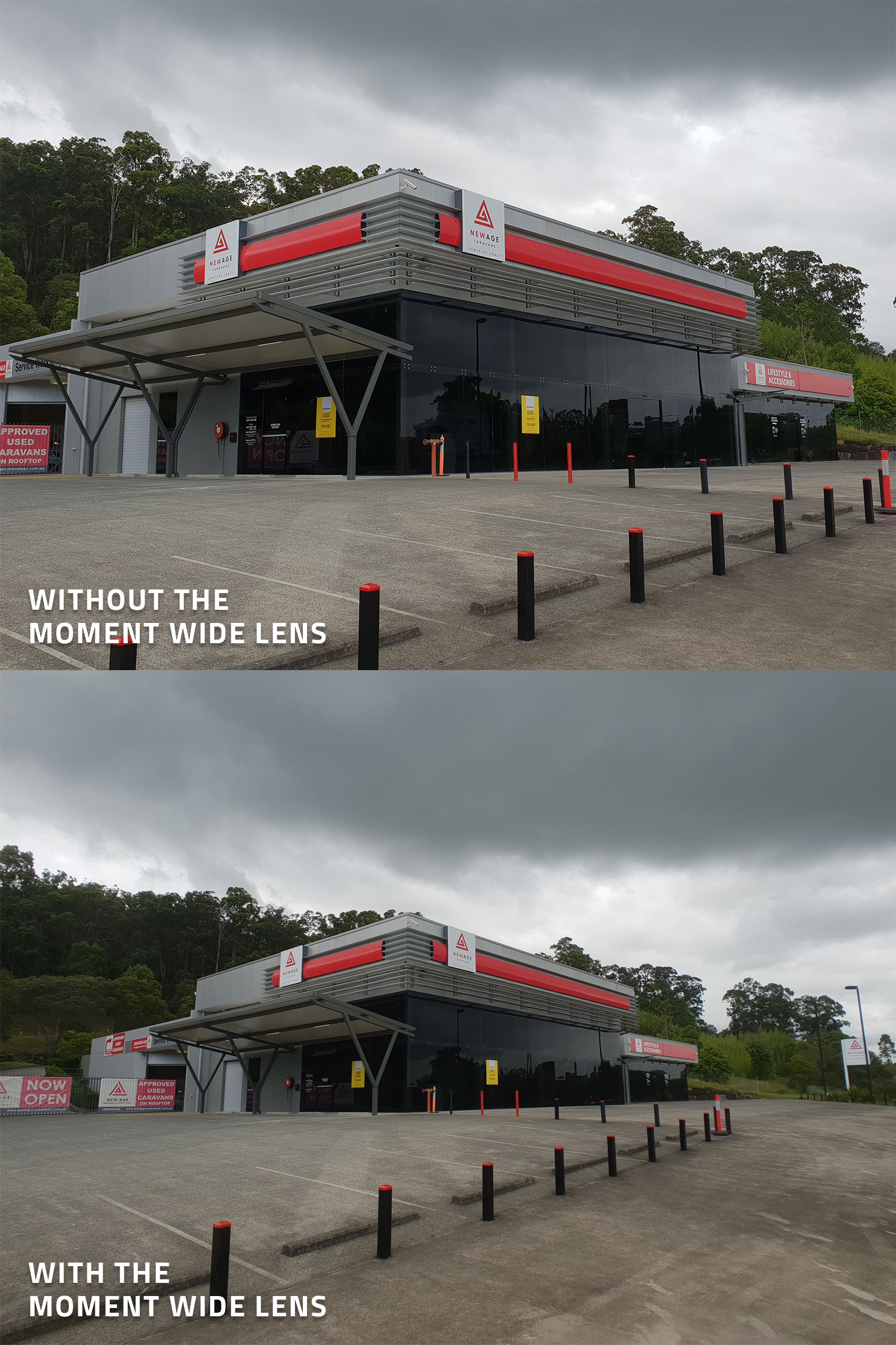 Using Image Enhancement To Make Your Shots Pop!
Okay so you can see in the image above that the photo isn't quite ready for marketing. The sky is overcast, the colors are dull, the shadows need brightening etc. Truth is no shot is ever going to have that professional finish without the help of professional editing.
This is where our Image Enhancement edit comes into play. Image Enhancement is our most popular service where we apply 16 edits to your photos to make them pop! It's super affordable (only $1.60 per photo) with a 24-hour turn around time.
The 16 steps include…
01. White balancing
02. Image sharpening
03. Vertical & horizontal straightening
04. Remove minor blemishes
05. Lens distortion removal
06. Brightness & contrast adjustment
07. Outdoor sky replacement
08. Lawn enhancement – repair or replace
09. Remove pool cleaners from water
10. Tone adjustment
11. TV screen replacement
12. Dust spot removal
13. Flash reflection removal
14. Add fire to fireplaces
15. HDR bracketing with indoor window replacement
16. Remove the photographer's reflection
To show how much of a difference Image Enhancement makes, we applied this edit to the same shot we took before of the commercial property.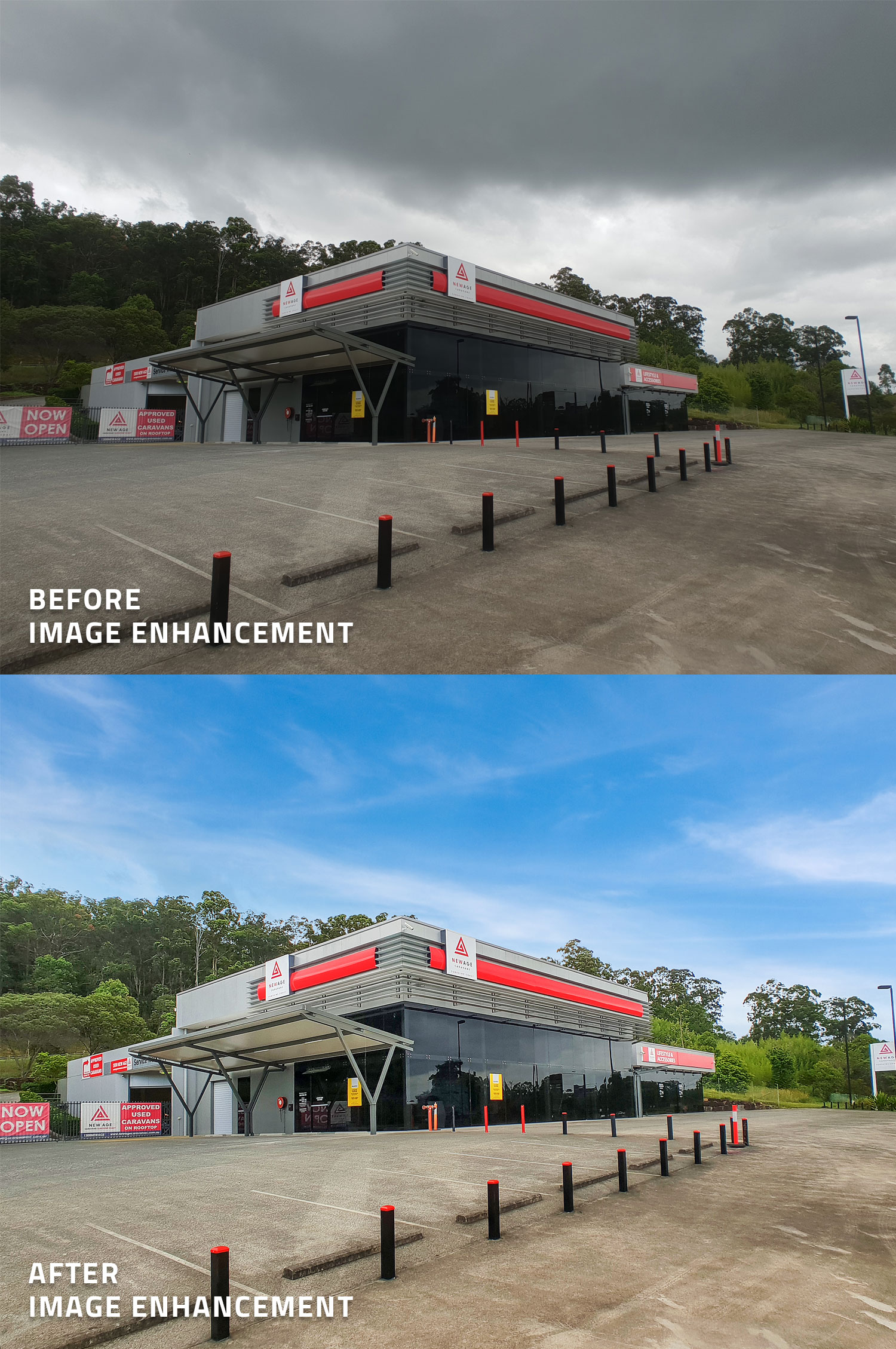 Can I Use A Smartphone To Take Interior Photos?
You bet you can! Just make sure to attach the Moment Wide Lens and then send the photos in for Image Enhancement.
Below is an interior shot that was taken using the same method as described above.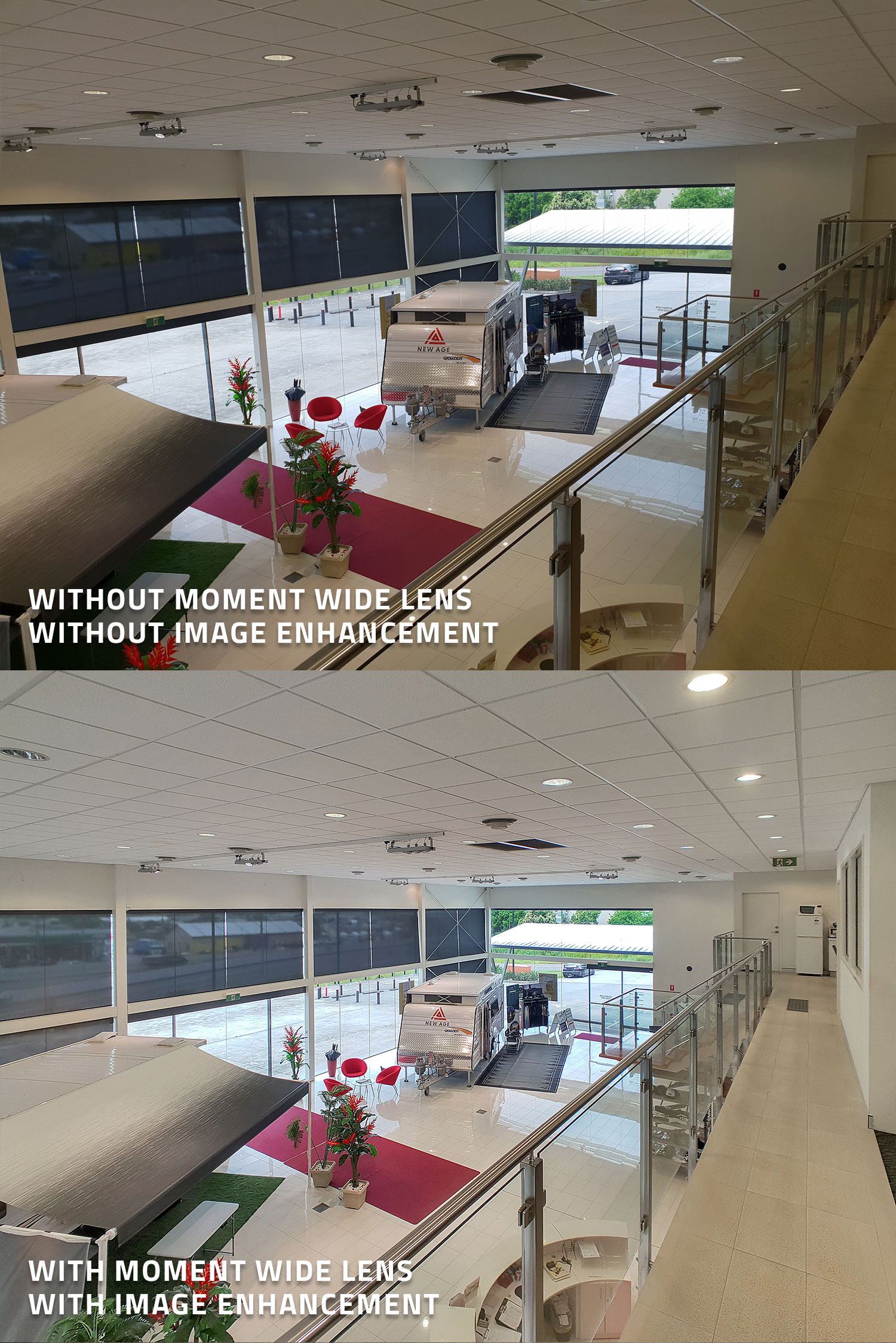 Can I Use Item Removal On Photo Taken With A Smartphone?

Yes you can! Item removal can be applied to any real estate photo (whether it be residential or commercial).
In the photo below, there was a lot of random clutter in one of the main showrooms which simply wasn't practical for us to move. Instead, we simply took the shot with our smartphone setup and applied our Item Removal edit later in post.
Item removal costs
• $4 per photo (1-2 items to be removed)
• $8 per photo (3 or more items to be removed)
Turnaround time is 24 hours.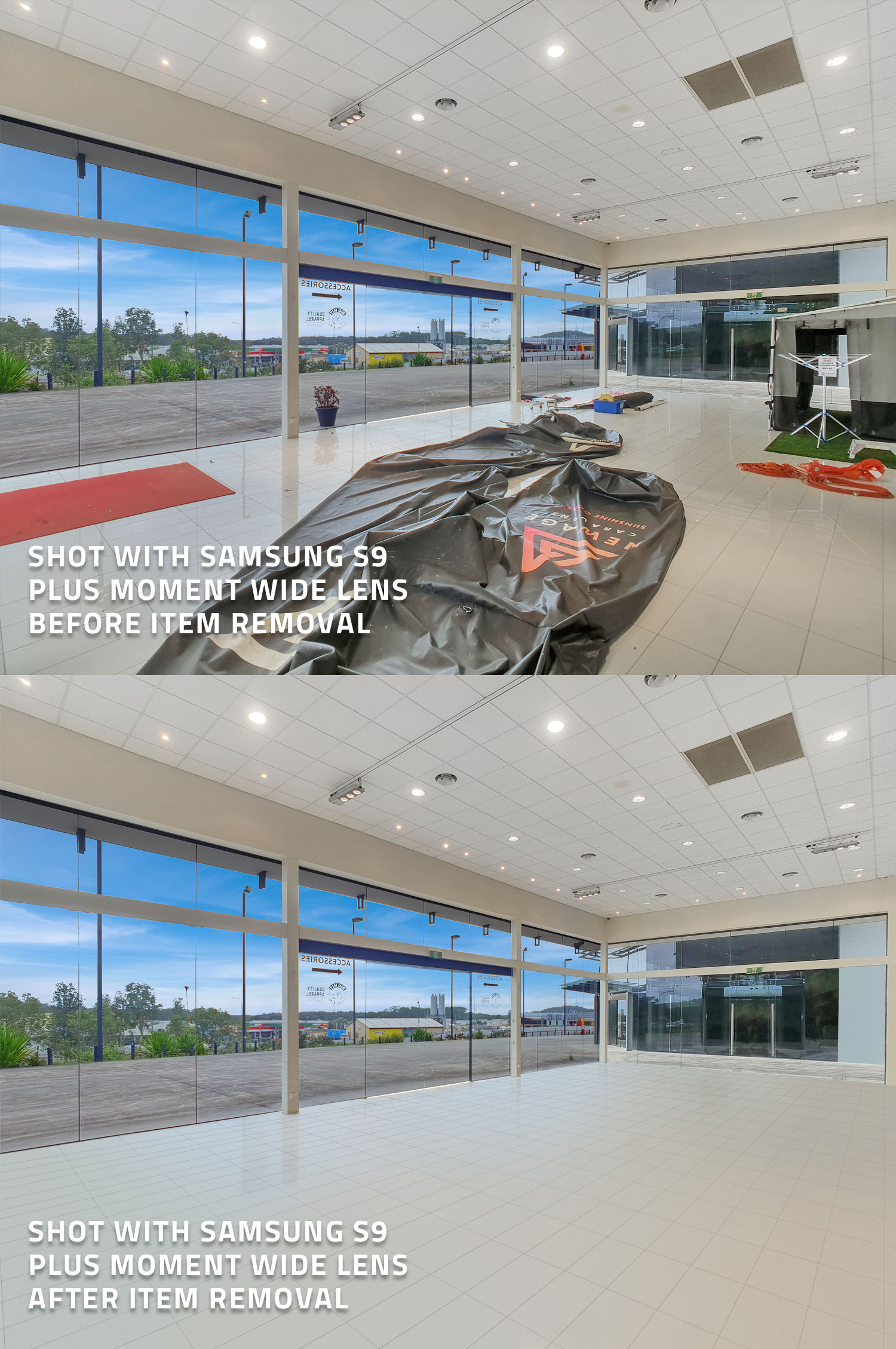 How Do I Upload My Photos For Image Enhancement?
Uploading images is very simple using our system.
Simply…
1 – Go to www.boxbrownie.com
2 – Create an account and login to the dashboard.
3 – Click on Image Enhancement.
4 – Enter in a "Job Title" and then upload your images. Click Next.
5 – Enter in your preferences such as what sky you would like. Click Next.
6 – Review your job and submit.
Conclusion
So there we have it! Shooting a commercial property using a smartphone is so easy if you have the right tools. Simply attach a Moment Wide Lens to your smartphone then submit any photos in for Image Enhancement so they can be professionally edited.