HOW TO USE VIRTUAL STAGING TO SELL A LISTING STUCK ON THE MARKET

Introduction:
No furniture? No interest? No problem!
If you have an unfurnished listing that has been stuck on the market and received very little interest from prospective buyers, this might be because you have yet to test the magic of Virtual Staging!
You'll notice that agents who try it once tend to use it again and again for their empty listings. To put it simply, empty listings that have not been staged, have a hard time competing with those that hit the multiple listing service (MLS) with a touch of BoxBrownie.com Virtual Staging magic.
Why? Because images of unfurnished listings often have a forlorn and unfocused aspect to them, and neither feeling is conducive to the impulse to buy.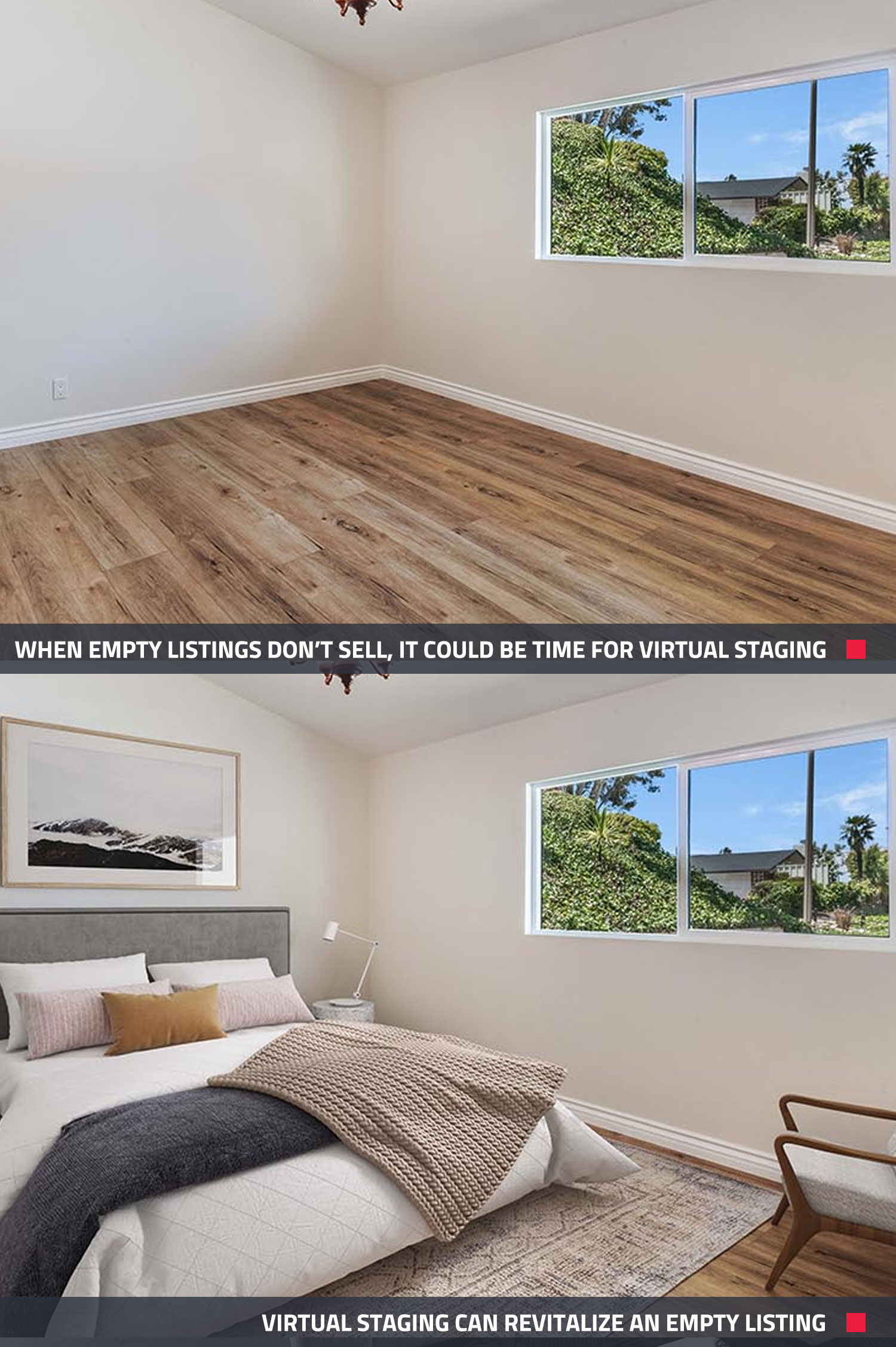 The walls and floor of an unfurnished bedroom will have a hard time attracting any property shopper's interest. But with a little Virtual Staging, suddenly this interest can arise.
Virtual Staging inspires optimism and excitement in spaces that for one reason or another are no longer occupied.
This post will look at the following ways to use Virtual Staging to sell a listing stuck on the market:
Use Virtual Staging to demonstrate a room's functionality
Style the same room in different ways

360° Virtual Staging is the ultimate transformation
Virtually stage a room from different angles
Pair it with a 3D Floor Plan
Virtually stage the outdoors
Use Virtual Staging To Demonstrate A Room's Functionality
Many people believe Virtual Staging is simply a stylistic device. An overlooked and extremely important feature of Virtual Staging is that it shows buyers the purpose (or at least the intended purpose) of a room.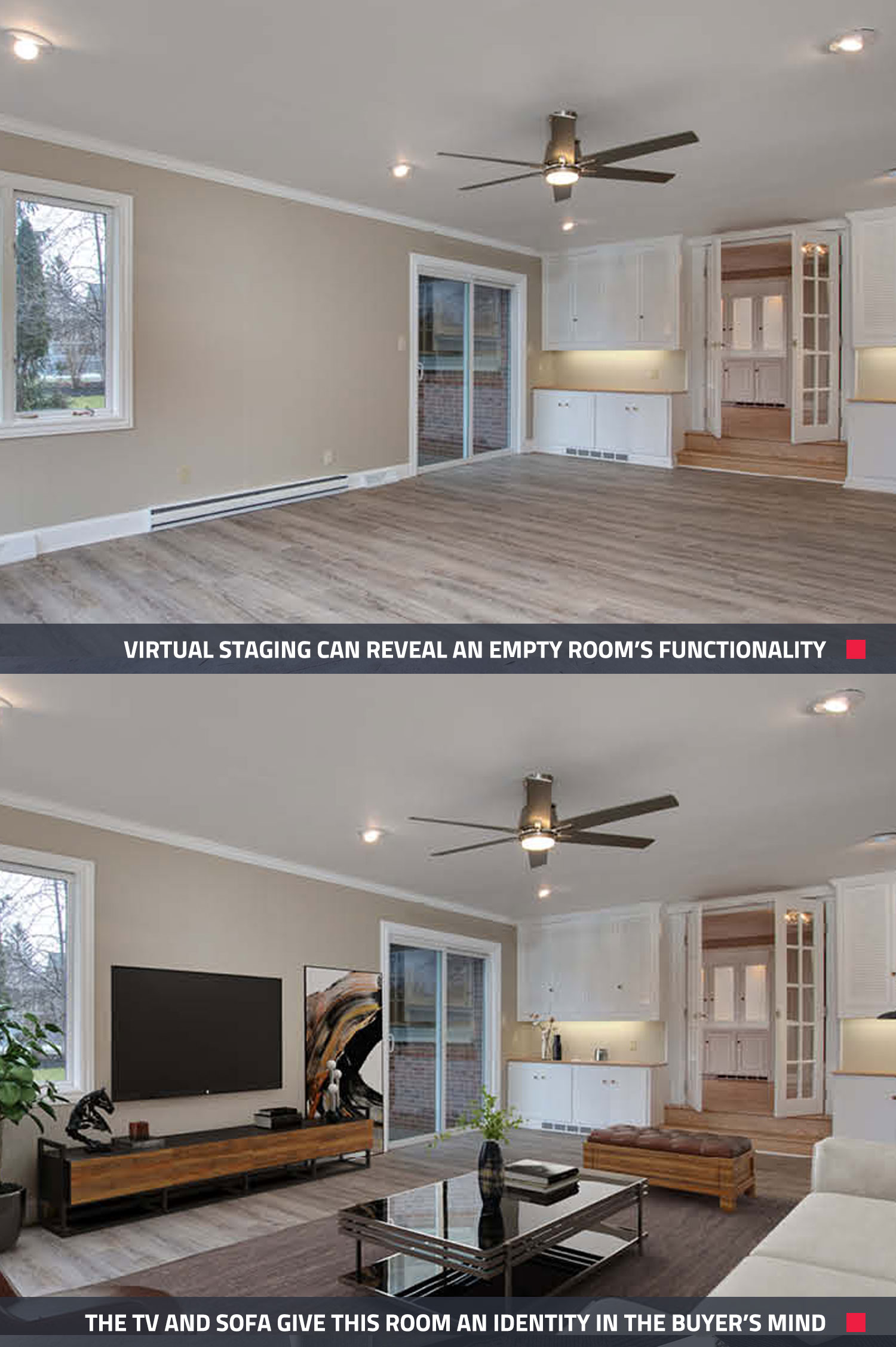 Virtual Staging is often considered a purely stylistic real estate marketing move. But one of its most important aspects is that it clarifies for buyers the function of a particular room.
Give it a try. Look up some unfurnished listings on the MLS and notice how the lack of furniture or decor makes it difficult to make out what room you are looking at.
Is it a bedroom? Is it a living room? Is it a den?
This is fundamental information for any buyer. If someone is uncertain as to which rooms they are looking at in the listing photos, how are they supposed to imagine a future there?
Virtual Staging, as in the case above, can turn a vague undefined space into a rec room that looks like a great place to kick back and watch a football game or a Netflix series. This sort of visualization needs to happen for someone to make an offer on what they hope to be their future home. If they can't even tell what room they are looking at when they encounter your listing's photos online, there is very little chance that your phone is going to ring.
Style The Same Room in Different Ways
Style and function are the two great revelations of Virtual Staging. Not everyone has a gift for interior decorating. Fortunately, all of our Virtual Staging editors do.
Just as it can be difficult to recognize the function of an unfurnished room, it can be hard to imagine just how stylish and comfortable a space can be if it is not presented to a property browser via some professional Virtual Staging.
Each space, of course, will call for its own unique stylistic flavor. Our Virtual Staging Lookbook is an extremely valuable resource when choosing the way you would like us to style your empty listing - download it and keep it on hand for every unoccupied listing that comes your way.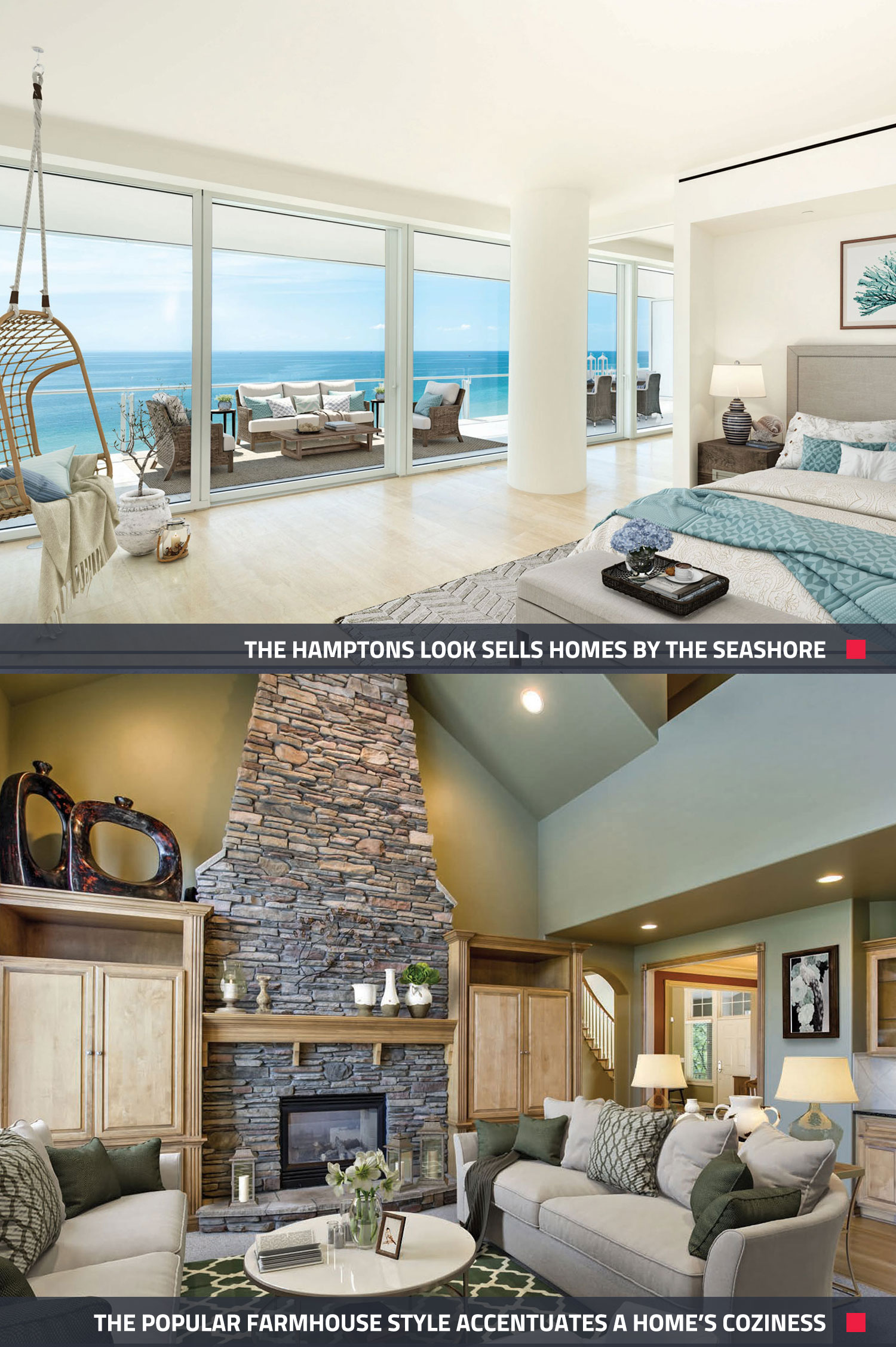 Different styles for different spaces. At BoxBrownie.com our Virtual Staging palette offers styles to suit any room. See how the Hamptons and the Farmhouse style are ideal fits for vastly different properties.
When you go to stage your listing on our website, you can choose from the most popular furnishing styles and decor on the market today and find the one that fits your listing and gives it the greatest appeal.
Upload the images of the rooms you'd like furnished, tell us which style you'd like to apply and in 48 hours your empty listing that's been stuck on the market for far too long will have a whole new look, a whole new life, and a whole new chance to attract fresh interest.
360° Virtual Staging: Real Estate Marketing's Ultimate Synergy
If you've been a real estate agent over the past two years, you don't need to be told about the 360° Virtual Tours's enormous boost to the real estate market.
But did you know that you can make a Virtual Tour out of a space that you have had virtually staged? Actually, it works the other way around: you can virtually stage any 360° Virtual Tour.
If your unfurnished listing is not getting enough attention, this is the ultimate way to change that overnight.
Virtual Staging in its own right has been proven time and again, survey after survey, to sell properties faster and for more money than vacant listings, but a 360° Virtually Staged Virtual Tour is an extra level of magnificence.
The best part about this is that 360° Virtual Tours are so easy to shoot. Even the most budget-level camera can produce stunning results.
Our co-founder, Brad Filliponi, took the low-budget Trisio Lite 2 VR to a property to show how easy it is to shoot a Virtual Tour with this device and how great the results can be!
Check out the tutorial here.
Whether you are a real estate photographer or an agent, these inexpensive beauties are well worth adding to your arsenal.

Virtually Stage A Room From Different Angles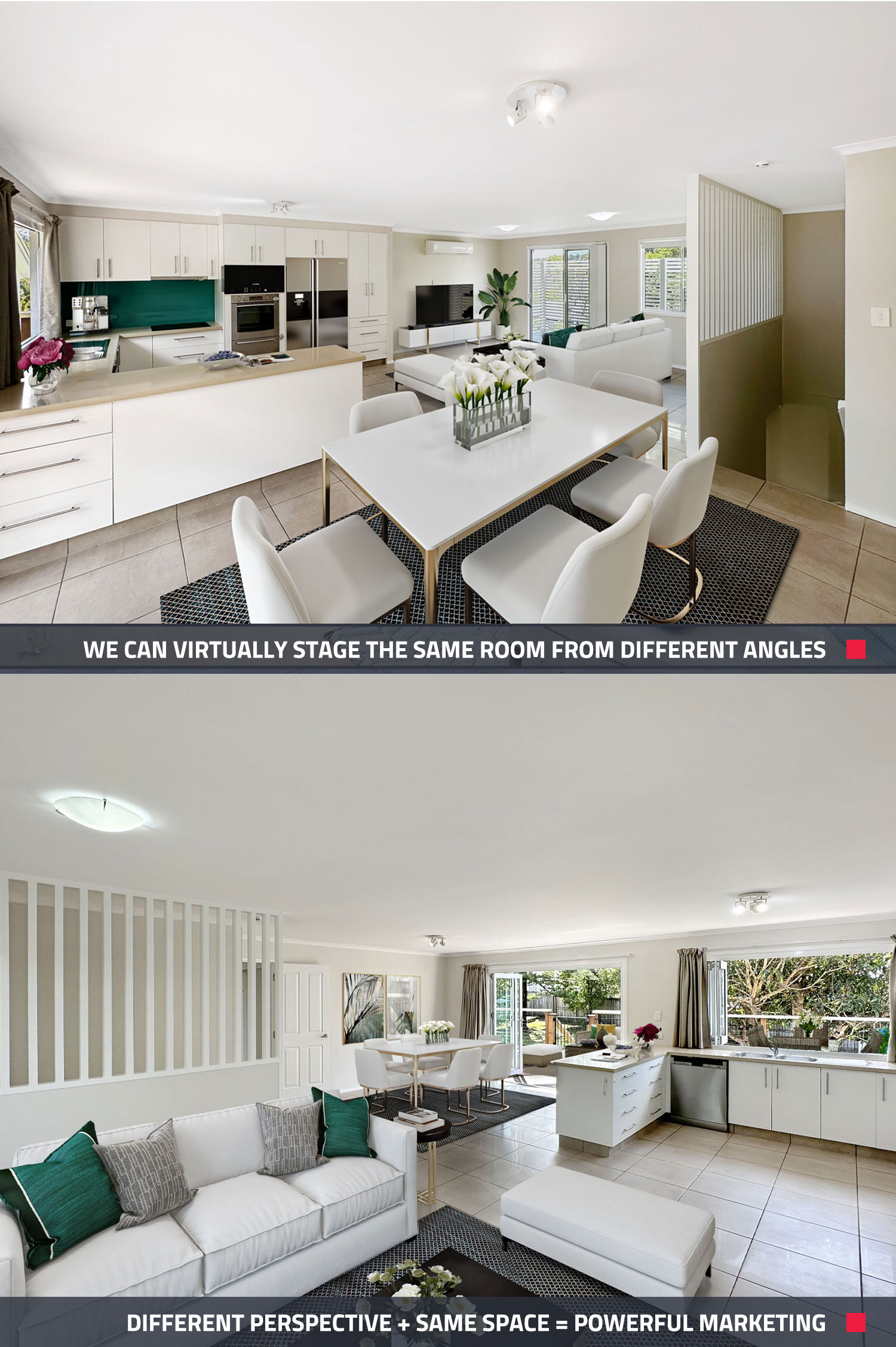 In real estate photography, important living spaces are often shot from two angles. The same can (and should) apply to rooms that are virtually staged. We've got the technology to make it happen, and buyers appreciate it!
Another impressive trick many agents don't utilize nearly enough is staging the same room from different angles. Some of you might not even know that we have the technology to make this possible.
By far the most standard practice or assumption when it comes to Virtual Staging is that one staged image per room is adequate.
In some cases, this is correct. Bedrooms and bathrooms, for example, might not benefit greatly by being staged from various perspectives.
In other cases, like the most important rooms in the house (living rooms, dining rooms, kitchens, and rec rooms), this can be a missed opportunity.
As a real estate agent or photographer, you are probably well aware that photographing a property's vital living and dining spaces from various angles is a great way to present the depth, feel and flow of a house.
This rule still applies to spaces that have been virtually staged. You may think that this is not technically possible but it is. As the above image attests, not only is this a possible marketing technique, but it is also a powerful one that really brings out the appeal of a living area.
For Best Results Pair Virtual Staging With A 3D Floor Plan
The good old Floor Plan! It's one of the most popular and helpful marketing devices, yet only 15% of real estate listings in the United States include one.
If you've read our blog post Five Reasons Why 3D Floor Plans Sell Real Estate you will be well aware of why these underrated 'blueprints on steroids' are so vital to real estate marketing.
A Floor Plan is rarely the first thing that catches a buyer's attention, but once this attention is caught a Floor Plan performs at least three essential functions in the sales cycle.
It is the only form of visual marketing that allows a buyer to perceive a property's layout in a single image.
It provides the framework for a buyer's imagination to start 'moving in' to and through the flow of a house. This is the process by which an emotional connection with a property begins to develop.
It provides a valuable post-viewing reference point for serious buyers to return to again and again while they are in the final stages of deciding whether 'to buy or not to buy'.
Virtual Staging or 360° Virtual Staging will indeed catch a buyer's attention but it will likely be the Floor Plan that helps them transition from the initial 'wow' to the essential 'what if?'
Bear in mind that our customized 3D Floor Plan can include the same styles you have selected for your Virtual Staging so that your Floor Plan of an unfurnished property can look just as dazzling as the Virtual Staging you apply to it.
The Great Outdoors: Why Not Virtually Stage That Too?

This is technically a combination of our Virtual Renovation service with Virtual Staging. The landscaping in the front is an example of Virtual Renovation. The Virtual Staging is what makes the patio look so much more inviting than it does in the forlorn before image!
Speaking of overlooked uses of Virtual Staging, don't forget about the great outdoors.
It's no secret that curb appeal (or even backyard appeal) can be greatly influential to prospective buyers. Virtual Staging is a great way to bring the potential of a property's exterior to life as well.
It's never too late to give it a try. Sign up with BoxBrownie.com today and we'll give you four free edits!
---