SEEING GREEN: 3D RENDERING BRING ECO-FRIENDLY VISION TO LIFE
3D architectural renders are sizzling marketing devices that are essential to selling property off the plan. But this is by no means the extent of their value.
With the climate crisis taking various shapes in various corners of the world, there are increased economic and ethical incentives for building projects that put the planet first. The accuracy and 3D capability of renders are proving to be great ways to bring such projects about.
The benefits of using 3D architectural rendering in the effort to "green-up" your building project cannot be overstated. Part crystal ball, part magic wand, CGI renders allow you to see into the future of your project as you conjure it from thin air.
Making a photorealistic render an early priority in your project will no doubt save you time, money, and headaches. It can also go a long way towards saving the planet from unnecessary strain.
In this post, we'll look at five ways that 3D rendering is contributing to stronger environmental stewardship in the building and construction industry:
Designing energy-efficient systems
Selecting from the most suitable sustainable building materials
Envisioning the living roof (or wall)
Determining interior design features, such as green fixtures
Troubleshooting and communicating with contractors
1. DESIGNING ENERGY-EFFICIENT SYSTEMS
The biggest green shift in the architecture and construction industry is that both commercial and residential properties are being designed to be more energy efficient.
Wind turbines and solar arrays are not just becoming popular amongst home owners, huge companies like Amazon, Ikea, Costco, and Apple are including massive solar arrays in almost all their new building projects.
The giant upfront costs that come with installing wind and solar call for detailed advanced planning. 3D renders offer a perfect way to plan and assess green energy infrastructure, both functionally and aesthetically.
2. SELECTING SUSTAINABLE MATERIALS
The use of more sustainable building materials in construction projects is another powerful and increasingly popular way to reduce environmental harm. This can mean anything from eliminating transport emissions by sourcing renewable materials from nearby locations to using recycled materials to choosing material that is more energy efficient.
Take bamboo, recycled rubber tires and adobe as an example. They all have their environmental benefits. It is not, of course, within the scope of the 3D render to decide which materials should make which construction project's shortlist. But it is definitely the 3D render's role to demonstrate how the materials can look in a given project.
There is no reason why you can't save the planet with a bit of style, and our renders can help you pull this off in breathtaking fashion. Once you've decided upon materials that will lessen the environmental impact of your project, a render can iron out what will look best and where.
3. THE LIVING ROOF
It's funny how what's on top of a building can have the most to do with reducing its footprint. Living roofs (and living walls) are eye-catching environmentally-friendly favourites that eat carbon while giving shelter.
Nothing plants the seed for a green roof like one of our 3D Aerial renders. The birds-eye view of a living roof, makes you want to land and linger a while. On the inside, our internal renders can help conceptualize the arrangement and location of the living wall.
Aside from being beautiful, 3D renders of living roofs and walls are instrumental at the stage of landscape design.
Green structures are living beings. Not only do they require care, they often require botanical knowledge in the planning phase. Renders can provide realistic landscapes based on place and climate conditions. They can even include specific species of vegetation, like flowering shrubs or native plants.
4. GREEN FIXTURES
Environmentally speaking, what's inside certainly does count. The fixtures you select for your home, can lead to thousands of dollars in savings over the years.
And where reduced energy consumption bills are concerned, this almost always translates to reduced strain upon planet Earth.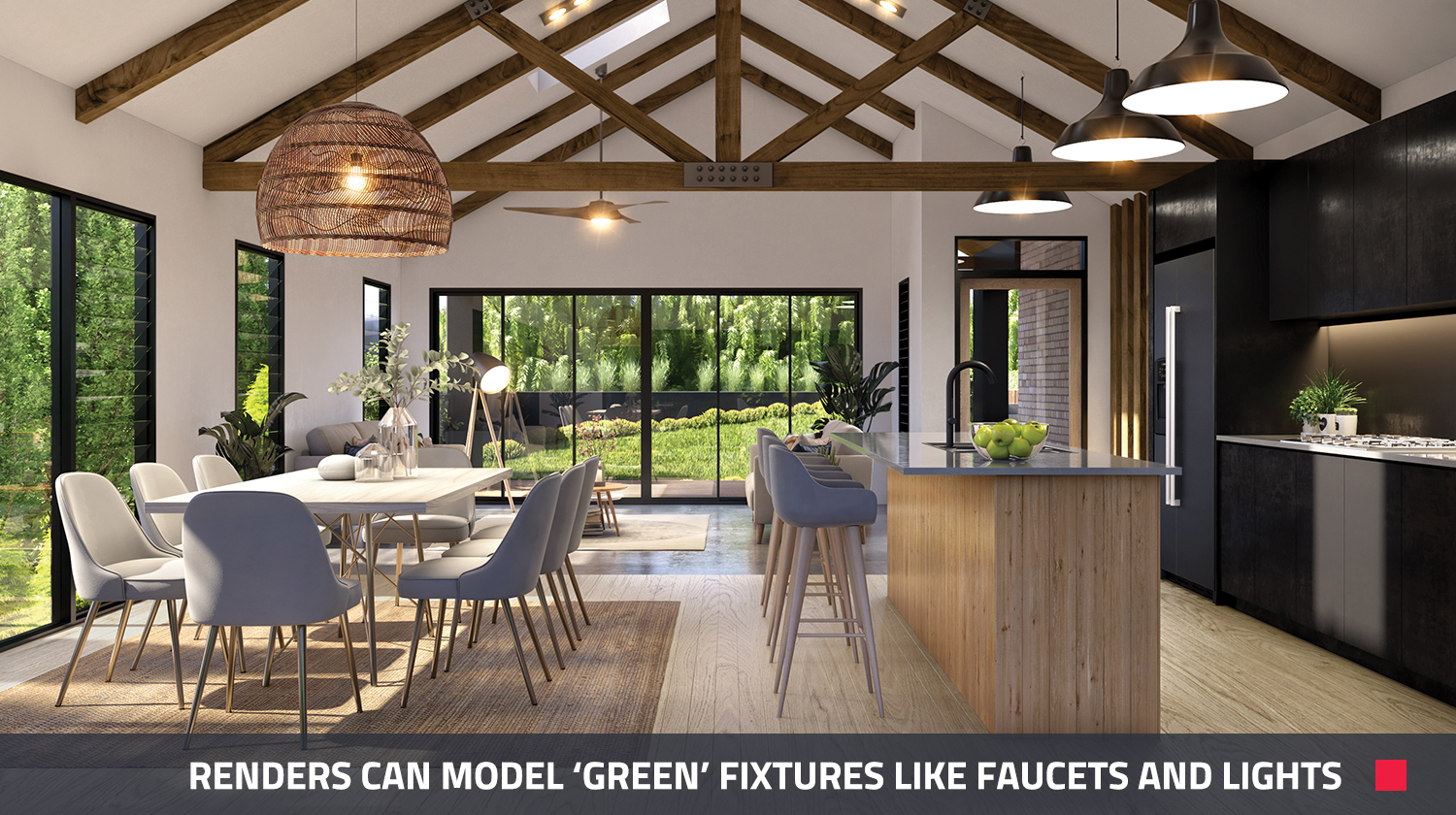 Eco-friendly kitchen and bathroom fixtures (including bathtubs, toilets, faucets and showerheads) abound on the market today. Light fixtures and fittings are another area where there is a huge range of choice in the style department.
A builder selling their property can showcase different themes, fixtures, and options with additional outputs in one of our high resolution renders. Being able to see and choose a style off the plan can reduce unnecessary wastage.
To be able to offer environmentally friendly fixtures and fittings is not only responsible to future generations, it has become a major selling point. According to a 2020 survey by the National Association of Realtors, 59% of homebuyers want green homes.
The survey also found that buyers are not keen on replacing or upgrading windows to conserve more energy - they want these fixtures in place at the time that they move into their homes.
5. TROUBLESHOOTING, COMMUNICATING WITH CONTRACTORS
Our 3D renders can come to the rescue in innumerable ways as your project moves from design to construction to outfitting with fixtures and appliances.
A render provides a great model that can be consulted continually to ensure that everyone involved with the project on the same page. 3D architectural visualization renders provide a very clear shared vision for all involved with a project - be they plumbers, planners, builders or sellers.
2D blueprints, diagrams, and static floor plans don't provide the same level of accuracy as a 3D render. These can pinpoint dimensions and measurements to ensure that there are no unpleasant surprises during the ordering or installation phases.
Renders are a great way to show contractors what you want it to look like. Sometimes it's not just the client who can't visualise or understand the design, even contractors can have trouble understanding how the tiles or flooring should be placed, or where exactly the solar panels should be positioned.
In order to get an accurate quote from your contractor and know how long it's going to take to build, you can show your contractor the Render of what you want your finished build to look like. This will ensure an immediate shared vision and give contractors the best ability to provide a realistic timeline for their deliverables.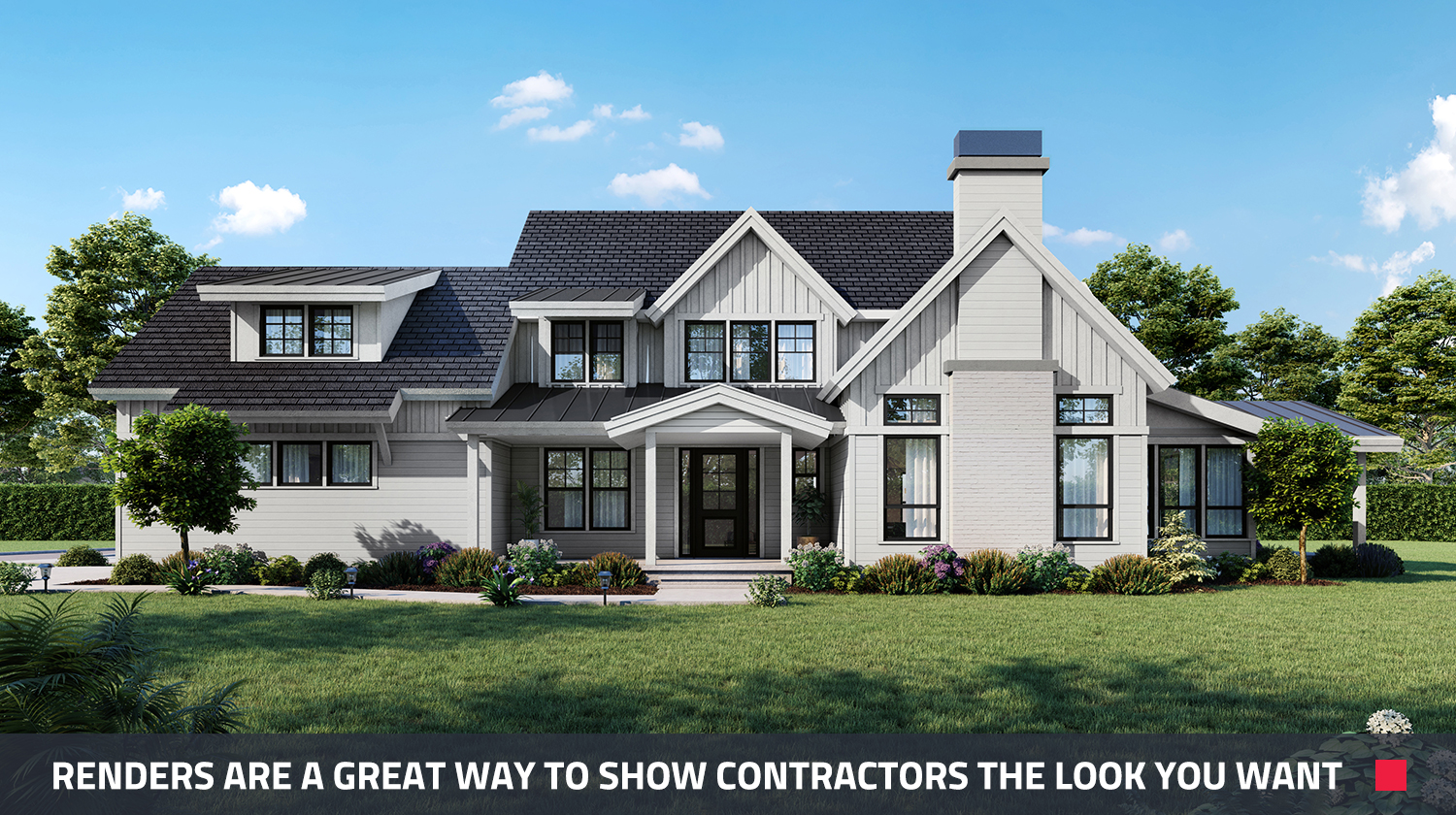 ---