THE RACE IS ON FOR 3D RENDERING IN REAL ESTATE
Introduction:
If the 360° Virtual Tour was the most important real estate marketing tool in 2020, the 3D Render may take that title by the end of 2021.
Why? Because after a recent spike in building permit applications, the market is about to be inundated with off plan listings.
If you are one of the tens of thousands of real estate professionals preparing to use 3D rendering services to sell property off the plan, then this post is for you. We'll start outside and move indoors, which is exactly what a good external render should make a buyer want to do.
We are pleased to point out that we have just been named to the TECH 500 for our pack-leading performance in the category of 'Virtual Property Marketing'. We do real estate 3D renderings better than anyone.
Our CGI artists can work wonders. But when it comes to the external render, certain things, like perspective and time of day, must be determined by you.

TIME OF DAY
If your project looks over a cityscape, it might be best presented after dark. If there is a backdrop of mountains at one end of the street, then the 3D architectural visualization of your project should probably take advantage of the daylight.
A streetscape in a family complex might want to do the same, possibly with people included in the render. As the popularity of our Day to Dusk Hero Image service attests, twilight, or sunset is a particularly alluring time to feature most properties.
The time of day you select for your external render is a crucial detail that is better left in your hands than in those of a CGI artist who only knows as much about your project as you tell them.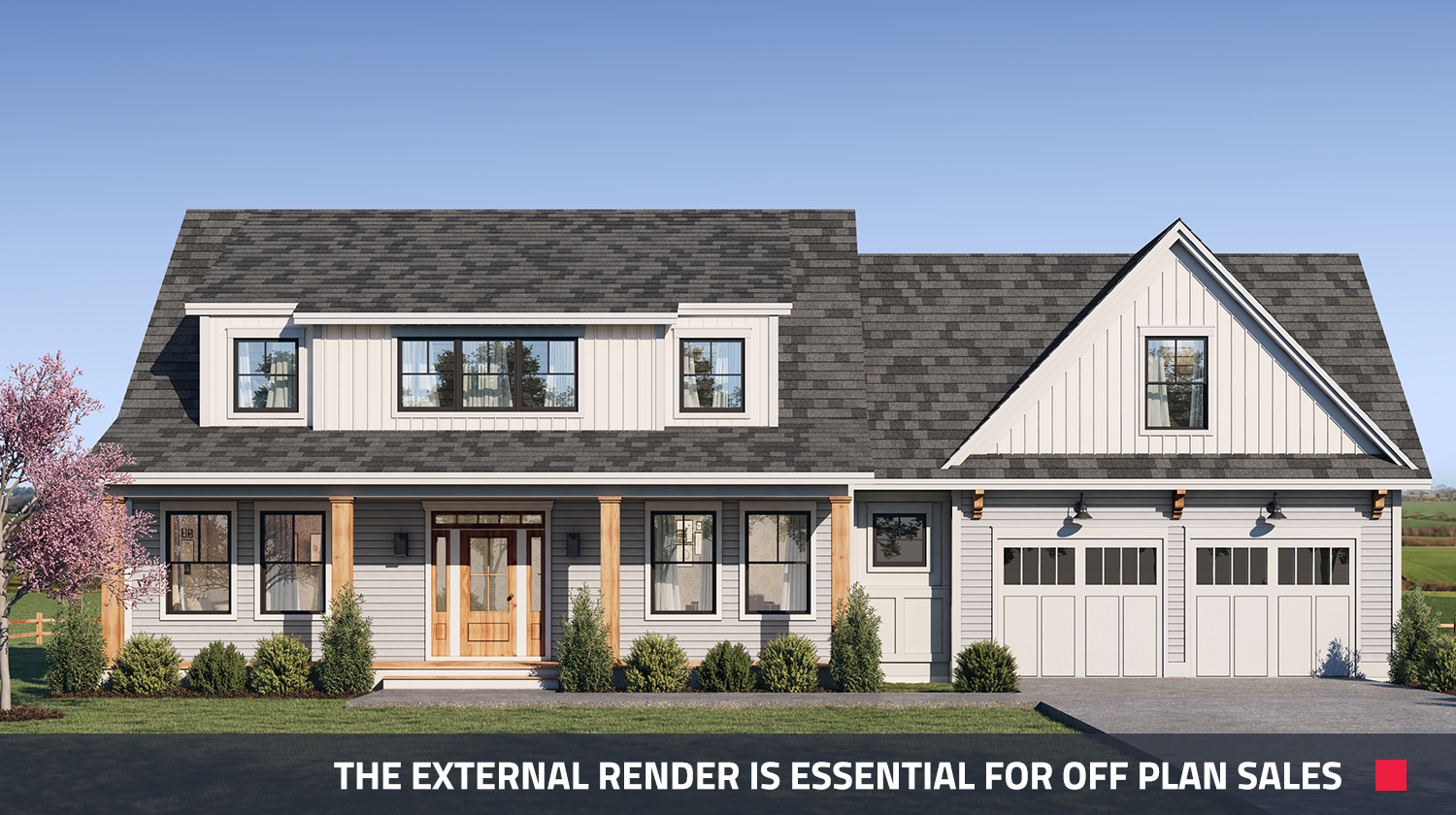 PERSPECTIVE: STREETSCAPES & EXTERNAL 3D ELEVATIONS
If people are going to fork out the money to buy unbuilt property in advance, they will have to like how their future home looks from the street.
A quality 3D external render will catch a potential buyer's attention, latch on to their imagination, ignite their interest and ultimately make them want to see inside.
An external 3D elevation generally refers to a head-on view of a single property. It gives clear indication of the proportions, materials and infrastructure of your project.
Streetscapes are used to convey atmosphere. They are ideal for townhouse projects where the render includes multiple dwellings that are all a part of the project.

PERSPECTIVE: AERIAL RENDERS
For large projects, which often feature external renders from more than one perspective, an aerial render is a must. Nothing showcases the grandeur of a future subdivision like an aerial render.
Our CGI artists regularly produce aerial renders that could make an eagle swoon. Real estate agents love architectural renderings that feature projects from the air, because aerial renderings attract buyers.

CASE STUDY: HIGHRISE FROM GROUND-LEVEL
External 3D models, like the one below, work best when they transport a buyer's interest from outside to inside.
As an exercise, consider why this project was presented at the time of day and from the perspective that we see it.
Many who consider high-rise living worry they will lose their connection to the natural world. The above 3D render addresses this concern with a point of view from across a broad expanse of lawn.
Flowering jacaranda trees (and even a small tropical bird in the foreground) preserve the feeling of the outdoors, while presenting this development in the impressive light of either mid-morning or mid-afternoon.
The time of day highlights the lawn and the vegetation, and the ground-level perspective best displays the impressive height of the buildings.
CIRCLE IN ON A SALE WITH A 360° RENDER/VIRTUAL TOUR
If the external render does its job and makes a buyer want to see inside, there is no better way to greet them than with a 360° Render Virtual Tour.
Our 360° Internal Renders are powerful, immersive, and shine on social media. They are almost impossible to look away from.
In the world of bricks and mortar real estate sales, the 360o Virtual Tour is a great appointment-generator. In the world of off plan property sales, the 360° Render Virtual Tour can close deals.
Now that the 360o Virtual Tour has surpassed in-person visits as the most-popular way to view a home, buyers expect this option - even for off plan properties that have not yet been built.
Furthermore, without a 360o Internal Render, you are going to have a hard time retaining the imagination of a buyer. There are just too many development projects on the market that do offer such incredible interior panoramas now.

KEEP A FOOTING IN THE FLOOR PLAN
As a final note, we should remind you not to lose sight of the selling power of floor plans. According to the National Association of Realtors, floor plans are the third most requested item of marketing materials among buyers, yet only 5% of North American real estate listings include them.
For all the dazzle offered by our 3D residential and commercial real estate rendering services, floor plans remain essential elements of any off plan property venture.
We offer a range of 2D and 3D floor plan presentations, including customized floor plans that carry your agency's branding.
---