KEY REAL ESTATE TRENDS TO WATCH IN 2023
Introduction
What's in store for 2023? According to the National Association of Realtors (NAR), a slower year for home sellers but a potential market boom for 10 areas in the southern states. The NAR released its report late last year which outlines their predictions for the housing market in 2023.
See what is forecast for the year ahead.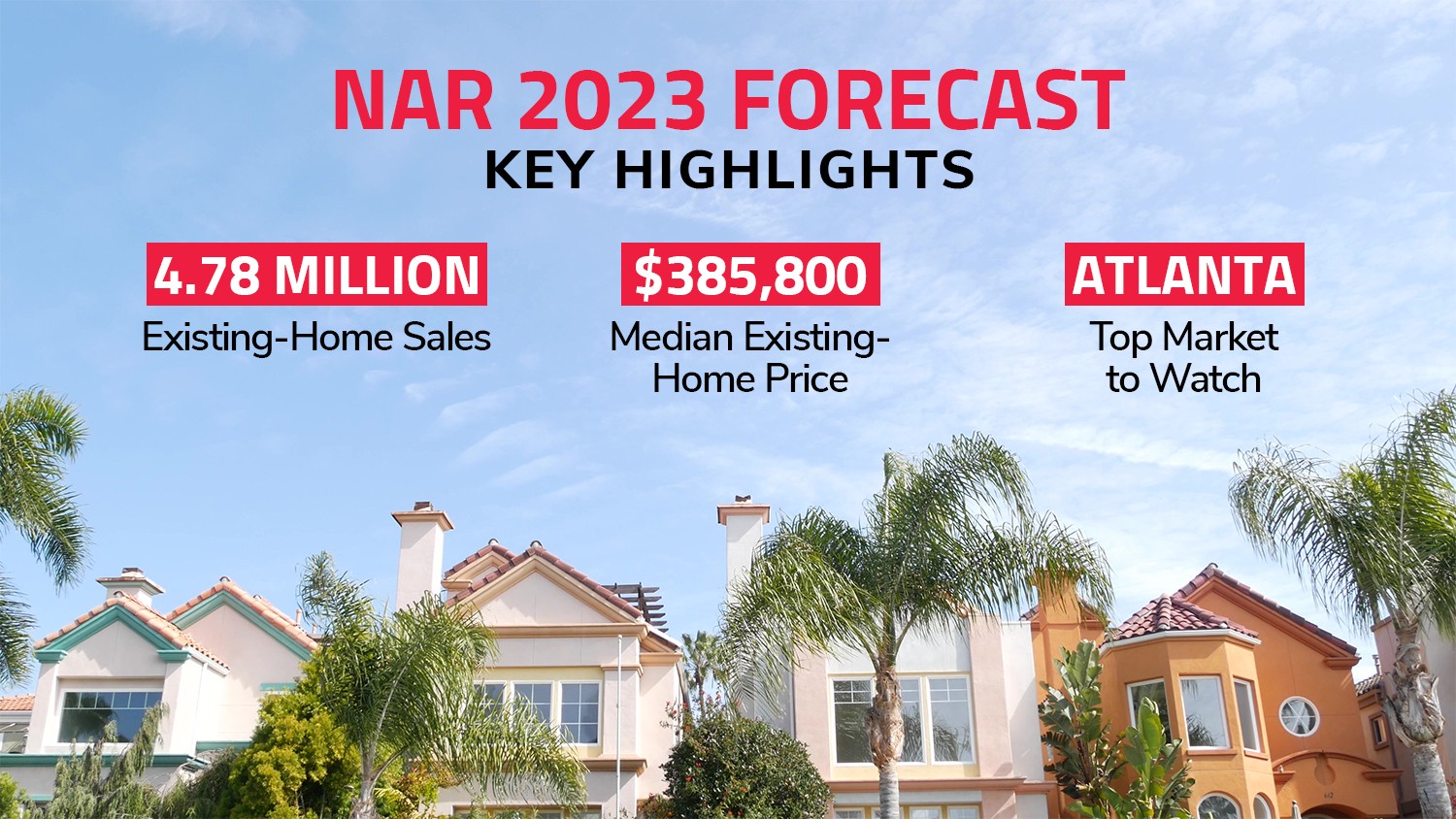 Existing-Home Sales Slow
Existing-home sales are predicted to decline in 2023. According to NAR projections, in 2023 there will be 4.78 million existing-home sales. A 6.8% drop from 2022's 5.13 million. Many buyers will be priced out of the market. While there are fewer home buyers in the market, housing demand will continue to outpace supply. The housing supply will remain limited, NAR attributes this to new home construction delays, and higher mortgage rates causing people to avoid selling their homes. With home inventory remaining tight, home prices will continue to rise overall.
Prices Remain Stable
NAR expects the annual median home prices to increase by just 0.3% in 2023 - reaching $385,000. NAR Chief Economist Lawrence Yun predicts small price gains for half the country and slight price declines for the other half – excluding markets in California which will see a more marked price drop.
Top Housing Markets To Watch
The top real estate market to watch is Atlanta. Based on key economic indicators, these are the top 10 real estate markets to watch in 2023.
Atlanta-Sandy Springs-Marietta, Georgia
Raleigh, North Carolina
Dallas-Fort Worth-Arlington, Texas
Fayetteville-Springdale-Rogers, Arkansas-Missouri
Greenville-Anderson-Mauldin, South Carolina
Charleston-North Charleston, South Carolina
Huntsville, Alabama
Jacksonville, Florida
San Antonio-New Braunfels, Texas
Knoxville, Tennessee
Want to maximize your real estate marketing in 2023? Get digital marketing tips to save time and sell property faster or learn how to use virtual staging to sell a listing stuck on the market.
New to BoxBrownie.com? You can sign up now and receive 4 edits free. No credit card needed.
---