THE MAGIC FORMULA: HOW TO USE SOCIAL MEDIA TO SELL REAL ESTATE

Introduction:
This post offers you a specific method of repurposing your strongest MLS marketing materials so that they also resonate on social media. In the lines below, you'll find a way of using scheduled posts to build a social media narrative out of materials you are already using on MLS sites.
One of the most startling pieces of information in National Association of Realtor's 2022 Home Buyers and Sellers Generational Trends Report is that in 2021-2022 home buyers and sellers barely even ranked social media as a factor in their buying or selling process.
Page 71 of the report discloses that only 1% of buyers "saw the agent's social media page" before meeting their agent. Another meager 1% of buyers found their agent by "Crowdsourcing through social media/knew the person through social media."
The numbers among sellers were identically sparse. Page 129 of the document states that only 1% of sellers found their agent through a social media page and, again, another 1% crowdsourced or knew their agent previously through social media.
Is there a chance that your social media page is not the client-generating dynamo it's been purported to be?
This post will offer you a specific formula to repurpose your MLS marketing materials to have greater social media appeal.
Life After MLS: Get More From Your Real Estate Marketing
If you want your MLS materials to generate a buzz on social media, you'll probably have to do more than simply post them there and hope for impact.
Social media is a different atmosphere than, say, Zillow or Realtor.com. People aren't generally on Facebook or Instagram to look for homes, so if you want your listing to stand out from the madding crowd on such sites you'll have to do what the master influencers are doing: create some kind of story.
Every good story crescendos into some kind of climax, and your best MLS materials can do the same.
The MLS visual media that NAR regularly finds to be the "most useful website features" in promoting a listing are great images, a Floor Plan, and a 360° Virtual Tour.
If you are serious about attracting the largest pool of buyers for a listing then you probably have already obtained these items. Now, here's how to repurpose them into a five-day series of scheduled posts that will give them some added shine on social media.
(SPOILER ALERT: this series ends with you broadcasting a live interactive tour of your listing on social media.)
In the below model, we've used the days of the week as a guide - partly for simplicity's sake; partly because if you begin this series on a Monday, the scheduled posts leave you the opportunity of hosting a real-world open house on the Saturday of the week.
Consider each post as an advertisement for the live interactive tour of the listing that you host on the fifth day. For optimum results, each post should occur exactly one day apart.
DAY 1) MONDAY: Introduce your listing with a sketch of the Floor Plan
Introduce your listing in a short video standing outside the property, and announce that you are going inside to sketch a map of its floor plan.
This is a surprisingly easy process. If you are uncertain how to accomplish it, check out our co-founder Brad Filliponi's video tutorial for the perfect instructions as to how to produce a floor plan without the use of a laser measure.
At the end of this first post, share the sketch you've made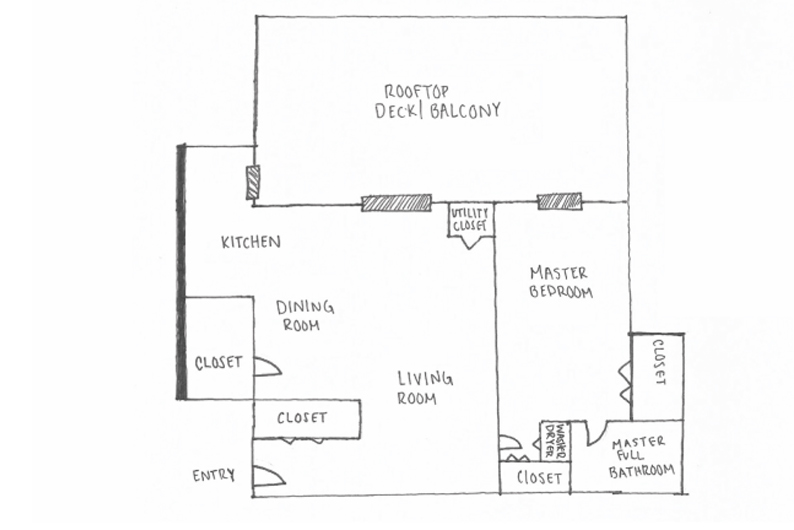 This simple sketch is a great way to start your social media narrative. The script accompanying it should read something like: "I've just sketched the floor plan of my brand new listing. Stay tuned tomorrow for the 3D Floor Plan reveal. On Friday at 7 pm I will be conducting a LIVE video tour of the property and on Saturday at noon, I'll be hosting a live, real-world Open House.
The text for your Day One post could read:
"I am pleased to be listing 1011 X Street starting today. I have just walked through the property and sketched out this general layout on a sheet of graph paper. Tomorrow, I'll reveal a 3D Floor plan of the property…. And remember in five days I will broadcast live from the property, answering all questions live and showing anyone interested in anything they want to see about the property. See you tomorrow!"
Regardless of how you construct your script, each post in the series should
provide a "stay tuned" teaser of what's coming the next day
remind everyone that you will be conducting a Live Interactive Tour on Day 5
Day 2) TUESDAY: Post a Before and After Shot Revealing the 3D Floor Plan
You've got to throw a little show biz into it! Drawing a Floor Plan on a napkin on Day One and revealing a 3D Floor Plan on Day Two is a great way to get a little wow-power on social media.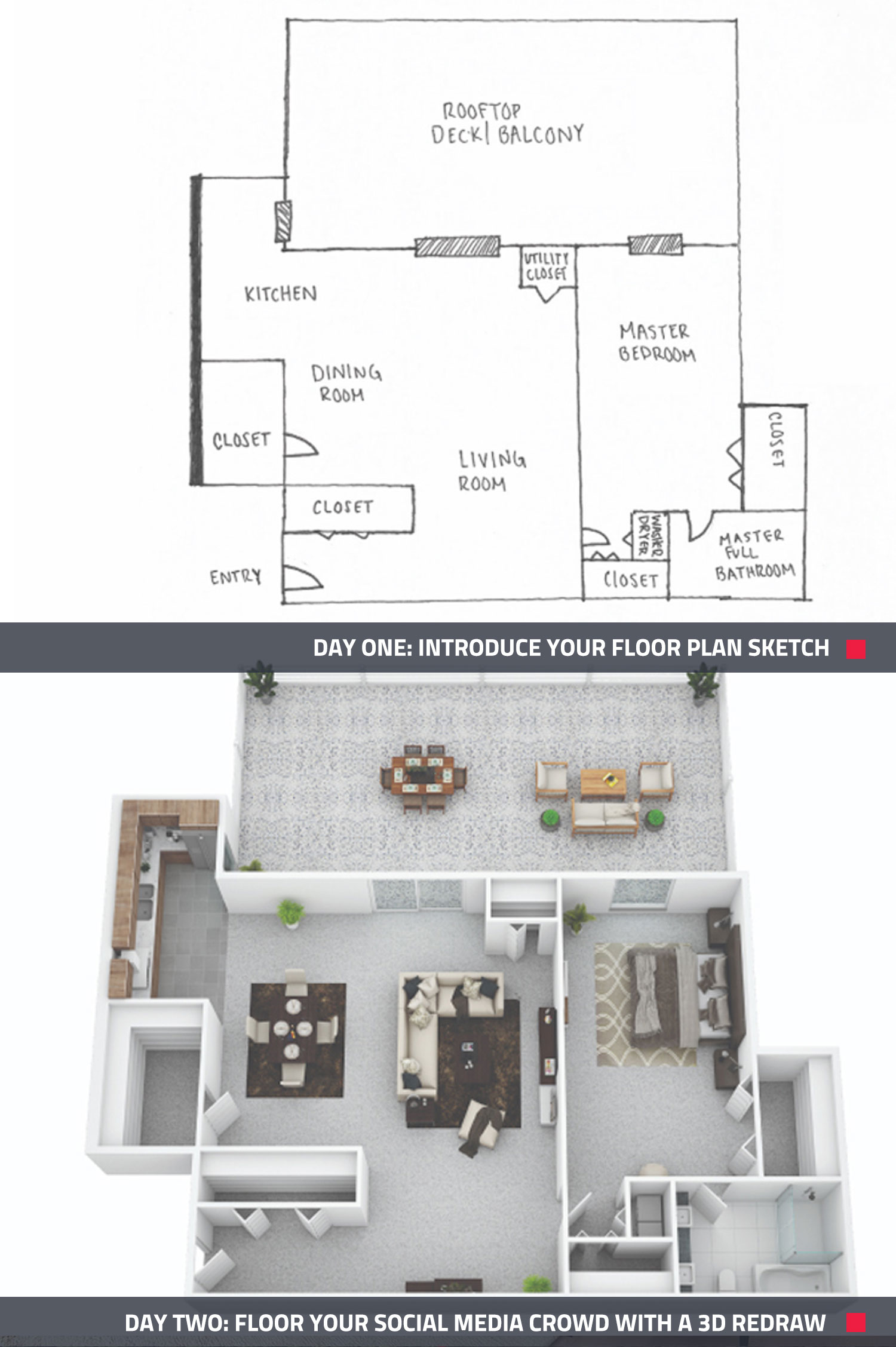 Before & After pics are proven to inspire engagement among social media users. Post a Before & After featuring your sketch and our 3D Floor Plan redraw the day after posting your sketch.
Suggested text:
"Magic at work. If you think this transformation from a sketch is impressive, wait til you see the pics I post tomorrow. Remember: on Friday at 7 pm I will be conducting a LIVE video tour of the property and on Saturday at noon I'll be hosting a live, real-world Open House."
Day 3) WEDNESDAY: Take their breath away with Hero Images
Images remain the most compelling form of real estate marketing. Your Hero Images are the best of the best of your listing photography.
This is why it can truly be an "eye-opener" to wait until Day Three of your scheduled posts to introduce images of the property you are promoting. But don't just bombard your social media with images. Be selective. Use only the Hero Images (i.e. the most breathtaking images you have of your listing) in your social media marketing drive.
There is simply too much eye candy on social media these days to publish anything but the best-looking pics you have of a property.

After capturing people's interest with a redrawn 3D Floor Plan, now it's time to catch their eyes with some breathtaking Hero Images.
To be certain that each image you post is as stunning as possible, submit them to our Day to Dusk Image Enhancement services, which will bring out the very best in each image in less than 24 hours and for under USD $5. (This is probably a step you have already taken when you posted your pics to the MLS.
Remember the main goal of this Day Three posting is to generate interest for what's coming next: The 360° Virtual Tour.
A suggested script: "What a beauty! You don't get this kind of view from a Floor Plan. Stay Tuned: Tomorrow I'll be posting a 360-degree Virtual Tour. Remember: Friday at 7 pm I will be conducting a LIVE video tour of the property and on Saturday at noon I'll be hosting a live, real-world Open House."
Day 4) THURSDAY: Post The Virtual Tour
On Day Four your nifty social media narrative that began with a sketch of a Floor Plan suddenly blossoms into a 360° Virtual Tour!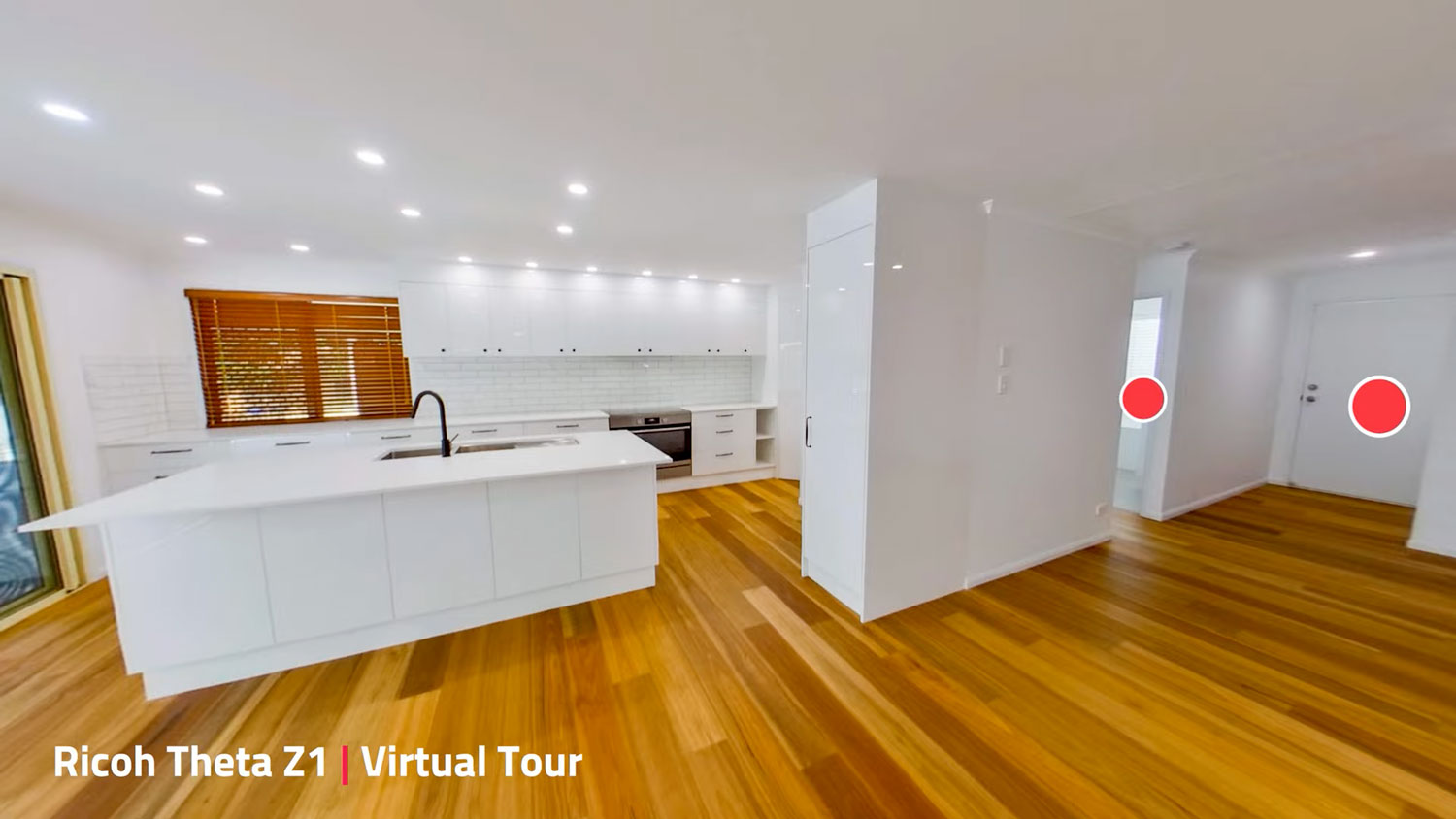 Post a link to a Virtual Tour. These fully immersive methods of viewing a home (as evidenced in the above example of a Virtual Tour tutorial that we posted) are immensely popular and have been known to catch the eye of buyers far and wide. Remember to promote the climax of your narrative - the live, interactive social media tour that you will conduct the following day.
Like a good detective novel, your series of scheduled posts will release more information about the property daily.
Suggested text:
"On Friday at 7 pm I will be conducting a LIVE video tour of the property and on Saturday at noon I'll be hosting a live, real-world Open House."
The technology has now reached a level and a price point where it is sensible for every agent to learn how to shoot their own Virtual Tours. Check out our video tutorial on how to use the Trisio Lite 2 360° camera (featured below) to shoot Virtual Tours on a shoestring budget.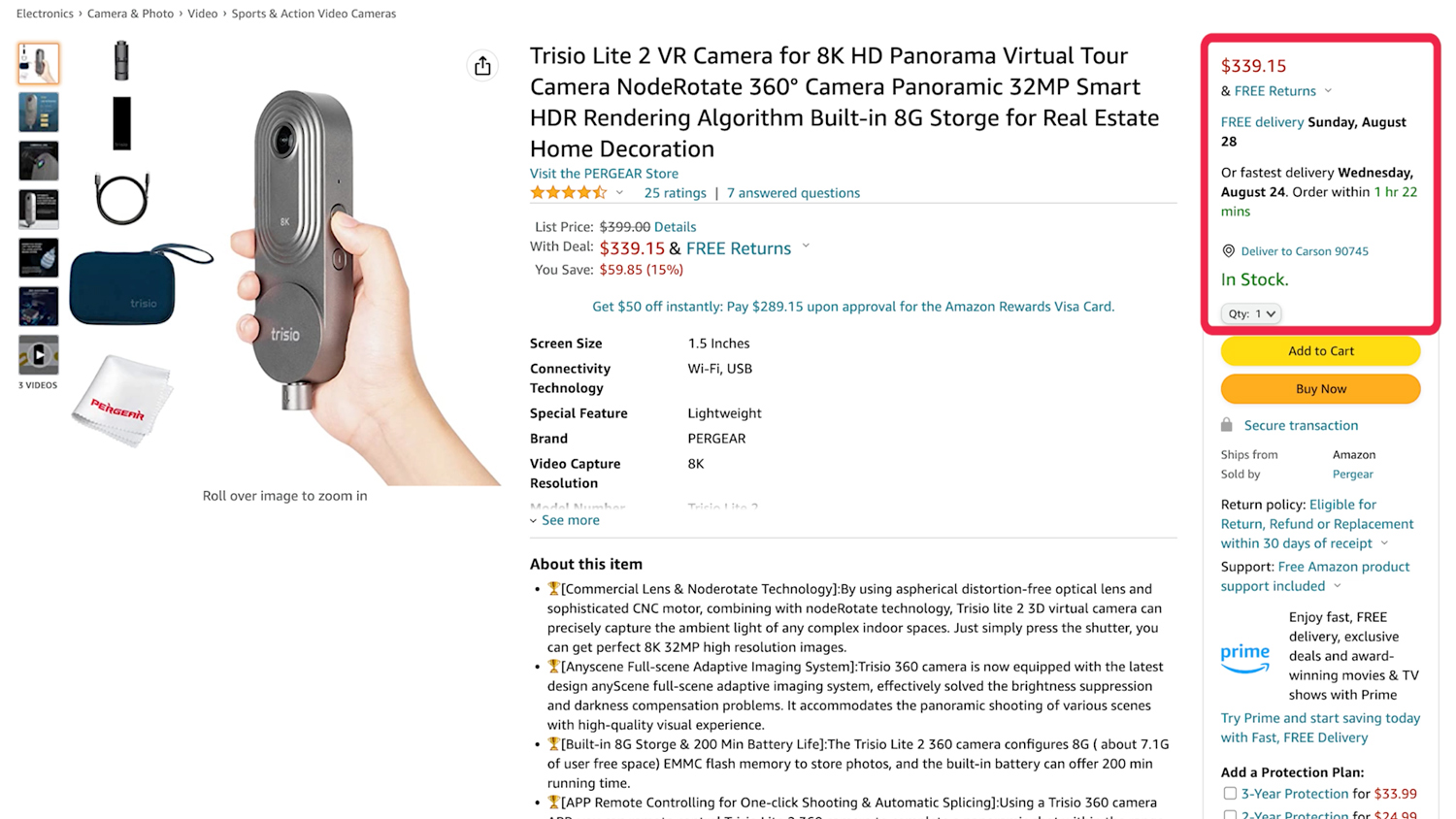 The Tricia Lite 2 VR is an example of a 3D camera that shoots professional quality Virtual Tours and can be picked up for a fairly small sprinkle of cash.
Day 5) FRIDAY: Go Live with an Interactive Tour
Day five is the culmination of your scheduled posts narrative: A live Post from the property in question.
It is always a good idea to go live on social media because both Facebook and Instagram give preference to users who are 'LIVE'. Not only do live users get bumped up on the story feed, but they also get a little red beacon on their avatars to let their followers know that they are live.
According to Paul Salazar, Estates Director of Hilton & Hyland in Beverly Hills, Instagram Live tours of his listings have proven to be a great way to meet new clients.
"Some of my clients have met me through my Instagram Live feed where I spend 30 minutes walking around a new listing and answering their questions," Salazar told Forbes.
"Platforms like Instagram, YouTube, and TikTok have allowed me to communicate with clients on a larger scale. If I want to provide information or get a message across to hundreds or even thousands of people I can do so by using social media platforms," he said.
If you follow the post-scheduling suggestions listed above, you are likely to attract the maximum amount of exposure to your live broadcasts. And if you make a habit of it, like featuring a property every week and conducting a similar five-day countdown to a live tour, you will no doubt catch the eye of astute sellers who are looking for a real estate agent who is doing their utmost to sell their listings.
SIGN UP with BoxBrownie.com today and we'll throw in three free edits that you can use in your next social media narrative.

---