THE NEW REALITY: VIRTUAL TOURS SURPASS IN-PERSON PROPERTY VIEWINGS
Introduction:
It has finally happened. For the first time in history, property seekers would rather take a 360° virtual tour before embarking on a real-world walkthrough of a home. This startling new reality for post-pandemic real estate marketing was revealed in a Forbes magazine article at the end of January 2021 - just two days after one of our blog posts declared that virtual tours are a "must" for all 2021 marketing plans.
"Prior to the pandemic," the Forbes article states, "virtual property tours weren't uncommon, but most individuals still preferred to see property in person. Today, that mindset has shifted, with countless buyers turning to virtual property tours first, before committing to see a home in person."
This is the "tech-tonic shift" that Zillow CEO Rich Barton hinted at five months prior to the Forbes story, in an August, 2020 interview with CNBC.
In this article, entitled 'Housing market skirts coronavirus crisis as sellers use 3D virtual tours to find eager buyers', CNBC credits virtual tours with saving the housing market during the pandemic.
Barton backs up this claim by revealing that on Zillow, interest in virtual tour technology had spiked to the point that three out of four home seekers want to use it when buying a home.
Five months and an enduring coronavirus pandemic later, and the coup is complete.
The new reality is a virtual reality. The surging popularity of 360° virtual tours have reached a point where virtual offerings have surpassed their real world counterparts in real estate marketing.
People like to talk about how Bitcoin has surged in value since its introduction in 2009. Well, the 3D virtual tour has followed a similar trajectory in the real estate sector. It makes for a fascinating rewind to examine the facts and figures on virtual tours over the just past three years.
One year ago, it would have seemed highly unlikely that, within 12 months, property seekers would come to prefer the virtual experience over real-world visitations of homes.
Three years ago, this notion would have been laughable.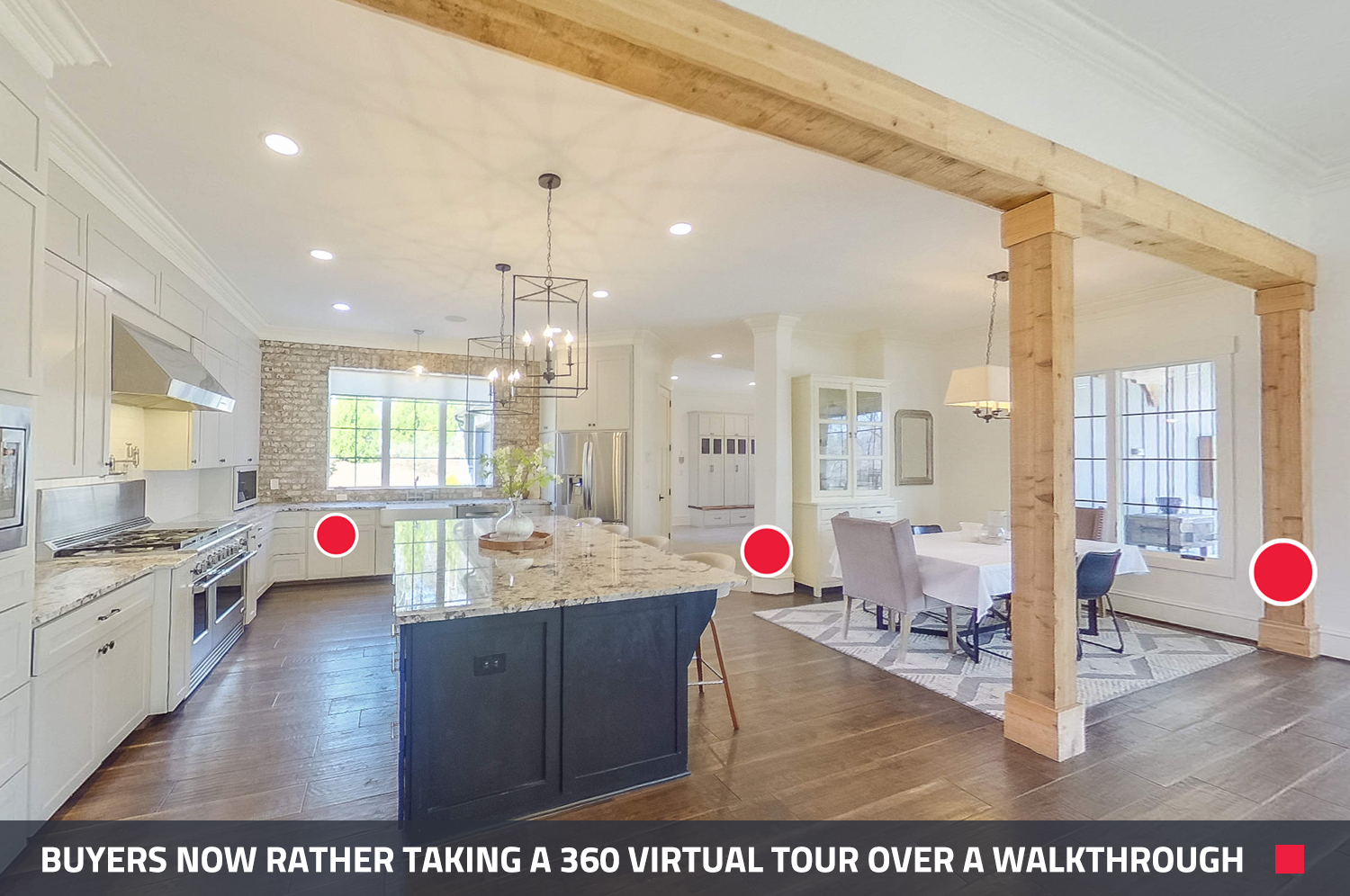 2018 - 2019: THE FALSE PLATEAU OF THE VIRTUAL TOUR
From 2018 to 2019, virtual walkthroughs gained and maintained traction in the real estate industry. People began to see the marketing potential they could wield in the digital age.
The website PropertySpark declared "social media is the present but virtual tours are the future". After gaining such recognition and respect in the industry, demand seemed to plateau.
Consider the findings of a 2018 survey conducted by US-based National Association of Realtors (NAR).
In 2018, NAR found that 46% of property buyers considered virtual tours to be "Very Useful". This is a significant level of recognition for a marketing device that barely existed two years prior to the survey.
In 2019, these numbers remained very much the same. In a report entitled "Home Buyer and Seller Generational Trends", NAR found that 48% of buyers between the age of 39 and 63 found virtual tours "Very Useful". A slight increase, but nothing like the explosion that was just around the corner.

2020: COVID-19 NOT THE ONLY THING TO GO VIRAL
Given the current reality of the world, it is perhaps questionable whether "going viral" is still an appropriate term to describe something that explodes in popularity. However, that is exactly what happened to virtual tours over the course of 2020.
Here we give the facts and figures on virtual tours during the pandemic.
In 2020, NAR's annual report did not follow up on the "Very Useful" metric it used in the preceding two years. But it did conduct a "Market Recovery Survey" that inadvertently disclosed how demand for 3D Virtual Tours had skyrocketed.
With the pandemic in full swing, NAR found that 25% of agents thought the use of virtual tours would stay the same in 2021 and beyond. This number is so small because it must be added to the whopping 66% of agents who believed use of 3D Virtual Tours would increase in the year to come.
Redfin, a North American real estate listing site with an enormous digital footprint, reports even more astounding findings. In a May 2020 report, Redfin said that 3D virtual 'walkthroughs' were up more than 300% since the pandemic began.
Even the government of Canada acknowledged the surge in VR experiences in 2020.
"Builders and buyers have mostly shifted to virtual tours and digital contract signings," Statistics Canada announced in a July 2020 paper. The paper said that this, along with a shift in interest to homes in the suburbs, was the most obvious change inspired by the COVID-19 pandemic.
On the very last day of 2020, NAR proclaimed in its Commercial Connections blog that "Virtual Tours with 360° cameras have gone through the roof".
The post entitled, "Getting a reboot from Virtual Tours" was lavish in its insistence that virtual tours had not just revolutionized the commercial real estate market, they had saved it.
"Every big landlord is now requesting that their brokers put together virtual tours, and they don't really care how they do it as long as they get it right, " the article quotes Dan Palmeri as saying. Palmeri is a senior director with Cushman & Wakefield in Las Vegas.
LET US WALK YOU THROUGH THE VIRTUAL WALKTHROUGH
At BoxBrownie.com, we not only get it right, but our website is a vast and expanding resource designed to walk agents through the process of putting together a 360 Virtual Tour.
In fact, with the relatively new phenomenon of 360 Virtual Tours, the education and expertise we share on our site can be just as valuable as our technical services.
Our step-by-step instructional videos and blog posts on how to put together a 360 Virtual Tour have been a godsend to agents who have had to scramble to meet the growing demand of the past year.
On our site, we also devote extensive time and space to equipment reviews and recommendations. Though we do recommend certain cameras over others, we can put together a 360 virtual tour using any 360 output on the market.
Many agents are just becoming familiar with the world of virtual tours and depend on our site for the knowledge necessary to put together a professional virtual tour for their listings.
Reliable information is especially important when it comes to this area of real estate marketing. As with anything that booms to this extent, the market has become flooded with opportunists seeking to capitalize on the often vague terminology surrounding virtual tours.
As Medium.com cautions, agents must ground themselves in some basic knowledge pertaining to virtual tours, because "'virtual home tour' can be a vague descriptor for many different things".
As the site points out, many people tout video walkthroughs as virtual tours. Some pass off 3D illustrations of a listing as a virtual tour and some "have the nerve to even describe slide shows as a 'virtual tour' since people are walked through photos in a natural progression".
NEVER EASIER, NEVER BETTER: THE BOXBROWNIE.COM SOLUTION
At BoxBrownie.com, we have been perfecting all aspects of the virtual tour since 2016. When the pandemic hit, all our bugs were ironed out and we were able to offer the most streamlined, accessible and speedy virtual tour lodging system on the planet.
Our 3D virtual walkthroughs are easy for agents to organize. They can be shot in about 20 minutes and come with a guaranteed 24 hour turnaround time from the moment your images are submitted.
Easy. Inexpensive. Fast. It's the perfect trifecta to deal with this perfect storm where a pandemic and a technological revolution have combined to make real estate marketing history.
VIRTUAL TOURS: ESSENTIAL NOW AND FOR YEARS TO COME
In their January 2021 article, Forbes magazine did not just declare that virtual tours are now the preferred starting point for property seekers. Forbes also stated that it is unlikely the popularity of the virtual tour will diminish once the pandemic goes away.
According to Forbes, COVID-19 is not the only factor behind this surge in demand for 360 virtual tours. Another force driving the trend is the growing up of Millenials and Gen Z'ers.
Members of these tribes have entered adulthood accustomed to having virtual options for everything, from shopping, to banking, to dating. As Forbes puts it, "These generations have come to expect virtual options for nearly everything, and home buying is no exception".
According to the Boston Globe, another reason that virtual tours are here to stay, is that the technology and the tours themselves have gotten so much better.
"A decade ago, virtual tours were largely wobbly, with grainy, uneven imagery. Now they're glossy and polished — often as well done as a professional television or streaming production. Ten years ago these tours threatened to cut agents out of the home-buying process, but now it's the real estate industry that's embracing them."
TAKE A BOXBROWNIE.COM VIRTUAL TOUR.

---