TOP 10 OUTSIDE-THE-BOX MARKETING TIPS THAT SELL REAL ESTATE FASTER

Introduction:
Nothing can send a real estate career into the stratosphere like a solid marketing platform. Unfortunately, marketing that misses the mark can spread you thin, wear you down, and be a massive waste of time and money.
Before you invest a second or a dollar in your marketing approach, remember that all effective real estate marketing should:
sell property (aka attract buyers)
make sellers want to list with you
generate leads
utilize technology to maximize your reach, save you time and reduce your costs
give you a constant presence - both online and in the real world.
In this post, we'll share 10 outside-the-box marketing tips that will help you accomplish all of the above.
1) Remember: Your Listing Is King
As the metaverse moves upon us, as social media platforms proliferate, there are becoming more and more ways to forget the fact that real estate is about selling property. And when it comes to selling property, no form of marketing is more important than the way you market your listings.
Real estate buyers are extremely tech-savvy. Almost every property buyer in 2022 used an MLS site to find their home, or at least to find the agent who eventually sold them their home.
The first focus of every agent should be on the marketing of their listings. Make each listing pop.
No matter how technology evolves one truth will remain the same: Presentation is the key to selling property.

Which image grabs your eye more? The one on the LEFT or the one on the RIGHT? They are the same image. The first was taken by an agent who then sent it to us to improve. The second is the one we returned in less than 24 hours.
Of course, real-world presentation is important. Buyers who physically tour a home will want to see it looking its best. But the first port of entry for almost 100% of real estate buyers is now the MLS site.
If the home does not appeal to the eye of the scroller, then the quality of your listing becomes irrelevant.
In a buyer's market, real estate listings with stunning images draw the buyers out of obscurity. In a seller's market, real estate listings with stunning images draw the sort of attention that attracts bidding wars.
If you don't know where to start with your real estate marketing. Start by focusing on the quality of your images.
For less than a cup of coffee, you can send your images to our Image Enhancement boot camp, and we will return them within 24 hours in the best shape of their life.
There are many ways to catch the attention of a buyer. But the first thing they look at is your photography.
2) Find Out Where The Demand Is - Then Fulfil It
How do we know this? We are students of the National Association of Realtors. We pay close attention to their research to discover exactly what buyers want to see. We recommend that you do, too. It's a great way to establish your marketing focus.
NAR has just released its 2022 Buyers and Sellers Generational Trends Report. Once again the property buyers NAR surveyed have revealed that photos on MLS sites are the most valued feature across all real estate marketing.
If you are curious, here are the top five website features that property buyers found "Very Useful" in the NAR report (The percentage of buyers who found. them very useful is in brackets).
Photos (84%)
Detailed information about properties for sale (80%)
Floor Plans (55%)
Virtual Tours (43%)

Real estate agent contact information (43%)
These were the top five of a total of 14 categories that NAR queried real estate buyers about. The smart agent who is looking to give intelligent shape to their marketing plan will include all five of these in their marketing plan for each listing.
3) Get To Know Your Smartphone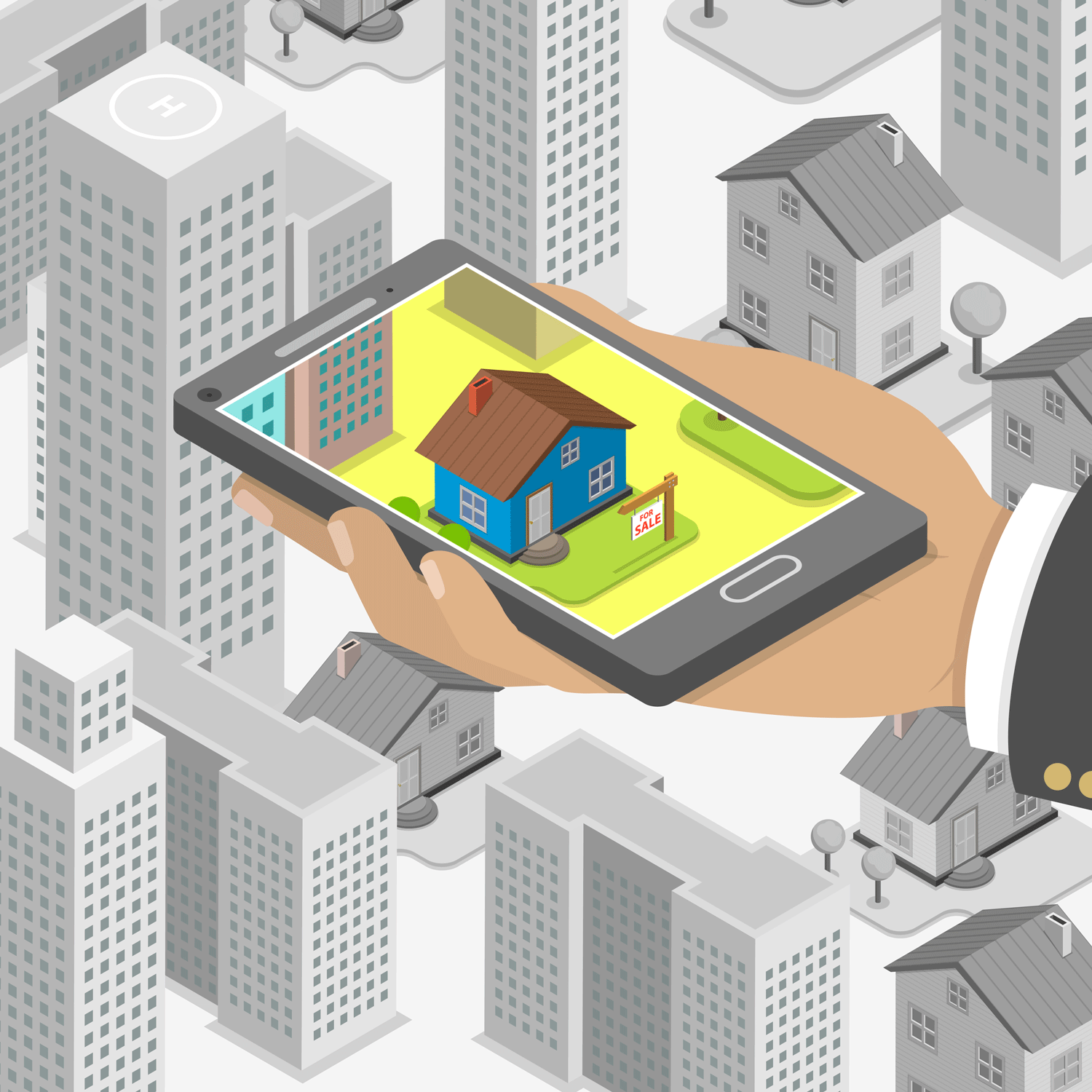 For the first time in history, as many property buyers used their smartphones to find real estate as did those who used desktops/laptops.
Another astonishing revelation of the NAR survey is that for the first time in history 50% of buyers search for real estate on their smartphones. The other 50% look for it on desktops or laptops.
Factor into this equation that Millennials now make up the highest percentage of property buyers (43%). Millennials report the largest use of mobile devices compared to desktop/laptops.
Sixty-five percent of Millennials looked for real estate on their mobile devices. And only 35% of this demographic used a desktop/laptop in their search. In the oldest age group, age 75 and over, zero respondents reported using a smartphone in their search.
By these numbers, it's pretty clear that the smartphone should now be your medium of priority.
First of all, if your website is not responsive to mobile devices. You should make this update a pressing concern. Then you should find ways to make your smartphone the centerpiece of all your marketing efforts.
Jesse Peters of Winnipeg is a great example of an agent who maximized quality and efficiency through his smartphone.
Jesse uses his smartphone for everything, even to take his own real estate photos (he leaves the editing up to us!). He has now figured out how to produce the best-looking real estate photography in Winnipeg in the least amount of time and for the least amount of money!
In this video, Jesse talks about exactly how he does it.
4) Offer A Free Moving Truck
From the smartphone to the real world - make sure your marketing remains dynamic. Offering a free moving van is a real-world solution that is definitely not for everyone. But it can pay massive dividends.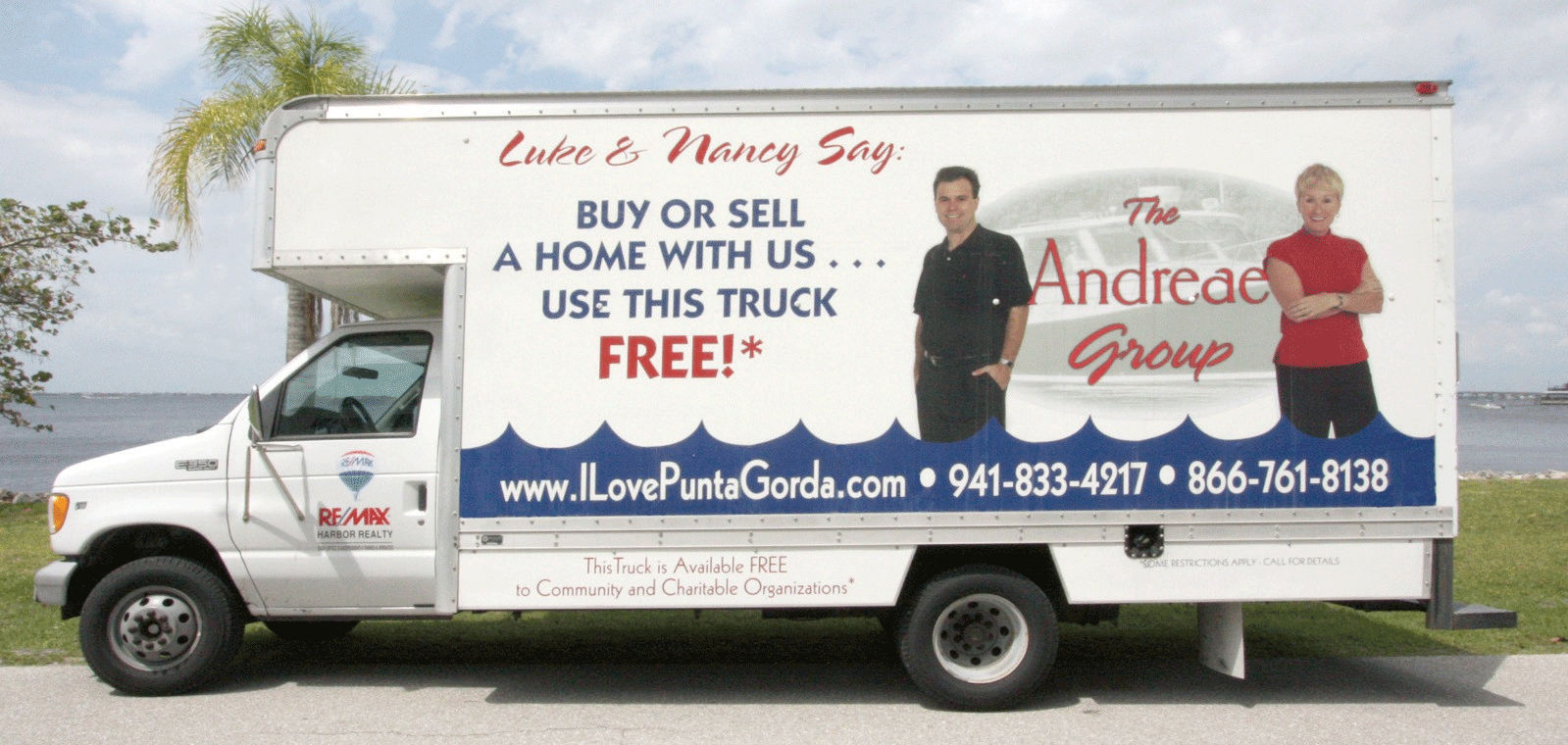 The free moving van, might not be a new marketing idea. But it is a constant billboard advertising a valued service. Perhaps the reason more agents don't use it is that it is a hassle to initiate.
It's a far deeper marketing commitment than posting something on social media or shooting a Virtual Tour. But the beauty of the free moving truck is threefold at least:
It represents significant value to potential clients.
It never stops working for you. Even when empty and idle, the free moving truck is working for you in the form of a billboard.
It generates leads like crazy, especially (like in the image provided) if you offer it free to community groups and charities.
5) Rebrand Your Notions Of Sponsorship
The savvy agent uses their sponsorship budget to secure referrals as well as to expand their brand.
Give careful thought to the organizations and events that you sponsor. Before agreeing to sponsorship, seek to become the "official real estate agent" for their organization.
The epitome of this sort of arrangement exists in professional sports. Agents or brokerages spend a lot of sponsorship money to become the "official agent" of an organization.
Incoming personnel are referred to this agent to help them find a house. A great percentage of these individuals are making huge salaries and looking for expensive homes.
Not everyone can become the agent of choice for a professional sports team. But there are many organizations, including non-profits, who are constantly seeking sponsorship money. Hospitals are, for example, always in search of sponsorships. They are constantly bringing in new doctors and nurses. Big law firms are always recruiting talented new prospects.
The creative agent will find ways to get referrals from their sponsorship dollars.
6) Social Media Rewards The Followers
Often when social media is brought up as a real estate marketing platform, the leaders, and the influencers are talked about.
But one of the most beautiful things about social media marketing for real estate is that you can win by following, not necessarily by being followed.
On Twitter, you don't have to have much of a following to attract enormous attention. Practice scripting tweets to suit what is trending. No matter how far detached from your real estate business a trending topic might be, try tweeting out something that gets a response. People will come to you.
Instagram allows a maxim of 30 hashtags for each post. Make sure every Instagram post of yours has 30 hashtags associated with it.
Seems like a lot of work? No! Create a side document with 28 standard hashtags, like #realestate #beautifulrealestatephotos #(INSERT YOUR NAME HERE), etc... Copy and paste this into the text you post your pictures with, along with one or two fresh hashtags.
Allow our Day to Dusk photo edit to transform your pics into breathtaking images that you post on Instagram. Then apply the 30 hashtag maximum. Do this once a week and see what happens.

7) Hit The Conference Circuit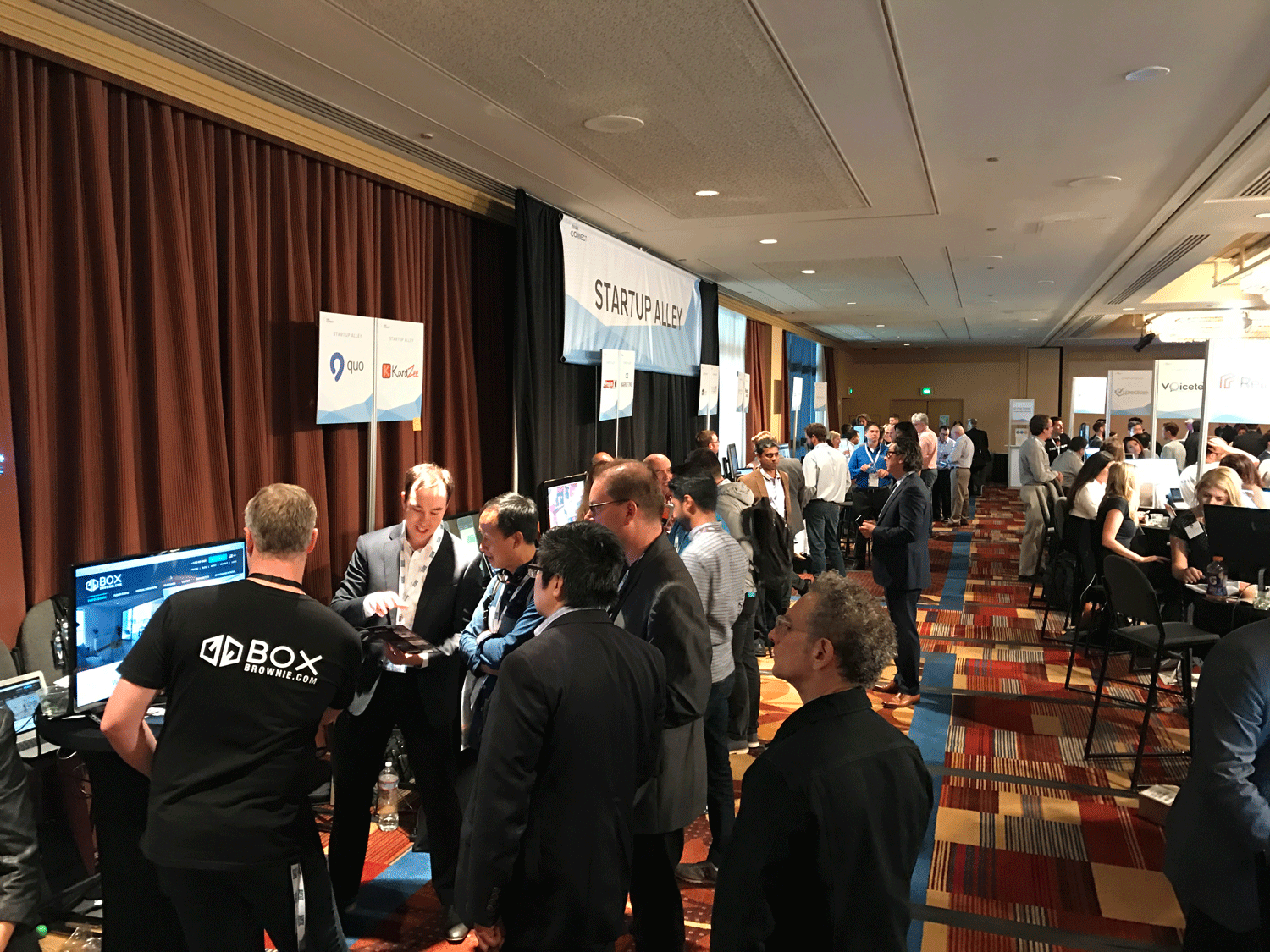 Our CEO and co-founder Mel Myers, drew a crowd when he introduced BoxBrownie.com to the US real estate conference circuit in 2017.
And now, back to the real world. Real estate conferences can be such an energizing, educational, and even redeeming way of turbocharging your marketing.
At real estate conferences, you will meet like-minded professionals willing to share what they know and help you obtain your goals.
Furthermore, these conferences are full of marketing innovators who are there for the sole purpose of sharing their latest tools.
They are also a great place for informal discussions, where agents from all over the world discuss the marketing techniques that are working for them. As well as the ones that are not.
8) Distinguish Yourself With A Drone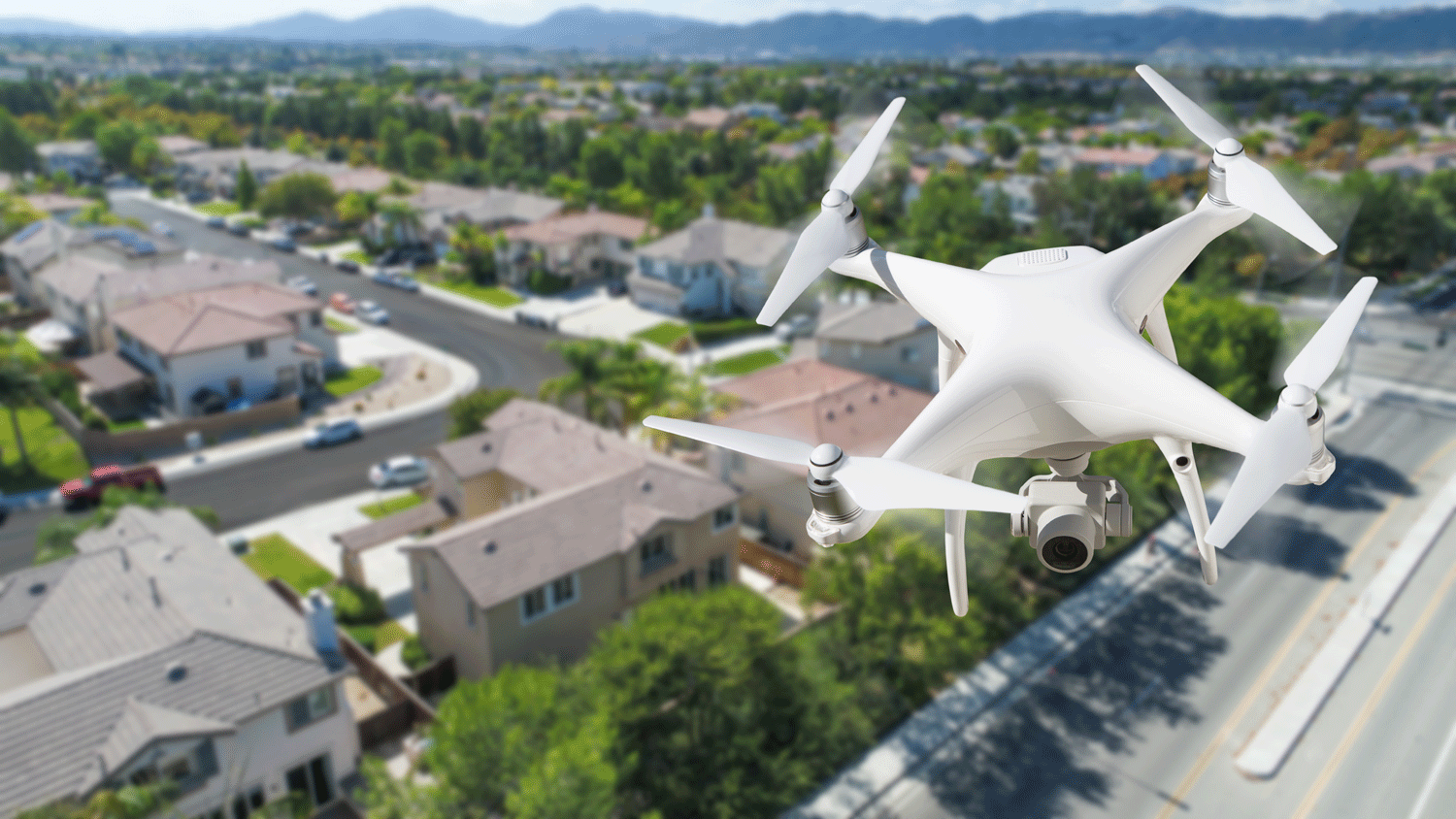 Now that everyone has a smartphone, drones are a great way to establish a point of difference in real estate photography.
Given the ever-increasing powers of the smartphone, the drone has become the last point of difference in real estate photography.
Why? Because with editing services like our Image Enhancement anyone with a smartphone can pass muster as a real estate photographer. Fewer agents can offer drone photography. And Drone photography is in huge demand.
In Australia, for example, former commercial pilot Michael Bryden was flying a drone during the pandemic. Now he is a sought-after real estate marketing virtuoso.
As an agent, if you add this high-flying novelty to your repertoire of photographic offerings, it can be a great way to make an impression.
The smartphone might be the most important medium for you to focus upon, but the drone is definitely the coolest.
Even if you are an amateur drone pilot, our Aerial Edits can give your lofty shots the polish of a pro.
9) Meet And Greet In The Metaverse
The metaverse is barely out of the box in its own right. But those forward-thinking agents who have entered this bold new world of avatars and digital interaction have glowing reports about what it has done for their careers.
Aside from being educational, international and extremely beneficial for networking purposes, the metaverse is also a fun and fascinating place to be.
It's no secret that people who enjoy what they are doing are more successful than those who do not.
Consider creating an avatar, liking up with a cloud-based brokerage and entering a whole new dimension of possibility.
10) Create A Google Business Page
If you've read this far, then you've stumbled upon a true nugget of marketing advice.
When real estate professionals talk about personal branding or marketing, the conversation usually focuses on sites like Instagram, Facebook, Twitter, LinkedIn or Zillow. Add the metaverse to that, and almost no one is talking about Google.
When people want to know more about you, they will go to Google first
Create a Google Business Page. Google is bigger than all of the above platforms combined. Yet, as of September last year, less than 2% of real estate agents had their own Google Business Page.
you don't see a glitch in the matrix here, consider
this
, and you'll have no doubt.
---