7 TIPS FOR SELLING REAL ESTATE IN A BUYERS MARKET

Introduction:
The funny thing about a 'buyers market' is that there are fewer buyers to be found. This is generally not good news for real estate agents. But even if the market is cooling down, there remains one piece of encouraging news: we know where the buyers are.
National Association of Realtors' (NAR) latest Home Buyers and Sellers Generational Trends Report has revealed that almost 100% of home buyers begin their search online.
Knowing this, agents have a clear indication as to where their real estate marketing efforts need to focus.
This post will offer some handy tips on how to focus your online real estate marketing efforts to attract maximum attention to your listings.
There might be fewer buyers out there right now, but knowing where they are searching for property is a huge advantage that did not exist in the days preceding the digital age.
They are online and they are looking. The best way to meet them is to wow them with your online real estate marketing.
1) Don't wing it, create a marketing plan for each listing
Let's face it, over the past few years, the real estate market has been so hot that agents have not needed to focus too much on marketing strategies for their listings. When there are far more buyers than properties, the buyers are forced to compete harder to secure a home, creating an environment where some agents relaxed a little on their marketing efforts.
The point, click, post to the MLS, and let the offers roll in approach was a prevalent 'marketing strategy' in the business.
This approach might not have spawned the overseas bidding wars that agents who posted 360° Virtual Tours enjoyed, but the market was so hot over the past two years that even agents who didn't put much effort into their marketing enjoyed increased sales at unbelievable prices.
Now the buying madness seems to have subsided. This means that now is also the time when a marketing plan for each separate listing can really make a difference.
It's never been so important to devise a marketing strategy based on the unique qualities of each property you take to market.
Regardless of the nature of the property you are trying to sell, each marketing strategy should:
Research, then target your ideal buyer.
Take care of the little things, like turning on lights, and decluttering either physically or with our Item Removal service.
Strive for the highest possible ranking on MLS sites like Zillow or Realtor.com by including a Virtual Tour.
Pay special attention to coming up with a Hero Image for the property so that it stops scrollers in their tracks.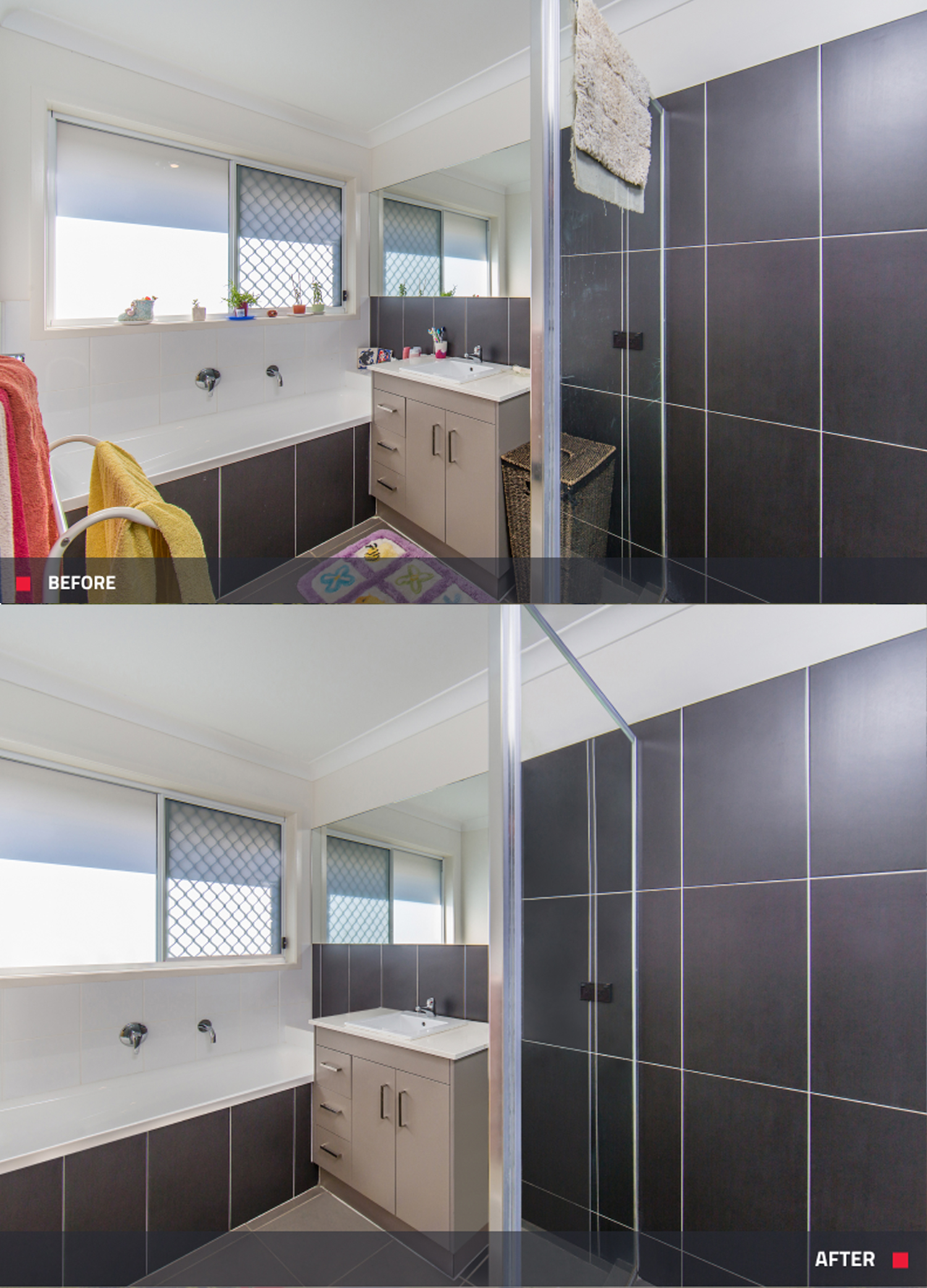 In a buyer's market, taking care of the little things can make a big difference. The sight of used towels and hanging bath mats can be turnoffs in an otherwise attractive bathroom and can draw a prospective buyer's attention away from the more positive features of a room. Our Item Removal service is made for eliminating such eyesores.
2) Make Speed A Priority, Let Your Smartphone Accelerate Your Actions
Don't keep buyers or sellers waiting. Learn to be fast (without sacrificing quality) in everything you do - from responding to phone calls to getting listings photographed and posted online. You will experience nothing but benefits if you do so.
How to become faster? The answer may well be in the palm of your hand right now. If you're reading this on your smartphone, then you are holding the key to speedy efficiency as a real estate agent.
Your smartphone can shave time off almost every aspect of your daily tasks, giving you more time to serve existing clients better or seek new listings and leads.
From obvious tasks like being available (answering and returning calls at the earliest possible moment) to social media posts to more sophisticated enterprises like shooting your own real estate photos and submitting them to our 24-hour Image Enhancement service, your smartphone can bring about that peculiar paradoxical miracle: the busier your get, the more time you will have.
When you discover how to get the most out of your smartphone as a real estate agent, you'll find that you are suddenly outpacing your competitors almost effortlessly.
There's a saying in the military that members of the armed forces accomplish more before 9 am than most people do all day - agents who learn to deploy their mobile device to its full potential will experience the momentum-building benefits that come from such an enhanced level of performance.
If you think it can't be done, read about Jesse Peters, a client of ours who uses his smartphone for everything, including shooting shoots all his own real estate photos.
3) Virtually Stage Your Property

Virtual Staging is a simple and inexpensive process that transforms empty, unfurnished spaces into inviting living environments. Over 90% of buyers report that viewing staged images of kitchens, living rooms, and master bedrooms was very useful to them in their purchasing decisions.
The research on this one has been in for years - staged properties sell faster and for more money than those without furniture or decor.
This is probably because staged properties have a dramatically higher clickthrough rate than empty, unfurnished spaces.
According to National Association of Realtors' Profile of Home Staging, 93% of buyers reported being impacted by home staging.
These buyers declared that the living room, master bedroom, and kitchen are the three rooms that were most important to be staged (for a deeper dive into the art of virtually staging a home have a look at this post).
According to the same report, 82% of agents said that staging a home was an important factor in a buyer's ability to visualize the property as a living space.
Before Virtual Staging came along, it might not have made financial sense to stage a property - especially in a buyer's market, where prices (and therefore commissions) tend to be lower.
Staging a property with physical furniture costs thousands of dollars. It can also take a long time to arrange and even longer to implement.
Our virtually staged images of your listings will be back to you within 48 hours for just $24 USD per room.
And yes, virtually staged images shot on a smartphone turn out just as well as those shot with a DSLR - they're probably a lot easier, too.
4) A 360 Virtual Tour Can Expand Your Buyer Pool
As an organization that specializes in 360° Virtual Tours, we are constantly receiving feedback from clients about how including a Virtual Tour with their listing attracted a buyer in a faraway and unexpected place.
In a market with a dwindling buyer pool, MLS listings that allow out-of-town/state/province/country buyers to tour a property without physically traveling to see it are a huge ace up the sleeve.
In December 2020, Redfin published a study in which an astonishing 63% of buyers said they had made an offer on a property without viewing it in person.
This phenomenon became fairly common in the early days of Covid-19 because lockdowns and travel restrictions prevented in-person walkthroughs.
It has remained in place, however, because Millennials have become the largest demographic of real estate buyers in the United States and these cyber-savvy smartphone users have come to expect Virtual Tours with the listings they view.
Business Insider reports that Millennials continue to buy homes sight unseen well into 2022, even as the rest of the housing market continues to cool. Realtor.com says that "listings with Virtual Tours receive 87% more views than home listings without tours and that 54% of buyers skip over listings of properties that don't include Virtual Tours."
For an expanded understanding of the rising importance of Virtual Tours in real estate marketing check out our post called "8 Reasons Why Virtual Tours Are More Important Than Ever."
5) Keep Your Marketing Firmly Planted On The Floor Plan
The layout of a home defines its functionality and can make or break a deal for a prospective buyer.
Though a Floor Plan will rarely be the first element of real estate marketing that catches a buyer's attention, Floor Plans are vital in the sales process and highly valued by buyers.
Though Floor Plans are an invaluable counterpart to dazzling Hero Images or Virtual Tours they are perhaps most valuable to prospective buyers after a home has been viewed.
A first-time walkthrough of a home can be disorienting and difficult to remember after the viewing is complete. Without a Floor Plan to return to as a reference point, buyers can lose track of important details like the location of bedrooms and bathrooms, the number of rooms in a house, and the placement of external doors.
These are the practical details that are often the most instrumental in the final hours of a property shopper's decision - when they are choosing whether to purchase or pass.
6) When You've Covered The Floor Plan Head To The Skies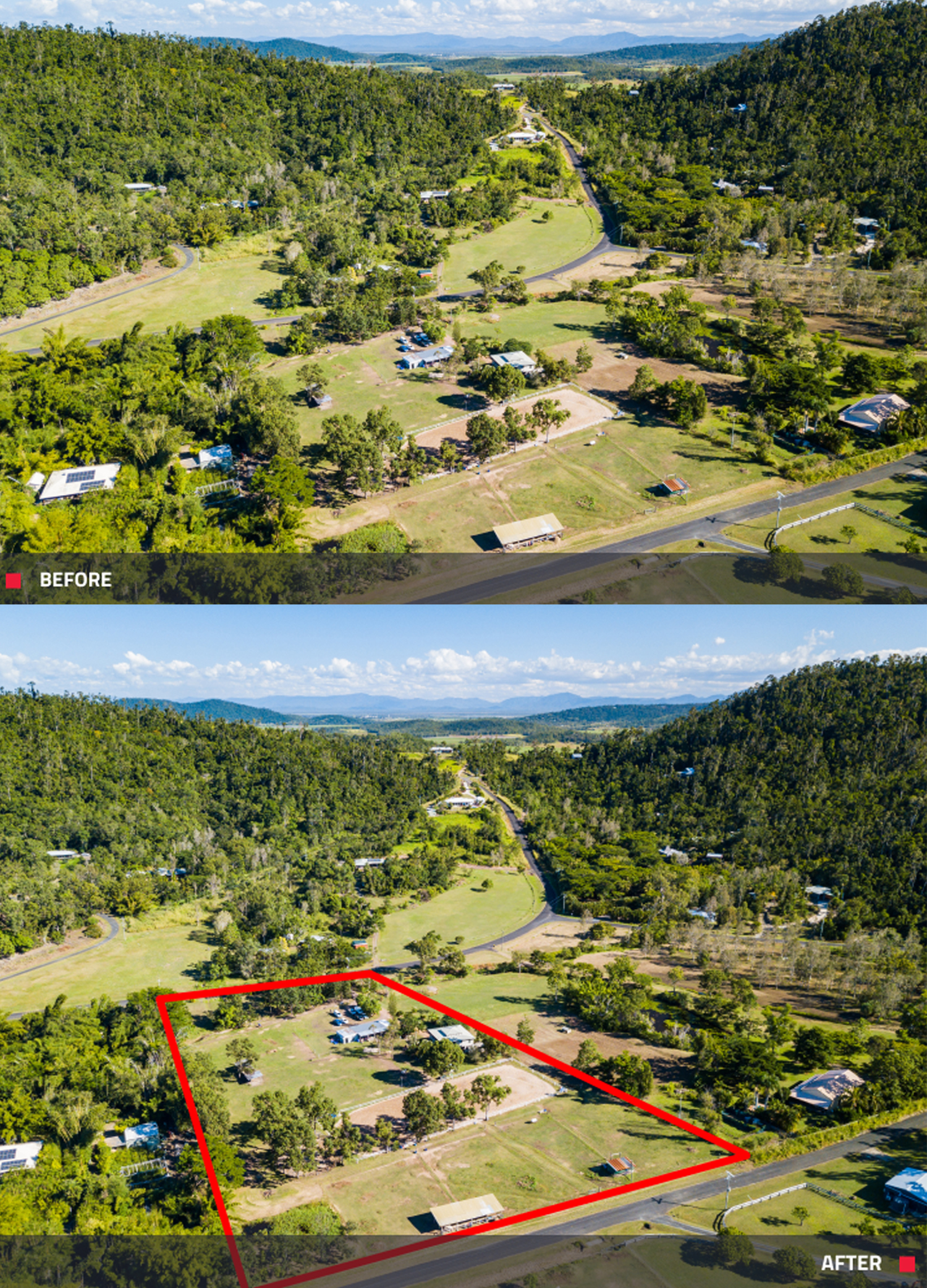 Aerial photography with a touch of editing (like the Single Lot Highlight in this image) remains one of the most effective ways to grab a buyer's attention. Other forms of real estate photography would be hard-pressed to convey so quickly and so clearly the many appealing features of this expansive property.
If the Floor Plan is the view from above that helps potential buyers keep track of the structural layout of the home they are considering, the aerial image is the perspective that lets listings leap from the page - directly into the imagination of a property seeker.
As we covered in a recent post, aerial images can offer vantage points of a property that other forms of real estate photography simply cannot provide.
Now that smartphone cameras combined with Image Enhancement editing services have enabled every real estate agent to produce professional quality images, drone photography is one of the last ways to give your listings a truly unique perspective. Sometimes this perspective is something as simple as outlining the boundaries of a property line. Sometimes it involves pointing out nearby attractions, like schools, shopping centers, golf courses, or beaches.
Our Aerial Editing services offer many ways to highlight the strengths of a property, including Aerial Color Fade, Aerial Drop Pins, and Single Lot Highlights, we can even offer CGI Renders for unbuilt properties or larger development sites.

7) Track Down Those Testimonials!
As marketing and motivation guru Tony Robbins points out: "During a recession, it isn't enough for a business to have the best product or service. It's business critical to have marketing that compels, raving fan clients, and a business map to constantly innovate – not to mention a healthy company culture where employees feel heard and valued."
If you implement the above six pointers in this post, you are certain to develop a solid base of raving fan clients who are amazed at your speed, efficiency, innovation, marketing prowess, and effort. Don't let the admiring remarks of this group of newborn believers go unnoticed.
The power of consumer reviews is reaching an all-time high, as almost every platform allows and encourages clients to comment on and rate the performance of those they do business with. The above six tips will ensure that you impress a whopping majority of your real estate clients, and when past clients are impressed, potential clients will be impressed, too.
When you've done a good job, make sure you ask you those you've impressed to drop a review, a comment on your social media, or even a video testimonial.
There is no reason that a buyer's market should cause your business to slow down in any capacity. When the market starts cooling, these seven steps are bound to keep your business chugging!
---