22 June 2021
VIRTUAL STAGING IN REAL ESTATE: HOW TO DRESS UP EMPTINESS
Introduction:
Believe it or not, every photograph you'll encounter in this post is of an empty room.
By the time you've finished reading, you'll be able to see what the research seems to unanimously indicate: that virtual staging sells listings faster and for a greater asking price than listings that are presented as empty rooms.
Beyond these important statistics, two breakaway factors have seen a surge of interest in virtual staging services amongst real estate agents.
The changing habits of property shoppers. As it did for almost everything else, the coronavirus pandemic changed the way people shop for real estate. The pandemic sent people online for work, shopping, and play. And though virtual staging was already exhibiting impressive results before the pandemic, the lockdowns that ensued caused an even greater migration online amongst property buyers.
Our monumental price drop. In March BoxBrownie.com shocked the real estate industry by slashing our residential and commercial virtual staging prices to $24 US per room. This led hugely influential property site theclose.com to label us the best price-to-quality virtual staging company in the world. (More on that HERE). Our sudden price drop has made virtual staging an affordable (and very sensible) option for all real estate agents.
If you are one of the agents that this perfect storm of effectiveness and affordability has brought to the realm of virtual staging, welcome. There's a lot of you, that's for sure. One US agency reports that 94% of agents now prefer to virtually stage an unfurnished listing.
Early adopters of our virtual staging capabilities like Nick 'Tiger' Quay in Miami or Michael LaFido in Illinois now look like geniuses. Not only has their belief in the powers of our virtual staging sold them many properties, but they have also become experts in this field, and this expertise has, of course, created a demand amongst sellers to list with them.
Don't fret. You don't have to be an early adopter or a real estate marketing genius for virtual staging to work for you. In this post, we'll share with you a little bit of what Nick 'Tiger' Quay and Michael LaFido know about virtual staging. It's never too late to become an expert.
Virtual Staging that sells property involves so much more than filling a photo with stock cutouts of virtual furniture. It's a complex art that involves a diverse cross-section of skills. Our photo editors are interior designers who work quickly and have a keen understanding of the real estate business.
This post will go over the staging styles that will help you get the most out of this brilliant form of real estate marketing. Different styles suit different rooms, and, of course, different home buyers.
As an agent, it is imperative that you become acquainted with the most popular styles available to you when you virtually stage a property. Only then will you be equipped to decide how best to virtually stage your listing photos.
For a full overview of what is possible, check out our Virtual Staging LookBook.
Below, we'll go over some of the most popular styles. This will give you a solid understanding of what's available and help you select the best path for each empty listing you plan to virtually stage.
CONTEMPORARY
The Contemporary look encompasses a range of styles developed in the second half of the 20th century.
Heavy use of metal, stone and glass both clear and opaque with bold furniture are the hallmarks of a contemporary home. Softer, more neutral colours are used on walls, window furnishings, pillows and rugs.
And in contrast with the Modern style (see below) contemporary pieces consist of softer and rounded lines, as opposed to the stark contrasts and angular lines of the modern style.
Usually, in contemporary style, the bold colours come through in blankets on bedding or cleanly framed wall art.
Simple well-selected accessories are always prominent in this type of styling, where no trace of clutter is available.

FARMHOUSE
The rustic, farmhouse look seems to be topping the charts for post-pandemic design trends. This style is definitely not reserved for farmhouses. It is becoming more and more popular in urban spaces. Plush couches, sheepskin rugs, soft brown or white leather predominate these arrangements.
In the farmhouse style, grace and charm meet practical living. Weathered woods, items with rustic finishes complemented by colors and furnishings have a vintage or antique feel. Salvaged and refinished items feature prominently in this style, which draws heavily on feelings of comfort and nostalgia.

HAMPTONS
Named after the famed vacation playground on New York's Long Island, Hamptons decor evokes what could be deemed affluent relaxation by the seashore.
Beautiful light and airy spaces filled with fresh air and a nod to the beach. Hamptons-style virtual staging lets the potential buyers imagine the ocean just outside the window.
Natural textures like wicker, linen and wood create that carefree feeling of summer. Light, often soft blue colours swap the stresses of urban life for the joys of a day at the beach.
Imagine a big comfy linen sofa with a jute rug and timber coffee table, accessorized with wall art incorporating the beach or soft blue colors. This is the visual equivalent of placing a conch shell to your ear and listening to the waves inside.

MODERN
Modern styles sometimes border on minimalism - a popular look among millennials.
Colour schemes are mostly monochrome complimented with neutral tones and in some cases broken by bright colors used in wall art, cushions or plants.
Modern themes work well in homes with exposed structural elements. Clean lines, boldly framed windows.
The modern style is often a great fit when virtually staging condos or high rise living. Not only does the look suit the space, it generally suits the young urban demographic who are often looking at condos as their first home purchase.

SCANDINAVIAN
Thinking IKEA will get you on the right track. But Scandinavian decor is a little more sophisticated than this.
White walls and light coloured floors are generally signatures of Scandanavian design. Minimal, but classy and comfortable furniture also features throughout.
Maybe it's all those hours of darkness in the Scandinavian winter, that has brought out such lightness in the interior tones. If you ask us to furnish your listing with a Scandanavian style, your listing will be filled with warm wood tones and indoor plants to create a light, bright space.
Picture that beautiful worn leather couch with a blanket or fluffy throw or that bedroom with relaxed layered bedding to create that understated welcoming yet cosy feeling.
TRADITIONAL
Calm, orderly, predictable. Functional, unflashy, familiar. This style might not be the one of choice in nouveau riche/Avante Garde markets like NYC or Miami Beach. But there is most certainly still a place for it in selling property.
In fact, in the majority of markets, traditional virtual staging presentation might remain your safest bet as an agent.
We can virtually decorate a space with a classic look. Blending light spaces with furniture appropriately placed in a formal arrangement to invite conversation and create balance.
There's nothing bold or chaotic here. Subtle colors are combined with velvets, florals, paisleys, stripes and plaids.
Traditional design might not woo the art dealer from Tribeca, but it won't scare away the 60-something couple from Omaha either. And the 60-something couple from Omaha demographic still retains enormous purchasing power.
URBAN INDUSTRIAL
Great for lofts, studios and converted commercial space, the urban industrial look can involve stripped away ceilings, exposed pipes and ventilation for maximum spaciousness. Now here's a look that might woo the art dealer from Tribeca!
Minimal modern styling with an authentic vintage feel using contrasting and complimenting elements of new and recycled items. Imagine comfy couches, rugs, storage solutions used as décor and large indoor plants. Deep colors of black, gray and brown are visible throughout this style of staging.
DIFFERENT STYLES WIDEN YOUR SELLING SCOPE
The above rundown of virtual staging styles is essential to know if you are an agent seeking to maximize the impact of this genre of virtual property marketing.
And though it's good to develop a sense of the styles that will work best for the properties you are showcasing, by no means do you have to choose just one style to dress up a room.
As theclose.com points out: "it can pay to stage the same room in different ways for different types of buyers. You could even go as far as staging the same room in different styles."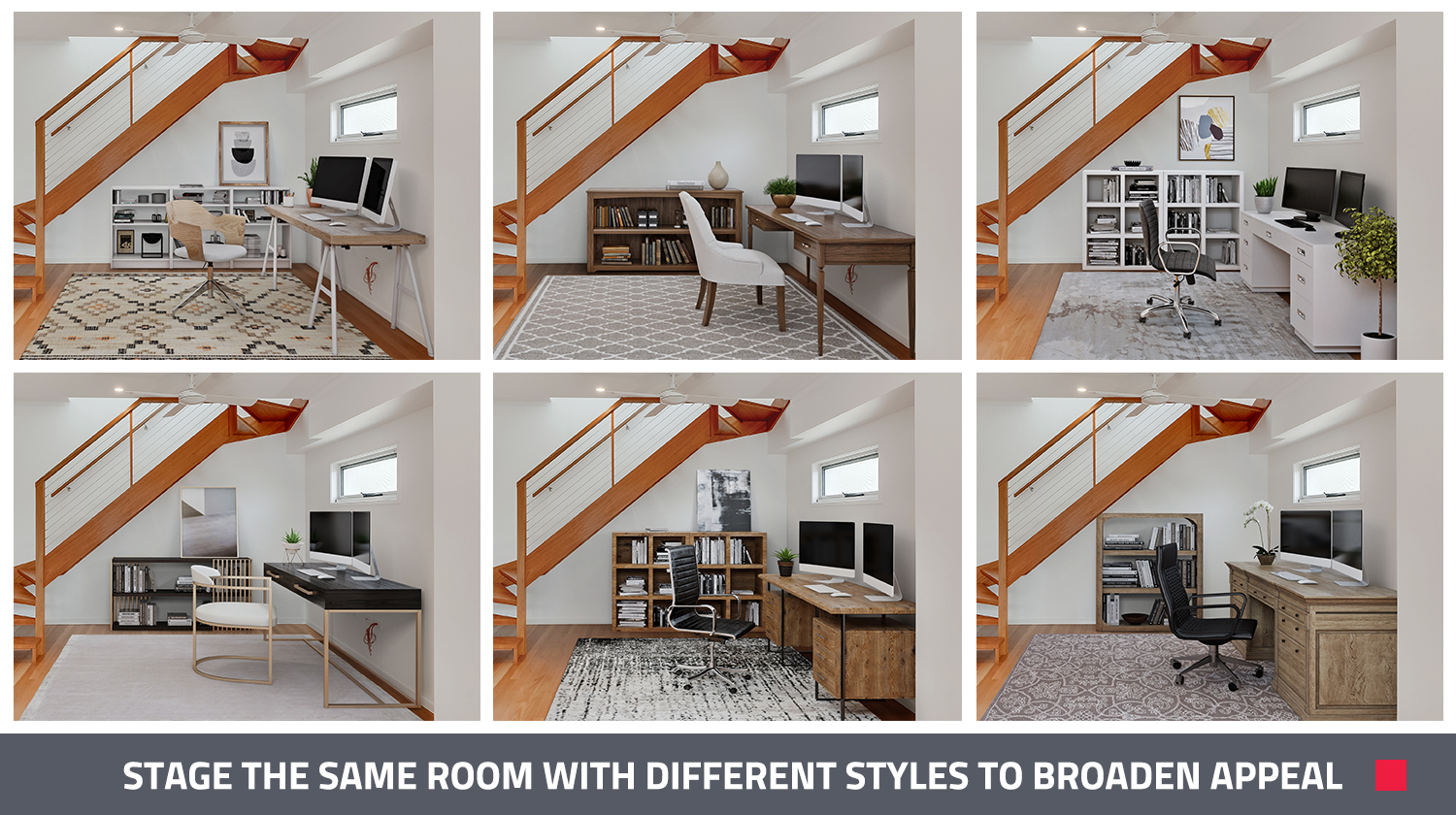 This is a technique that works especially well in the luxury market. But it is by no means relegated to the luxury properties.
Take the condo market for example. Here the two most common buyers are millennials and retirees - groups that you can almost be certain have widely different decor tastes. An agent with an unfurnished condo listing might be wise to virtually stage this listing using both the Traditional and the Modern styles we've featured here.
At $24 US per room, it's a great (and safe) way to hedge your bet!